Restrain spending with targeted reforms. Spending on Social Security, Medicare, Medicaid, and other health care programs is driving the federal budget to the edge of a cliff. CBO projects that spending for these programs will grow by an average of 2.7 percentage points faster than economy through 2030. There is no revenue-generating system in the world that would, in the long run, that would be able to finance entitlement programs that are by their design growing faster than the economy.
By 2041, CBO projects that spending on Social Security, healthcare, and interest payments on the debt will consume all federal revenues, necessitating massive tax increases to fund any other federal priorities such as national defense, absent reforms.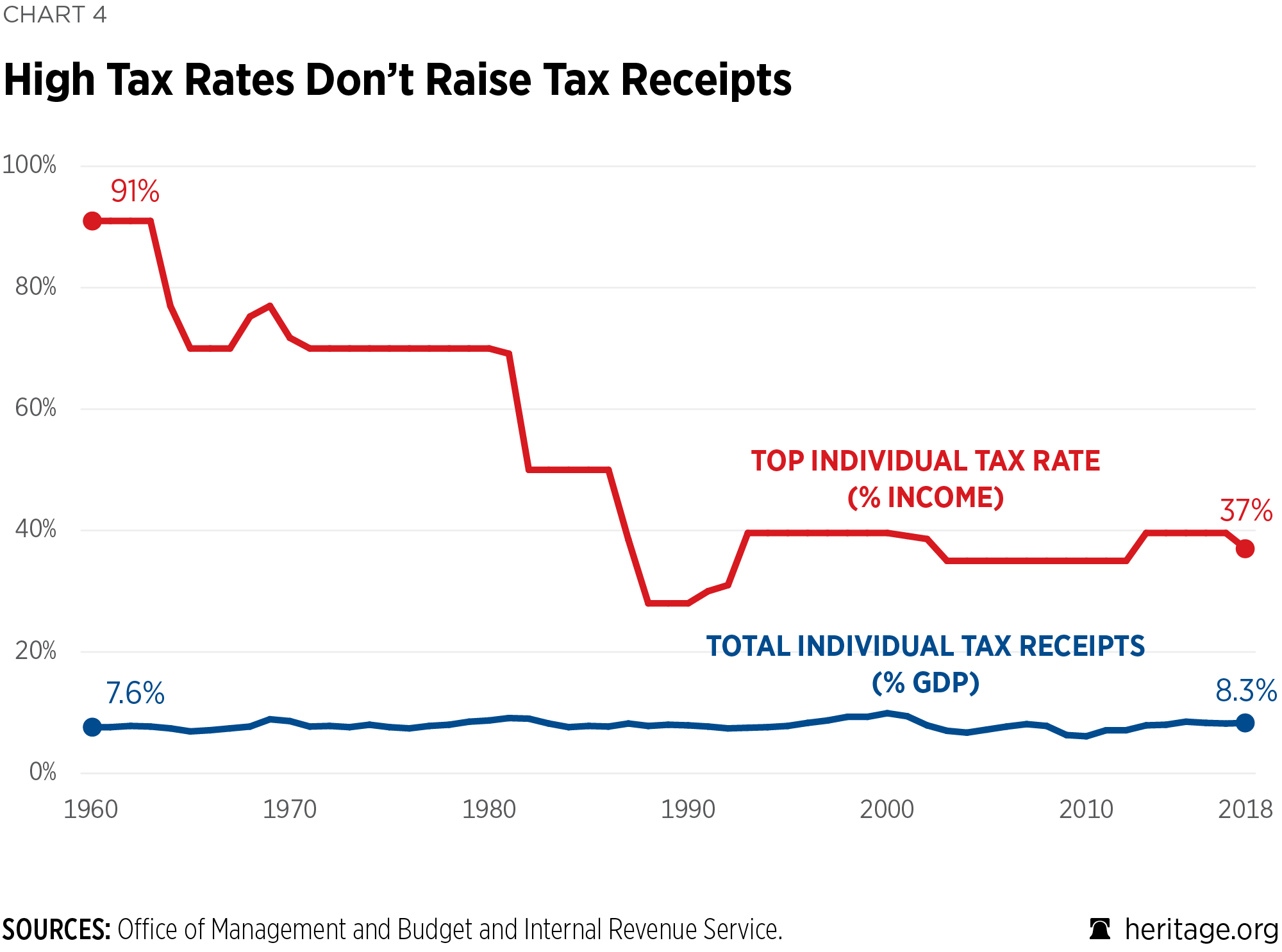 It will be impossible for America to dig out of this budget mess without addressing entitlement spending. There are reasonable policy options available that would modernize Social Security and healthcare programs to return control to Americans and expand their choices over health care and retirement decisions, while saving money. Lawmakers should make entitlement programs more affordable and fiscally sustainable by returning control over health and retirement decisions to the people.
Devolve inappropriate domestic programs to states, local governments, and the private sector. For at least the past 100 years, the federal government's reach has expanded well beyond its constitutional requirements, leading to a more centralized government, stifling the creativity of states and localities, and pushing federal spending to unsustainable heights. In 2018 alone, state and local governments received more than $275 billion in grants from the federal government for programs unrelated to health care.
When Washington does allow states to administer their own programs, it acts as a pass-through, absorbing monies in the process and adding layers of bureaucracy. The federal government taxes families, takes a substantial administrative cut, and burdens the remaining revenues sent back to state and local governments with rules dictating how the money can be spent.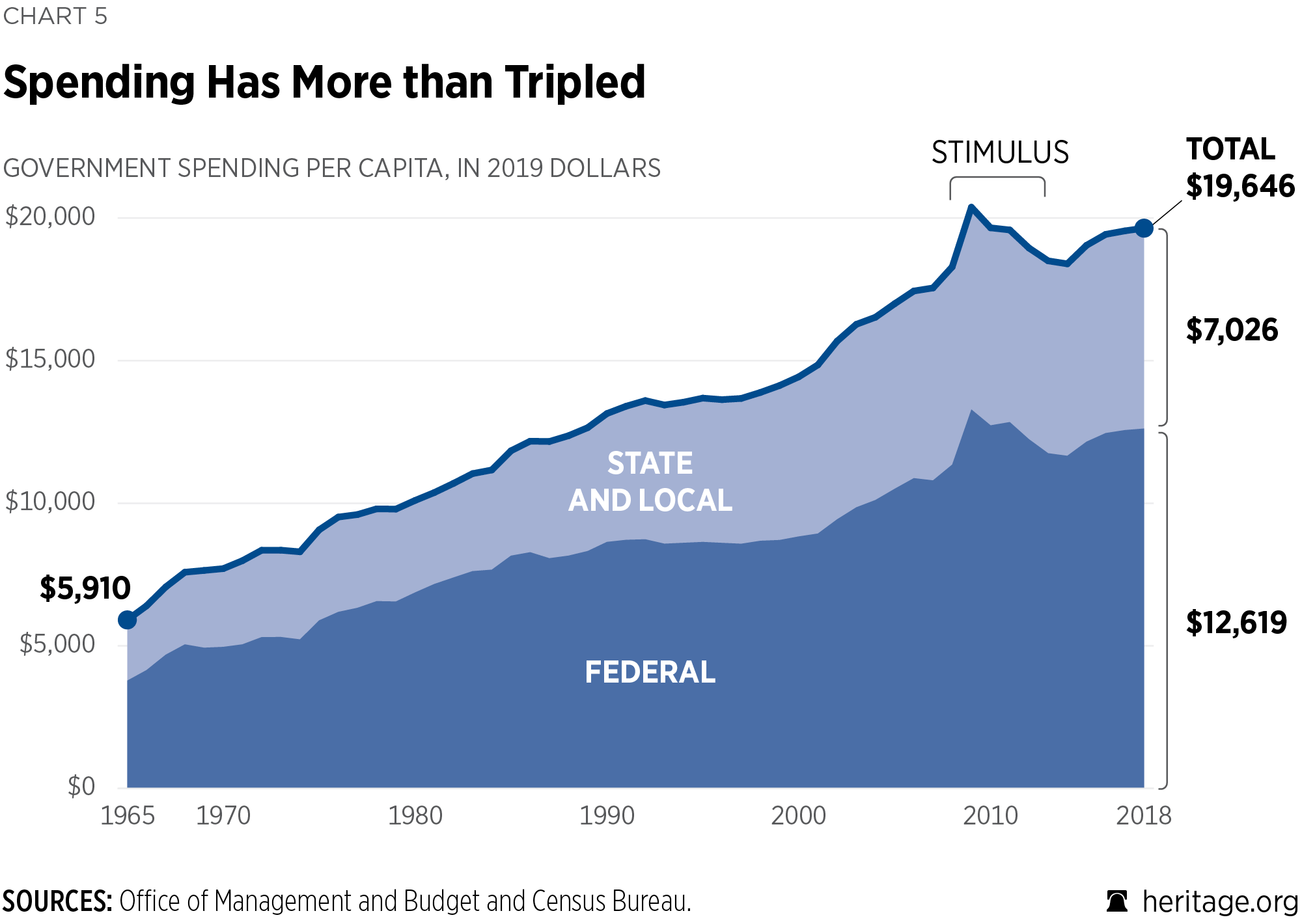 Rather than trying to be all things to all people, and not doing it very well, Congress should prioritize spending on the limited set of functions enumerated by America's Founding Fathers within the Constitution. Mission creep and an overly expansive scope of federal activity undermines congressional and executive focus on performing core federal functions well. The COVID-19 crisis revealed core weaknesses including in public health agencies, such as the Centers for Disease Control, where program focus was diverted from protecting the nation against infectious diseases to the agency meddling in tangential areas, including obesity, smoking, alcohol consumption, and gun control, driven by political considerations.
Congress should cede most spending on highway, education, justice, and other domestic programs. Private entities and state and local governments are best able to manage such activities effectively and efficiently. Effective management requires having the freedom to target local programs to specific local needs and to serve those who need and value these services most. Government control of business activities also crowds out private sector funding and innovation and increases the likelihood that shielded entities will take unnecessary risks. After promising a healthy return on investment, government-owned and -subsidized businesses are frequently in the red, calling on taxpayers to repeatedly bail them out by way of more deficit spending.
Any government function that can easily be provided by state and local jurisdictions or businesses should be privatized, saving taxpayers' money and providing Americans with better, more responsive, and more innovative services.
Reject tax increases. Some lawmakers have been quick to blame the Tax Cuts and Jobs Act of 2017 for the nation's trillion-dollar deficits and mounting debt levels. To be clear, the unsustainable fiscal outlook currently facing America was created by unfunded spending promises put into law, in some cases, decades ago; not by too little taxes.
Lawmakers should reject attempts to raise taxes as a way to get out of the mounting debt crisis and focus on spending reforms instead. Over the next decade, the Congressional Budget Office projects revenues to be slightly above the 50-year average. However, CBO projects spending to be 2.5 percent of GDP higher than average, and to outpace revenues by more than 5 percent of GDP.
Closing the gap between revenue and spending would mean a significant tax increase on many Americans, but it is unlikely that higher tax rates on the highest income earners would significantly increase receipts. Instead, Americans could be faced with broad tax increases on middle- and lower-income earners. New taxes, especially on working and investing, would stifle the economic growth seen over the past several years and could make the debt crisis worse, not better.
Adopt an accountable, responsible, and transparent budget process. The 1974 Budget Act provides a timeline to guide completion of the congressional budget process and lays out clear deadlines to ensure that Congress enacts appropriations bills before October 1st of each fiscal year. The budget process allows Congress to evaluate priorities carefully and perform critical oversight over how agencies are spending taxpayer dollars.
However, Congress has no will and little incentive to follow the budget process. The last time that Congress actually completed each required step in the budget process on time was in 1996. The rules intended to keep the process running smoothly are weak and are all but ignored by both parties. This has led to a cycle of continuing resolutions, massive omnibus spending bills, and periodic lapses in appropriations. The budget and appropriations process has morphed from what was intended to be an orderly exercise into a continuing series of funding fights as Congress lurches from one crisis to the next. Amid this chaos, any semblance of fiscal restraint has been lost.
Furthermore, the budget process is weighed down by too many policy disagreements. The Presidents' budgets and congressional budgets have evolved from governing fiscal plans into political messaging documents. They are rarely taken very seriously even though the federal bureaucracy spends a great deal of time on their preparation. As Alice Rivlin, the former director of both the Office of Management and Budget and the Congressional Budget Office, once wrote, "No government in the world devotes so much time, energy, and talent to budget decision making as our's does." And yet, what do taxpayers get from all of that budget preparation and evaluation?
The budget process cannot resolve every issue. And neither can the budget process adequately determine how the overall fiscal choices fit within the larger economic policy goals of the country. These goals should be established up front and debated in a similar manner to other policy. Fortunately, Congress and the administration already have a general process in place to conduct such an exercise through the annual preparation and consideration of the Economic Report of the President. That same infrastructure that was initially created by the Employment Act of 1946, including the US Congress Joint Economic Committee and President's Council of Economic Advisors, should be used to formulate economic policy for the federal government. Once transparently established, that economic policy can be used to inform the development of the fiscal policy reflected within the budget documents.
Stop unauthorized appropriations. Congress should stop providing funding to unauthorized programs and agencies once and for all. Funding unauthorized programs is already prohibited through budget points of orders, but Congress does little to enforce these provisions. In FY 2019, Congress provided more than $340 billion to agencies and programs that had a lapsed authorization or had never been authorized at all. One potential solution would be to implement a sunset schedule for programs and agencies, as proposed by Rep. Cathy McMorris Rodgers (R–WA). The first year that a program continues unauthorized spending, it would be reduced by 10 percent of the previous year's appropriation. For the next two years, it would be reduced by 15 percent. If Congress still failed to reauthorize the program by the end of the third year, the program would cease.
Eliminate budget gimmicks. Budget gimmicks promote wasteful spending and thrive on a lack of transparency. They should be eliminated from the budget process. One blatant gimmick, known as Changes in Mandatory Programs, creates false savings that Congress then uses to increase discretionary spending by billions of dollars. On top of Changes in Mandatory Programs, lawmakers allow adjustments for war and other spending that falls outside of statutory budget caps and is often diverted away from intended purposes, adding tens of billions of dollars in uncapped spending each year. Congress should budget for recurring expenses related to military and disaster aid within agencies' base budgets. If additional spending is required, it should be reserved for truly unpredictable and widespread events. Americans deserve a full accounting of how much Congress is truly spending.
Remove baseline bias towards higher spending. Under current CBO scorekeeping rules, the baseline used to score discretionary spending proposals assumes that spending will increase at the rate of inflation each year. This creates two problems: First, it creates a bias toward higher spending levels. The CBO assumes that spending will increase based arbitrarily on inflation, not on actual agency needs or proposals. Second, it allows lawmakers to claim spending cuts relative to the baseline when spending is actually increasing when compared to levels that have not been adjusted for inflation. In other words, spending may still be increasing, just not at the same pace, as assumed inflation would otherwise have increased it.
Congress should reverse the bias toward higher spending and direct the CBO to remove the assumption that discretionary spending will increase with inflation from its baseline. Removing inflation from the discretionary baseline would eliminate one accounting gimmick from the budget process and make federal spending more transparent.
Provide fair-value estimates. In an effort to more accurately and comprehensively represent the costs and risks, Congress should incorporate market risk in subsidy cost estimates for federal credit and loan guarantee programs. Currently, only the estimated net costs of federal credit programs on an accrual basis, rather than the annual cash flows that happen during the period of a loan term, are accounted for in the budget baseline and for scorekeeping purposes. This downplays the tangible risk associated with certain loan guarantees, which is especially concerning during economic downturns.
Fair-value accounting more accurately presents the risks that Congress assumes through the subsidies that credit and loan guarantee programs provide. Providing fair-value estimates for these programs would allow lawmakers to make better informed cost-benefit decisions.
These modest reforms combined with a comprehensive framework for fiscal restraint would not only help America avoid a budget breakdown, they would also create a better, more transparent, and more accountable budget process.