Now more than ever, the American people need a champion to preserve the great American experiment and everything good and just that it represents.  
That's why The Heritage Foundation exists. We champion policy solutions that benefit all Americans. But Heritage is also much more than a think tank.
Every day, Heritage works in our nation's capital to build an America where freedom, opportunity, prosperity, and civil society flourish for the benefit of all.
But unlike so many other organizations in Washington, D.C., The Heritage Foundation's focus isn't on putting more power into the hands of government—it's on returning power to the people.
That's why we don't work on behalf of any special interest or political party. Instead, our commitment is to the American people, which is why more than 500,000 members support our work.
Heritage ceaselessly advocates for individual liberty, limited government, free enterprise, traditional American values, and a strong national defense to protect it all. We have been consistently ranked the No. 1 think tank in the world for our impact on public policy.
Heritage works to develop innovative solutions to the issues America faces—from creating jobs and protecting our national security to fighting poverty, securing our borders, and creating a more affordable health care system.
But we don't stop there. We also:
show citizens how their government can work more effectively in ways that make life better for all Americans;
promote patriotism and an appreciation for America's founding principles;
train the new leaders of tomorrow who will help lead America to a brighter future; and
help unite the conservative movement and bring together different organizations' unique strengths for greater impact.
Here's how we do it…
Solving America's biggest issues
Heritage's world-renowned experts—with years of experience in business, government, the military, nonprofits, academia, and communications—spend each day researching and developing solutions to America's biggest issues. Our team then takes those solutions directly to decisionmakers in government, hosting regular strategy meetings with members of Congress, their staffs, and presidential administration policymakers.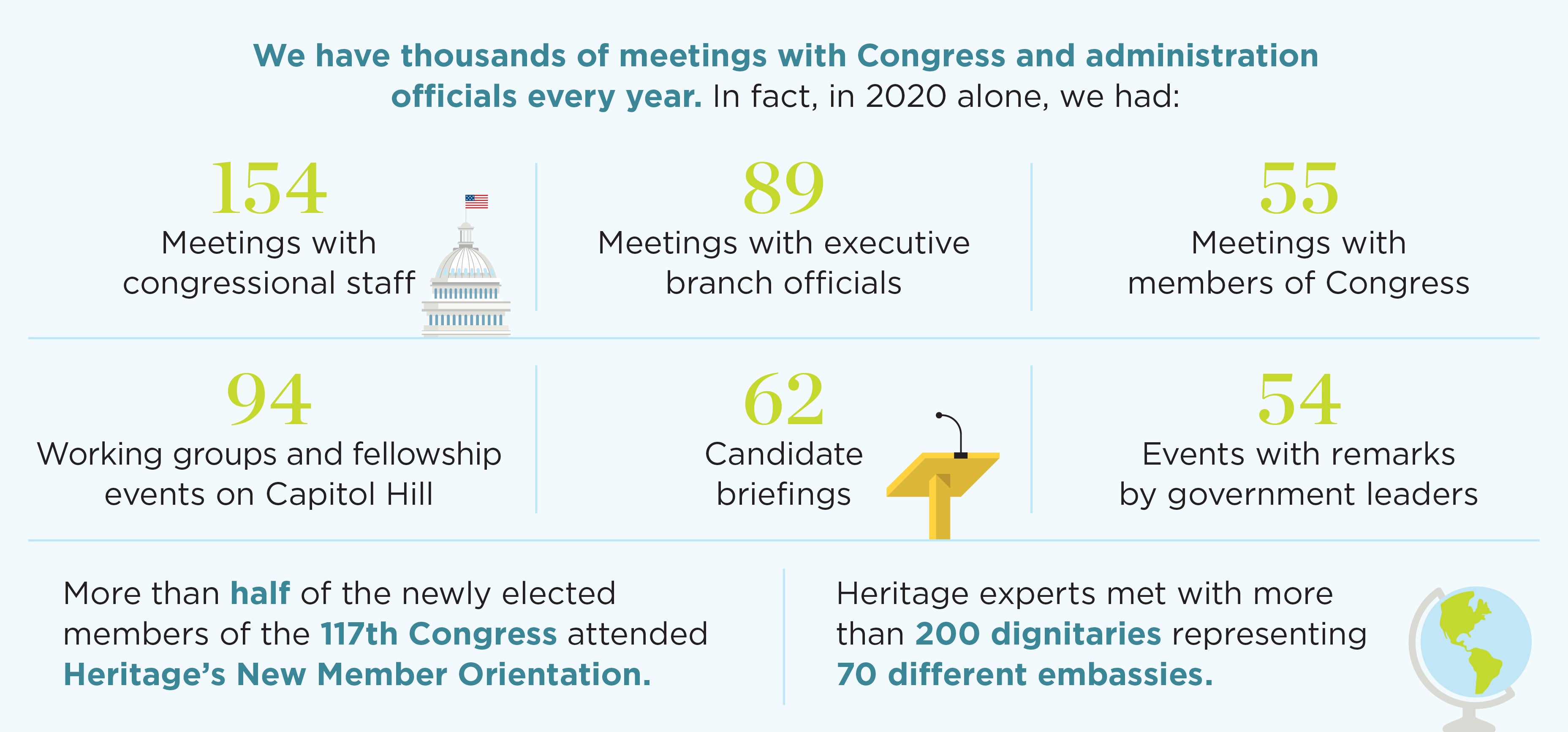 Heritage also reaches out globally. We engage with the international community and work with many nations to promote freedom, peace, and trade that benefits America and the world.
In addition to the many in-depth research reports and commentaries that we share with decisionmakers that are published on this website, our Solutions guide provides a quick overview of the most pressing issues of the day and presents solutions in one easy-to-understand, easy-to-navigate website.
Heritage also produces several other key publications to help policymakers, including:
the Mandate for Leadership, a roadmap for incoming presidential administrations to create policies to promote greater freedom, prosperity, opportunity, and a more secure nation;
the Index of Economic Freedom, a comparison of economic freedom in countries throughout the world. Respected by leaders worldwide for more than 25 years, the index has motivated nations to develop new ways to increase liberty around the globe; and
the Index of U.S. Military Strength, the most in-depth civilian analysis of American military strength and readiness. Military leaders and policymakers alike use this tool to assess and improve our defenses against the global threats we face.
Recognizing that elected leaders are more responsive to adopting policy solutions when they know the American people already support them, Heritage created Heritage Action for America. Heritage Action works with lawmakers to implement The Heritage Foundation's solutions while it also organizes nearly 20,000 Sentinel activists and more than 2 million local grassroots activists around the nation to push for their adoption. Heritage Action ensures that citizens are speaking up and their elected officials are listening.
Showing citizens policy solutions that work more effectively
Much of Heritage's work involves sharing our solutions not just with government officials, but with their bosses, the American people.
Our experts are featured on hundreds of major TV and radio outlets across the country in thousands of appearances each year; they reach millions of people each week on the pages of local and national newspapers; and they are reaching millions more on Facebook, Instagram, YouTube, and Twitter.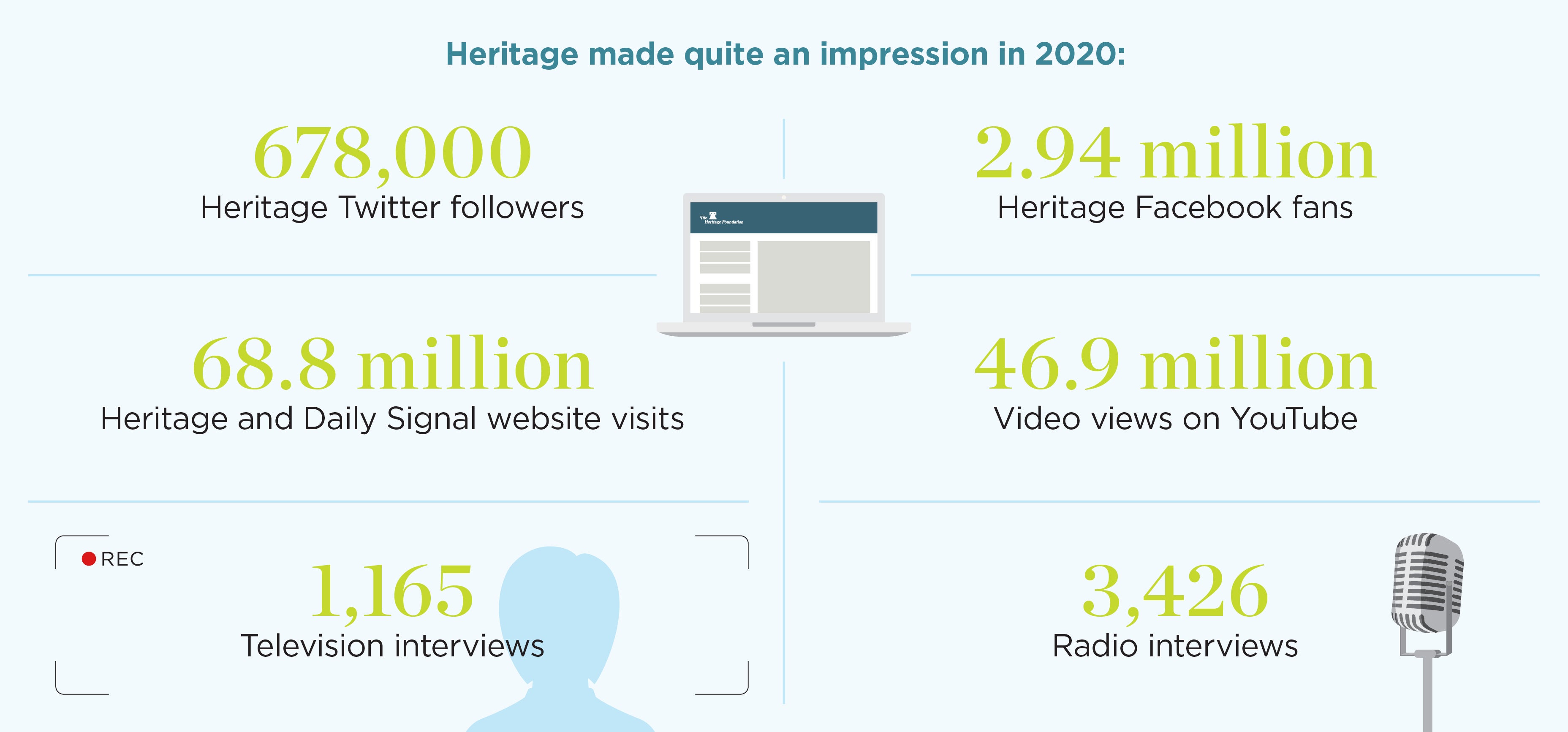 Heritage also created its own trusted online news platform that allows Americans to access our news and analysis directly. Attracting millions of visitors each month, The Daily Signal is a nationally recognized source for the day's top news and leading commentary.
In addition, Heritage hosts in-person and online lectures every week that put the public directly in touch with the experts who are on the front lines of today's complex issues, from military generals to Cabinet secretaries to renowned thought leaders.
But our team isn't just talking, we're listening. We spend a lot of time regularly gathering feedback from our half a million members and Americans all over the nation with conference calls, surveys, and in-person roundtables, all which help us better understand what's happening on the ground throughout the country.
Promoting patriotism and an appreciation for America's founding principles
While The Heritage Foundation's policy recommendations deal with solving a myriad of today's issues, those recommendations are based on Heritage's True North principles, many of which can be traced back to America's founding.
Through research reports, op-eds, webinars, conferences, and the promotion of civics education in our schools, Heritage teaches Americans an appreciation for our founding principles and our founding documents, the Declaration of Independence and the Constitution, and how they shaped this exceptional nation.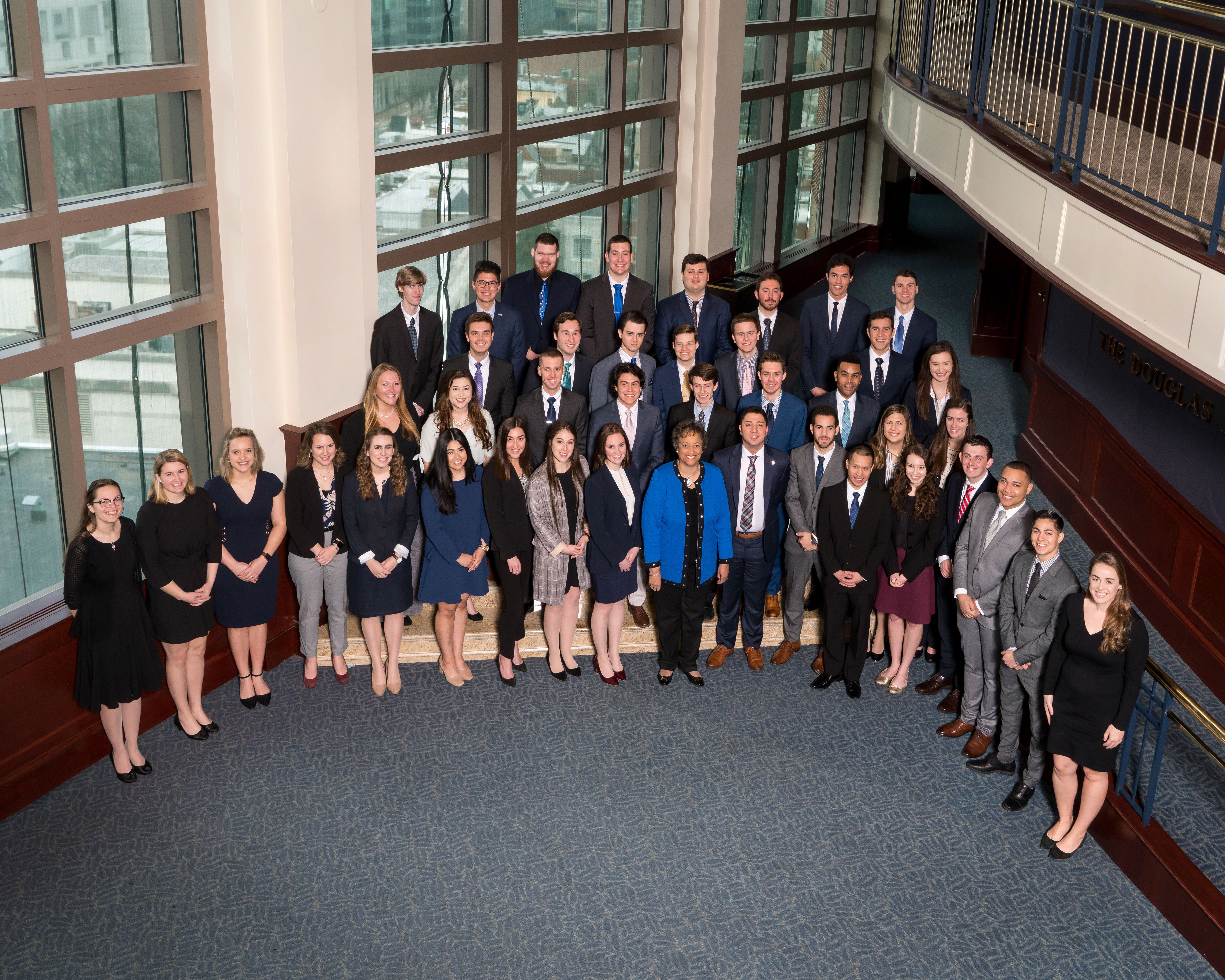 Training the leaders of tomorrow
Heritage helps to develop new generations of conservative leaders to ensure the cause of freedom continues for generations to come. From our intensive training programs for Capitol Hill staffers to our Young Leaders Program internships to our online Academy leadership program for students and professionals, we prepare nearly a thousand people every year for the leadership positions of tomorrow.
In addition, over the years, the Heritage Job Bank has placed thousands of qualified conservatives in critical positions in presidential administrations, congressional offices, state governments, media outlets, and the nation's top think tanks.
Mobilizing the conservative movement for greater impact
Because Heritage is more than a think tank, it is the recognized leader of the conservative movement. That's a role we take very seriously. In fact, we have an entire division devoted to growing and unifying the movement and creating coalitions to work together on common issues.
One example of this leadership is our annual Resource Bank Meeting. Conservative leaders, the brightest think tank minds, frontline activists, elected officials, and new media voices come together to share ideas, innovate, and strategize. The result is a coordinated effort from every corner of America to preserve and defend the nation we love.
---
Heritage doesn't do all of this alone, however. It's only because of our 500,000 members that we have the ability to engage on all of these fronts and continue to fight for America.
We keep our members informed and give them the tools they need to understand the latest issues and talk about them with friends, neighbors, and their elected leaders. Being a member of Heritage is a true partnership.
That's why we invite you to stand with us—because there's too much at stake to stand on the sidelines.  
It's only with your help that we can ensure America remains a land of unprecedented opportunity and the freest, most prosperous nation the world has ever known. 
To learn more about our team, the independence of our research, the unchanging True North principles that guide our work, and more, see the links below.