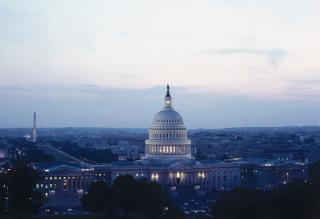 The Candidate Briefing Program
Educating Candidates on Conservative Policy Solutions
The Heritage Foundation—the nation's largest, conservative research institution—offers the Candidate Briefing Program to educate candidates on conservative policy solutions. Candidates have the opportunity to connect with our world-class analysts and can choose from a wide range of specific policy issues and interests where Heritage has already earned a reputation for expertise. 
Our analysts are cutting edge specialists in their field, frequently consulted by Congress and appearing regularly in the media. Briefings are held one-on-one with Heritage policy experts in Washington D.C. or via video conference and are scheduled upon request. Each policy briefing lasts approximately 30 minutes. 
---
To schedule a Candidate Briefing:
Contact Dani Doane with a list of policy topics and a preferred date and time.
---
Example of Briefing Agenda
Example #1
Election Integrity | 10:00 a.m.
The right to vote in a free and fair election is a citizen's most basic civil right. Congress and the states can and should guarantee that every eligible individual is able to vote—and that no one's vote is stolen. As long as elections put people into positions where they can make decisions about how much the government will spend, who will receive benefits, and how government will exercise its power, some people will attempt to cheat. A briefing on election integrity will cover how lawmakers can secure American faith in the election system.
Federal Budget and Spending | 10:30 a.m.
High federal debt puts the United States at risk for a number of harmful economic consequences, including slower economic growth, a weakened ability to respond to unexpected challenges, and possibly a debt-driven financial crisis. Learn how The Heritage Foundation finds places where government can cut spending, saving taxpayers trillions of dollars.
Health Care | 11:00 a.m.
The American health care system is too costly, complex, and confusing. These long-standing problems were made far worse by Obamacare, which was built on a model of centralized, top-down management that is unaffordable and unfair. This briefing will focus on free-market and patient-centered alternatives to Obamacare that will bring consumer choice to the health care industry.
Immigration | 11:30 a.m.
It is estimated that more than 16 million illegal immigrants are currently situated in the United States. The federal government is failing at one of its core responsibilities: securing the nation's borders and determining who can lawfully enter. It is time for Congress and the Administration to stop chasing costly, harmful immigration policies and to start pursuing fair and practical solutions to America's broken immigration system. Our experts will lay out detailed policy changes to transform and restore a sound immigration system
---
Example #2
Education | 2:00 p.m.
Teachers unions and big government special interest groups have run away with one of our nation's most formative institutions: the American education system. Students and parents should be able to choose from the best options tailored to the pupil's learning needs. However, the more the federal government interferes, the worse our school systems perform. Learn how choice and competition in education can reignite a robust education system.
Military Strength | 2:30 p.m.
The U.S. maintains a military to protect the homeland and impose America's will on its enemies—and to prevent an enemy from doing so to the United States. Consequently, the U.S. military must be able to win in combat. In order to do this, it must have modern equipment in good condition and appropriately manned and provisioned units. Our experts will outline how well we are doing.
Tax Policy | 3:00 p.m.
Americans work hard for their dollar and deserve to save, spend, and invest as they see fit. The 2017 tax cuts proved the benefits of this principle by creating a booming economy. People are back to work, private investment in our communities is flourishing, and throughout the nation new opportunities for Americans are rising. But there is still work to be done; this briefing will discuss how to ensure a fair tax code that benefits all Americans.
Religious Liberty | 3:30 p.m.
The right to exercise religious beliefs in public life is increasingly eroding. The Founders believed that a strong religious congregation and vibrant faith communities were essential to ordered liberty. Policymakers must restore a strong and stable society of individual and political self-government in which the people can give religious and faith-based institutions a place in civic and public life.