The recent media reports that President Donald Trump is interested in purchasing Greenland for United States has brought the unlikely country into the world's headlines.
Taking advantage of the limelight, Greenland's government tweeted, "We're open for business, not for sale."
#Greenland is rich in valuable resources such as minerals, the purest water and ice, fish stocks, seafood, renewable energy and is a new frontier for adventure tourism. We're open for business, not for sale❄️????? learn more about Greenland on: https://t.co/WulOi3beIC

— Greenland MFA ?? (@GreenlandMFA) August 16, 2019
Buying options aside, this newfound attention—however short-lived—can only be positive for Greenland.
Greenland is a very important U.S. partner with a long and rich history. It was first discovered by Vikings in the 10th century, and was ruled by the Kingdom of Denmark and Norway until 1814. That year, the Treaty of Kiel transferred ownership to the Kingdom of Denmark after the union between Norway and Denmark ended. 
Geographically, and to a certain extent culturally, Greenland is part of North America—although much of its economic and historical links are with Europe.
Today, Greenland is an autonomous constituent country of the Kingdom of Denmark. Greenland was granted home rule in 1979 and self-government in 2009. It has competency over most policy areas, with the big exceptions being foreign affairs, defense, and monetary policy—all of which are still controlled by Copenhagen.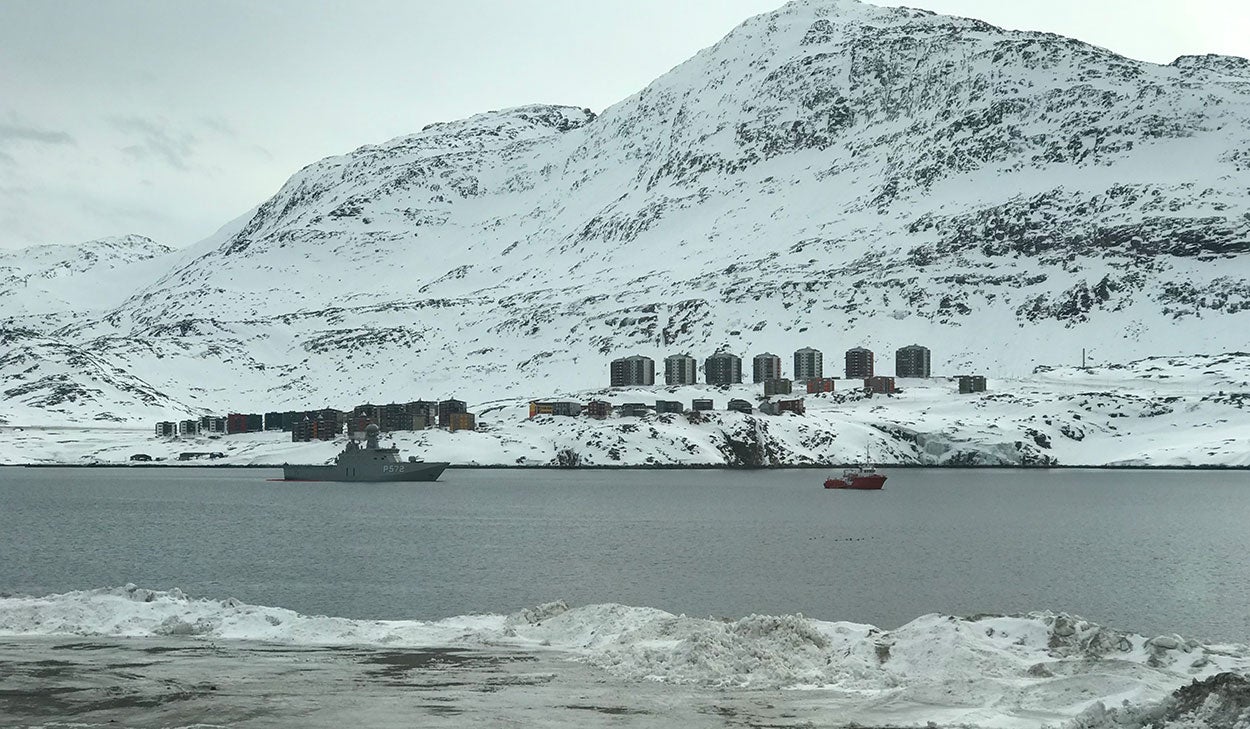 A Danish warship patrols Greenland's waters. (Photo: Luke Coffey)
There is a strong desire in Greenland for full independence—especially among Greenland's political elite. Only one political party does not support independence (and that party holds only one seat in the 31-seat parliament). 
For Greenland, the question is not if it will become independent, but when and how. 
Few inside Greenland's government think it is ready now, but Denmark's official position is that Greenland can become independent whenever it pleases.
After Germany invaded Denmark in 1940, the U.S. quickly deployed forces to protect Greenland from Nazi Germany. Ever since, the U.S. has maintained a military presence on the island. 
In 1946, the Truman administration tried, unsuccessfully, to buy the entire island from Denmark for $100 million. The U.S. was, however, granted long-term access to important military sites. 
Today, the main U.S. military presence is at Thule Air Base in the north of the country. Thule also serves as a very important early warning radar and satellite tracking station for the protection of the U.S. homeland.
So while the U.S.-Greenland security relationship is already good, U.S. policymakers should use the president's newfound interest in Greenland to advance closer economic relations with the country and expand America's diplomatic presence there.
Greenland has surprisingly few economic links with North America, given its geographical proximity. 
For instance, there are currently no direct flights from the U.S. to Greenland. The few direct flights that existed in the past were not profitable. The fishing industry accounts for 95% of Greenland's exports, but only 1% of that goes to the U.S.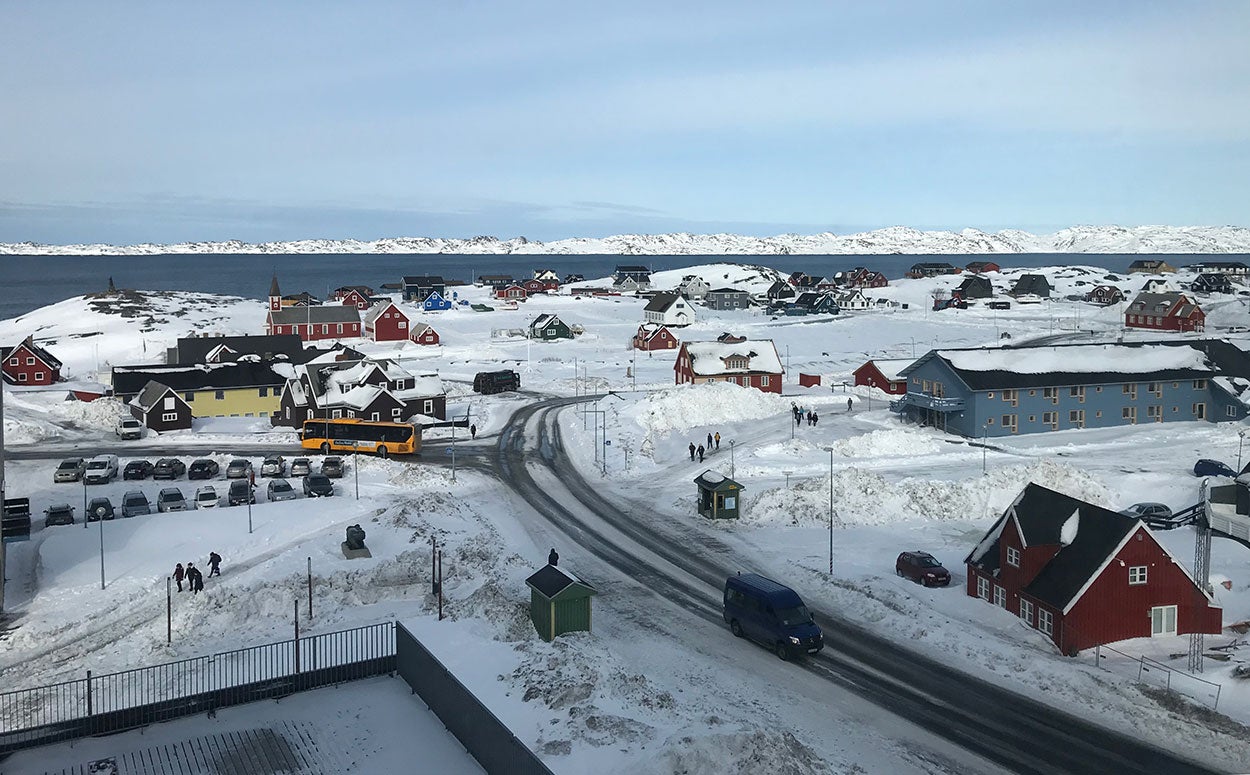 The container port at Sikuki Nuuk Harbor in Greenland. (Photo: Luke Coffey)
Greenland is making a conscious effort to change this lack of connection with North America. Greenland's national sea carrier, Royal Arctic Line, will be starting a weekly shipping service to Portland, Maine, later this year, and Greenland's government has been meeting with Maine government officials about increasing economic links. 
The only way to fly commercially to Greenland is from Iceland or Denmark, but that could change in the coming years. Greenland is set to begin construction on three new airports this year, to be finished in 2023 (in Qaqortoq in the south, in Nuuk the capital, and Ilulissat in the north). 
Greenland's government hopes the new airports will allow direct flights from North America and open up new opportunities for business and tourism.
The U.S. is also making new initiatives. 
After years of putting it on the back burner, the Trump administration recently announced that the U.S. will maintain a part-time diplomatic presence in Greenland. This is something The Heritage Foundation has been calling for. While this is a very welcome first step, over time this should become an enduring and permanent presence. 
The U.S. once had a consulate in Greenland, from 1940 to the early 1950s. Greenland is in America's backyard and a critical part of America's security architecture.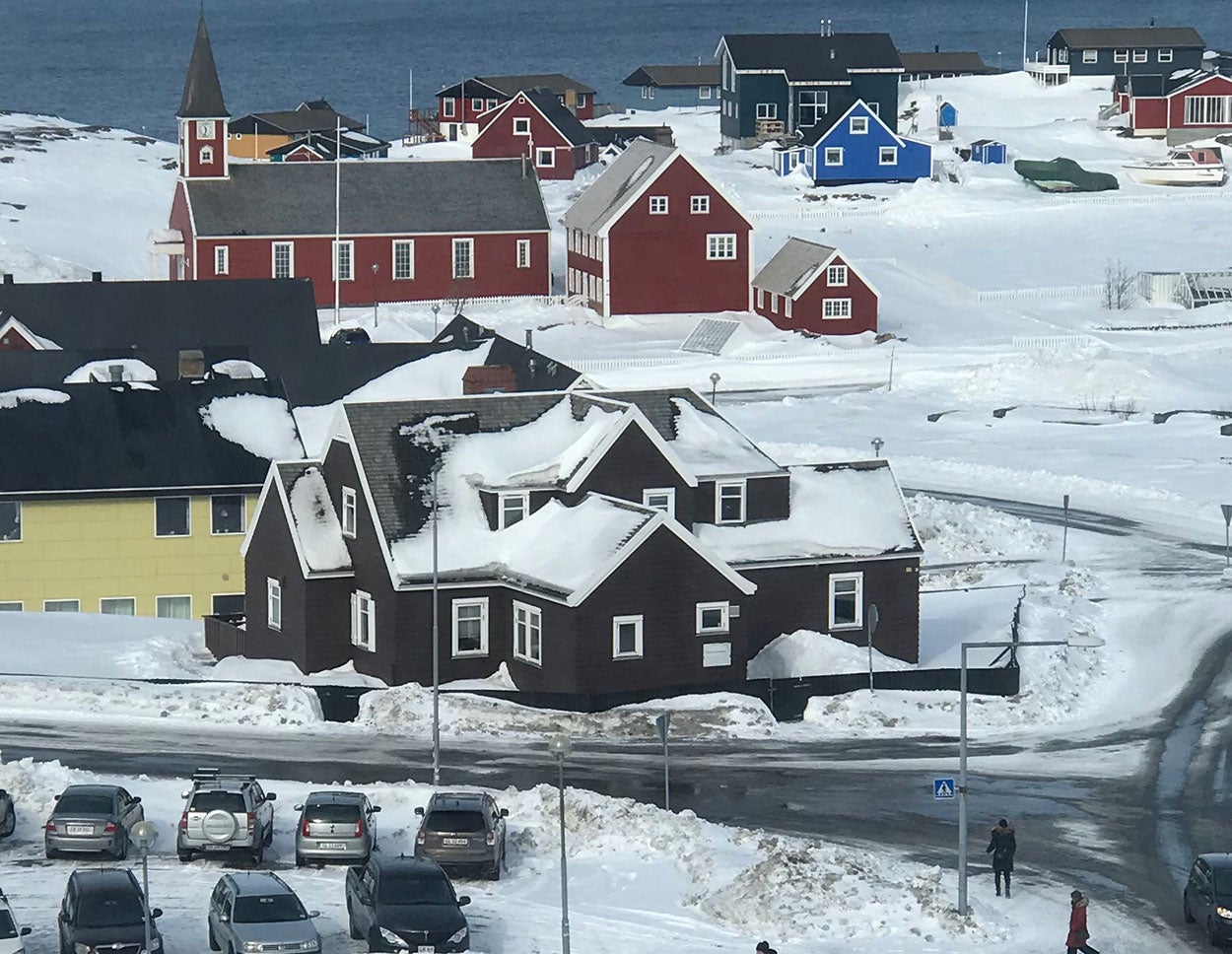 The building that served as the U.S. Consulate in Greenland from 1940 to 1953 still stands today. (Photo: Luke Coffey)
An expanded U.S. diplomatic presence would demonstrate that the U.S. takes Greenland at a level of seriousness proportionate to its role in America's security. It would also give the U.S. government a depth of situational awareness not possible without a consulate.
In all the hubbub over whether or not Trump really wants to buy Greenland, there's been very little discussion about whether that would be a good idea even if it were possible. In particular, nobody is discussing the financial burden that being responsible for Greenland would place on the U.S. 
Approximately 55% of the Greenlandic government's budget currently comes from Denmark in the form of a block grant. Moreover, no two cities or towns in Greenland are connected by a road, making travel and economic activity very difficult and expensive. And, many of the same social problems found in similar remote communities in Alaska are also found in Greenland, such as alcoholism and high suicide rates. 
As things currently stand, none of these costs could be offset by the profitable exploitation of natural resources as some suggest. The harsh environmental conditions and the lack of transport infrastructure limits the ability to take advantage of Greenland's natural resources. 
While there's been much talk of Greenland's mineral and natural resources, the fact is that there are currently only two active mines in Greenland: the Aappaluttoq ruby mine and the Qaqortorsuaq anorthosite mine. Neither are swimming in profit.  
To put it simply, the U.S. doesn't need to buy Greenland. A country like ours that is drowning in $22.5 trillion in national debt must prioritize its spending. 
The U.S. is already able to leverage its great relationship with Greenland and Denmark, and the U.S. enjoys access to Thule Air Base. Our strategic interests can be met without "purchasing" Greenland.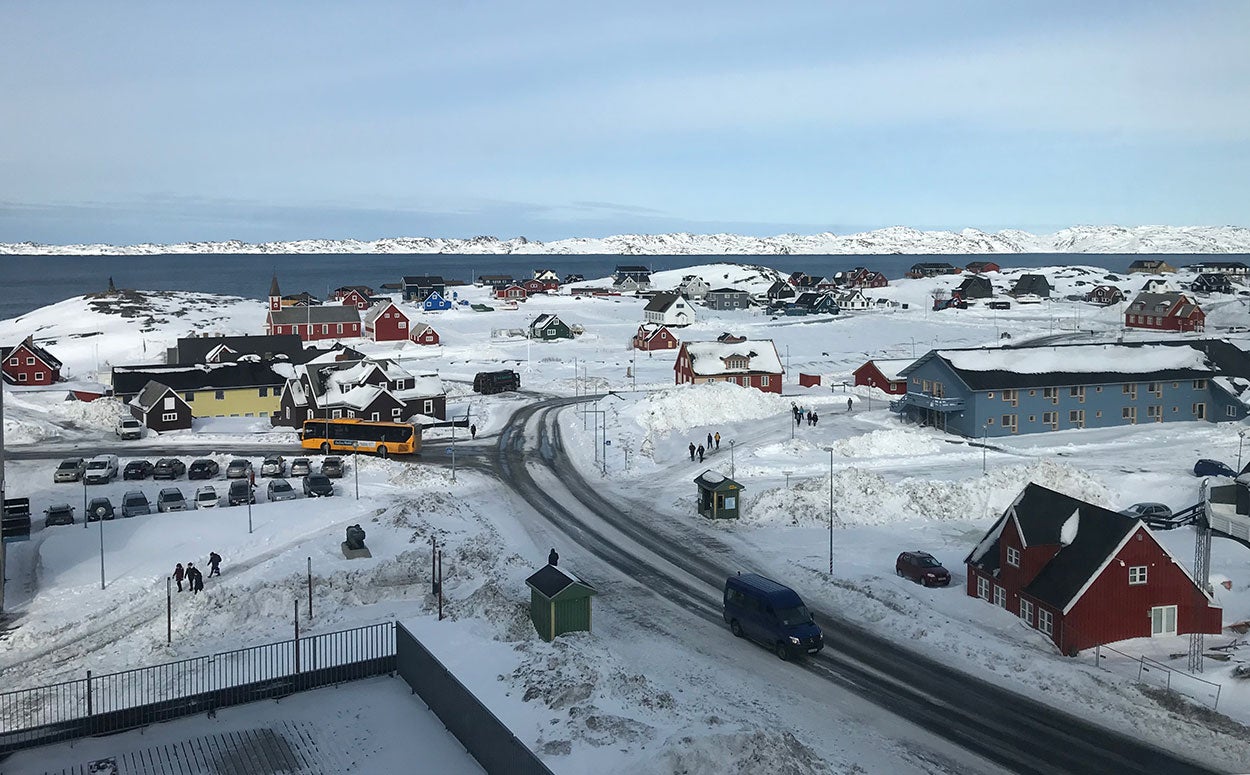 Downtown Nuuk, the largest and capital city of Greenland. (Photo: Luke Coffey)
It is impossible to know what Trump's true opinion is on Greenland one way or the other, but with his upcoming trip to Denmark, I am sure this matter will be raised. 
In the end, who knows how much truth is in these media reports? After all, August is a slow month for media outlets. They could have been scrounging for "clicks."
This is not the 19th century, and Greenland is not for sale. Regardless what the Greenlanders choose—either remaining with Denmark, or becoming an independent nation—the U.S. should respect Greenland's right to self-determination and continue to deepen relations.
Ultimately, it is up to the people of Greenland to determine how and by whom they wish to be governed.
This piece originally appeared in The Daily Signal