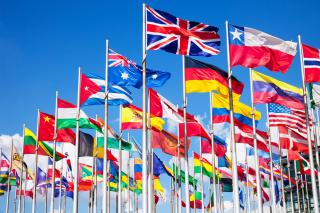 International Organizations and Treaties
Everything you need to know about America's work with international organizations.
The preeminent responsibility of the United States government is to defend and protect the American people and advance their interests and welfare domestically and abroad. Fulfilling this responsibility requires the United States to engage in a broad spectrum of bilateral and multilateral relationships, international organizations, and legal agreements and treaties. However, it is imperative that the United States understand that these relations are not an end but merely a means for securing the safety, prosperity, and opportunities of the American people.
Reconciling America's interests with the varying efficacy of international organizations and treaties does not lend itself to a bumper sticker policy. The United States must be flexible in its approach. If the United States and other nations operate only multilaterally, they hand the spoilers the means to frustrate their efforts. Multilateralism is a tool, not an end in itself. America should be willing to work through international organizations and ratify international agreements to address genuinely shared concerns, but it must not be held hostage by an irrational adherence to these approaches, nor should it be shy about using the tools available to it—including withholding financial support—to bolster its efforts to reform these organizations and advance American interests.

Read the Report

Read the Report
Recent Interviews, Articles, Video
Brett Schaefer and Steven Groves: The U.N.'s Latest Proposals Would Undermine U.S. Sovereignty
Ted Bromund and Steven Groves: The Left Was Wrong, Wrong, Wrong on Cluster Munitions
Brett Schaefer: House Republicans Are Drawing a Bright Line on U.N. Reform
Grace Melton and Jay Richards: U.N. Report Castigates Religion for Stymieing the Sexual Orientation-Gender Identity Agenda
Morgan Lorraine Viña and Brett Schaefer: Personnel Is Power: Why China Is Winning at the United Nations
Danielle Pletka and Brett Schaefer: Biden's Counterproductive International Organization for Migration Fight
Brett Schaefer and Steven Groves: Joe Biden Must Thwart Chinese Plans To Lead the International Maritime Organization
Brett Schaefer: China Is Not a Developing Country and Should Not Be Treated as One
Jason Bedrick and Brett Schaefer: Cut U.S. Funding Over UNRWA's Antisemitism
Grace Melton: Radical Agenda Eclipses Women at the U.N.'s Commission on the Status of Women
Brett Schaefer and Steven Groves: Report From Geneva: The WHO CA+ Treaty Falls Short
Ted Bromund and Ben Keith: Interpol Is Doing Russia's Dirty Work
Brett Schaefer: The Biden Administration's Iran-Deal Fable
Brett Schaefer: Joe Biden's Box-Checking U.N. Address Was a Failure
Brett Schaefer: Is the United Nations a Failure?
Ted Bromund: U.S. Leadership Needed to Push Back on China's Abuse of Interpol
Brett Schaefer and Michael Cunningham: Chinese Influence in the U.N. Threatens Human Rights Globally
Grace Melton: U.N.'s Gender Czar Ends Examination of U.S. With Bleak Report
Brett Schaefer: Biden's Legacy of Failure in Afghanistan
Ted Bromund: War in Ukraine Shows Why Arms Trade Treaty Remains Bad Idea
Steven Groves: Should the U.S. Ratify the U.N. Convention on the Law of the Sea?
Brett Schaefer and Danielle Pletka: Russia's Continued Presence on Aviation Safety Council Is a Travesty
Brett Schaefer and Morgan Lorraine Viña: U.N. Human Rights Chief Hands China a PR Victory
Ted Bromund: U.N. Gun Control Program Runs Amok Again
Grace Melton and Jay Richards: U.N. Exploits Climate Change Concerns to Push Contraception, Population Control
Ted Bromund and Zach Thapar: Dictators Are Using Interpol to Shape America's Legal System. It's Time to Change That.
Brett Schaefer: U.N. Takes Good First Step in Suspending Russia From Human Rights Council
Brett Schaefer: Why U.N. Should Suspend Russia From Its Human Rights Council
Grace Melton: At U.N. Commission on Status of Women, Far Left Ties Gender Ideology, Abortion to Climate Change
Brett Schaefer: American Leadership is Required in International Organizations
Benjamin Weinthal , Ben Evansky: Is the Biden Administration Seeking To Rejoin Controversial U.N. Agency Accused of Aiding Iran and North Korea
Sandra Grossman, Ted Bromund: Interpol's New Leadership Demonstrates Lack of Will for Reform
Grace Melton: U.N. Expert Calls for Countries to Embrace Radical Gender Theory
Virginia Allen, Steven Groves: 3 Things to Know About Biden's Trip to "Fantasy" COP26 Climate Summit
Grace Melton: U.N. Health Special Rapporteur Supports Abortion at Expense of Women's Health
Brett Schaefer and Danielle Pletka: Does Joe Biden Really Want To Reform the U.N. Human Rights Council?
Brett Schaefer: Joe Biden's Big U.N. Speech Tuesday Is Sure to Be a Disappointment
Brett Schaefer: What Happened to America's Plan To Reform the United Nations?
Brett Schaefer and Danielle Pletka: Can the ICAO Recover After Chinese Stewardship?
Ted Bromund: America Must Lead Free World in Elections to Interpol Commission
Ted Bromund: What Americans Should Know About Interpol Abuse
Brett Schaefer and Mike Gonzalez: The Return of "Blame America First"
Brett Schaefer: Universal Periodic Review Reflects "Deficiencies" of Human Rights Council
Steven Groves: Have a Care for U.S. Sovereignty
Brett Schaefer and Morgan Lorraine Viña: Get More Americans Working at the United Nations
Brett Schaefer and Danielle Pletka: America Should Not Have Rejoined the Flawed United Nations Human Rights Council
Steven Groves: Key Treaties That Threaten American Sovereignty, Which the Senate Must Oppose During the Biden Presidency
Brett Schaefer: A Rash Decision to Rejoin the World Health Organization Before Securing Reforms
Emilie Kao, Brett Schaefer: Can Human Rights Be Rescued From Human Rights Activists' Overreach?
Brett Schaefer: The Self-Assured Hubris of the World's Human-Rights Abusers
James Carafano, James Phillips, Brett Schaefer: Time to Kill the Zombie Iran Nuclear Deal at U.N.
Brett Schaefer: How the U.S. Should Respond to U.N.'s Latest Anti-Israel Action
Brett Schaefer: 6 Upcoming U.N. Elections That Could Impact U.S. Interests
Ted Bromund: Landmines Should Be an Option for the U.S.
Video
Watch more on C-SPAN:
Brett Schaefer on the World Health Organization