National Security Advisor John Bolton spoke at The Heritage Foundation to discuss the Trump administration's new strategy for Africa.
The strategy is focused on three priorities, all of which have long been advocated by foreign policy experts at The Heritage Foundation. These priorities include advancing U.S. trade across the region, continuing to combat terrorism, and making sure U.S. money for aid is used as most effectively that it can be.
"I'm delighted again to be at Heritage, an institution that really has contributed so much to the public policy debate for so many decades now in the United States," Bolton said Dec. 6 to a overflow audience in Heritage's Allison Auditorium.

In his remarks, Bolton emphasized that a free, growing, and self-sufficient Africa is of the utmost importance to the United States' national security interests—a belief that he said previous administrations did not share.

"Great-power competitors—namely, China and Russia—are rapidly expanding their financial and political influence across Africa," Bolton said. "They are deliberately and aggressively targeting their investments in the region to gain a competitive advantage over the United States."
Through its Index of Economic Freedom, The Heritage Foundation has long advocated the economic benefits of free markets for developing nations, including those in Africa.
"The Trump administration is correct to recognize that development is far less dependent on foreign assistance than it is on the willingness of African governments to adopt market- and investment-friendly policies," said Heritage foreign policy experts Joshua Meservey and Brett Schaefer.
Bolton's speech drew an overwhelming media response: 52 media outlets attended the event, along with 16 TV cameras, and there were more than 65 stories published pertaining to his remarks. On the morning of Bolton's presentation, there were at least 20,000 tweets and it was trending on Twitter.
Kim Holmes, a former assistant secretary of state and now executive vice president of The Heritage Foundation, has known Bolton for many years.
"We served together in the State Department during the [George W.] Bush administration, and frankly I can think of no one I would rather seeing advising President Trump on national security than John Bolton," said Holmes.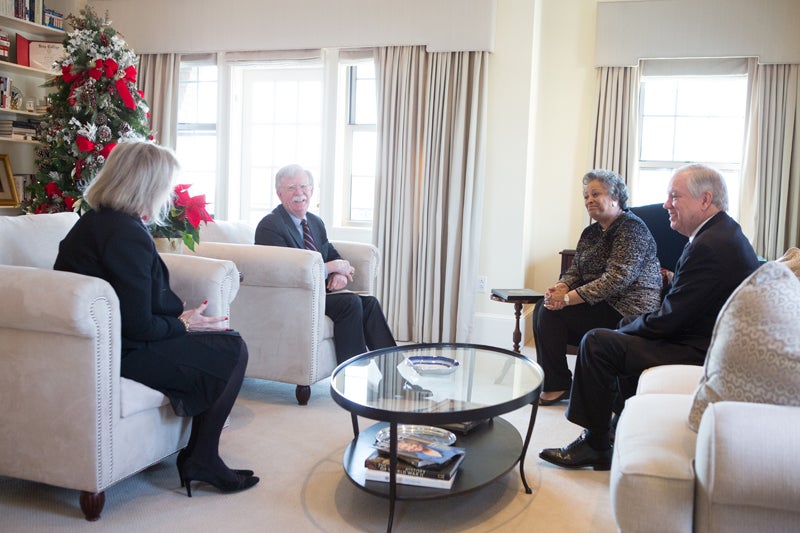 "American foreign policy should serve the interests of the American people and our values. The interesting thing that struck me about the way you were laying out the strategy is that, yes, it suits our interests, it suits our values, but it's also good for Africans, too," Holmes said at the Bolton event.
"As a matter of fact, it's just more effective in actually combating the problems that the Africans themselves face, whether it's terrorism, economic development, or a lack of freedom," Holmes said. "This has been, in my opinion, the formula of American genius of our foreign policy over the last decades."
Bolton's visit to Heritage was the third significant foreign policy event featuring prominent Trump administration officials.
"We've been privileged here at The Heritage Foundation in 2018 to welcome major policy addresses from the highest levels of President Trump's administration," said Heritage President Kay Coles James. "Earlier this year, we had the honor of hosting Secretary of State Mike Pompeo and U.N. Ambassador Nikki Haley. Today, Heritage is honored to continue our contributions to the most important national policy discussions," she said.