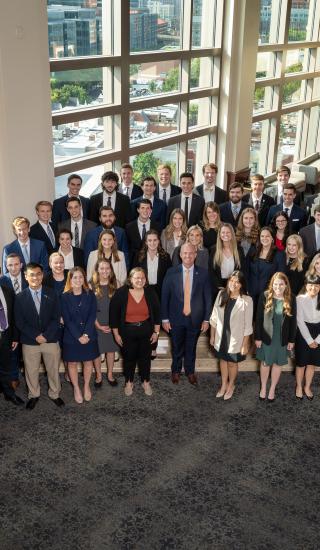 The Young Leaders Program
Washington D.C.'s best internship program
Apply Now
About
At The Heritage Foundation, we are committed to investing in America's next generation of leaders. Each semester, we hire and pay 50+ young conservatives who are committed to the principles of individual freedom, free enterprise, limited government, traditional American values, and a strong national defense. The Young Leaders Program has grown to become one of the top policy internships in the nation. We prepare our interns for their future roles as conservative leaders. Individual department placement includes foreign, economic, and domestic policy research, law and constitutional studies, communications, government relations, and others.
Past Young Leaders Program alumni include Senator Josh Hawley, Senator Tom Cotton, and Judge Naomi Rao, among others.
Internship Semester Dates 
Spring 2024 Program: January 8 through April 12
Summer 2024 Program: May 13 through August 9
Fall 2024 Program: September 3 through December 6
Internship Application Links
Spring 2024 Rolling hiring is in progress for a few remaining openings.
Summer 2024 Hiring on a rolling basis, apply by January 28.
Fall 2024 Hiring on a rolling basis, apply by June 2.
Programming
The Internship Semester Includes:
-The Boyce-Haller First Principles Lecture Series, a weekly briefing on the foundations of American political thought.
-Weekly briefings with Heritage policy experts on foreign, economic, and domestic policy issues, including:
Education
Rule of Law
Border Security
Election Integrity
Spending and Inflation
China
Big Tech
Protecting Life
-Heritage events featuring prominent conservative leaders, authors, and policymakers.
-Practical skills workshops on professional development, writing op-eds, job searching, and networking.
-Personalized resume and career consultation with The Heritage Foundation's Job Bank.
-Networking with other young conservatives and professionals through discussions, receptions, and reading groups.
-Hearing from experienced professionals who have worked on Capitol Hill and in presidential administrations.
-Trips to the U.S. Capitol, Mount Vernon, The Supreme Court, and The White House.
Internship Details:
Our interns are paid $15 per hour.
All internships take place at The Heritage Foundation headquarters in Washington, D.C.
Heritage Interns are given priority for intern housing in the E.W. Richardson Building. While we do not pay for housing, Intern Housing offers an affordable rate in a prime location—right next door.
Interns may work part-time or full-time in the spring and fall; all interns must work full-time in the summer.
Undergraduates, recent graduates, graduate students, law students and early-career professionals are encouraged to apply.
International students who have obtained work-authorization in the United States may be considered.