In October, President Donald Trump sent a strong message to his cabinet: "Get rid of the fat, get rid of the waste. I'm sure everybody at this table can do that."REF His request was straightforward. In light of rising budget deficits, the President proposed that federal agencies cut spending by an average of 5 percent in fiscal year (FY) 2020.REF
The President is right to be concerned about widening deficits. In 2018, deficit spending has already risen to $779 billion, and the Office of Management and Budget has already warned that this year's deficit is likely to exceed $1 trillion.REF There are numerous gimmicks, such as Changes in Mandatory Programs (CHIMPs), that Congress uses to increase spending. To make this proposal a meaningful cut, the Administration must first eliminate those gimmicks.
Cutting discretionary spending by 5 percent will not cure all of the nation's budget woes, but it is a good first step. Committing to this proposal could also help to derail another bad budget deal that would raise spending in 2020, representing a major victory for taxpayers.
Here are three ways the federal government could save a nickel of every dollar it spends:
1. Stick to the Fiscal Year 2020 Budget Control Act Cap
The Budget Control Act of 2011 implemented caps on defense and non-defense discretionary spending through FY 2021.REF The caps were designed to cut discretionary spending by nearly $1.6 trillion over 10 years.REF
While the caps did initially slow the growth of discretionary spending, they have been repeatedly undermined by Congress. From FY 2014 to FY 2017, Congress passed two budget deals that raised the spending caps by a combined $143 billion.REF For FY 2018 to FY 2019, Congress passed another budget deal that increased the caps by $296 billion, more than twice the previous two deals combined.REF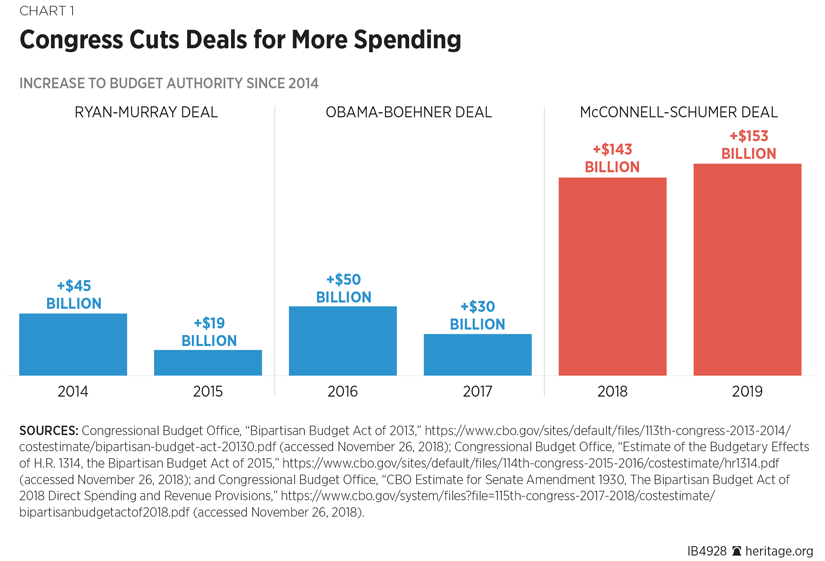 The Bipartisan Budget Act of 2018 increased the FY 2019 Budget Control Act cap to $1.244 trillion.REF Achieving 5 percent savings would require Congress and the Administration to cut base discretionary spending by approximately $62 billion.REF
This would be a better outcome than a possible alternative—another bad budget deal that would increase the FY 2020 spending cap.
Congress and the President can do better, though, and it would require only minor legislative changes. Achieving more than President Trump's 5 percent savings would be possible if Congress simply abided by the Budget Control Act in FY 2020 and left the law's total spending cap unchanged.
If Congress does not amend the cap, base discretionary spending will be limited to $1.119 trillion in FY 2020,REF doubling the President's proposed savings to $125 billion. This could be done by amending the Budget Control Act so that there are no longer separate defense and non-defense caps, with a single cap on all discretionary spending instead.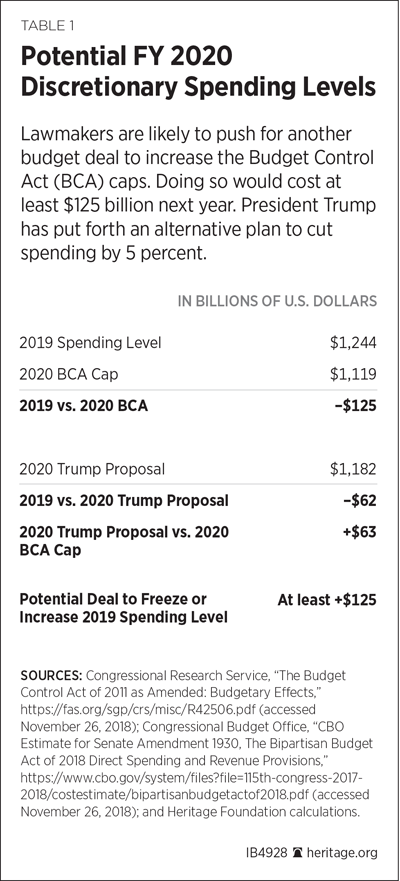 Abiding by the Budget Control Act's total discretionary cap would encourage Congress to spend taxpayers' money more carefully, while enabling legislators to prioritize constitutional federal functions, such as national defense. In addition to restoring the Budget Control Act caps, The Heritage Foundation's FY 2019 Blueprint for Balance identified $85 billion in discretionary savings that could be achieved without impacting the defense budget.REF
This approach would significantly reduce the federal bureaucracy and focus funding on core responsibilities.
2. Pursue a Rescission Package
In May 2018, President Trump submitted a rescission package to Congress. A rescission is simply a means for the President (with congressional approval) or Congress to take back money that has been appropriated, but not yet spent by the receiving agencies.REF
The President's request identified $15.4 billion in "wasteful and unnecessary spending" that had previously been approved by Congress.REF The request also started to eliminate the use of CHIMPs funding as a gimmick to increase spending.
Ultimately, the rescission package was adopted in the House of Representatives but failed to garner the 60 votes required to reach the Senate floor. The motion to proceed still received 50 votes in the Senate,REF and the House had 210 Members who voted for final passage of the package.REF
One of the reasons that the package failed was outrage over the rescission of $7 billion from the Children's Health Insurance Program (CHIP), funding for which the authorization to use the money had already expired and legally could not be spent by the agency. Just a few months later, Congress rescinded the same funds and then used these CHIMPs "savings" for unrelated spending, showing that the real issue was the President's desire to save money, not taking it from CHIP.REF
Rescissions are just one of a number of ways that Congress and the President could work together to save money. Before settling on the $15.4 billion proposal, it was rumored that President Trump wanted to submit a rescission request for as much as $60 billion.REF A package of that magnitude would nearly cover the President's proposed cuts.
Rescissions represent a chance for trade-offs in an era of capped spending levels. Rescissions can be used by Congress to accommodate changing budget priorities and can ultimately promote fiscal discipline and help to reduce spending.
3. Implement Administration-Driven Rule Changes with Budgetary Effects
While the first two options would require congressional buy-in to achieve 5 percent savings, there are ways that the President could save billions of dollars without the aid of Congress. One method would be through agency rule changes that reduce federal spending.
For example, Department of Agriculture Secretary Sonny Perdue could direct states to stop applying for work-requirement waivers that apply to able-bodied adults without dependents in the food stamp program. As of the first quarter of FY 2019, seven states and territories were approved for statewide waivers, and 29 states were approved for partial waivers.REF The waiver is intended to allow more time for recipients to find work during times of high unemployment (10 percent or more),REF but it has strayed from the original intent.REF
The unemployment rate is currently at a 48-year low of 3.7 percent while average earnings are up more than 3 percent from a year ago.REF There is not a critical need to continue the waivers at this time. Discontinuing the waivers could save taxpayers nearly $8.4 billion per year.REF
Another money-saving action the Administration could pursue through a rule change would be to eliminate the use of medical vocational grids in determining Social Security Disability Insurance (SSDI) benefit awards. In 2016, 46 percent of all disability insurance awards granted were based on non-medical factors (such as age, work experience, education, and ability to speak English) known as grids.REF A study commissioned by the Social Security Administration found no evidence that the effects of grid factors affected an individual's ability to perform new work.REF In 2017, SSDI benefits paid totaled $142.8 billion.REF
No longer allowing new beneficiaries to qualify based on the medical vocational grid classification could reduce future benefits paid through SSDI by billions of dollars every year, without action from Congress.
By pursuing these and additional administrative options, the President could reach his goal of 5 percent savings.
No Time to Waste
The three options listed above are just a small sample of how the President and Congress could cut spending by at least 5 percent. Cutting 5 percent from the discretionary budget is a good first step toward reining in spending growth and re-establishing fiscal responsibility.
Bolder proposals, such as broader reforms to Social Security and health care entitlements, will be needed over the long-term. These auto-pilot programs, combined with interest on the national debt, are the drivers of unsustainable spending growth. Success in negotiating and implementing modest reforms could build momentum for tackling bigger issues. Congress cannot afford to waste any more time in getting the country's fiscal house in order.
—Justin Bogie is Senior Policy Analyst in the Grover M. Hermann Center for the Federal Budget, of the Institute for Economic Freedom, at The Heritage Foundation.