In a prime-time debate on CNN, Sens. Bernie Sanders, I-Vt., and Ted Cruz, R-Texas, discussed the future of health care in America.
While Sanders praised Obamacare, Cruz presented several facts to demonstrate the law's many failures.
Throughout the debate, Cruz advocated for more health care options and greater competition within markets. During one of the more powerful moments in the debate, Cruz pulled out a Heritage Foundation chart that shows the limited options Americans face under Obamacare.
The chart demonstrates that nearly 70 percent of counties in the United States have access to only one or two insurers on Obamacare exchanges. Additionally, only 11 percent of U.S. counties have access to four or more insurance providers.
Heritage scholars Edmund Haislmaier and Alyene Senger compiled the data in a report published in January, "The 2017 Health Insurance Exchanges: Major Decrease in Competition and Choice."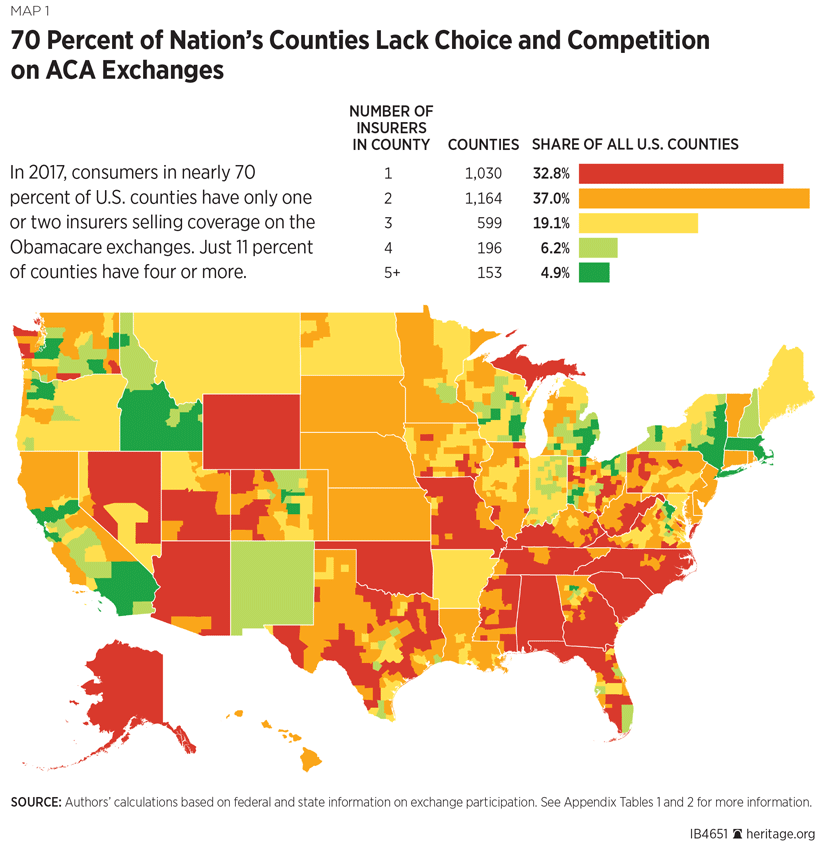 "It's interesting, you look at this map, this is also very much looks like the electoral map that elected Donald Trump," Cruz said. "It's really quite striking that the communities that have been hammered by this disaster of a law said, 'Enough already.'"
While progress is already being made by President Donald Trump, who signed an executive order within hours of assuming the presidency to provide relief to those impacted by Obamacare, Americans who are feeling the burden of high costs and lower options are eager to see a full repeal of as soon as possible.
This week, The Heritage Foundation released a plan to repeal and replace Obamacare. With conservatives in Congress demanding action now, the health care debate is taking center stage.