On February 24, 2022, Russia invaded Ukraine. Employing a force of nearly 200,000 troops replete with armor, rocket and conventional artillery, and combat aircraft, President Vladimir Putin ordered a "special military operation" to seize Ukraine, destabilize if not overthrow its government, and neutralize its military. In addition to the tremendous losses borne by both sides, the war has depleted the military inventories of countries providing material support to Ukraine. The assault on Ukraine is glaring proof that Putin's Russia is a profound threat to the U.S., its interests, and the security and economic interests of its allies, particularly in Europe but also more broadly given the reach of Russia's military and the destructive ripple effect its use is having and can have across countries and regions of special importance to the United States.
From the Arctic to the Baltics, Ukraine, and the South Caucasus, and increasingly in the Mediterranean, Russia continues to foment instability in Europe. Despite its economic problems, Russia continues to prioritize the rebuilding of its military and funding for its military operations abroad. Russia remains antagonistic to the United States both militarily and politically, and its efforts to undermine U.S. institutions and the NATO alliance continue unabated. In Europe, Russia uses its energy position along with espionage, cyberattacks, and information warfare to exploit vulnerabilities in an effort to divide the transatlantic alliance and undermine faith in government and societal institutions.
Overall, Russia possesses significant conventional and nuclear capabilities and remains the principal threat to European security. Its aggressive stance in a number of theaters, including Ukraine, Georgia, the Balkans, and Syria, continues to encourage destabilization and threaten U.S. interests.
Military Capabilities. According to the International Institute for Strategic Studies (IISS):
Russia has suffered significant losses of tanks and other military hardware as a result of its assault on Ukraine, but in the coming years, it will come back with a vengeance in rebuilding its military. It will be replacing the destroyed tanks and equipment with newly developed versions, not the old Soviet versions. In addition, Russian deep-sea research vessels include converted ballistic missile submarines, which hold smaller auxiliary submarines that can operate on the ocean floor.2
In recent years, Russia has increasingly deployed paid private volunteer troops trained at Special Forces bases and often under the command of Russian Special Forces in order to avoid political blowback from military deaths abroad. It has used such volunteers in Libya, Syria, and Ukraine because they help the Kremlin to "keep costs low and maintain a degree of deniability," and "[a]ny personnel losses could be shrouded from unauthorized disclosure."3
In January 2019, reports surfaced that 400 Russian mercenaries from the Wagner Group were in Venezuela to prop up the regime of Nicolás Maduro.4 Russian propaganda in Venezuela has supported the regime and stoked fears of American imperialism. In March 2022, Russian Foreign Minister Sergei Lavrov met with Venezuelan Vice President Delcy Rodriguez to discuss "their countries' strategic alliance,"5 and after Russia invaded Ukraine, Maduro "assured Vladimir Putin of his 'strong support.'"6
During the past few years, as the crisis has metastasized and protests against the Maduro regime have grown, Russia has begun to deploy troops and supplies to strengthen Maduro's security forces.7 In March 2019, for example, Russia deployed approximately 100 troops and military staff to Caracas.8 Russia also exports billions in arms to Venezuela (and has loaned the regime money to purchase Russian arms) along with $70 million–$80 million yearly in nonmilitary goods.9
In July 2016, Putin signed a law creating a National Guard with a total strength (both civilian and military) of 340,000, controlled directly by him.10 He created this force, which is responsible for "enforcing emergency-situation regimes, combating terrorism, defending Russian territory, and protecting state facilities and assets," by amalgamating "interior troops and various law-enforcement agencies."11 In November 2020, the Russian National Guard (Rosgvardia) and the Belarusian Ministry of the Interior signed an official cooperation deal specifying that either side "may carry out law-enforcement-type operations on the other's territory."12 Rosgvardia also has been involved in the war in Ukraine. In March 2022, Rosgvardia Director Viktor Zolotov stated that "National Guard units are not only involved in the fight against [the so-called Ukrainian] nationalists, [but] also fight to ensure public order and security in liberated localities, guard important strategic facilities, [and] protect humanitarian aid convoys." Specifically, Rosgvardia was sent to seize control of various Ukrainian cities.13
The Russian economy rebounded during the latter part of the COVID-19 pandemic,14 but after Moscow launched its second invasion of Ukraine in February 2022, Western sanctions had a significant effect on the economy.15
In 2021, Russia spent $65.9 billion on its military—6.37 percent more than it spent in 2020—and remained one of the world's top five nations in terms of defense spending.16 Much of Russia's military expenditure has been directed toward modernization of its armed forces. The U.S. Intelligence Community "expect[s] Moscow to sustain military modernization and enhance its armed forces, enabling it to defend Russia's national security while projecting influence globally and challenging the interests of the United States and its allies."17 From 2010 to 2019 (the most recent year for which data are publicly available), close to 40 percent of Russia's total military spending was on arms procurement.18 Taking into account total military expenditure, Russia spent 3.77 percent of its GDP on defense in 2021, a slight decrease from 2020.19 This will surely increase as combat losses and consumption of war materiel in Ukraine continue to mount.
In early 2018, Russia introduced its new State Armament Program 2018–2027, a $306 billion investment in new equipment and force modernization. According to the IISS, the program continues its predecessor's emphasis on modernization, but some of its aims are more modest than they were.20 The extent to which modernization efforts are affected by the Russo–Ukraine war cannot yet be known, but it seems reasonable to assume that Russia will not be content with a reduced and damaged military regardless of the outcome of the war. Consequently, general defense expenditures and investments in modernization programs are likely to increase, especially as they are enabled by historically high energy revenues.
Russia has prioritized modernization of its nuclear capabilities and claims that its nuclear trifecta is more than 89 percent of the way through its modernization from the Soviet era.21 Russia has been planning to deploy the RS-28 (Satan 2) ICBM as a replacement for the RS-36, which is being phased out in the 2020s.22 In June 2022, Putin announced in a speech that the missile had been "successfully tested" and, "with nuclear capability, will be deployed by the end of 2022." In a television interview, Alexei Zhuravlyov, a member of the Russian State Duma, boasted "that the [RS-28] would reduce the United States to 'nuclear ashes' if they 'think Russia should not exist.'"23
In April 2020, the Kremlin stated that it had begun state trials for its T-14 Armata main battle tank in Syria.24 After a series of delays, Russian troops allegedly will receive more than 40 Armata tanks in 2023.25 Aside from the T-14 Armata, 10 new-build T-90M main battle tanks, contracted in 2017, were delivered to the 2nd Motor-Rifle Division in the Moscow region in 2020.26 At the Army-2021 Forum, according to TASS, the Russian Defense Ministry "signed a contract with the Uralvagonzavod plant (part of the Rostec state corporation) stipulating the delivery of another batch of T-90M Proryv tanks and modernization of T-90 tanks to T-90M level."27
Russia's fifth-generation Su-27 fighter has fallen short of expectations, particularly with regard to stealth capabilities. In May 2018, the government cancelled mass production of the Su-27 because of its high costs and limited capability advantages over upgraded fourth-generation fighters.28 Russia lost one of its Su-27 jets near the Crimean coast during a planned mission in March 2020.29 In July 2021, Russia premiered the prototype for its Su-75 LTS Checkmate, which will be "the world's second single-engine fighter plane to incorporate the most sophisticated radar-evasion and command systems."30 The only other plane in this category is the F-35.
In December 2019, Russia's sole aircraft carrier, the Admiral Kuznetsov, caught on fire during repair work.31 The carrier was scheduled to begin sea trials in 2022,32 but the addition of a propeller-rudder system, hull repairs, and an assortment of delays in other maintenance work have caused the trials to be delayed until 2024.33 In May 2019, reports surfaced that Russia is seeking to begin construction of a new nuclear-powered aircraft carrier in 2023 for delivery in the late 2030s, but the procurement's financial and technological feasibility remains questionable.34
Following years of delays, the Admiral Gorshkov stealth guided missile frigate was commissioned in July 2018. According to one report, the Russian Navy is expected to add 10 new Gorshkov-class frigates and 14 Steregushchiy-class corvettes by 2027. Russia is also significantly upgrading its nuclear-powered battle cruiser Admiral Nakhimov, which is expected to become the "most powerful surface vessel in the Russian Navy" and be ready for sailing in 2023.35
Russia plans to procure eight Lider-class guided missile destroyers for its Northern and Pacific Fleets, but procurement has faced consistent delay.36 In April 2020, it was reported that Russia's Severnoye Design Bureau had halted development of the frigates because of financial setbacks.37
In November 2018, Russia sold four Admiral Grigorovich–class frigates to India, which should take delivery of all four by 2026.38 The ships had been intended for the Black Sea Fleet, but Russia found itself unable to produce a replacement engine following the imposition of Ukraine-related sanctions. Of the planned 14 frigates, Russia had engines for only two, but in January 2021, India procured gas turbine engines from Ukraine "and handed [them] over to Russia to install them on the Admiral Grigorovich-class guided-missile stealth frigates that are being made for the Indian Navy by a Russian shipyard as part of $2.5 billion deal."39
Russia's naval modernization continues to prioritize submarines. In June 2020, the first Project 955A Borei-A ballistic-missile submarine, the Knyaz Vladimir, was delivered to the Russian Northern Fleet as an addition to the three original Project 955 Boreis.40 In December 2021, Russia launched Knyaz Oleg and Novosibirsk, part of the Borei-A and Yasen-M submarine classes, respectively,41 in addition to Generalissimo Suvorov, the third of the upgraded Borei-A class submarines.42 The Novosibirsk is equipped with Kalibr cruise missiles.43 Russia reportedly will construct a total of 10 Borei-A class submarines; so far, five have been delivered.44
The Laika-class submarines (previously called Khaski) are planned fifth-generation stealth nuclear-powered submarines. They are slated to begin construction in 2023 and to be armed with Zircon hypersonic missiles, which have a reported speed of from Mach 5 to Mach 6.45 According to a Russian vice admiral, these submarines will be two times quieter than current subs.46 Construction of the first Laika is scheduled for the end of 2030.47
Russia also continues to upgrade its diesel electric Kilo-class subs.48 It reportedly inducted the first improved Project 636.6 Kilo-class submarine into its Pacific Fleet in November 2019.49 Russia launched the third of six Project 06363 improved Kilo-class subs in March 2021, and all six are to be built by 2024.50 According to one assessment, the submarines' improved noise reduction has caused them to be nicknamed "Black Holes," but "the submarine class lacks a functioning air-independent propulsion system, which reduced the boats' overall stealth capabilities."51
Transport remains a nagging problem, and Russia's defense minister has stressed the paucity of transport vessels. According to a RAND report:
In 1992, just after the collapse of the Soviet Union, the Russian Federation military had more than 500 transport aircraft of all types, which were capable of lifting 29,630 metric tons. By 2017, there were just over 100 available transport aircraft in the inventory, capable of lifting 6,240 metric tons, or approximately one-fifth of the 1992 capacity.

52
That number is even lower now. At least two Russian transport aircraft were shot down right after Russia's second invasion of Ukraine, which began on February 24, 2022.53
Although budget shortfalls have hampered modernization efforts overall, Russia continues to focus on development of such high-end systems as the S-500 surface-to-air missile system. As of March 2021, the Russian Ministry of Defense was considering the most fitting ways to introduce its new S-500 Prometheus surface-to-air missile system, which can detect targets at up to 1,200 miles and uses a missile with a range of approximately 250 miles, "as part of its wider air-defense modernization." According to one report, the S-500 system will enter full service by 2025.54
Russia's counterspace and countersatellite capabilities are formidable. According to the U.S. Intelligence Community:
Russia continues to train its military space elements and field new antisatellite weapons to disrupt and degrade U.S. and allied space capabilities, and it is developing, testing, and fielding an array of nondestructive and destructive counterspace weapons—including jamming and cyberspace capabilities, directed energy weapons, on-orbit capabilities, and ground-based ASAT capabilities—to target U.S. and allied satellites.

55
In November 2021, Russia conducted an anti-satellite missile test that reportedly "endangered the crew aboard the International Space Station (ISS)" because it created more than 1,500 pieces of trackable orbital debris and "hundreds of thousands of pieces of smaller orbital debris."56 In September 2021, it was revealed that three Voronezh radars will be modernized as part of Russia's missile attack early warning system by 2028.57
Military Exercises. Russian military exercises, especially snap exercises, are a source of serious concern because they have masked real military operations in the past. Their purpose is twofold: to project strength and to improve command and control. In March 2022, Air Force General Tod D. Wolters, then Commander, U.S. European Command (EUCOM), testified that:
Russia maintains a large conventional force presence along NATO's borders and conducts snap exercises to increase instability. Russia employs unconventional tools, ranging from disinformation campaigns, malicious cyber activities, and the manipulation of energy markets to support Moscow's efforts at political subversion and economic intimidation. These tools and others are intended to coerce, weaken, and divide our Allies and Partners in the European theater and beyond.

58
Concerns were heightened and eventually validated when Russia used such exercises in the spring and fall of 2021 to position forces close to Ukraine's borders with Russia and Belarus—forces that it ultimately used to invade Ukraine.
Exercises in the Baltic Sea in January 2022 amid heightened tensions between Moscow and the West over Russia's military buildup on the Ukrainian border were meant as a message. Twenty Russian navy vessels performed "exercises focused on naval and anti-aircraft defence."59 Right before the exercises occurred, the U.S. announced that it might send extra troops to NATO's eastern flank.60 It is possible that Moscow used this announcement as its reason for initiating the exercises.
Russia's snap exercises are conducted with little or no warning and often involve thousands of troops and pieces of equipment.61 In April 2021, for example, between 150,000 and 300,000 Russian troops massed at the Ukrainian border and in Crimea to conduct snap exercises that also involved approximately 35,000 combat vehicles, 900 aircraft, and 190 navy ships.62 In February 2022, just before Moscow's second invasion of Ukraine, Russia and Belarus held joint snap exercises reportedly with 30,000 combat troops and special operation forces, fighter jets, Iskander dual-capable missiles, and S-400 air defense systems.63
Threats to the Homeland
Russia is the only state adversary in the Europe region that possesses the capability to threaten the U.S. homeland with both conventional and nonconventional means. Although there does not currently appear to be a strong likelihood that Russia will use its nuclear capabilities against the United States directly, Putin "casts the war [in Ukraine] as an inevitable confrontation with the United States, which he accuses of threatening Russia by meddling in its backyard and enlarging the NATO military alliance," and CIA Director William Burns has said that "none of us can take lightly the threat posed by a potential resort to tactical nuclear weapons or low-yield nuclear weapons" in Ukraine.64
Russia's most recent National Security Strategy does not mention NATO directly, but it does assert that the U.S. is planning to deploy medium-range and short-range missiles in Europe—a possibility that NATO firmly denies. The same document also clearly states that Russia will use every means at its disposal to achieve its strategic goals. Among its "basic concepts" is "ensuring national security—the implementation by public authorities in cooperation with civil society institutions and organizations of political, legal, military, socio-economic, informational, organizational and other measures aimed at countering threats to national security."65
The most recent Russian military doctrine, which Putin signed in December 2014, specifically emphasizes the threat allegedly posed by NATO and global strike systems.66
Strategic Nuclear Threat. Russia possesses the largest arsenal of nuclear weapons (including short-range nuclear weapons) among the nuclear powers.67 It is one of the few nations with the capability to destroy many targets in the U.S. homeland and in U.S.-allied nations as well as the capability to threaten and prevent free access to the commons by other nations.
Russia has both intercontinental-range and short-range ballistic missiles and a varied arsenal of nuclear weapons that can be delivered by sea, land, and air. It also is investing significant resources in modernizing its arsenal and maintaining the skills of its workforce, and "modernization of Russia's strategic nuclear triad is expected to remain a priority" under the new state armament program.68 Modern weapons and equipment allegedly now constitute 89 percent of Russia's nuclear triad.69
Russia currently relies on its nuclear arsenal to ensure its invincibility against any enemy, intimidate European powers, and deter counters to its predatory behavior in its "near abroad," primarily in Ukraine, where it uses the threat of nuclear attack to deter other countries from supporting Ukraine's defense, but also in the Baltic States.70 This arsenal serves both as a deterrent to large-scale attack and as a protective umbrella under which Russia can modernize its conventional forces at a deliberate pace, but Russia also needs a modern and flexible military to fight local wars such as those against Georgia in 2008 and the renewed offensive against Ukraine that began in 2022.
Under Russian military doctrine, the use of nuclear weapons in conventional local and regional wars would be de-escalatory because it would cause an enemy to concede defeat. In April 2022, for example, "Russia's Foreign Minister said…that if the U.S. and Ukraine's other Western allies continue to arm the country as it battles Moscow's invading forces, the risk of the war escalating into a nuclear conflict 'should not be underestimated.'"71
General Wolters discussed the risks presented by Russia's possible use of tactical nuclear weapons in his 2022 EUCOM posture statement:
Russia's nuclear arsenal and strike capability remains an enduring, existential threat to the United States, democracy, and our peaceful Allies and Partners. A central concern is Russia's non-strategic nuclear weapons stockpile and the Kremlin's potential to use these weapons in crisis or conflict.
Russia pursues malign activities, including military aggression, aimed at undermining democracy, the rules-based international order, and has a willingness to use force to achieve its aims. Russia pursues these activities despite widespread international condemnation and economic sanctions. President Putin leverages coercive and aggressive policies to counter Western influence and threaten peace and stability in Europe.

72
Item 19 in Putin's June 2020 executive order, "Basic Principles of State Policy of the Russian Federation on Nuclear Deterrence," outlines four "conditions specifying the possibility of nuclear weapons use by the Russian Federation." They include:
Russia's reliance on nuclear weapons is based partly on their small cost relative to the cost of conventional weapons, especially in terms of their effect, and on Russia's inability to attract sufficient numbers of high-quality servicemembers. In other words, Russia sees its nuclear weapons as a way to offset the lower quantity and quality of its conventional forces.
Just as it is doing to deter Western support for Ukraine, Moscow has repeatedly threatened U.S. allies in Europe with nuclear deployments and even preemptive nuclear strikes.74 The Russians justify their aggressive behavior by pointing to deployments of U.S. missile defense systems in Europe. In the past, these systems were not scaled or postured to mitigate Russia's advantage in ballistic missiles and nuclear weapons to any significant degree, but Pentagon officials have said that laser-armed Strykers are set to arrive by September 2022 and that new Eastern European batteries and sea-based interceptors are set to arrive by 2023.75
Russia continues to violate the Intermediate-Range Nuclear Forces (INF) Treaty, which bans the testing, production, and possession of intermediate-range missiles.76 Russia first violated the treaty in 2008 and then systematically escalated its violations, moving from testing to producing to deploying the prohibited missile into the field. Russia fully deployed the SSC-8 cruise missile in violation of the INF Treaty early in 2017 and has deployed battalions with the missile at the Kapustin Yar missile test site in southern Russia; at Kamyshlov near the border with Kazakhstan; in Shuya east of Moscow; and in Mozdok in occupied North Ossetia.77 U.S. officials consider the banned SSC-8 cruise missiles to be fully operational.78
In December 2018, in response to Russian violations, the U.S. declared Russia to be in material breach of the INF Treaty, a position with which NATO allies were in agreement.79 The U.S. provided its six-month notice of withdrawal from the INF treaty on February 2, 2019, and officially withdrew from the treaty on August 2.80
Russia's sizable nuclear arsenal remains the only threat to the existence of the U.S. homeland emanating from Europe and Eurasia. While the potential for use of this arsenal remains low, the fact that Moscow continues to threaten Europe with nuclear attack demonstrates that this substantial nuclear capability will continue to play a central strategic role in shaping both Russian military and political thinking and the level of Russia's aggressive behavior with respect to other countries.
Threat of Regional War
Many U.S. allies regard Russia as a genuine threat. At times, this threat is of a military nature, as seen in Russia's war against Ukraine. At other times, it involves less conventional tactics such as cyberattacks, exploitation of Russia's status as a source of energy, and propaganda. Today, as in the days of Imperial Russia, Moscow uses both the pen and the sword to exert its influence. Organizations like the Collective Security Treaty Organization (CSTO) and the Eurasian Economic Union (EEU), for example, embody Russia's attempt to bind regional capitals to Moscow through a series of agreements and treaties.
Russia also uses espionage in ways that are damaging to U.S. interests. For example: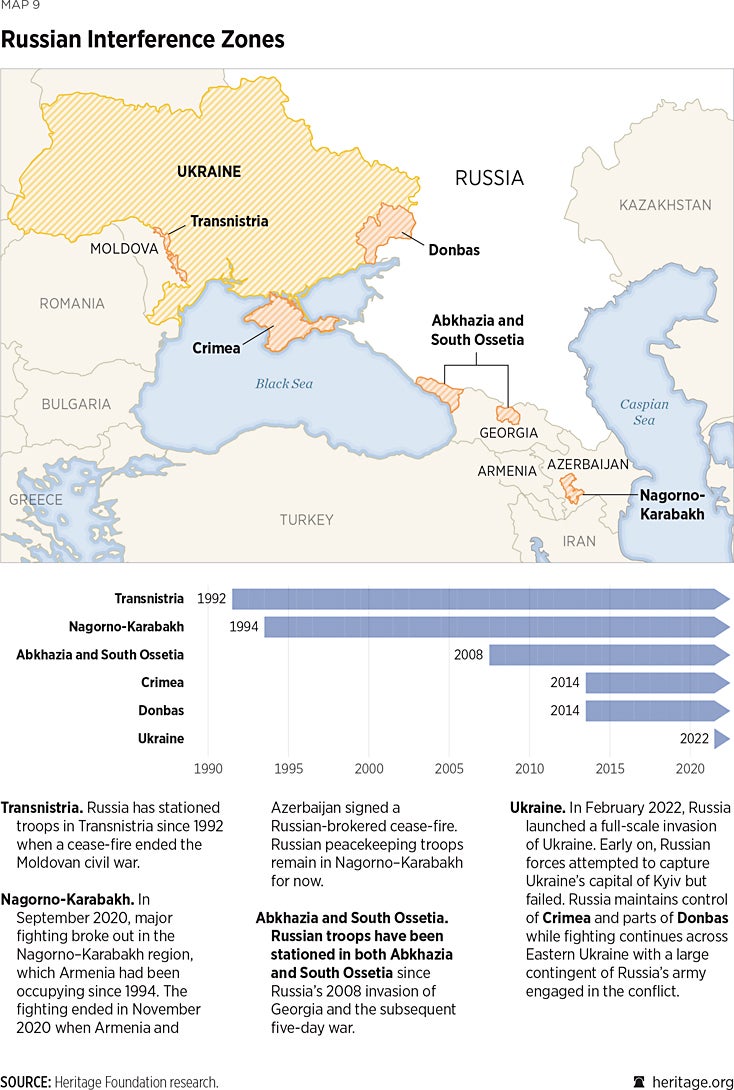 In 2019, the European External Action Service, diplomatic service of the European Union (EU), estimated that 200 Russian spies were operating in Brussels, which is the headquarters of NATO.83 In March 2022, Brussels expelled 21 Russian diplomats for "alleged threats and posing threats to security."84 According to one report, Russian spies are becoming harder to track because they infiltrate companies, schools, and even the government.85 In addition, the expulsion of Russian spies is not a permanent solution for Western nations because "Russia tends to send back new spies to replace the ones who have left."86
On March 4, 2018, Sergei Skripal, a former Russian GRU colonel who was convicted in 2006 of selling secrets to the United Kingdom and freed in a spy swap between the U.S. and Russia in 2010, and his daughter Yulia were poisoned with Novichok nerve agent by Russian security services in Salisbury, U.K. Hundreds of residents could have been contaminated, including a police officer who was exposed to the nerve agent after responding.87 It took a year and the work of about 190 U.K. Army and Royal Air Force personnel, supported by "specialist contractors," to complete the physical cleanup of Salisbury.88 U.S. intelligence officials have reportedly linked Russia to the deaths of 14 people in the U.K. alone, many of them Russians who ran afoul of the Kremlin.89
Russian intelligence operatives are reportedly mapping U.S. telecommunications infrastructure around the United States, focusing especially on fiber-optic cables.90
Russia has also used its relations with friendly nations—especially Nicaragua—for espionage purposes. In April 2017, Nicaragua began using a Russian-provided satellite station at Managua that, even though the Nicaraguan government denies it is intended for spying, is of concern to the U.S.94 In November 2017, the Russian-built "counter-drug" center at Las Colinas opened, its future purpose being to support "Russian security engagement with the entire region."95 According to a Foreign Policy Research Institute report, "Aside from the center, Russian forces have participated in joint raids and operations against drug trafficking [in Nicaragua], capturing as many as 41 presumed traffickers in one particular operation" since 2017.96 Moscow also has an agreement with Nicaragua, signed in 2015, that "facilitate[s] Russian access to the ports of Corinto and Bluefields."97
Pressure on Central and Eastern Europe. Moscow poses a security challenge to members of NATO that border Russia. Until recently, a conventional Russian attack against a NATO member was thought unlikely, but Russia's assault on Ukraine and its threatening of NATO members that are supporting Ukraine raise the specter of a larger conflict involving NATO. Russia continues to use cyberattacks, espionage, its significant share of the European energy market, and propaganda to sow discord among NATO member states and undermine the alliance. The Estonian Foreign Intelligence Service's International Security and Estonia 2019 report states clearly that "[t]he only serious threat to regional security, including the existence and sovereignty of Estonia and other Baltic Sea states, emanates from Russia. It involves not only asymmetrical, covert or political subversion, but also a potential military threat."98
After decades of Russian domination, the countries of Central and Eastern Europe factor Russia into their military planning and foreign policy formulation in a way that is simply unimaginable in many Western European countries and North America. Estonia and Latvia have sizable ethnic Russian populations, and there is concern that Russia might exploit this as a pretext for aggression—a view that is not without merit in view of Moscow's irredentist rhetoric and Russia's use of this technique to invade Ukraine in 2014 and 2022.
According to Lithuania's National Threat Assessment 2022:
Russia is and will remain the greatest and potentially existential threat to Lithuania and other countries of the region. By threatening to invade Ukraine and spark a conflict in Europe, Russia seeks to force the West to acknowledge its right to determine political choices of other independent states to decide on the ways how to ensure national and regional security. Moscow is also taking advantage of instability generated by [Belarusian dictator Alexander] Lukashenka and together with Beijing further challenging the West….
Moscow attempts to persuade the country's population that the West is to blame for the economic and social problems and society's discontent with the regime; however, it is clearly an outcome of ineffective political system and poor management of national resources and priorities. Therefore, the regime employs increasingly aggressive tactics in fighting against the perceived internal and external opponents, escalates military threats to neighbouring states and the West thus seeking to allegedly prevent threats to Russia.

99
In language that still applies today, Lithuania's National Threat Assessment 2019 states that Russia "exploits democratic freedoms and rights for its subversive activity" and "actually promotes its aggressive foreign policy" while "pretending to develop cultural relations" in Lithuania.100
Latvian authorities describe the means used by Russia to claim that it is defending the rights of citizens or Russian "compatriots" in similar terms. "[O]ne of the priorities of Russian propaganda," for example, "has been promoting the 'correct' interpretation of historical events [including the Second World War] in line with the interests of the Kremlin." Other means include "spread[ing] lies at [the] international level about the Latvian government's policies, which are allegedly aimed at restricting Russian-speakers' rights," as well as "a series of measures to attract new leaders for the 'compatriot' policy" and "expanded…efforts to consolidate young people who could potentially become the next promoters of the Kremlin's worldview in Latvia." The principal "directions of Russia's 'compatriot' policy [are] consolidation of the Russian diaspora abroad, protection of the rights of 'compatriots', support for 'compatriot' youth organisations, [and] the protection of the Russian language and 'ethnocultural identity.'"101
In March 2017, General Curtis Scaparrotti, then Commander, U.S. European Command, and NATO Supreme Allied Commander Europe, testified that Russian propaganda and disinformation should be viewed as an extension of Russia's military capabilities: "The Russians see this as part of that spectrum of warfare, it's their asymmetric approach."102 In 2020, for example, "Russian -sponsored actors released a forged letter online where Polish Brigadier General Ryszard Parafianowicz appeared to criticize openly the American presence in his country during the US-led exercise Defender-Europe 20."103 Today, "[t]he threat of influence no longer exists only during deployment but also in garrison because of 'the collapsed nature of communication…and…porous boundaries between war and everyday life,' which means geography is no longer enough to act as a defense."104
Russia also has sought to use disinformation to undermine NATO's Enhanced Forward Presence (eFP) in the Baltics. A disinformation campaign nicknamed "ghostwriter," for example, has been ongoing since 2017. Russian hackers often have leveraged "website compromises or spoofed email accounts to disseminate fabricated content."105 In one case in 2019, a fake message published on the Polish War Studies Academy website, purportedly from the organization's commander, called for troops "to fight against 'the American occupation.'"106 In 2020, hackers falsified an interview transcript, claiming that Lieutenant General Christopher Cavoli, then Commander of U.S. Army Europe, was criticizing the Baltic states' militaries.107
U.S. troops stationed in Poland for NATO's eFP have been the target of similar Russian disinformation campaigns.108 A fabricated interview with General Cavoli that was published online was meant to undermine NATO's reputation among the public.109 One report summarized that "Russia's state propaganda channels RT and Sputnik remain very keen to exploit to the maximum any incidents involving eFP personnel, and to repeat the Kremlin's anti-NATO and anti-eFP narrative."110 In particular, more recent Russian propaganda has focused on portraying eFP as an "occupying force."111
In February 2022, the Baltics and Poland together urged the largest social media companies to restrict Russian disinformation about the war in Ukraine from "spreading across [their] platforms." The Baltic states also banned a number of Russian and Belarusian channels that allegedly were disseminating propaganda to justify Moscow's war.112
Russia has also demonstrated a willingness to use military force to change the borders of modern Europe. When Kremlin-backed Ukrainian President Viktor Yanukovych failed to sign an Association Agreement with the EU in 2013, months of street demonstrations led to his ouster early in 2014. Russia responded by sending troops, aided by pro-Russian local militia, to occupy the Crimean Peninsula under the pretext of "protecting Russian people." This led to Russia's eventual annexation of Crimea, the first such forcible annexation of territory in Europe since the Second World War.113 Then, in February 2022, Russia invaded Ukraine a second time, presumably with the goal of bringing the entire nation under Putin's control. At the time this book was being prepared, Russia occupied one-fifth of Ukraine, an area that includes most of Ukraine's industrial sector, its port cities on the Black Sea, and the major transport corridors for grain exports. It is likely that Russia will not relinquish by negotiation what it has taken by force, preferring instead to formalize ownership of the area it controls by simply annexing it.
Russia's annexation of Crimea effectively cut Ukraine's coastline in half, and Russia has claimed rights to underwater resources off the Crimean Peninsula.114 In May 2018, Russia inaugurated the first portion of a $7.5 billion, 11.8-mile bridge connecting Russia with Kerch in occupied Crimea.115 The effect on Ukraine's regional economic interests can be seen in the fact that 30 percent of the cargo ships that served Mariupol could not clear the span.116 In December 2019, Russia completed a new rail bridge over the Kerch Strait that the EU condemned as "yet another step towards a forced integration of the illegally annexed peninsula."117
Russia has deployed 30,000 troops to Crimea and has embarked on a major program to build housing, restore airfields, and install new radars there.118 The Monolit-B radar system, for instance, has a passive range of 450 kilometers, and its deployment "provides the Russian military with an excellent real-time picture of the positions of foreign surface vessels operating in the Black Sea."119 In addition, "Russian equipment there includes 40 main battle tanks, 680 armored personnel carriers and 174 artillery systems of various kinds" along with 113 combat aircraft.120 These numbers may well be different now given Russia's renewed war in Ukraine and the losses of Russian personnel and equipment from Ukrainian defensive actions.121
Control of Crimea has allowed Russia to use the Black Sea as a platform to launch and support naval operations along the Ukrainian coastline as part of the renewed offensive against Ukraine.122 Russia also has been using the naval base at Sevastopol for operations in the Eastern Mediterranean, but Turkey's closure of the Bosporus Strait to military traffic in response to Russia's war against Ukraine has ended this option, at least temporarily.123 Before Turkey closed the Strait, the Black Sea fleet had received six Kilo diesel submarines and three Admiral Grigorovich–class frigates equipped with Kalibr-NK long-range cruise missiles.124 Russia was also planning to add 10 Gorshkov-class frigates and 14 Steregushchiy-class corvettes to its Black Sea fleet.125 Kalibrs have a range of at least 2,500 kilometers, placing cities from Rome to Vilnius within range of Black Sea–based cruise missiles.126 In April 2022, in a significant operational and symbolic loss for Russia, Ukrainian forces sank Russia's Moskva guided missile cruiser, which had been the flagship of its Black Sea Fleet.127
Russia has deployed five S-400 air defense systems with a potential range of approximately 250 miles to Crimea.128 Russia's new S-350 air defense systems also could be deployed to Crimea, but that is somewhat unlikely.129 In addition, "local capabilities [in Crimea] have been strengthened by the Pantsir-S1 (SA-22 Greyhound) short-to-medium-range surface-to-air missile (SAM) and anti-aircraft artillery weapons system, which particularly complements the S-400."130 Russia also deploys the Bastion P coastal defenses armed with the P-800 Oniks anti-ship cruise missile, which "has a range of up to 300 kilometers and travels at nearly Mach 2.5, making it extraordinarily difficult to defeat with kinetic means."131
In Moldova, Russia supports the breakaway enclave of Transnistria, where yet another frozen conflict festers to Moscow's liking. According to the Congressional Research Service:
Russia stations about 1,500 soldiers in Transnistria, a few hundred of which Moldova accepts as peacekeepers. In 2017, Moldova's Constitutional Court ruled that Russia's non-peacekeeping troop presence was unconstitutional. In 2018, the U.N. General Assembly passed a resolution calling on Russia to withdraw its troops from Moldova "unconditionally and without further delay."
A conflict resolution process operates in a "5+2" format under the chairpersonship of the Organization for Security and Cooperation in Europe (OSCE), with the OSCE, Russia, and Ukraine as mediators and the EU and the United States as observers. The EU also supports conflict management through the EU Border Assistance Mission to Moldova and Ukraine, which seeks to help the two countries combat transborder crime, facilitate trade, and resolve the conflict over Transnistria.

132
Russia continues to occupy 12 percent of Moldova's territory. On January 22, 2019, in an effort to enhance its control of the breakaway region, Russia opened an office in Moscow for the Official Representation of the Pridnestrovian Moldavian Republic in the Russian Federation.133 In February 2022, a few weeks before Russia's second invasion of Ukraine, Russian armed forces staged military drills in Transnistria. The exercises followed a Ukrainian warning that "Russian special services could be preparing 'false flag provocations' against Russian troops stationed in [Transnistria] to justify a broader invasion of Ukraine."134 Concerns that Russian troops stationed in Transnistria could be mobilized for the war in Ukraine persist.135
Russia's permanent stationing of Iskander missiles in Kaliningrad in 2018 occurred a year to the day after NATO's eFP deployed to Lithuania.136 Russia reportedly has deployed tactical nuclear weapons, the S-400 air defense system, and P-800 anti-ship cruise missiles to Kaliningrad.137 Additionally, Russia established a new tank regiment, comprised of approximately 93 tanks, after 2018.138 According to the IISS, the majority of Russian air force pilot graduates in 2019 were sent to Kaliningrad "to improve staffing" in the air force units located there.139
Russia also has outfitted a missile brigade in Luga, Russia, just 74 miles from the Estonian city of Narva, with Iskander missiles.140 It also has deployed Iskanders to the Southern Military District at Mozdok near Georgia, and Russian military officials have reportedly asked manufacturers to increase the Iskander missiles' range and improve their accuracy.141 In addition, Russia has been firing Iskanders with "mystery munitions," described as "decoys meant to trick air-defense radars and heat-seeking missiles," at targets in Ukraine.142
Nor is Russia deploying missiles only in Europe. In September 2019, Russia announced its plans to deploy additional missile systems on Paramushir and Matua, two islands in the northern portion of the Kuril Island chain claimed by Japan.143 In December 2020, Russia announced the deployment of S-300V4 air defense missile systems on Iturup.144 In December 2021, Russia deployed Bastion coastal defense missile systems to Matua.145 In March 2022, Russia conducted military drills on the Kuril Islands that involved more than 3,000 troops and hundreds of pieces of army equipment.146
Russia represents a real and potentially existential threat to NATO member countries in Eastern and Central Europe. In addition to its aggression in Georgia and Ukraine, Russia has threatened countries that provide support to Ukraine. It also has threatened Finland and Sweden for moving to join NATO. Given this pattern of aggressive behavior, the possibility of a conventional attack against a NATO member cannot be discounted. In all likelihood, however, Russia will continue to use nonlinear means in an effort to pressure and undermine the NATO alliance and any non-NATO country that opposes Moscow's political objectives.
Militarization of the High North. Russia has a long history in the Arctic and, as an Arctic nation, has interests there. However, Russia's ongoing militarization of the region, coupled with its bellicose behavior toward its neighbors, makes the Arctic a security concern.
Because nationalism is on the rise in Russia, Vladimir Putin's Arctic strategy is popular among the population. For Putin, the Arctic is an area that allows Russia to flex its muscles without incurring any significant geopolitical risk.
Russia is also eager to promote its economic interests in the region. Half of the world's Arctic territory and half of the Arctic region's population are located in Russia. It is well known that the Arctic is home to large stockpiles of proven but unexploited oil and gas reserves. Most of these reserves are thought to be located in Russia. In particular, Russia hopes that the Northern Sea Route (NSR) will become one of the world's most important shipping lanes.
Russia has invested heavily in the Arctic region, opening a series of Arctic bases and investing in cold-weather equipment, coastal defense systems, underground storage facilities, and specialized training. According to one report, "[t]he Kremlin's dominance due to its unique topography and overwhelming military presence has made it impregnable in the Arctic."147 Additionally, "Russian hardware in the High North area includes bombers and MiG31BM jets, and new radar systems close to the coast of Alaska."148
Russia also has staged a series of statement activities in the Arctic. In 2007, Artur Chilingarov, then a member of the Russian Duma, led a submarine expedition to the North Pole and planted a Russian flag on the seabed. Later, he declared: "The Arctic is Russian."149 In July 2017, Russia released a new naval doctrine citing the alleged "ambition of a range of states, and foremost the United States of America and its allies, to dominate the high seas, including in the Arctic, and to press for overwhelming superiority of their naval forces."150
In May 2017, Russia announced that its buildup of the Northern Fleet's nuclear capacity is intended "to phase 'NATO out of [the] Arctic.'"151 In a March 2021 statement exercise, three Russian ballistic missile submarines punched through the Arctic ice near the North Pole.152 In June 2022, Russia withdrew from a nuclear safety program in the Arctic region, raising concerns in the West "about a new period of heightened nuclear risks."153 Russia also has stationed a floating nuclear power plant on the northern coast of Siberia. "If the venture is successful," according to one account, "it will represent another milestone in Moscow's efforts to tame the melting Northern Sea Route, which…could become a direct trade route between Europe and Asia."154
Although the Arctic region has been an area of low conflict among the Arctic powers, NATO should consider the implications of Russia's recent aggressive military behavior. NATO is a collective security organization that is designed to defend the territorial integrity of its members. Five NATO members (Canada, Denmark, Iceland, Norway, and the United States) are Arctic countries, and all five have territory above the Arctic Circle. Two closely allied nations, Finland and Sweden, are awaiting NATO membership and also have Arctic territory. NATO ambassadors signed the necessary Accession Protocols, the first step in ratification of both countries' membership in the alliance, on July 5, 2022.155
In recent years, the U.S. has begun to pay increased attention to the Arctic theater in Europe. One way it has done this is by maintaining an enhanced presence in Norway. In April 2021, the two nations signed the Supplementary Defense Cooperation Agreement, which in part allows the U.S. to build additional infrastructure at Rygge and Sola air stations in southern Norway as well as Evenes air station and Ramsund naval station above the Arctic Circle.156 Construction at Evenes will support Norwegian and allied maritime patrol aircraft in their monitoring of Russian submarine activity.
Because Russia is an Arctic power, its military presence in the region is to be expected, but it should be viewed with some caution because of Russia's pattern of aggression. In the Arctic, sovereignty equals security. Respecting national sovereignty in the Arctic would ensure that the chances of armed conflict in the region remain low. Since NATO is an intergovernmental alliance of sovereign nation-states built on the consensus of all of its members, it has a role to play in Arctic security. In the words of NATO Secretary-General Jens Stoltenberg:
Russia's military build-up is the most serious challenge to stability and Allied security in the High North…. A strong, firm and predictable Allied presence is the best way to ensure stability and protect our interests. We cannot afford a security vacuum in the High North. It could fuel Russian ambitions, expose NATO, and risk miscalculation and misunderstandings.

157
In March 2017, a decree signed by Putin gave the Federal Security Service (FSB), which controls law enforcement along the Northern Sea Route, an Arctic shipping route linking Asia and Europe as well as additional powers to confiscate land "in areas with special objects for land use, and in the border areas."158 Russia's Arctic territory is included within this FSB-controlled border zone. The FSB and its subordinate coast guard have added patrol vessels and have built up Arctic bases, including a coast guard base in Murmansk that was opened in December 2018.159
The Russian National Guard, which reports to Putin, is likewise taking on an increased role in the Arctic and is now charged with protecting infrastructure sites that are deemed to be of strategic importance, including a new liquefied natural gas (LNG) export terminal at Sabetta that was opened in December 2017.160 In April 2021, shareholders of Novatek, Russia's second-largest natural gas producer, "approved external financing of $11 billion for the Arctic LNG 2 project, which [was] expected to start production of [LNG] in 2023."161 However, the imposition of Western sanctions against Russian banks because of the war in Ukraine could force Novatek to halt development of the Arctic LNG 2 terminal.162
In May 2018, Putin issued a presidential degree setting a target of 80 million tons shipped across the NSR by 2024.163 However, in October 2021, Russian Deputy Prime Minister Yuri Trutnev announced that Russia "plans to begin year-round shipping via the Northern Sea Route…in 2022 or 2023,"164 even earlier than previously planned.
Russia also has been investing in military bases in the Arctic. Its Arctic Trefoil base on Alexandra Land Island, commissioned in 2017, can house 150 soldiers for up to 18 months.165 In addition, old Soviet-era facilities have been reopened.
In September 2018, the Northern Fleet announced construction plans for a new military complex to house a 100-soldier garrison and anti-aircraft units at Tiksi. In January 2019, Russian authorities claimed that the base was 95 percent completed,166 But in March 2020, Russia appeared to be "significantly behind in its plans for Tiksi."167 In 2018, Russia also opened an Arctic airfield at Nagurskoye that is equipped with a 2,500-meter landing strip and a fleet of MiG-31 or Su-34 Russian fighters.168 The landing strip "can handle all types of aircraft, including nuclear-capable strategic bombers."169
Air power in the Arctic is increasingly important to Russia, which has 14 operational airfields in the region along with 16 deep-water ports, "a new command, and roughly 50 icebreakers…some of which are nuclear powered."170 In February 2021, it was reported that:
Recently released photos and video show MiG-31BM Foxhound interceptors in action at Rogachevo Air Base in the Novaya Zemlya archipelago, above the Arctic Circle, an increasingly strategic region that's home to a resurgent Russian military presence. Russia's Ministry of Defense provided the imagery as a new rotation of MiG-31BMs arrived at the base, undertaking what the defense ministry describes as "experimental combat duty to protect the state border of the Russian Federation in the Arctic airspace."

171
In March 2019, Mayor General Igor Kozhin, head of the Russian Naval Air Force, claimed that Russia had successfully tested a new airstrip cover that is effective in "temperatures down to minus 30 centigrades."172
Russia resumed regular fighter jet combat patrols in the Arctic in 2019.173 The Ministry of Defense, for example, announced that in January 2019, two Tu-160 bombers flew for 15 hours in international airspace over the Arctic.174 Over the course of one week in April 2019, Russian fighter and bomber jets flew near the coast of Norway twice. In one instance, two Tu-60 bombers and a MiG-31 flew 13 hours over the Barents, Norwegian, and North Seas. British and Danish jets scrambled to meet the Russian aircraft.175
In 2017, Russia activated a new radar complex on Wrangel Island.176 In 2019, it announced plans to lay a nearly 8,000-mile fiber-optic cable across its Arctic coast, linking military installations along the way from the Kola Peninsula through Vladivostok.177 Construction of the cable began in August 2021 and is due to be completed in 2026.178
In November 2019, Russia announced rocket firings in the Norwegian Sea 20 to 40 nautical miles from the Norwegian coast. The test firings, with little advance notice, were designed to send a message as they took place in an area through which NATO ships were sailing during the Trident Juncture exercise.179 In March 2021, Russia's Admiral Gorshkov frigate successfully "launched an Oniks cruise missile and hit a coastal target on Novaya Zemlya, about 300 kilometers from launch position."180 In September 2021, it was reported that "Russia's Northern Fleet had begun preparations to deploy the air-launched ballistic missile Kh-47M2 Kinzhal on MiG-31K carriers."181
Russia's ultimate goal is encapsulated in a June 2019 study published by the Royal Institute of International Affairs:
Since the mid-2010s, the Kremlin has deployed substantive force and capabilities along the coast of its northern border in the AZRF [Arctic Zone of the Russian Federation]. Parts of the armed forces are now Arctic-capable, and have developed concepts of operations tailored to that environment. With the creation of OSK Sever [Joint Strategic Command North] in 2013, the Russian armed forces have been slowly reshaping their Arctic command structure. The Arctic forces are primarily focused on air and naval operations, with the aim of creating an integrated combined-arms force for the region.

182
For a few years, Russia was developing three new nuclear icebreakers, and in May 2019, it launched its third and final Arktika.183 The Arktika, currently the world's largest and most powerful nuclear icebreaker, sailed straight to the North Pole in October 2020.184 In January 2022, the Arktika completed its first sail across the eastern part of the NSR.185 That same month, Russia's newest nuclear-powered icebreaker, the Sibir, the second of Project 22220, arrived at its home port of Murmansk.186
Russia's Northern Fleet is also building newly refitted submarines, including a newly converted Belgorod nuclear-powered submarine that was launched in April 2019.187 The Belgorod is expected to carry six Poseidon drones, also known as nuclear torpedoes, and will carry out "a series of special missions."188 The submarine will have a smaller mini-sub that will potentially be capable of tampering with or destroying undersea telecommunications cables.189 According to Russian media reports, the Belgorod "will be engaged in studying the bottom of the Russian Arctic shelf, searching for minerals at great depths, and also laying underwater communications."190 Two similar submarines, the Khabarovsk and Ulyanovsk, which will also carry Poseidon drones, are scheduled to be commissioned in 2024 and 2025, respectively.191 In addition, the Northern Fleet received 13 new ships in 2021, adding to the "more than four dozen already in service."192
Russia continues to develop and increase its military capabilities in the Arctic region. The likelihood of armed conflict remains low, but physical changes in the region mean that the posture of players will continue to evolve. It is clear that Russia intends to exert a dominant influence. According to a U.S. Department of State official:
[The U.S. has] concerns about Russia's military buildup in the Arctic. Its presence has grown dramatically in recent years with the establishments of new Arctic commands, new Arctic brigades, refurbished airfields and other infrastructure, deep water ports, new military bases along its Arctic coastline, an effort to establish air defense and coastal missile systems, early warning radars, and a variety of other things along the Arctic coastline. We've seen an enhanced ops [operations] tempo of the Russian military in the Arctic, including last October one of the largest Russian military exercises in the Arctic since the end of the Cold War. So there is some genuine and legitimate concern there on the part of the United States and our allies and partners about that behavior in the Arctic.

193
Destabilization in the South Caucasus. The South Caucasus sits at a crucial geographical and cultural crossroads and has been strategically important, both militarily and economically, for centuries. Although the countries in the region (Armenia, Georgia, and Azerbaijan) are not part of NATO and therefore do not receive a security guarantee from the United States, they have participated to varying degrees in NATO and U.S.-led operations. This is especially true of Georgia, which aspires to join NATO.
Russia views the South Caucasus as part of its natural sphere of influence and stands ready to exert its influence by force if necessary. In August 2008, Russia invaded Georgia, coming as close as 15 miles to the capital city of Tbilisi. A decade later, several thousand Russian troops occupied the two Georgian regions of South Ossetia and Abkhazia.
Russia has sought to deepen its relationship with the two occupied regions. In 2015, it signed so-called integration treaties with South Ossetia and Abkhazia that, among other things, call for a coordinated foreign policy, creation of a common security and defense space, and implementation of a streamlined process for Abkhazians and South Ossetians to receive Russian citizenship.194 The Georgian Foreign Ministry criticized the treaties as a step toward "annexation of Georgia's occupied territories,"195 both of which are still internationally recognized as part of Georgia.
In January 2018, Russia ratified an agreement with the de facto leaders of South Ossetia to create a joint military force—an agreement that the U.S. condemned.196 South Ossetia's former leader, Anatoli Bibilov, had planned to hold a referendum on whether the region should join Russia on July 17, 2022, but his successor, Alan Gagloev, has cancelled the plebiscite as "premature."197 Russia's "creeping annexation" of Georgia has left towns split in two and families separated by military occupation and the imposition of an internal border (known as "borderization").198 In May 2020, the U.S. embassy in Tbilisi reported that Russian-led security forces were continuing to erect unauthorized fences and reinforcing existing illegal "borderization" efforts near a number of Georgian villages.199
Moscow continues to exploit ethnic divisions and tensions in the South Caucasus to advance pro-Russian policies that are often at odds with America's or NATO's goals in the region, but Russia's influence is not restricted to soft power. In the South Caucasus, the coin of the realm is military might. It is a dangerous neighborhood surrounded by instability and insecurity that is reflected in terrorism, religious fanaticism, centuries-old sectarian divides, and competition for natural resources.
Russia maintains a sizable military presence in Armenia based on an agreement that gives Moscow access to bases in that country at least until 2044.200 The bulk of Russia's forces, consisting of 3,500 soldiers, dozens of fighter planes and attack helicopters, 74 T-72 tanks, and an S-300 air defense system, are based around the 102nd Military Base.201 Russia and Armenia have also signed a Combined Regional Air Defense System agreement. Despite the election of Prime Minister Nikol Pashinyan in 2018 following the so-called Velvet Revolution, Armenia's cozy relationship with Moscow remains unchanged.202 Armenian troops even deployed alongside Russian troops in Syria to the dismay of U.S. policymakers.203
Another source of regional instability is the Nagorno–Karabakh conflict, which began in 1988 when Armenia made territorial claims to Azerbaijan's Nagorno–Karabakh Autonomous Oblast.204 By 1992, Armenian forces and Armenian-backed militias had occupied 20 percent of Azerbaijan, including the Nagorno–Karabakh region and seven surrounding districts. A cease-fire agreement was signed in 1994, and the conflict has been described as frozen since then. In 2020, major fighting broke out along the front lines. After six weeks of fighting, Azerbaijan liberated its internationally recognized territory, "which had been under Armenian occupation since the early 1990s."205
The conflict ended on November 9, 2020, when Armenia and Azerbaijan signed a Russian-brokered cease-fire agreement.206 As part of the nine-point cease-fire plan, nearly 2,000 Russian peacekeeping soldiers were deployed to certain parts of Nagorno–Karabakh that are populated largely by ethnic Armenians. In May 2021, tensions rose again in the region but for a different reason—the demarcation of the Armenian–Azerbaijani border.207
The Nagorno–Karabakh conflict offers another opportunity for Russia to exert malign influence and consolidate power in the region. Russia "has long been Azerbaijan's main arms supplier" but "also provides military equipment to Armenia." Additionally:
In conjunction with controlling the negotiation process on the Armenian–Azerbaijani conflict over Karabakh, Moscow exploits its role as a major supplier of weapons to Azerbaijan in order to maintain its influence over Baku. In this realm, Russia plays a unique role between Azerbaijan and Armenia. As a main arms supplier of both, Moscow is also the main power broker between the two South Caucasus rivals.

208
As noted by Eurasia expert Eduard Abrahamyan, "for years, Moscow has periodically sought to use the local authorities in Karabakh as a proxy tool of coercive diplomacy against both Baku and Yerevan."209
The South Caucasus might seem distant to many American policymakers, but the spillover effect of ongoing conflict in the region can have a direct impact both on U.S. interests and on the security of America's partners, as well as on Turkey and other countries that depend on oil and gas transiting the region. Russia views the South Caucasus as a vital theater and uses a multitude of tools that include military aggression, economic pressure, and the stoking of ethnic tensions to exert influence and control, usually to promote outcomes that are at odds with U.S. interests.
Increased Activity in the Mediterranean. Russia has had a military presence in Syria for decades, but in September 2015, it became the decisive actor in Syria's ongoing civil war, having saved Bashar al-Assad from being overthrown and having strengthened his hand militarily, thus enabling government forces to retake territory lost during the war. Although conflicting strategic interests cause the relationship between Assad and Putin to be strained at times, Assad still needs Russian military support to take back Idlib province, a goal that he and Putin probably share.210 Russia's Hmeymim Air Base is located close to Idlib, making it vulnerable to attacks from rebel fighters and terrorist groups, and Moscow instinctively desires to protect its assets. Assad's only goal is to restore sovereignty over all of Syria; Russia generally is more focused on eliminating terrorism in the region and must manage its relationship with Turkey.
In January 2017, Russia signed an agreement with the Assad regime to "expand the Tartus naval facility, Russia's only naval foothold in the Mediterranean, and grant Russian warships access to Syrian waters and ports…. The agreement will last for 49 years and could be prolonged further."211 According to a May 2020 report, Russia is reinforcing its naval group in the Mediterranean Sea with warships and submarines armed with Kalibr cruise missiles.212 In May 2021, the Voice of America reported that Russia is expanding its navy base at Tartus and "planning to construct a floating dock to boost the port's ship repair facilities."213
The agreement with Syria also includes upgrades to the Hmeymim air base at Latakia, including repairs to a second runway.214 Russia is extending one of its two runways by 1,000 feet, which would "allow the base to support more regular deployments of larger and more heavily-laden aircraft."215 Russia deployed the S-400 anti-aircraft missile system to Hmeymim in late 2015.216 It also has deployed the Pantsir S1 system. "The two systems working in tandem provide a 'layered defense,'" according to one account, "with the S-400 providing long-ranged protection against bombers, fighter jets, and ballistic missiles, and the Pantsir providing medium-ranged protection against cruise missiles, low-flying strike aircraft, and drones."217 Russia currently operates out of Hmeymim air base on a 40-year agreement and continues to entrench its position there, as demonstrated by its recent building of reinforced concrete aircraft shelters.218 In August 2020, Syria agreed to give Russia additional land and coastal waters to expand its Hmeymim air base.219
According to Lieutenant General Ben Hodges, former Commander, U.S. Army Europe, Russia has used its intervention in Syria as a "live-fire training opportunity."220 The IISS similarly reports that Russia has used Syria as "a test bed for the development of joint operations and new weapons and tactics."221 In fact, Russia has tested hundreds of pieces of new equipment in Syria. In December 2018:
Russian Deputy Prime Minister Yury Borisov detailed to local media…the various new weapons systems [that] have been introduced to the conflict. These included the Pantsir S1 anti-aircraft and Iskander-M ballistic missile systems on the ground, Tupolev Tu-160 supersonic strategic bombers, Tu-22M3 supersonic bombers and Tu-95 propeller-driven bombers, as well as Mikoyan MiG-29K fighters and Ka-52K Katran helicopters in the air.

222
Overall, Russia reportedly sold $28 billion worth of weaponry to 45 countries, including Syria, between 2016 and 2020.223
Russian pilots have occasionally acted dangerously in the skies over Syria. In May 2017, for example, a Russian fighter jet intercepted a U.S. KC-10 tanker, performing a barrel roll over the top of the KC-10.224 That same month, Russia stated that U.S. and allied aircraft would be banned from flying over large areas of Syria because of a deal agreed to by Russia, Iran, and Turkey. The U.S. responded that the deal does not "preclude anyone from going after terrorists wherever they may be in Syria."225
The U.S. and Russia have a deconfliction hotline to avoid midair collisions and incidents, but incidents have occurred on the ground as well as in the air. In November 2018, Ambassador James Jeffrey, U.S. Special Representative for Syria Engagement, told news media that "American and Russian forces have clashed a dozen times in Syria—sometimes with exchanges of fire."226 In February 2022, U.S. F-16 fighter jets and other coalition aircraft escorted three Russian aircraft in eastern Syria when the Russians flew into coalition-restricted airspace.227
In October 2018, Egyptian President Abdel Fattah al-Sisi signed a strategic cooperation treaty with Russia.228 In November 2018, Russia sought to solidify its relations with Egypt, approving a five-year agreement for the two countries to use each other's air bases.229 Russia is a major exporter of arms to Egypt, which agreed to purchase 20 Su-35 fighter jets in 2018 for $2 billion.230 Production of the Su-35 jets began in May 2020.231 In August 2021, Russia and Egypt signed an additional bilateral strategic cooperation treaty.232
In Libya, Russia continues to support Field Marshal Khalifa Haftar with weapons and military advisers.233 According to the U.S. Department of Defense, Russia's Wagner Group continues to be involved militarily in Libya.234 Despite its ties to Haftar, Russia has also focused on expanding business ties with the Libyan government in Tripoli.235
Russia has stepped up its military operations in the Mediterranean significantly, often harassing U.S. and allied vessels involved in operations against the Islamic State. In April 2020, for example, a Russian Su-35 jet intercepted a U.S. Navy aircraft flying over the Mediterranean Sea. It was the second time in four days that "Russian pilots [had] made unsafe maneuvers while intercepting US aircraft."236 The Russian jet had taken off from Hmeymim air base in Syria. In April 2022, "three P-8A maritime patrol and reconnaissance aircraft 'experienced unprofessional intercepts by Russian aircraft' while 'flying in international airspace over the Mediterranean Sea.'"237
From April–August 2017, the U.S. along with British, Dutch, and Spanish allies tracked the Krasnodar, a Kilo-class submarine, as it sailed from the Baltic Sea to a Russian base in occupied Crimea. The submarine stopped twice in the eastern Mediterranean to launch cruise missiles into Syria and conducted drills in the Baltic Sea and off the coast of Libya.238 In February 2020, General Wolters revealed that Russian submarines are becoming more active and harder for the United States to track.239 On February 24, 2022, the day Russia launched its second invasion of Ukraine, two Russian submarines were seen in the eastern Mediterranean.240 In March 2022, the Russian Navy allegedly "deployed an Akula-class nuclear submarine in the Mediterranean."241
Russia's position in Syria, including its expanded area-access/area-denial capabilities and increased warship and submarine presence, underscores the growing importance of the Mediterranean theater in ensuring Europe's security.
The Balkans. Security has improved dramatically in the Balkans since the 1990s, but violence based on religious and ethnic differences remains an ongoing possibility. These tensions are exacerbated by sluggish economies, high unemployment, and political corruption.
Russia's interests in the Western Balkans are at odds with the ongoing desire of the U.S. and its European allies to encourage closer ties between the region and the transatlantic community.
Russia seeks to sever the transatlantic bond forged with the Western Balkans…by sowing instability. Chiefly Russia has sought to inflame preexisting ethnic, historic, and religious tensions. Russian propaganda magnifies this toxic ethnic and religious messaging, fans public disillusionment with the West, as well as institutions inside the Balkan nations, and misinforms the public about Russia's intentions and interests in the region.

242
Senior members of the Russian government have alleged that NATO enlargement in the Balkans is one of the biggest threats to Russia.243 NATO now includes four Balkan countries: Albania and Croatia, both of which became member states in April 2009; Montenegro, which became NATO's 29th member state in June 2017; and North Macedonia, which became NATO's 30th member state in March 2020.
Russia stands accused of being behind a failed plot to break into Montenegro's parliament on election day in 2016, assassinate its former prime minister, and install a pro-Russian government. In May 2019, two Russian nationals who were believed to be the masterminds behind the plot were convicted in absentia along with 12 other individuals for organizing and carrying out the failed coup.
The presiding trial judge, Suzan Mugosa, said on May 9 that [Eduard] Shishmakov and [Vladimir] Popov "pursued a joint decision to make intentional attempts to contribute significantly to the carrying out of the planned criminal actions with the intention to seriously threaten the citizens of Montenegro, to attack the lives and bodies of others, and to seriously threaten and damage Montenegro's basic constitutional, political, and social structures in order to stop Montenegro from joining the NATO alliance."

244
After Russia annexed Crimea, the Montenegrin government backed European sanctions against Moscow and even implemented its own sanctions. Nevertheless, Russia has significant economic influence in Montenegro and in 2015 sought unsuccessfully to gain access to Montenegrin ports for the Russian navy to refuel and perform maintenance. Russia was the largest investor in Montenegro until October 2020 when it was surpassed by China.245
In March 2022, the Montenegrin government joined European sanctions on Russia, "without specifying what they were," after Russia's second invasion of Ukraine.246 In April 2022, Montenegro's government suspended broadcasting by Russia Today (RT) and Sputnik in coordination with EU sanctions on Russia.247
North Macedonia's accession to NATO was similarly targeted by Russia, which had warned the nation against joining the alliance and sought to derail the Prespa agreement that paved the way for membership by settling long-standing Greek objections to Macedonia's name.248 In 2018, after North Macedonia was invited to join NATO, Russia's ambassador to the EU stated that "there are errors that have consequences."249 In July 2018, Greece expelled two Russian diplomats and banned entry by two Russian nationals because of their efforts to undermine the name agreement; Russian actions in Macedonia included disinformation surrounding the vote, websites and social media posts opposing the Prespa agreement, and payments to protestors as well as politicians and organizations that opposed the agreement.250
Serbia in particular has long served as Russia's foothold in the Balkans.
Russia's influence in the Balkans centers on Serbia, a fellow religiously orthodox nation with whom it enjoys a close economic, political, and military relationship. Serbia and Russia have an agreement in place allowing Russian soldiers to be based at Niš airport in Serbia. The two countries signed a 15-year military cooperation agreement in 2013 that includes sharing of intelligence, officer exchanges, and joint military exercises. In October [2017], Russia gave Serbia six MiG-29 fighters (which while free, will require Serbia to spend $235 million to have them overhauled). Additionally, Russia plans to supply Serbia with helicopters, T-72 tanks, armored vehicles, and potentially even surface-to-air missile systems.

251
The so-called Russian–Serbian Humanitarian Center at Niš is "widely believed to be a Russian spy base" and is located "only 58 miles from NATO's Kosovo Force mission based in Pristina."252
In February 2020, Serbia purchased the Pantsir S1 air-defense system from Russia despite objections and potential sanctions from the United States.253 Russia has used its cultural ties to increase its role in Serbia, positioning itself as the defender of orthodoxy and investing funds in the refurbishing of orthodox churches. It also has helped to establish more than 100 pro-Russian non-governmental organizations and media outlets in Macedonia.254
Serbia and Russia have signed a strategic partnership agreement that is focused on economic issues. Russia's inward investment is focused on the transport and energy sectors. Except for those in the Commonwealth of Independent States, Serbia is the only country in Europe that has a free trade deal with Russia. In January 2019, Serbia and Russia signed 26 agreements relating to energy, railway construction, and strategic education cooperation.255 Further proof of Belgrade's loyalty to Moscow is seen in Serbia's unwillingness or inability to "take a firm stand against Russia's war on Ukraine."256
In a January 2019 state visit to Serbia, Vladimir Putin expressed a desire for a free trade agreement between Serbia and the Russian-led Eurasian Economic Union. An agreement between the two countries was signed in October 2019 "following veiled warnings from the European Union."257 Russia also has held out the possibility of $1.4 billion in infrastructure aid to Serbia aimed at building the TurkStream pipeline and increasing Russia's energy leverage in the region. In May 2022, Serbia reached a three-year agreement with Russia for natural gas supplies at "the most favorable price in Europe."258
However, Serbia still participates in military exercises far more often without Russia than with Russia. In 2017, for example, "Serbian forces participated in 2 joint exercises with Russia and Belarus but held 13 exercises with NATO members and 7 with U.S. units."259 Like Russia, Serbia is a member of NATO's Partnership for Peace program. Additionally, Serbia has partnered with the State of Ohio in the U.S. National Guard's State Partnership Program since 2006.
Russia is also active in Bosnia and Herzegovina—specifically, the ethnically Serb Republika Srpska, one of two substate entities inside Bosnia and Herzegovina that emerged from that country's civil war in the 1990s. Moscow knows that exploiting internal ethnic and religious divisions among the country's Bosniak, Croat, and Serb populations is the easiest way to prevent Bosnia and Herzegovina from entering the transatlantic community.
Republika Srpska's current unofficial leader, Milorad Dodik, has long advocated independence for the region and has enjoyed a very close relationship with the Kremlin. President Željka Cvijanović also claims that Republika Srpska will continue to maintain its partnership with Russia.260 Events in Ukraine, especially the annexation of Crimea, have inspired more separatist rhetoric in Republika Srpska, but Russia's second invasion of Ukraine allegedly has delayed Republika Srpska's plans to withdraw from Bosnia and Herzegovina's state institutions.261 In June 2022, in an interview with the public broadcaster of Republika Srpska, Russian Foreign Minister Sergei Lavrov declared that Dodik is "a friend of Russia."262
In many ways, Russia's relationship with Republika Srpska is akin to its relationship with Georgia's South Ossetia and Abkhazia occupied regions: more like a relationship with another sovereign state than a relationship with a semiautonomous region inside Bosnia and Herzegovina. When Putin visited Serbia in October 2014, Dodik was treated like a head of state and invited to Belgrade to meet with him. In September 2016, Dodik was treated like a head of state on a visit to Moscow just days before a referendum that chose January 9 as Republika Srpska's "statehood day," a date filled with religious and ethnic symbolism for the Serbs.263 In October 2018, just days before elections, Dodik was hosted by Putin as they watched the Russian Grand Prix in a VIP box.264 In December 2021, Dodik again visited Moscow. The Kremlin refrained from announcing this latest meeting ahead of time, but Russian presidential spokesman Dmitry Peskov asserted that "this by no means belittle[d] the importance of the meeting."265 Republika Srpska continues to host its "statehood day" in defiance of a ruling by Bosnia's federal constitutional court that both the celebration and the referendum establishing it are illegal.266
Russia has reportedly trained a Republika Srpska paramilitary force in Russia at the nearby Niš air base to defend the Serbian entity. It has been reported that "[s]ome of its members fought as mercenaries alongside the Kremlin's proxy separatists in Ukraine."267 Veterans organizations in Russia and Republika Srpska have developed close ties.268
Russia has cultivated strong ties with the security forces of Republika Srpska. Russian police take part in exchanges with the security forces, and Russian intelligence officers reportedly teach at the police academy and local university. On April 4, 2018, the Republika Srpska authorities opened a new $4 million training center "at the site of a former army barracks in Zaluzani, outside Banja Luka." The site serves as the headquarters for "anti-terrorist units, logistics units, and a department to combat organized crime."269
Russia also has continued to oppose the recognition of Kosovo as an independent sovereign country270 and has condemned Kosovo's creation of its own army. Moscow does not want Kosovo to be seen as a successful nation pointed toward the West. Rather, it seeks to derail Kosovo's efforts to integrate into the West, often by exploiting the Serbian minority's grievances. In the most jarring example, a train traveling from Belgrade to Mitrovica, a heavily Serb town in Kosovo, in January 2017 was stopped at the Kosovar border. The Russian-made train was "painted in the colors of the Serbian flag and featured pictures of churches, monasteries, and medieval towns, as well as the words 'Kosovo is Serbian' in 21 languages."271
The U.S. has invested heavily in the Balkans since the end of the Cold War. Tens of thousands of U.S. servicemembers have served in the Balkans, and the U.S. has spent billions of dollars in aid there, all in the hope of creating a secure and prosperous region that eventually will be part of the transatlantic community.
The foremost external threat to the Balkans is Russia. Russia's interests in the Balkans are at odds with the U.S. goal of encouraging the region to progress toward the transatlantic community. Russia seeks to sever the transatlantic bond forged with the Western Balkans by sowing instability and increasing its economic, political, and military footprint in the region.
Threats to the Commons
Other than cyberspace and (to some extent) airspace, the commons are relatively secure in the European region. Despite Russia's periodic aggressive maneuvers near U.S. and NATO vessels—and with the significant exception of the Kerch Strait—this remains largely true with respect to the security of and free passage through shipping lanes. The maritime domain is heavily patrolled by the navies and coast guards of NATO and NATO partner countries, and except in remote areas in the Arctic Sea, search and rescue capabilities are readily available. Moreover, maritime-launched terrorism is not a significant problem, and piracy is virtually nonexistent.
Sea. In May 2018, 17 Russian fighter jets buzzed the HMS Duncan, which was serving as the flagship of Standing NATO Maritime Group Two (SNMG2), operating in the Black Sea. Commodore Mike Utley, who was leading SNMG2, stated that the ship was "probably the only maritime asset that has seen a raid of that magnitude in the last 25 years," and then-British Defense Minister Gavin Williamson described the pilots' behavior as "brazen Russian hostility."272 In June 2021, Russian fighter jets repeatedly harassed a Dutch frigate in the Black Sea.273
Russian threats to the maritime theater also include activity near undersea fiber-optic cables. In July 2019, a Russian submarine reportedly was trying to tap information flowing through undersea cables near Russia's northern shore in the Barents Sea. The cables "carry 95 percent of daily worldwide communications" in addition to "financial transactions worth over $10 trillion a day."274 Thus, any disruption would cause a catastrophic reduction in the flow of capital.
The Yantar, a mother ship to two Russian mini submersibles, is often seen near undersea cables, which it is capable of tapping or cutting, and has been observed collecting intelligence near U.S. naval facilities including the submarine base at Kings Bay, Georgia.275 In September 2021, it was caught loitering in the English Channel.276 The Russian spy ship Viktor Leonov was spotted collecting intelligence within 30 miles of Groton, Connecticut, in February 2018 and off the coast of South Carolina and Georgia in December 2019.277
Airspace. Russia has continued its provocative military flights near U.S. and European airspace in recent years. In April 2021, Lieutenant General David Krumm from Joint Base Elmendorf–Richardson, Alaska, revealed that during the previous year, there was a large increase in Russian activity and that the U.S. had intercepted more than 60 Russian aircraft in the "most action the Alaska Air Defense Identification Zone—a region spanning 200 nautical miles that reaches past U.S. territory and into international airspace—ha[d] seen since the Soviet Union fell in 1991."278 In October 2020, F-22 Raptor stealth fighter jets scrambled "to intercept Russian long-range bombers and fighters flying off Alaska's coast" in "the 14th such incident off Alaska's coast in 2020."279
In March and April 2019, the Royal Air Force scrambled fighters twice in five days to intercept Russian bombers flying near U.K. airspace off the Scottish coast while the U.S., Australia, and 11 NATO allies were taking part in the Joint Warrior exercise in Scotland.280 In February 2022, U.S. fighter jets and Norwegian and British military planes intercepted Russian aircraft flying near NATO-allied airspace over the North Atlantic.281
Aggressive Russian flying has occurred near North American airspace as well. In January 2019, two U.S. F-22s and two Canadian CF-18 fighters scrambled when two Russian Tu-160 Blackjack bombers flew into Arctic airspace patrolled by the Royal Canadian Air Force.282
Russian flights have also targeted U.S. ally Japan. In March 2022, Japan scrambled a fighter jet to "warn off a helicopter believed to be Russian" that entered Japanese airspace.283 In May 2022, when the QUAD284 was meeting in Tokyo, Japan again scrambled jets to warn off Russian and Chinese warplanes as they neared Japanese airspace.285 Nor is it only maritime patrol aircraft that fly near Japan; Russian Su-24 attack aircraft, for example, were intercepted in December 2018 and January 2019 incidents.286 Between April 1, 2018, and March 31, 2019, Japan had to scramble jets 343 times to intercept Russian aircraft, although that was 47 times less than had been necessary in the preceding year.287
The main threat from Russian airspace incursions, however, remains near NATO territory in Eastern Europe, specifically in the Black Sea and Baltic regions. In March 2021, NATO fighter jets scrambled 10 times in one day "to shadow Russian bombers and fighters during an unusual peak of flights over the North Atlantic, North Sea, Black Sea and Baltic Sea."288 In February 2022, near NATO allied airspace over the Baltic Sea, U.S. F-15Es scrambled and intercepted Russian fighter jets. That same day, "Norwegian and British aircraft intercepted Russian aircraft in flying from the Barents [Sea] into the North Sea."289 In April 2022, around both the Baltic and Black Seas, NATO fighter jets scrambled multiple times over the span of four days "to track and intercept Russian aircraft near Alliance airspace."290
There have been several incidents involving Russian military aircraft flying in Europe without using their transponders. In April 2020, two maritime Tu-142 reconnaissance and anti-submarine warfare planes flew over the Barents, Norwegian, and North Seas but had switched off their transponders. As a result, two Norwegian F-16s were scrambled to identify the planes.291 In September 2019, a Russian Air Force Sukhoi Su-34 fighter flew over Estonian airspace without filing a flight plan or maintaining radio contact with Estonian air navigation officials because the plane's transponder had been switched off. This was the second violation of Estonia's airspace by a Russian aircraft in 2019.292 In August 2019, two Russian Su-27 escort jets flew over the Baltic Sea without a flight plan and without turning on their transponders.293
Russia's violation of the sovereign airspace of NATO member states is a probing and antagonistic policy that is designed both to test the defense of the alliance and as practice for potential future conflicts. Similarly, Russia's antagonistic behavior in international waters is a threat to freedom of the seas.
Russia's reckless aerial activity in the region also remains a threat to civilian aircraft flying in European airspace. That the provocative and hazardous behavior of the Russian armed forces or Russian-sponsored groups poses a threat to civilian aircraft in Europe was amply demonstrated by the July 2014 downing of Malaysia Airlines Flight MH17, killing all 283 passengers and 15 crewmembers, over the skies of southeastern Ukraine.
Cyberspace. Russian cyber capabilities are sophisticated and active, regularly threatening economic, social, and political targets around the world. Moscow also appears to be increasingly aggressive in its use of digital techniques, often employing only the slightest veneer of deniability in an effort to intimidate targets and openly defy international norms and organizations.
Russia clearly believes that these online operations will be essential to its domestic and foreign policy for the foreseeable future. As former Chief of the Russian General Staff General Yuri Baluyevsky has observed, "a victory in information warfare 'can be much more important than victory in a classical military conflict, because it is bloodless, yet the impact is overwhelming and can paralyse all of the enemy state's power structures.'"294
Russia continues to probe U.S. critical infrastructure. The U.S. Intelligence Community assesses that:
Russia is particularly focused on improving its ability to target critical infrastructure, including underwater cables and industrial control systems, in the United States as well as in allied and partner countries, because compromising such infrastructure improves and demonstrates its ability to damage infrastructure during a crisis.

295
Russia continued to conduct cyberattacks on government and private entities in 2020 and 2021. In 2020, Russian hackers "reportedly infiltrated several US government agencies," including the Defense, Treasury, Commerce, State, Energy, and Homeland Security Departments and the National Nuclear Security Administration, as well as private-sector companies like Microsoft and Intel. SolarWinds, the company whose software was compromised, "told the [Securities and Exchange Commission] that up to 18,000 of its customers installed updates that left them vulnerable to hackers." It was estimated that "it could take months to identify all [the hackers'] victims and remove whatever spyware they installed."296
In April 2021, the U.S. Treasury sanctioned Russia for the SolarWinds hack. It also sanctioned 32 Russian "entities and individuals" that had carried out "Russian government-directed attempts to influence the 2020 U.S. presidential election, and other acts of disinformation and interference."297
In May 2021, a Russia-based hacking group known as DarkSide launched a cyberattack against Colonial Pipeline, "the operator of one of the nation's largest fuel pipelines."298 The 5,500-mile pipeline, "responsible for carrying fuel from refineries along the Gulf Coast to New Jersey," was down for six days.299 Colonial Pipeline paid DarkSide $90 million in Bitcoin as a ransom payment, but the Department of Justice was able to recover approximately $2.3 million of that amount a few weeks later.300 In June 2021, REvil, a Russian cybercriminal group, launched a ransomware attack on JBS, "the world's largest meat processing company."301 As a result of the cyberattack, JBS was forced to shut down all nine of its U.S. plants for a brief period.302
However, the United States is not Russia's only target. In February 2020, the U.S. and its key allies accused Russia's main military intelligence agency, the GRU, of a broad cyberattack against the Republic of Georgia "that disrupted 'several thousand Georgian government and privately-run websites and interrupted the broadcast of at least two major television stations.'"303 It was hoped that the accusation would help to deter Moscow from intervening in the 2020 presidential election.
In February 2022, "[t]he European Union and its Member States, together with its international partners, strongly condemned the malicious cyber activity conducted by the Russian Federation against Ukraine, which targeted the satellite KA-SAT network, owned by Viasat."304 The attack "interrupted service for tens of thousands of broadband customers across Europe," including in Ukraine, and "reportedly disrupted service for thousands of European wind turbines."305
In addition to official intelligence and military cyber assets, Russia employs allied criminal organizations (so-called patriotic hackers) to help it engage in cyber aggression. Using these hackers gives Russia greater resources and can help to shield its true capabilities. Patriotic hackers also give the Russian government deniability. In June 2017, for example, Putin stated that "[i]f they (hackers) are patriotically-minded, they start to make their own contribution to what they believe is the good fight against those who speak badly about Russia. Is that possible? Theoretically it is possible."306
Russia's cyber capabilities are advanced and of key importance in realizing the state's strategic aims. Russia has used cyberattacks to further the reach and effectiveness of its propaganda and disinformation campaigns, and its ongoing cyberattacks against election processes in the U.S. and European countries are designed to undermine citizens' belief in the veracity of electoral outcomes and erode support for democratic institutions in the longer term. Russia also has used cyberattacks to target physical infrastructure including electrical grids, air traffic control, and gas distribution systems.
Russia's increasingly bold use of cyber capabilities, coupled with the sophistication of those capabilities and Moscow's willingness to use them aggressively, presents a serious challenge both to the U.S. and to its interests abroad.
Conclusion
Overall, the threat to the U.S. homeland originating from Europe remains low, but the threat to America's interests and allies in the region remains significant, especially given Russia's war in Ukraine. Although Russia has the military capability to harm and (in the case of its nuclear arsenal) to pose an existential threat to the U.S., it has not conclusively demonstrated the intent to do so.
The situation is different with respect to America's allies in the region. Through NATO, the U.S. is obliged by treaty to come to the aid of the alliance's European members. Russia continues its efforts to undermine the NATO alliance and presents an existential threat to U.S. allies in Eastern Europe. NATO has been the cornerstone of European security and stability ever since its creation in 1949, and it is in America's interest to ensure that it maintains both the military capability and the political will to fulfill its treaty obligations.
While Russia is not the threat to U.S. global interests that the Soviet Union was during the Cold War, it does pose challenges to a range of America's interests and those of its allies and friends that are closest to Russia's borders. Russia possesses a full range of capabilities from ground forces to air, naval, space, and cyber. It still maintains the world's largest nuclear arsenal, and although a strike on the U.S. is highly unlikely, the latent potential for such a strike still gives these weapons enough strategic value vis-à-vis America's NATO allies and interests in Europe to ensure their continued relevance.
Russian provocations that are much less serious than any scenario involving a nuclear exchange pose the most serious challenge to American interests, particularly in Central and Eastern Europe, the Arctic, the Balkans, and the South Caucasus. As the Intelligence Community's most recent Annual Threat Assessment states:
Moscow will continue to employ an array of tools to advance its own interests or undermine the interests of the United States and its allies. These will be primarily military, security, and intelligence tools, with economic cooperation playing a smaller role…. Russia probably will continue to expand its global military, intelligence, security, commercial, and energy footprint and build partnerships aimed at undermining U.S. influence and boosting its own.

307
Though Russia has expended much of its arsenal of munitions and has suffered significant losses in its war against Ukraine, high energy prices and the decision by several countries to continue trading with Russia despite sanctions placed on the country are ensuring a steady flow of funds into Russia's accounts that Putin will assuredly use to replenish stocks and replace losses. The result will be a Russian military rebuilt with new equipment and seasoned by combat experience gained in Ukraine. Russia will therefore continue to be a significant security concern both for its NATO partners and other allies.
For these reasons, the Index of U.S. Military Strength continues to assess the threat from Russia as "aggressive" for level of provocation of behavior and "formidable" for level of capability.

Endnotes