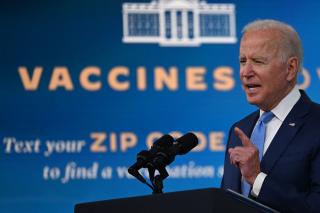 COVID-19 Vaccine Mandate
Resources and Tools
About
The Biden administration is about to require 80 million working Americans to get vaccinated through The Occupational Safety and Health Administration (OSHA). You may be among them. Learn more about how it could impact you, your options, the cases underway to fight the mandate.
Resources
Legal Scholarship and Court Cases
OSHA lacks the legal authority to impose a vaccine mandate, which has prompted court cases in multiple circuits.
Organization: The America First Policy Institute, Alliance for Free Citizens
Court: Eighth Circuit
Organization: AFT Pennsylvania
Court: Third Circuit
Organization: First Liberty Institute
Court: Sixth Circuit
Organizations: Liberty Justice Center, Pelican Institute
Court: Fifth Circuit
Organizations: Alliance Defending Freedom, Center for American Liberty
Court: Sixth Circuit
Organizations: Alliance Defending Freedom, States of Florida, Georgia, and Alabama
Court: Eleventh Circuit
Organization: Health Freedom Defense Fund
Court: Middle District of Florida
Organizations: States of Kentucky, Idaho, Kansas, Ohio, Oklahoma, Tennessee, and West Virginia
Court: Sixth Circuit
Organizations: Texas Public Policy Foundation, American First Legal
Court: Fifth Circuit
Massachusetts Building Trades Council v. OSHA
Organization: Massachusetts Building Trades Council
Court: First Circuit
Organizations: Alliance Defending Freedom, States of Missouri, Arizona, Montana, Nebraska, Arkansas, Iowa, North Dakota, South Dakota, Alaska, New Hampshire, Wyoming
Court: Eighth Circuit
National Association of Broadcast Employees & Technicians v. OSHA
Organization: National Association of Broad Employees & Technicians
Court: Ninth Circuit
Phillips Manufacturing & Tower Company v. U.S. Department of Labor
Organization: Buckeye Institute
Court: Sixth Circuit
Republican National Committee v. OSHA
Organization: Republican National Committee
Court: D.C. Circuit
Organization: SEIU
Court: Second Circuit
Southern Baptist Evangelical Seminary v. OSHA
Organization: Alliance Defending Freedom
Court: Sixth Circuit
Organization: Wisconsin Institute for Law & Liberty
Court: Seventh Circuit
Texas Trucking Association v. OSHA
Organization: NFIB Small Business Legal Center
Court: Fifth Circuit
Texas v. U.S. Department of Labor
Organizations: Mississippi Justice Institute, States of Texas, Louisiana, Mississippi, South Carolina, Utah
Court: Fifth Circuit
The Heritage Foundation v. OSHA
Organization: The Heritage Foundation
Court: U.S. Court of Appeals for the D.C. Circuit
United Association of Journeymen v. OSHA
Organization: United Ass'n of Journeyman
Court: Fourth Circuit
Word of God Fellowship v. OSHA
Organization: First Liberty Institute
Court: Fifth Circuit