A lot has happened in Florida in the two weeks since I last analyzed its COVID-19 numbers. Unfortunately, not much of it is good.
Florida has reported almost as many cases among its residents over the past two weeks as it did over the previous three and a half months. 
The newly infected population has trended younger, which is an encouraging sign. That has helped reduce the percentage of infected patients who fall seriously ill and cut the ratio of deaths to reported cases.
>>> What's the best way for America to reopen and return to business? The National Coronavirus Recovery Commission, a project of The Heritage Foundation, assembled America's top thinkers to figure that out. So far, it has made more than 260 recommendations. Learn more here.
But daily hospitalizations and deaths are nevertheless rising, and some counties are facing strains in their intensive care unit capacity.  
State officials should consider implementing policies to protect hospitals from surges in COVID-19 patients.
Let's start with a look at the total number of COVID-19 cases, hospitalizations, and deaths among Florida residents from the pandemic's beginning through July 12.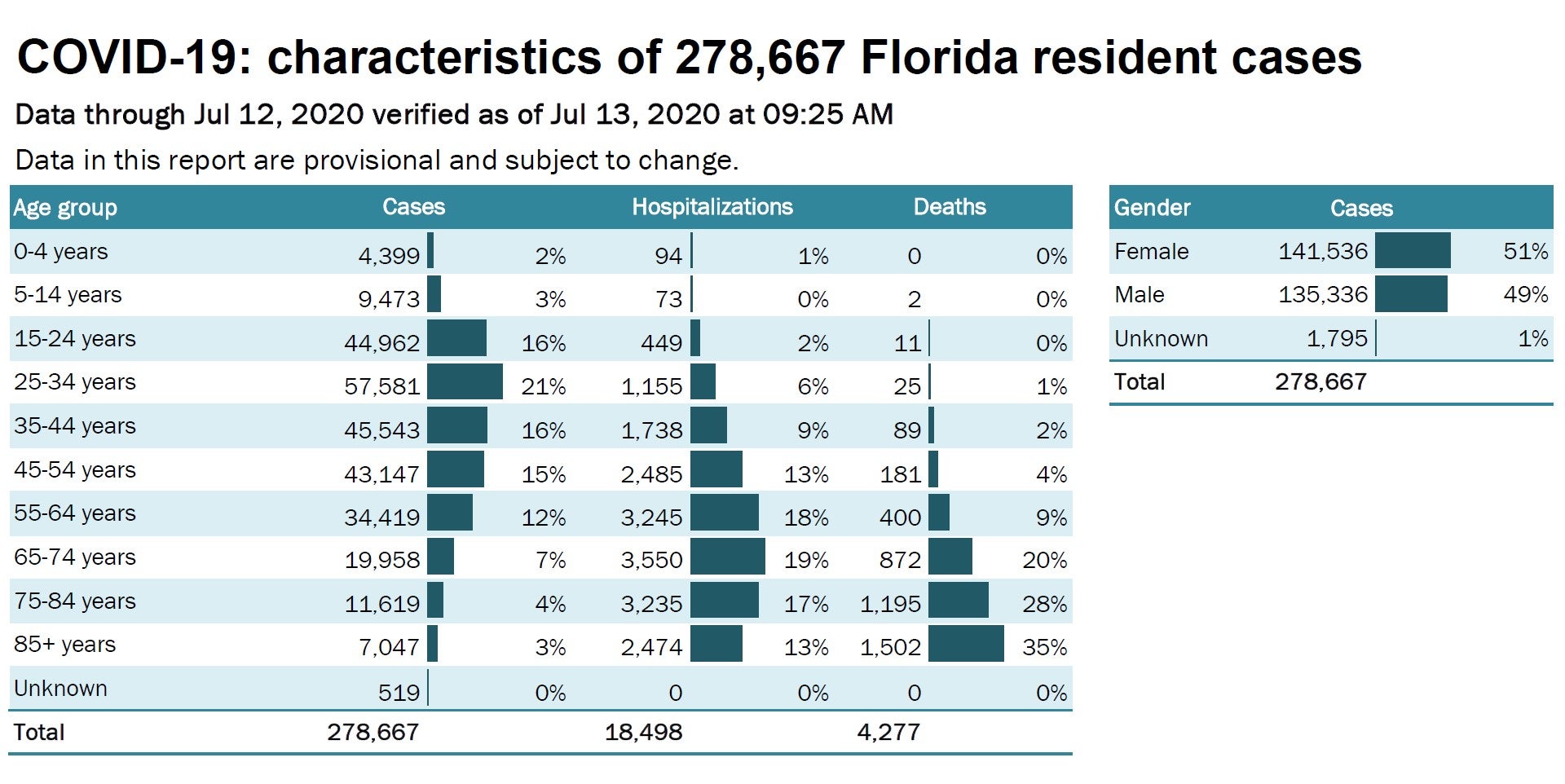 As in the past, the number of cases remains concentrated among young and middle-aged adults. Those aged 15 to 54 account for more than two-thirds of all infections. Only 20% of cases have occurred among the very young and very old.
Serious illness from COVID-19 remains predominantly a concern for the elderly. People under 45 account for just 17% of hospitalizations and only 3% of deaths, although they make up nearly three-fifths of cases.
That's a quick overview of the pandemic from early March through July 12. Now, let's look at what's happened in the two-week period between June 28 and July 12.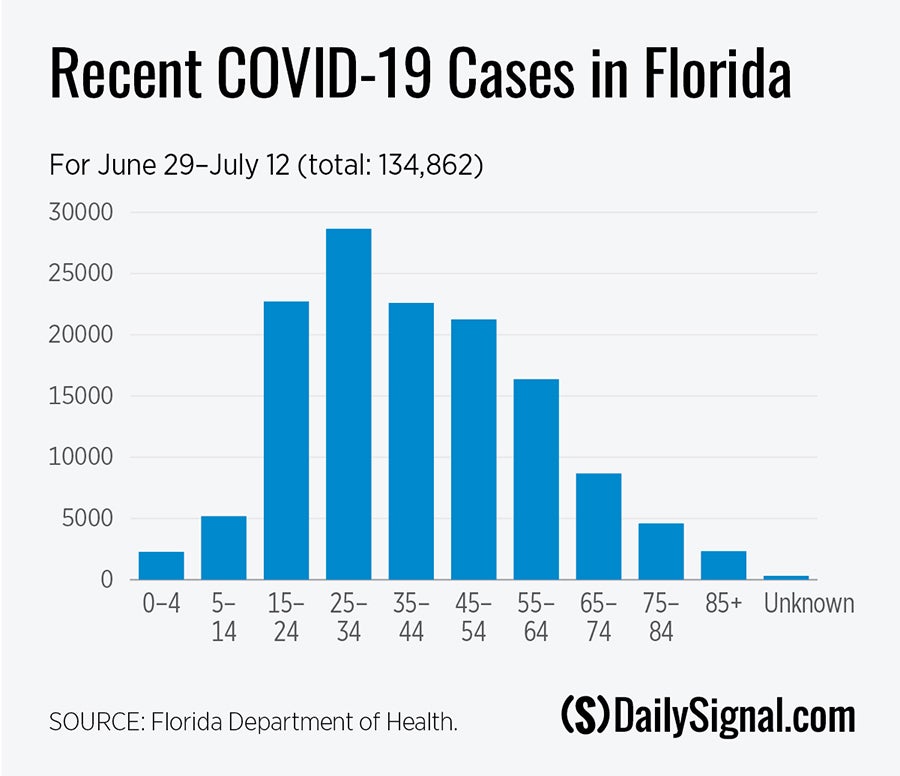 First, there have been nearly 135,000 cases reported over the past two weeks. That's almost as many as were reported through June 28 (a little less than 144,000).
Second, seniors made up less than 12% of cases reported after June 28. Before that, they represented 16%. That's an important development, especially since seniors make up 21% of Florida's population. It could be a sign that the most vulnerable are taking effective precautions to avoid infection.
The number of COVID-19 deaths, however, has risen over the past two weeks. A record 120 people succumbed to the disease on July 8, and the number of daily mortalities averaged 71 over the most recent seven-day period, another record. Here is a breakdown of deaths since June 28, by age.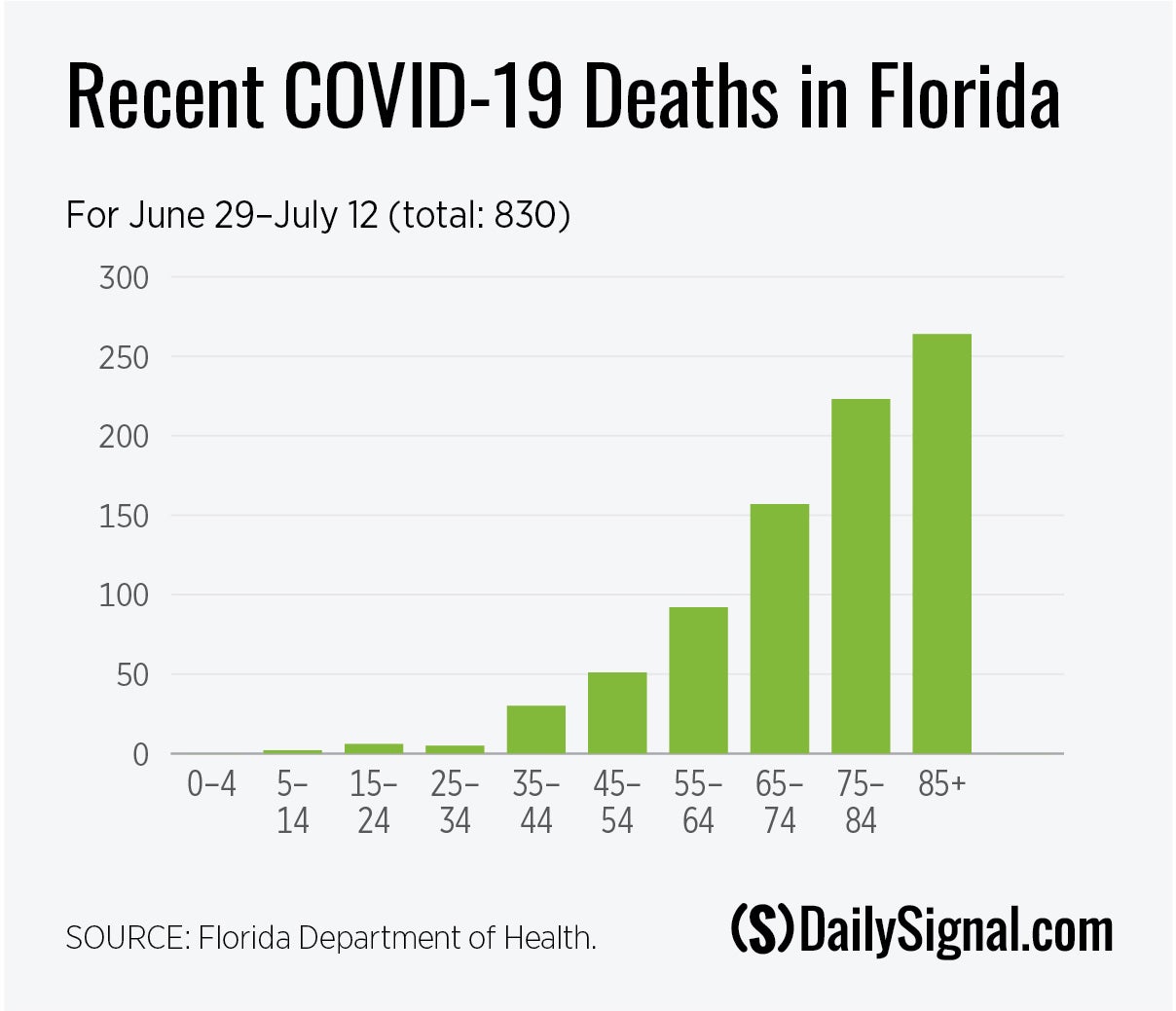 COVID-19 deaths among Florida residents continue to be heavily concentrated among seniors. A closer look, however, shows that seniors account for 78% of deaths over the past two weeks. That's down from 85% of deaths that occurred on or before June 28.
Seniors thus make up a smaller percentage of recent deaths, while the percentage of deaths among adults under 65 has grown.
COVID-19 hospitalizations also are at all-time highs, averaging about 350 daily admissions over the past week. The seven-day moving average of COVID-19 hospitalizations is more than twice as high as the previous peak reached in mid-May and has nearly doubled since June 30.
Hospitals are beginning to show the strain. Nearly 8,100 patients with COVID-19 were in hospitals on July 13. More than 3,600 of them are in hospitals in Miami and nearby counties. ICU patients in and around Miami numbered 1,600 as of July 13, leaving 17% of ICU beds (327) available.
Tampa is in worse shape, with nearly 90% of ICU beds in the three-county area occupied. Orlando and Jacksonville are better situated, with occupancy rates just under 75%. But more than 90% of intensive care unit beds are occupied in Leon County (Tallahassee). Bay County (Panama City) units are 95% occupied. Escambia County (Pensacola) reported that only two of its 116 ICU beds were vacant.
State health officials and local hospital administrators can accommodate an influx of patients. 
Dr. Charles Lockwood, a hospital administrator in Tampa, recently told CNN that Tampa General Hospital has 87 ventilators, in addition to its ICU beds, that it hasn't yet used. About 19% of ICU beds were available across the state as of July 13, so patients who can be safely transported can be accommodated.
Still, the surge of cases is considerable and ongoing. The state posted a record 15,299 new cases on July 11 and has averaged more than 10,700 daily new cases over the past seven days. Some percentage of those patients will be hospitalized, and some will require intensive medical care. 
In a Heritage Foundation paper published last month, professor Amy Anderson and Dr. Daniel Johnson urged policymakers to designate certain facilities for pandemic patients. Florida already has designated COVID-only nursing homes. A similar policy should be considered for hospitals.
State officials might also consider surging public health measures to contain the hot spots, through targeted mitigation measures. Steps could include more aggressive testing and contact tracing, establishing voluntary isolation facilities to separate the infected from the uninfected, and in communities with high hospitalization rates, lockdowns.
While untargeted lockdowns of uncertain duration are unsustainable and often counterproductive, targeted lockdowns can help protect hospitals against a surge of patients by temporarily slowing the contagion's spread.
Implementing targeted public health measures and reserving certain facilities for COVID-19 are prudent steps Florida can take to deal with its surge in cases.
This piece originally appeared in The Daily Signal