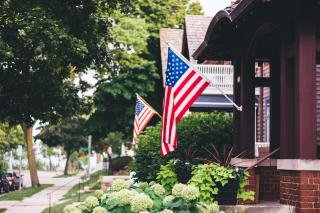 What Makes You a #ProudAmerican?
Now, more than ever, we need to remember why we are proud to be Americans. Ours is a nation that strives for the highest ideals of liberty and integrity, and we are privileged to live under a Constitution that affirms the inherent dignity and God-given rights of every individual. We are blessed to call America home.
This Independence Day, make your pride for America go viral! Here are 3 ways you can share what makes you a #ProudAmerican:
Ways to Share
Share the message locally.

A simple but powerful message can make a difference in your community. Take the time to share locally why you are a #ProudAmerican.

Inspiration for what to share:
 

Share why you are a #ProudAmerican.
Share what being an American means to you.
Talk about the importance of America's founding principles, the Constitution, and the Declaration of Independence.
Express gratitude for those who have served in the Armed Forces.
Express gratitude for your local police officers, firemen, and first responders.


Inspiration for ways to share:
 

Make a poster or sign and put it in your window or on your lawn. Tag it with #ProudAmerican.  Here are a few signs you can print!
Get your kids involved! Use sidewalk chalk and write your message on your driveway or sidewalk.
Put your sign in the window of your car and drive around with it.
Serve your community. There is no better way to express gratitude than by sharing it with others through service. If they ask what motivated your kindness, be direct: "I feel blessed to live in America and just wanted to share my gratitude by doing some good."
 

Share the message on social media.

Whether you are on Facebook, Instagram, Twitter, or email, you can help spread the message and invite others to participate.
 

Tag your posts with #ProudAmerican so others can follow along.
Take pictures of your sign and post it online.
Share the stories and memories that have made you proud to be an American.
Record a video message of your own and post it.
Invite others to join with you in sharing why they are proud to be an American.
 

Share the message with family and friends.
 

Make time on Independence Day for more than just hot dogs and fireworks. A short lesson with kids and grandkids about America's founding principles can make a lasting impression. Say the Pledge of Allegiance, sing the national anthem, read the Declaration of Independence, or discuss the importance of the Bill of Rights.
Learn more about what makes America a land of freedom and opportunity. Explore the foundation of our republic with Heritage's Guide to the Constitution at heritage.org/constitution.
Whatever you do, let others know that it's okay to be a #ProudAmerican