Richard Brady
The National Defense Strategy defines the enduring mission of the U.S. Department of Defense (DOD) as providing combat-credible military forces to deter war and protect the security of our nation. This requires the fielding of sufficient capable forces to defeat America's enemies and protect the American people and our vital national interests.1
In 1973, the U.S. military undertook a dramatic change in how it populated the services, moving from a model that relied on a combination of young Americans who wanted to join and those who were drafted by order of the government. The volunteer or recruited model has been a feature of the military since the country was founded, and the services have made all sorts of efforts to attract young men—and later, women—to join the military. Recruiters have appealed to a sense of patriotism, a desire for experience or education, health care benefits, or even a steady paycheck.
During periods of war, when the size of the military needed to be increased dramatically and very rapidly, the country employed a draft to fill the ranks, especially when casualties from combat needed to be replaced even by the unwilling. But the Vietnam war, occurring as it did during a period of great social and political upheaval in the U.S., led to a great rethinking about the military and what it needed to be. While not always the case, compelling draftees to serve in a controversial war during a time of domestic discord led to disciplinary problems in the military and declines in unit cohesion, effectiveness, and morale. The all-volunteer force (AVF) model was meant to improve the professionalism of the force, which it has, but it also depends on success in convincing young Americans in large numbers to join the force.
We are now seeing some substantial problems. Changes in American culture, the rise of new technologies used by American youth to interact with the world around them, and fewer opportunities to be exposed to the military are making the recruiting effort extraordinarily difficult. Beyond making it harder to meet annual recruiting goals, this potentially calls into question the AVF's viability and demands a number of improvements to and adaptations within the "accessions enterprise" if we are to continue to have the most competent, professional military possible.
Military accessions—the process of recruiting, qualifying, and conducting initial entry training—is vital to our national security interests. Its operating environment is constantly evolving, and the organizations involved must respond in kind to remain relevant and accomplish their missions. This is particularly true of the recruiting portion of the accession environment, as recruiting tends to be the most visible and significant aspect of accessions. Recruiting is constantly affected by changing applicant demographics and expectations, service requirements and demands, accession policies, threats and security requirements, and technologies.
The accession enterprise is made up of three components:
The service recruiting commands;
The United States Military Entrance Processing Command (USMEPCOM); and
The service recruit training sites.
Each component has a vital role in supporting the DOD mission by ensuring and supporting the quality and quantity of the AVF. Given some significant changes in the recruiting environment, all participants in the process must adapt their systems, processes, organizations, and mindsets to meet the annual requirement of recruits in an AVF.
The military accession enterprise is experiencing structural, political, social, and technical shifts on a scale not seen since the all-volunteer force was adopted in 1973. It has been 50 years since the U.S. last drafted people, and the military services must address these shifts if they are to continue to be successful in populating our military with young Americans who are willing to serve our country.
Military recruiting involves actions and activities taken by a service to identify and attract individuals in sufficient numbers to meet organizational needs. These actions include marketing, advertising, influencing, and educating to generate a pool of desirable candidates, enhance their interest and attraction to military service, and increase the probability that these individuals will enlist. Among the organizational needs to be met by this process are the end strength objective for each service (how large it needs to be) and personnel with the aptitude and skills required to serve in technical fields.2
DOD recruiting data highlight the challenge involved in accomplishing the accession mission.3 Service recruiting productivity and resultant USMEPCOM and service recruit training throughput continue to be challenged by the COVID-19 pandemic, which has resulted in limited access to high school students and large student gatherings. But the COVID-19 challenges tell only part of the story. The COVID-19 pandemic exacerbated systemic issues—changing demographics, propensity, standards, technology, and methods—within the accession environment that had been building for years, and it will take more than the end of the pandemic to resolve them.
The services have limited levers to influence near-term recruiting results. For applicants, these levers include waiving tattoo policies, weight standards, and education standards and providing higher enlistment bonuses. Recent headlines indicate that service recruiting commands are attempting to use a mix of these levers to improve recruiting outcomes in fiscal year (FY) 2022.4 Similarly, the services can increase recruiter productivity in the near term through promotion and duty assignment preferences, monetary incentives, and involuntary extension of productive recruiters.5
The more important levers reside at the policy and societal levels where the quality and quantity of military service inductees can be properly balanced with a focus on long-term outcomes and costs to the accession enterprise. These levers include medical policies and standards, testing policies and standards, and youth propensity to serve. An appreciation for the role these levers play requires an understanding of the complex interplay of the organizations involved as well as the history of accession standards.
A Balance of Interests: The Accession Triad
The first leg of the accession triad includes the military service recruiting commands. Under Title 10 of the United States Code:
The Secretary concerned may accept original enlistments in the Regular Army, Regular Navy, Regular Air Force, Regular Marine Corps, Regular Space Force, or Regular Coast Guard, as the case may be, of qualified, effective, and able-bodied persons who are not less than seventeen years of age nor more than forty-two years of age.

6
The service secretaries carry out this mission largely through the recruiting force with oversight from service headquarters.
In terms of a supply chain, the service recruiting commands are the first step in a long process that eventually results in military servicemembers being fielded to operational commands and adding to military readiness. Collectively, the service recruiting commands employ more than 20,000 recruiters worldwide to meet their annual recruiting requirements. Within the accession triad, service recruiting results receive the most visibility, as annual goals are used by both the public and private sectors to gauge military readiness and the willingness of young Americans to serve their country in uniform.
In 1976, the Secretary of Defense established the United States Military Entrance Processing Command, the second leg of the accession triad. Initially established as a Department of the Army field operating agency under the jurisdiction of the Deputy Chief of Staff for Personnel, USMEPCOM was led by a commanding general who was also commanding general of U.S. Army Recruiting Command. This arrangement remained in place until 1979 when USMEPCOM became a DOD field operating activity reporting to the Office of the Under Secretary of Defense for Personnel and Readiness. This arrangement gave the Secretary of Defense greater oversight of the accession process through USMEPCOM's mission of evaluating applicants by applying established DOD aptitude, medical, and moral standards during processing for military service.
The Secretary of Defense's authority over USMEPCOM and the accession process helps to ensure equality of opportunity for all eligible applicants for military service. The DOD uses common entrance qualification standards for enlistment, appointment, and induction across all military services. This helps to avoid inconsistencies and inequities linked to ethnicity, race, religion, or gender. Moreover, this enables the judgment of suitability for military service on the basis of an applicant's adaptability, potential to perform, and conduct.7
The third leg of the accession triad is the service recruit training mission. The services, including the U.S. Coast Guard, maintain nine recruit training sites with the mission to transform civilian volunteers into professional servicemembers who are disciplined, fit, acculturated, and combat ready. To increase the likelihood of success, the service recruit training commands desire new recruits who are at high levels of medical and mental readiness before the start of training.
All components of the accession triad—recruiting, USMEPCOM, and recruit training—must work cohesively to enlist approximately 250,000 men and women into the U.S. armed forces annually. This requires not only the integration of policies and systems, but also the balance of incentives and desired outcomes at each step of the process. Recruiting has the dual mission of quantity and quality with the former taking precedent over the latter. USMEPCOM has a near singular focus on quality and adherence to accession standards. Recruit training focuses on individual recruit readiness, which is a function of quality and training standards.
Because of the divergent incentive structure, there is a natural tension among the three elements of the triad: recruiting, USMEPCOM, and recruit training. This tension has generally led to positive outcomes for the accession enterprise, allowing it to meet quality and quantity metrics in most years. However, when recruiting quantity metrics begin to fall short, as experienced in FY 2022, the tension builds, upsetting the balance between quality and quantity.
The military services must enlist a sufficient quantity of recruits to fill units in the operating forces and maintain readiness. If the quantity of recruits falls short, then the services must restructure operational units to ensure combat effectiveness.8 In terms of cold, hard metrics, quantity is valued more than quality. This has been true in both peacetime and in war. But starting in the early 20th century and as medicine and cognitive testing evolved, it became more difficult to ignore the quality aspects of recruits and the medical and mental fitness impacts on readiness.
Evolution of the Accession Process
Today's modern accession standards originated with the United States' entry into World War I. The declaration of war signed by President Woodrow Wilson on April 6, 1917, set in motion what would become by the end of the war the largest coordinated system of human resource selection, classification, training, and assignment ever implemented. During the 18 months the nation participated in World War I, uniform standards were devised to screen out the medically unsuitable and to assess the aptitude capabilities of enlistees. Medically, screening for tuberculosis was a priority as TB was a leading cause of death at the time. Height and weight standards were also first applied with uniformity during the World War I era.9 The application of these standards resulted in far more rejections of prospective servicemembers for underweight than for overweight.
World War I also witnessed the advent of aptitude testing. The Army Alpha test consisted of eight subtests and served as a prototype for later test development. The Army Beta test was one of the first paper-and-pencil tests to evaluate the aptitude of recruits who had little or no schooling or who did not speak English. Both tests were eventually replaced by the Army General Classification Test (AGCT).
More than 20 years later, World War II presented the nation with an even more monumental mobilization effort. By the time the wartime selective service laws expired in 1947, more than 10 million men had been inducted into the military services. The physical standards for induction were first published by the War Department in 1940.10 They were used by local draft board physicians and physicians at Joint Army and Navy Induction Stations. The physical standards changed as the war progressed, as medical science advanced, and as the needs of the War Department evolved. The most extensive changes involved dental and visual acuity standards and the PULHES physical classification system, all of which are still in use today.11
In 1948, an interservice working group was created to develop a single aptitude test for use by all services. This effort resulted in the introduction in 1950 of the Armed Forces Qualification Test (AFQT). The AFQT served as a screening device, determining an applicant's overall capacity to absorb military training, and provided a uniform yardstick with which to predict the individual's potential for success while in service.
The AFQT did not aid in job classification. For this, the services employed their separate examinations or specialized tests. In 1974, the DOD selected the Armed Services Vocational Aptitude Battery (ASVAB) as the single instrument of choice to screen applicants both for enlistment and for occupational classification testing. This streamlined the testing process and enhanced the individual service's ability to match applicants with jobs and provide job guarantees to applicants who qualify. In 1976, the same year USMEPCOM was established, a revised version of the ASVAB became the enlistment eligibility test DOD-wide.12 Refined and improved versions of the ASVAB continue to serve in the 21st century.
Medical fitness standards continue to be refined to keep pace with current trends in public health and advances in medical science and military requirements. Audiometric standards were added and hearing tests became routine.13 Screening for HIV was mandated in the 1980s for all persons entering the services.14 USMEPCOM incorporated International Classification of Disease (ICD-10) codes in 2015,15 and updated standards related to transgender applicants and the pandemic diseases were added between 2017 and 2021.16
Today, the DOD regularly evaluates the medical and testing standards applied to accession based on emerging science, research, and advances in technology. These efforts, intended to balance cost and performance in military enlistments, are nonetheless influenced by politics and public opinion. The shifts in policy governing military service for transgender individuals between 2018 and 2021 and the COVID-19 medical standards and vaccine policies of 2020 and 2021 are cases in point. While these policies are of interest from a societal or public health perspective, their impact on military readiness is hotly debated. One thing is quite clear, however: They increase both the cost and the level of effort needed to recruit military personnel.
Levers of Control: Medical, Testing, and Propensity
The United States Army is projected to miss annual recruiting goals in FY 2022 and FY 2023, falling short by as many as 40,000 new recruits. General Joseph Martin, Vice Chief of Staff of the Army, identified the unprecedented challenges presented by the COVID-19 pandemic environment, the labor market, and competition with private companies as key factors that negatively impact recruiting.17 These challenges have affected recruiter productivity by largely prohibiting large group events, curtailing widely attended sports or school events, and limiting the impact of traditional incentive schemes like bonuses. The Army, Army Reserve, and Army National Guard are the recruiting bellwether for all of the military services, accounting for nearly 50 percent of the annual DOD accession goal of 250,000 recruits.
The traditional model of recruiting, which was effective before the COVID-19 pandemic, will not suffice in a post-COVID environment. Understanding this requires understanding the structural issues that determine whether a potential recruit desires to serve and is qualified to join. Finding medically fit, academically proficient, and motivated men and women is the foundational issue in military recruiting.
Medical. DOD Instruction 6130.03, Volume 1, "Medical Standards for Military Service: Appointment, Enlistment, or Induction," establishes baseline accession medical standards.18 All applicants complete the same accession medical history process, which requires self-disclosure of medical history, authorization given to the military to access personal medical records, and a physical examination by a licensed medical professional.
Uniform accession medical standards reduce the risk of long-term negative outcomes both for the servicemember and for the military services. The intent is to not aggravate any preexisting physical or mental health condition that might lead to the injury or death of the servicemember or a long-term cost to the government from a permanent disability. The stress of military service can result in a reoccurrence of some previous condition, whether resolved or unresolved. All components of the accession enterprise have a shared goal: finding young adults to meet the mission requirements of the military services and ensuring that they have every opportunity to pursue a successful military career.
Accession medical standards are based on advances in medical science, changes in public health, operational needs, and prerogatives of the DOD and military services pertaining to sociopolitical or cultural issues. They are designed to ensure that individuals are physically and psychologically qualified and capable of performing the strenuous military duties that are often associated with wartime activities. This requires the applicant to be available for worldwide duty without restriction or delay; able to tolerate exposure to stressful, dangerous, and harsh environments; and able to operate dangerous, sensitive, or classified equipment.
Applicants with conditions that would normally disqualify them are reviewed on a case-by-case basis by the relevant service to determine whether a medical waiver can be issued. Each service has its own waiver policy that typically calls for more information about the condition of the individual and treatments available to mitigate risk associated with the medical condition. This additional information helps the service to make a risk-informed decision on the applicant. Conditions that are more rarely waived include those involving behavioral health, including self-mutilation, suicidal attempts or gestures, major depression, bipolar disorder, or other similar conditions.
As important as the military recruiting and accession processes are, they rely heavily on a patchwork of outdated technology and paper-based data collection for medical history. Until recently, this process was seen to serve both the needs of DOD and those of the services even though it was based on the assumption that the medical record provided by the applicant was complete and accurate. Based on this assumption, the DOD thought it was able to apply stringent accession medical standards, and this gave the impression that high quality standards were being met even though the services were recruiting applicants with largely unverifiable medical histories.
Various studies and reports over the years identified this shortfall in validating applicant disclosure of medical history, which led to Existing Prior to Service (EPTS) attrition (early discharge of the servicemember because of undisclosed medical problems revealed during the servicemember's first enlistment) and high costs to the DOD at recruit training and during first-term enlistment.
USMEPCOM data consistently show that almost 50 percent of all EPTS attrition in all services is due to applicant nondisclosure of medical information.19 The principal reasons for EPTS in all services are (in order) psychological, orthopedic, and asthma (pulmonary). Applicants for military service undergo a USMEPCOM medical screening that includes a physical exam; urinalysis for protein, glucose, and illicit drugs; hearing; and vision.20 Applicants complete a report of medical history as well as behavioral questionnaires, both of which require the applicant to disclose any conditions, particularly in behavioral health, that would normally be disqualifying.
For various reasons, from willful nondisclosure to poor recall, applicants tend not to reveal such information. According to a 2016 Accession Medical Standards Analysis and Research Activity (AMSARA) report, "the great majority of EPTS discharges are for medical conditions that were not discovered or disclosed at the time of application for service, with concealment by the applicant being the most common scenario."21 Since these instances of nondisclosure are not uncommon, obtaining applicant medical and/or prescription records helps USMEPCOM medical providers to make the appropriate qualification decisions. In addition, the services, through their Service Medical Waiver Review Authorities (SMWRA), are better informed when conducting risk assessments during waiver reviews. In most cases, the relevant military medical authorities are able to acquire this important information, but the time needed to do so also means that it takes longer to process the applicant.
Between 1997 and 2017, the Government Accountability Office (GAO) made several recommendations to improve recruit medical screening processes at USMEPCOM. The GAO's 1997 report recommended that DOD develop methods to verify applicant medical history to decrease issues of nondisclosure that could lead to recruit injury, attrition, or even death.22 Its 2017 report highlighted concern with the lack of electronic interfaces between USMEPCOM and electronic medical information holders that would otherwise make it easier for Military Entrance Processing Stations (MEPS) to obtain medical history information.23
In 2016, USMEPCOM was directed to gain access to authoritative health information through a fully automated and electronic health record system to reduce the number of EPTS discharges and respond to the various problems noted in government reports. USMEPCOM conducted assessments, pilots, and initiatives between 2016 and 2020 to obtain this information and prepare for implementation. These efforts resulted in a system-of-systems approach that began with formal pilot programs in 2020 and an implementation plan in 2021.
Medical modernization in USMEPCOM encompasses multiple systems that collectively provide access to an applicant's health information and electronic health records. The systems include:
Collectively, these systems provide end-to-end electronic health record coverage and access to authoritative health information while fully digitizing the accession medical process in a cloud-based environment. From an enterprise standpoint, they improve qualification decisions, reduce recruit training attrition (EPTS), and enhance policy formation at the DOD and service levels.
In December 2021, USMEPCOM initiated the Medical Review of Authoritative Data (MROAD) program as the first step to address the problem of applicant nondisclosure. MROAD makes it possible for the military to obtain applicant prescription histories that are used to identify medical conditions contributing to avoidable attrition.29 MROAD leverages two complementary systems: JLV and PMRS. The data obtained from JLV and PMRS reports allow for a more comprehensive picture of applicants' medical histories.
In early 2020, USMEPCOM used MROAD to assess the use and impact of JLV and PMRS in the medical evaluation process. Only records of applicants already shipped to recruit training were reviewed so that the assessment did not affect actual qualification decisions. After reviewing the records of 1,545 applicants between April and June 2020, USMEPCOM found that nearly 7 percent of applicants had a prescription history suggesting non-waiverable medical conditions.30 Further analysis indicated that approximately 83 percent of applicants would be fully qualified during the physical exam with an additional 10 percent receiving service medical waivers.
The net impact on qualifications confirmed that applicants were not disclosing potentially disqualifying conditions, as the disqualification rate increased by nearly 7 percent overall. It was estimated that the savings associated with better qualification decisions totaled nearly $1 billion per year for the DOD and services at a financial cost of only $5 million per year. Interestingly, the results of the review also revealed that an additional 21,000 applicants need to be recruited each year to offset the number that are medically disqualified during prescreening for the services to meet their annual recruiting goals.
The individual applicant findings were somewhat more startling. When the prescription history of applicants who had already assessed and shipped to recruit training during 2020 were reviewed, it was found that many had undisclosed, significant mental health conditions that would not be compatible with military service or success at recruit training. Examples included:
An applicant with 232 prescription fills for multiple psychiatric medications,
An applicant with over 100 prescription fills for ADHD and anti-depressives, and
An applicant who was prescribed lithium for bipolar disorder.
Such cases would not normally be granted a waiver for enlistment by the military services, yet they somehow "slipped through the system."
The decision to implement MROAD in actual qualification decisions was made in 2021. DOD developed several courses of action (COA) that balanced the need for medical modernization with the realities of the recruiting environment. While varying somewhat in their implementation start date and the use of medical history reports during the course of the accession process, all of the COAs recommended better use of both electronic and paper medical records to determine whether an applicant needed a more comprehensive physical examination.
Perhaps not surprisingly, the positions of agencies involved in the decision to implement recommendations varied greatly, depending on their missions and roles in the accession supply chain.
USMEPCOM had processes and procedures in place to implement the use of PMRS and JLV when directed. This initiative addressed the historical problem of applicant nondisclosure of medical history and would have allowed USMEPCOM medical providers to make better informed risk-based decisions. The use of authoritative health information would also reduce the variance in medical decision-making and EPTS attrition, nearly 50 percent of which is due to applicants failing to disclose medically disqualifying information.
Service recruiting commands were hesitant, preferring to implement MROAD in FY 2023. The ongoing COVID-19 pandemic, inability to gain access to schools and conduct large-scale events, and a young, less experienced recruiting force had created challenges to meeting recruitment goals. Recruiting commands were concerned that implementation of more stringent medical screening practices would decrease the pool of eligible applicants and increase the workload for recruiters. Any additional barriers to entry were seen as counterproductive.
The Council on Recruit Basic Training, an organization made up of the commanders and commanding generals of the service recruit training commands, supported medical modernization efforts if they reduced EPTS attrition at the initial entry training sites. Identifying medically disqualifying conditions would arguably prevent injury or death, minimize attrition rates, and increase graduation rates. Furthermore, applicants approved through the waiver process would sustain fewer injuries/illnesses if preventive measures were available.
Service medical review waiver authorities largely favored the use of authoritative health information in the accession process because it provided a more holistic picture of an applicant's medical history and allowed for better determinations in cases involving medical waiver requests.
The DOD directed the implementation of MROAD beginning in FY 202231 against the strong reservations of the services. USMEPCOM was directed to provide implementing procedures to the services before the initiation of MROAD and to conduct an assessment of the program after six months of use. Military applicant medical disqualification rates began to increase immediately following the implementation of MROAD in December 2021. Additionally, the increase in the quantity of medical history that MEPS medical providers needed to review increased the timeline for medical evaluations. These two factors—higher disqualification rates and longer timelines—increased the risk of missed recruiting goals for the service recruiting commands. The services voiced their concerns in early 2022, and DOD decided to pause the MROAD program in anticipation of the deployment of MHS GENESIS.32
USMEPCOM deployed MHS GENESIS in the second and third quarters of FY 2022. Similar to the deployment of MROAD, the services strongly objected to the deployment of MHS GENESIS. They continued to be concerned about the negative impact that increased medical disqualification rates would have on service recruiting efforts, particularly in a year when all military services are struggling to meet their recruiting goals. Despite these concerns, determining that the improved quality of military applicants outweighed the services' concerns about quantity and given the difficulty of the recruiting mission in FY 2022 and the likelihood that the services would miss recruiting goals in any event, DOD determined that FY 2022 was the best time to deploy MHS GENESIS.
The deployment of MHS GENESIS marked the most significant change in medical qualification in a half-century and was the result of decades of work and research. USMEPCOM moved from a paper-based system to a modern health care system that provides "a single health record for service members, veterans, and their families"33 as well as better, more responsive access to authoritative health information. Its use not only has the direct impact of improving the quality of recruits enlisted in the military, but also provides improved insight into the overall health of the U.S. armed forces. These long-term benefits should not be outweighed by the short-term impacts being experienced by the service recruiting commands in meeting their quantity goals.
Cognitive and Non-Cognitive Testing. The ASVAB is the world's most widely used multiple-aptitude test battery and became so widely used because of the evolutionary process by which it was developed and implemented—a process in which the U.S armed forces have played a central role.
The process of administering standardized tests at the beginning of the 20th century was time-consuming and costly and required highly trained administrators. In 1917, American Psychological Association (APA) President Robert Yerkes urged the APA to contribute to the war effort by helping to find a way to assess recruits.34 The APA formed numerous committees, one of which was charged with developing a group intelligence test that could identify men with low intelligence and those who were well-prepared for special assignments or higher-level training.
Their efforts resulted in the Army Alpha and Beta tests, introduced in 1917.35 The Army Alpha was a written test for literate recruits. It had various parts, including analogy recognition, missing number fill-ins, and sentence unscrambling. These types of questions are still common in modern IQ tests. The Beta version was used for men who did not speak English or were illiterate. It also had several parts, including a maze, number work, and picture completions. The Alpha and Beta tests could be administered to large groups and took less than an hour to complete. By the end of World War I, more than one million people had taken the Army Alpha and Beta tests.
The Army used the tests for two primary reasons: to improve the assigning of new recruits and to allow military leaders to gain a better understanding of their soldiers' individual abilities. The first tests were just the beginning of the journey for intelligence and aptitude testing within the U.S. military.
During World War II, each service used its own assessment procedures before an individual's induction. The War Department also began to use the Army General Classification Test and Navy General Classification Test to classify enlisted personnel.36 These tests included questions on vocabulary, arithmetic, and block counting. More than nine million people took these tests during the war.
In 1948, Congress passed the Selective Service Act, which mandated that the newly formed DOD should develop a uniform screening test to be used by all of the services. In response, DOD developed the AFQT.37 DOD began to administer the AFQT in 1950 and continued to administer it until the mid-1970s. The AFQT consisted of 100 multiple choice questions in vocabulary, arithmetic, spatial relations, and mechanical ability. DOD used the AFQT to measure the "general trainability" of draftees and volunteers for all of the armed services.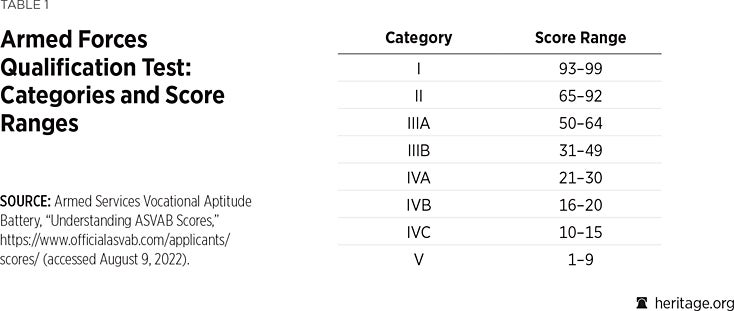 In 1966, the DOD began to develop a single battery for all of the services. In 1968, the DOD first offered the ASVAB at no cost to high schools and postsecondary schools. By 1976, DOD introduced the ASVAB as the official aptitude test for all of the services.38 Since that time, the DOD has improved the ASVAB program, most notably with the inclusion of the Career Exploration Program (CEP). Administered to over 500,000 high school students annually, the CEP is used by school counselors to encourage students to increase their level of self-knowledge and understand how that information is linked to military and civilian occupational opportunities.
For recruiters and potential recruits, the ASVAB test's most important score is the AFQT, which is computed using scores from four subtests: Arithmetic Reasoning, Mathematics Knowledge, Paragraph Comprehension, and Word Knowledge. The AFQT score is a percentile ranging from 1–99 and is normed based on a sample of 18-year-old through 23-year-old youth that was collected in 1997, resulting in a bell curve in which an AFQT score of 50 represents an average result. The AFQT scores are further broken into eight categories, as depicted in the accompanying table.
The military services are required to report the number of military applicants enlisted under each category. The service recruiters are strongly encouraged to enlist AFQT Category I, II, and IIIA applicants and to limit AFQT IIIB applicants. Generally, the services will not enlist applicants below Category IIIB without a waiver.
The difficulty involved in finding sufficient numbers of AFQT Category I, II, and IIIA applicants has led the services to explore non-cognitive testing as an alternative way to assess American youth for their potential to succeed in military service. These non-cognitive tests, the most notable being the Tailored Adaptive Personality Assessment System (TAPAS), identify behavioral skills and attributes like grit, resilience, or coping that predict success in an endeavor. Nearly all of the military services have administered or are administering the TAPAS test to military applicants, and the Army was administering it on a limited basis as early as 2012. However, none of the military services has fully integrated the TAPAS scores into its enlistment-related decision-making.
Service recruiting commands and advocacy groups have asked that applicants be allowed to use electronic calculators when taking ASVAB tests and that testing be provided in a language option other than English (for example, in Spanish). The thought is that the use of calculators and testing in a native language will increase the pool of qualified applicants. However, these proposals present multiple challenges. ASVAB testing questions have not been developed with calculators in mind, and the test has not been normed with applicants who used calculators. As a result, allowing calculators to be used in ASVAB testing would likely have only a marginal impact on the number of qualified applicants. In addition, military training is conducted in English, so applicants who are not proficient in English would likely struggle with and possibly fail in training because of their inability to comprehend the training materials.
The most viable way to increase the pool of qualified applicants would be to use a blend of cognitive and non-cognitive tests to determine suitability and enlistment. For example, ASVAB Category IV applicants who would otherwise not be considered for enlistment could be granted a waiver if they have a high TAPAS score. As all the services are currently administering the TAPAS test to prospective recruits, this blended approach could be implemented quickly and at a fraction of the cost of other options. The blended approach represents a step-increase in testing capability, increasing the enlistment eligibility (qualification) of the current and prospective pool of recruits while also improving the classification of recruits to improve success rates in military service.
Propensity. While the DOD as a whole and the military services individually develop and implement policies to identify high-quality prospects for military service and increase the odds that such service will be successful, they also work to understand the attitude of youth toward military service. This is key to marketing efforts that link the military to American youth.
One of the DOD's greatest challenges is a significant decline in the propensity to serve among America's youth and a corresponding negative trend in views of the value of military service among key "influencers" that shape their opinions. This decline has been influenced by a combination of factors such as:
A shrinking military footprint in many areas of the country (resulting in less opportunity for youth to have personal contact with anyone in the military);
Low unemployment rates (plenty of job opportunities in the civilian sector);
Improved access to college and higher education; and
Years of prolonged overseas conflict for the military (implying that anyone joining the military would have a similar experience).
These factors have created conditions in which the intrinsically motivating elements of military service have become less self-evident to the youth market while the sacrifices of service in terms of physical, psychological, and quality-of-life consequences remain top-of-mind. Today's youth view military service as fraught with risk and sacrifice without unique rewards or advantages. The distinguishing outcomes that youth associate with joining the military often include physical injury, constant deployment, family separation, post-service unemployment, and trouble reintegrating into society. These views are often reinforced by the media, national headlines, and family influence.
Moreover, the increased political polarization of America has crept into perceptions of military service. The military is portrayed negatively as either a breeding ground for racist, extremist, or insurgent behavior on the one hand or weakened by "woke," fragile, and social experimentation policies on the other. Both portrayals, neither of which is either true or productive, undermine youth propensity to serve and therefore military recruiting.
To counter these challenges and help reimage the military for today's youth, the DOD initiated a series of influencer media campaigns. The messaging was intended to increase awareness of the opportunities of military service, advocate for the benefits of public service, and overcome the misinformation with respect to the risks associated with military service.
The Joint Advertising, Market Research and Studies (JAMRS) program is the DOD office for military advertising, market research, and studies related to recruiting.39 JAMRS uses annual surveys to explore the perceptions, beliefs, and attitudes of American youth as they relate to joining the military. Understanding these factors is critical to success in sustaining an AVF and helps to ensure that recruiting efforts are directed in the most efficient and beneficial manner.
JAMRS survey results show a steady decline in the general propensity to serve in the military among youth ages 16–21 between 2018 and 2021, reaching a low of 10 percent in the summer of 2021.40 At low levels of propensity, all resources supporting the recruiting mission must work harder for the services and DOD to make annual recruiting goals. For the first time, a majority of youth have never considered the military as an option, even though economic hardships and uncertainties persisted throughout the COVID-19 pandemic.
Additionally, only 23 percent of America's youth are eligible to enlist in the military without a waiver.41 Disqualifying factors include overweight, drug use, adverse medical conditions/history, adverse mental health condition/history, low aptitude and education, poor conduct, and having dependents (a spouse, child or children, or other family members who depend on the potential enlistee for support). Nearly half of all youth who are ineligible are so for multiple reasons. This situation is exacerbated by low youth propensity and the difficulties recruiters have in engaging youth in a fragmented social and cultural landscape with limited resources.
Most youth do not seek information about serving in the military and are not motivated to look past the stereotypes presented in our culture. Emergent concerns around sexual harassment and assault in the military are at an all-time high: Nearly one-third of eligible youth cite this as the main reason why they would not consider joining the U.S. military. Significant growth in the number of media platforms, including traditional media, social media, and digital media, requires outreach resources to work harder and be targeted so that they reach intended markets more effectively.
The disconnect between the youth population and the military has been exacerbated by current events, creating a perfect storm for military recruiters. The restrictions on in-person engagements imposed because of the COVID-19 pandemic have left recruiters at a disadvantage in cultivating and maintaining relationships with both the broader market and the low-propensity segments of that market. As many recruiters will relate, it is much easier for a potential applicant to "ghost" them, either by not responding to efforts to contact them or by ignoring follow-on efforts once an initial contact is made, if they have met only online. Additionally, many recruiters lack the social media skills and authorities to engage with potential applicants in the digital platforms where they are most likely to be found.
Nonetheless, recruiting remains a very personal business. Unlike transactional sales, recruiting for military service is more akin to a serial sales model where a recruit must be sold multiple years of service. This requires face-to-face interactions not only with the prospective recruit, but also with his or her family, friends, and other influencers. For most successful recruiters, this is not a "9 to 5" job; it is one that requires significant evening and weekend engagement to achieve recruiting goals. Individual recruiter engagement with prospective applicants is therefore extremely important and must be measured across multiple metrics to ensure that the front end of the accession pipeline remains productive.
Market indications are problematic for military recruiting in both the short and long terms. Many youth aspire to a lifestyle that maximizes work–life alignment, which they do not perceive as being available with military service. The military recruiting services have not adjusted their messaging to account for this change in youth attitudes. Doing so will come at increased cost, but it will also help to attract high-quality, eligible, and diverse youth. Experience has shown that support for AVF recruitment requires adequate and sustained resources. The services must have the resources to make timely investments in the number of recruiters, marketing and advertising efforts, and enlistment bonuses to mitigate the adverse effects of such a challenging environment.
Modernizing Military Accessions
The military accession process must evolve to achieve the quality standards and quantity requirements that are needed to maintain military readiness. Industrial age accession practices, based on large-scale batch processing, need to be replaced by data-driven and targeted strategies. The COVID-19 pandemic served as an inflection point for the accession enterprise, highlighting systemic issues in the accession model while prompting the development of potentially transformational programs to modernize the process. At present, the military services are failing to leverage new tools to achieve their recruiting goals at the very time when American youth are increasingly ineligible to serve and have less desire to serve.
While challenging, the recruiting environment does present an opportunity to emerge from the COVID-19 pandemic with a new accession model that is built on modern medical standards and technologies, integrated cognitive and non-cognitive testing, and the ability to adapt to changing youth attitudes and behaviors. The current incentive structure, which tends to favor quantity of recruits over quality of recruits, does not support this transition. History has shown that the accession enterprise can evolve when there is sufficient dissatisfaction with the current state, when there is a compelling vision for a future state, and when initial steps are taken toward that future state.
The medical technologies, in terms of authoritative health information and electronic health records, and the cognitive and non-cognitive testing methodologies are in place to be fully integrated into the accession process. The only obstacles that remain are the policy and political will to do so and the institutional resistance to change. Failure to act at this moment will delay implementation for at least another generation and continue to jeopardize military readiness.
Political agendas and public opinion will continue to play a role in the accession process, but their negative manifestations can be marginalized when all of the components needed to identify, engage, recruit, and induct new servicemembers are aligned on outcomes. Understanding the primary levers of control through medical and testing standards, as well as a deep understanding of changing youth attitudes and behaviors, will allow the accession enterprise to achieve its goals in any political, economic, or social environment.
Conclusion
The accession enterprise must build the resilience that is similarly expected of military servicemembers. Recruiting the AVF cannot be a reactive activity; it must be a proactive, initiative-driven effort that engages American youth and convinces them of the value and nobility of serving their country in uniform.
Removing impediments is critical to making progress in this endeavor, and implementing a host of modern systems within the medical screening and recruit processing systems is a huge step forward. Similar efforts are needed in the recruiting system and should receive priority attention not just from senior defense officials, but also from influencers in education, civic organizations, and the sports and entertainment industries. These are the sectors of American society that are in the closest and most regular contact with our youth. If such efforts are not made, the viability of the AVF and, consequently, the security of the country will come into question.
Endnotes