Federal employees' unions decried the Trump administration for its executive orders aimed at improving accountability and integrity within the federal workforce.
The American Federation of Government Employees—the largest federal workers union—said the Trump administration's policies would "cripple," "purge," and "dismantle" the federal workforce.
But as is often the case, the views of union elites often don't align with those of the rank and file they are supposed to serve.
According to the Office of Management and Budget's annual Federal Employee Viewpoint Survey, federal employees' overall satisfaction surged under the administration of then-President Donald Trump, and has already tumbled under the administration of President Joe Biden.
Between 2016 and 2020, employees' overall satisfaction rose by 8 percentage points. Over just the first year of the Biden administration, from 2020 to 2021, federal employees' overall satisfaction plummeted 5.3 points.
This overall satisfaction score is an average of three questions posed to employees that asked them: "Considering everything, how satisfied are you … " with your job, with your pay, and with your organization?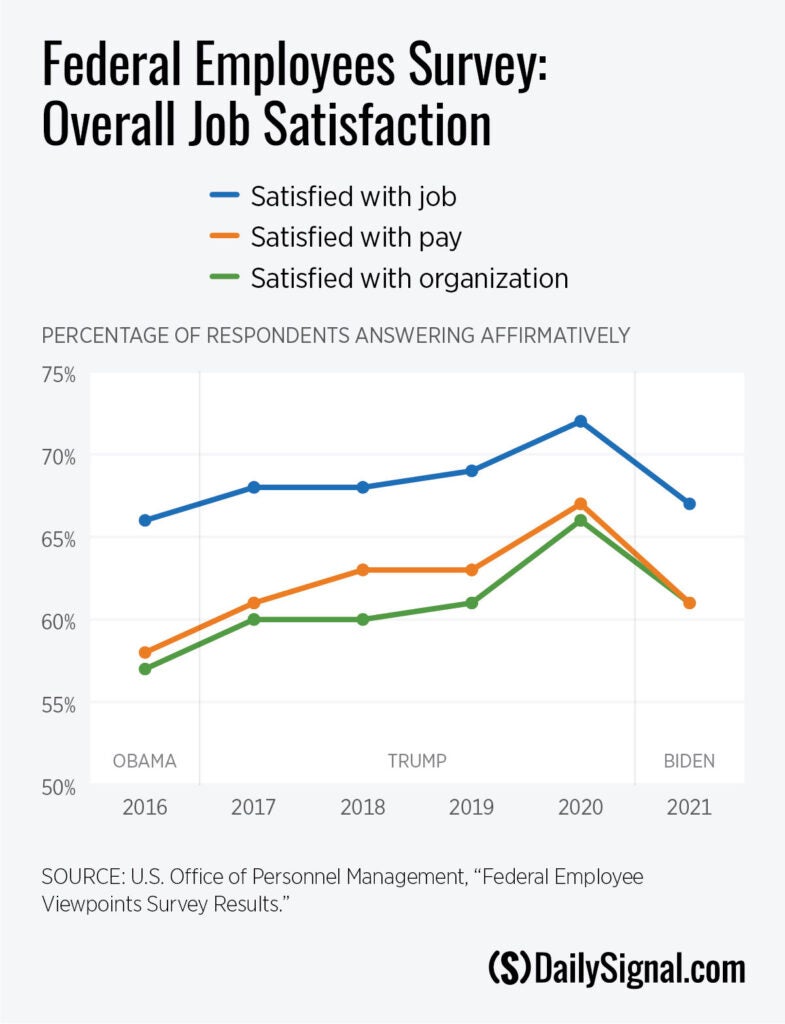 Some of the biggest improvements under Trump and subsequent declines under Biden have been in areas that unions use to justify their existence. For example: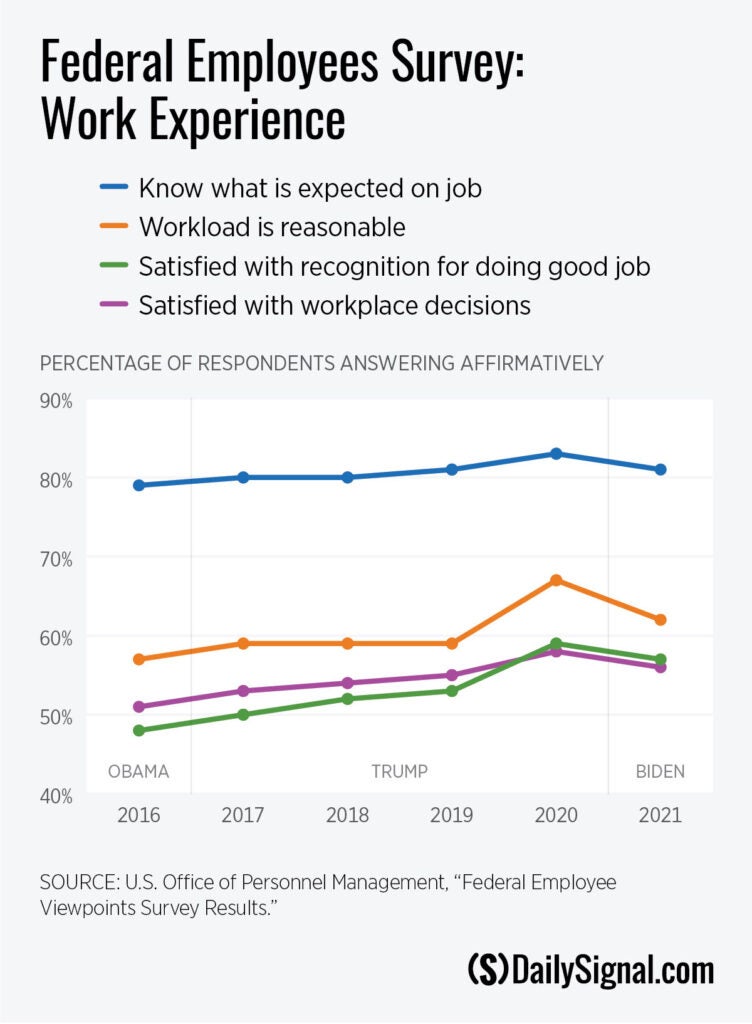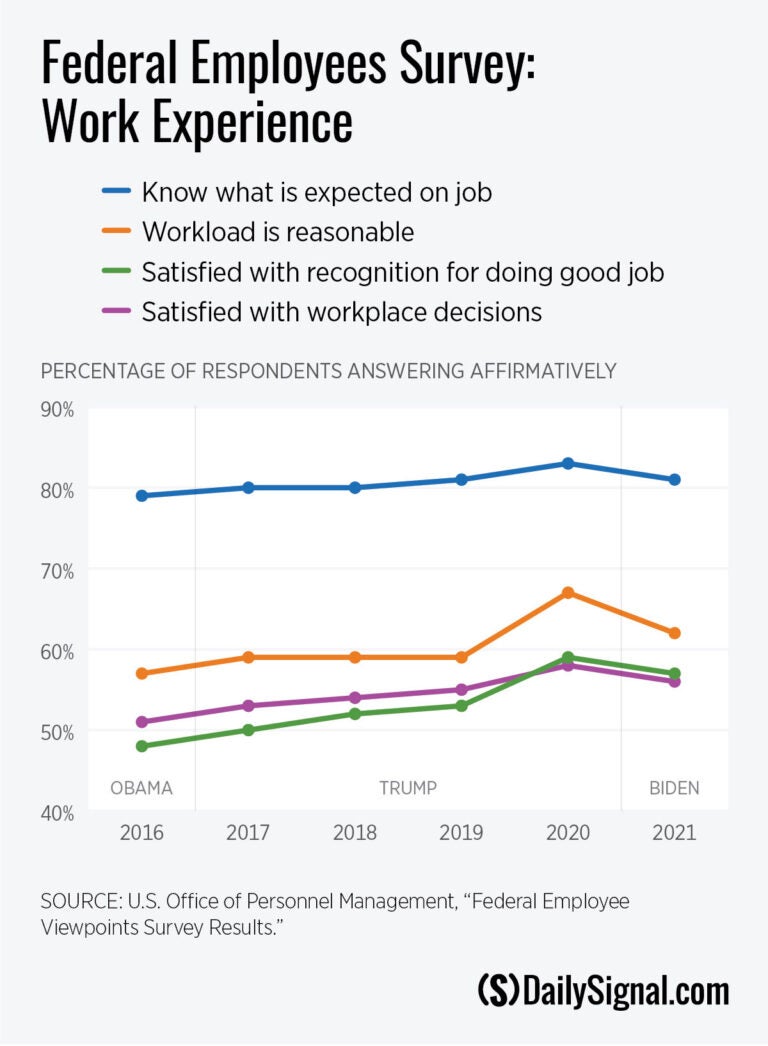 These survey results might seem surprising and counterintuitive since the federal workforce leans strongly Democratic. (The Hill reported that 95% of federal employees' contributions to the presidential candidates in 2016 went to Hillary Clinton. (That's based on Federal Election Commission records of contributions of $200 or more.)
But the reality is that accountability and integrity are good for all workers, regardless of their political leanings.
The Trump administration's federal workforce executive orders prioritized performance over tenure, provided flexibility for managers in disciplining and removing federal employees, established an interagency working group to improve labor relations, prohibited federal employee lobbying at taxpayers' expense, and limited the amount of time that federal employees could spend working for their unions instead of doing the job they are paid to perform.   
The American Federation of Government Employees' fearmongering claims contended that those changes would deprive federal workers of their rights, silence federal employees' voices, and "do nothing to help federal workers do their jobs better." But the exact opposite has been true, as evidenced in the changes in federal employees' assessments.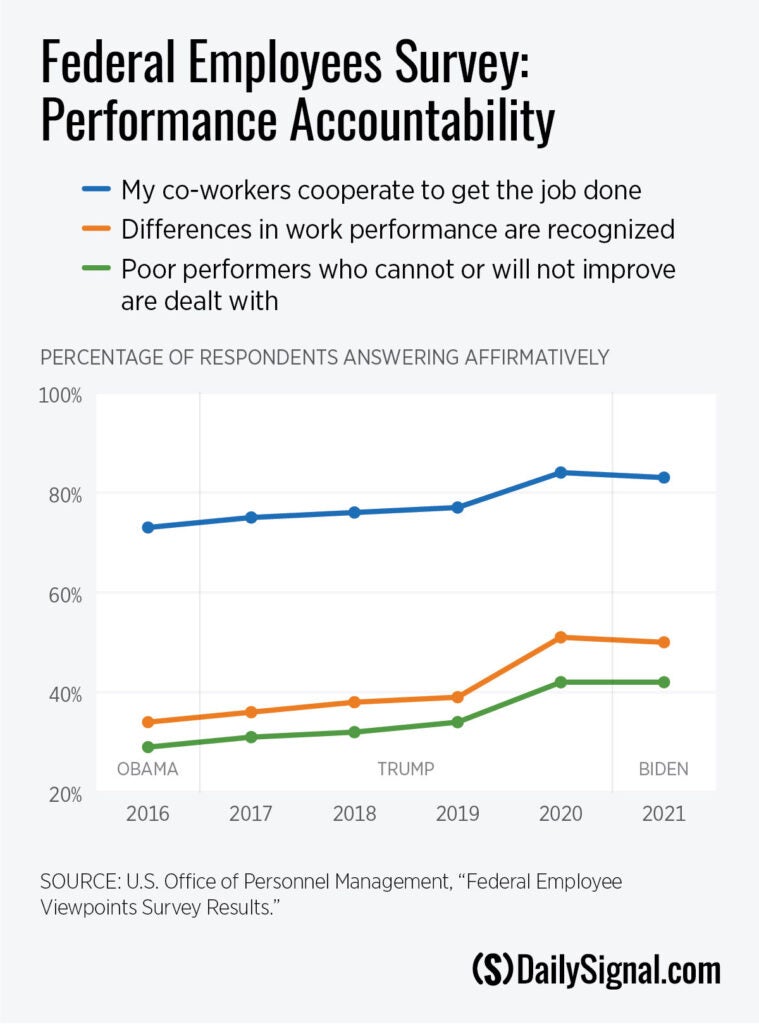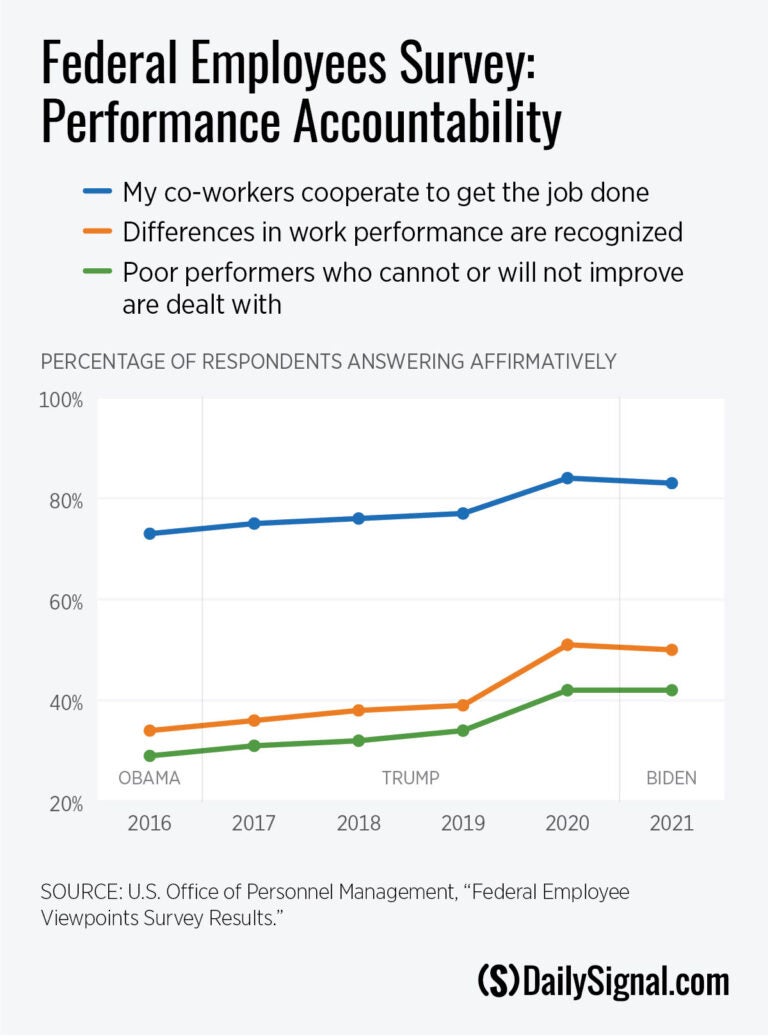 Of note is the fact that federal employees consistently report the lowest satisfaction with accountability for poor performers. In 2016, only 29% of federal employees said that steps are taken to deal with a poor performer who cannot or will not improve. While that improved alongside actions aimed at improving accountability, current responses show that nearly 60% of federal employees feel there is little or no accountability for poor performers.
That's almost certainly the consequence of an excessively burdensome and lengthy process required to dismiss a federal employee (or even to issue a "less-than-satisfactory performance" review). Instead of spending a year or more and countless hours attempting to impose accountability on poor performers, most federal managers simply give up, and taxpayers—along with that individual's co-workers—have to bear the burden of their indolence.
That would never be tolerated in the private sector.
Rep. Chip Roy, R-Texas, recently introduced the Public Service Reform Act aimed at improving accountability. Notwithstanding important protections, such as instances of discrimination and whistleblower retaliation, the Public Service Reform Act would make it easier for agencies to address misconduct and remove poorly performing and recalcitrant employees, so that the agencies can better carry out their missions.
Greater accountability helps create environments where employees feel valued and can thrive.
That in turn translates into a better, more effective government for all Americans.
At the end of the day, a federal government that operates more efficiently and with greater accountability is better for federal employees and federal taxpayers alike.
Many of Trump's executive orders were moving the federal government toward greater efficiency and accountability. Bills like the Public Service Reform Act would advance those gains by putting better policies into practice.
But Biden's undoing of Trump's measures puts federal employee union elites above the workers they serve and the taxpayers who are forced to fund them. This is hurting federal employee morale—and costing taxpayers.
The Heritage Foundation's Blueprint for Reorganization includes dozens of recommendations on how policymakers could reverse course and build upon the Trump administration's start to a more efficient and effective federal government, including how it could create a better functioning and more competitive civil service.
This piece originally appeared in The Daily Signal