As the coronavirus spreads, frontline healthcare providers and workers in other critical industries are facing a shortage of personal protective equipment. Many medical procedures, including bariatric, orthopedic, oncological, and cardiovascular surgeries, have been postponed for patients nationwide to allow hospitals to preserve critical resources and ensure adequate capacity to respond to the pandemic.
But Planned Parenthood and others in the abortion industry don't want to let anything, even a global pandemic, interfere with their ability to continue performing elective abortions.
Some states, including Washington and Massachusetts, have declared abortion an essential service. Others, such as Texas and Ohio, have specified that elective abortions are among the many procedures that are considered nonessential and must be postponed while states fight the virus.
The American Academy of Pro-Life Obstetricians and Gynecologists supports the latter approach, noting that, in addition to using up desperately needed personal protective equipment, abortion procedures come with the risk of their own complications that would require hospital evaluation, including uterine perforation and hemorrhage. As emergency rooms and hospitals try to keep up with COVID-19 patients, capacity and resources already will be stretched thin.
The fight over categorizing abortion as essential vs. nonessential is being played out in courts across the country, and whether the procedure is currently allowed or not in a given state remains a moving target.
Meanwhile, more than a dozen pro-abortion attorneys general have asked the Food and Drug Administration to remove the regulations surrounding the abortion pill regimen and access to the drug, which would compromise women's health and safety. This request to make the abortion pill available without the supervision of a medical professional, during the middle of a pandemic no less, is wildly irresponsible given the drug's well-documented health risks.
At the forefront of the debate to categorize abortion as "essential" is, unsurprisingly, America's abortion giant: Planned Parenthood. This should come as no surprise.
A recent Heritage Foundation report analyzing many years of Planned Parenthood's medical and financial data found that the organization is a billion-dollar abortion business with an increasing market share of total annual abortions in the United States. Meanwhile, other areas, including prenatal services, cancer screenings, and contraception clients, have dramatically declined.
How dramatic? Take prenatal services, for instance. When comparing 2018's data to previous years, prenatal services at Planned Parenthood declined by nearly 50% since 2013 and an astounding 90% since 2004. Planned Parenthood is providing less than a third of the cancer screening and prevention services it reported performing two decades ago.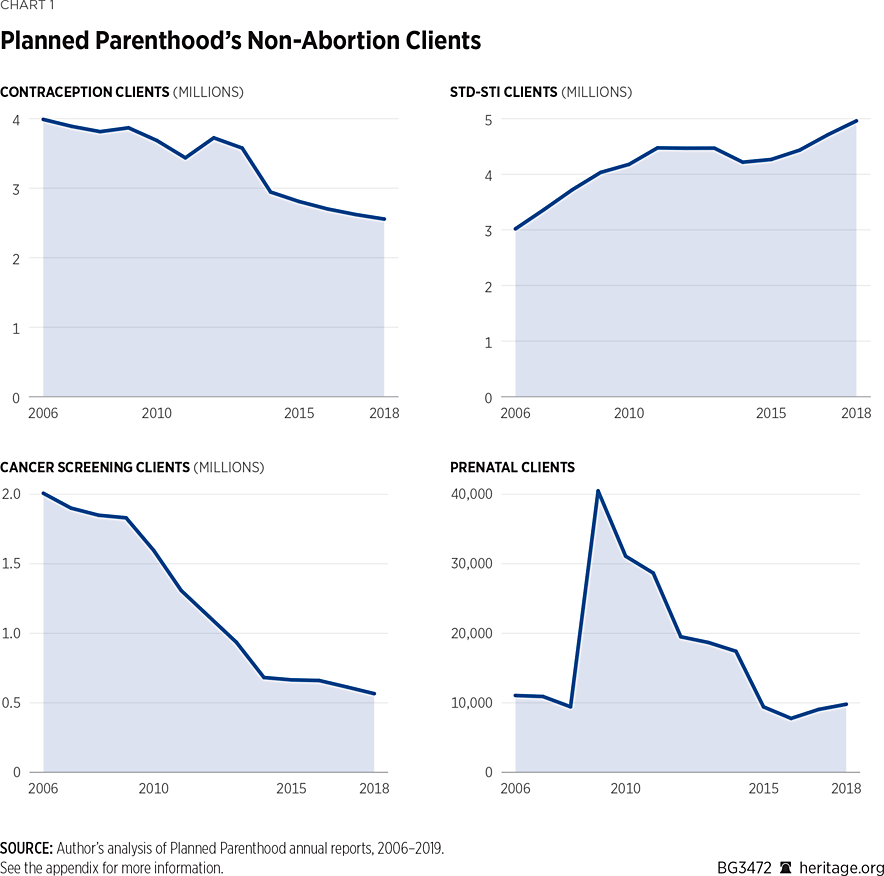 Abortion, meanwhile, has been a reliable mainstay. Last year's 345,672 abortions was the highest number ever reported. Comparing Planned Parenthood's abortion data with other nationwide data compiled by the Centers for Disease Control and Prevention and the pro-abortion Guttmacher Institute provides additional context of Planned Parenthood's approximate market share. These comparisons, unfortunately, come with a caveat, because both CDC and Guttmacher data are incomplete since the U.S. does not have any sort of mandatory nationwide abortion reporting system. Data is collected on a voluntary basis, and not all states comply.
Nonetheless, as the Heritage Foundation report explains:
Nationwide, the overall abortion rate—according to both the CDC and the Guttmacher Institute—is declining. However, abortions at Planned Parenthood are increasing—and so is the organization's market share. In 2005, Planned Parenthood accounted for 32 percent of abortions reported by the CDC and 52 percent of abortions in 2016. In 2005, Planned Parenthood accounted for 22 percent of abortions reported by the Guttmacher Institute and 39 percent in 2017.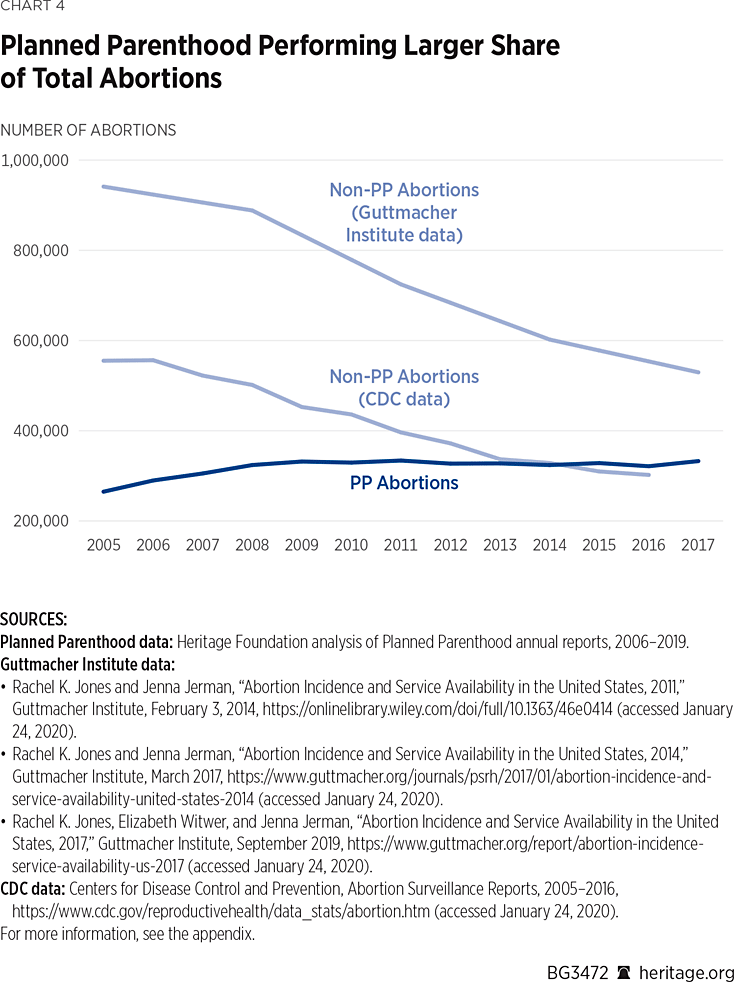 On the financial side, Planned Parenthood has roughly doubled both its net assets and government funding since 2006. In that same time, funding from private sources has tripled.
Abortion is Planned Parenthood's priority, and the pandemic that has brought the world to a halt has not changed that. As court filings across the country reveal, the abortion industry will stop at nothing to continue performing abortions despite the critical shortage of protective equipment and hospital resources in communities combating the coronavirus.
Abortion proponents insist that "abortion is healthcare" and that it's no different than any other procedure. But when push comes to shove, from health and safety standards for abortion clinics to postponing elective procedures during the middle of a pandemic, the abortion industry wants special treatment and exemptions that other practitioners comply with.
Ultimately, abortion is different. It's not a tonsillectomy or heart surgery. It's a procedure that deliberately ends the life of another human being; elective abortion treats no disease process.
Unsurprisingly, the industry has once again fallen back on an old refrain: rules for thee, but not for me.
This piece originally appeared in the Washington Examiner