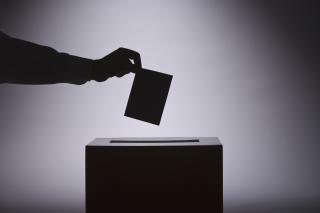 The Myth of Voter Suppression
The Left's Assault on Clean Elections
Buy the Book
"The Myth of Voter Suppression" exposes the widespread lies about election security initiatives in various states and the real threats to democracy posed by unsecured elections. It also investigates the big money that's bankrolling the voter suppression hysteria industrial complex. 
When nearly half of states adopted election integrity laws, such as voter ID provisions and restrictions on ballot harvesting, the left inaccurately howled "Jim Crow 2.0." But in subsequent elections, voter turnout soared, putting the brakes on the left's goal of a federal election takeover in the form of the failed H.R. 1/H.R. 4. When these efforts were rejected, President Biden used executive power for an "all-of-government approach" deputizing federal agencies in a get-out-the-vote effort. 
Voter fraud is still a problem, as proven by numerous convictions and overturned elections in recent years documented in The Heritage Foundation's Election Fraud Database. "Voter suppression" is a myth, a soundbite, an excuse by leftists for their failure to win elections across the country. "The Myth of Voter Suppression" reveals the truth that every informed voter needs to know, making it clear that election security is facing a very real threat. 
Fred Lucas cuts through the name-calling to zero in on both the documented problems in American elections and the e­ffectiveness of recent solutions."
Ken Cuccinelli
Former Virginia Attorney General and Former Acting U.S. Deputy Secretary of Homeland Security
This book ... details the e­fforts by Biden, Pelosi, and other Democrats that would federalize and ultimately corrupt the election process."
Congresswoman Claudia Tenney
Co-Chair of the House Election Integrity Caucus
In the tradition of Tammany Hall and the Jim Crow era, Democrats are still bent on hastily bending and changing election laws to make it easier to wield power. Fred Lucas, a veteran Washington correspondent, details how the Biden-Pelosi agenda is attempting a federal takeover to wipe away states' clean election laws such as voter ID and undermine confidence in elections."
Mark Levin
Host of Life, Liberty & Levin, #1 New York Times Bestselling Author