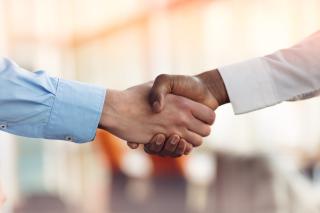 Local University Conservatives Network
Engaging, equipping, and connecting young conservatives for long-term success in public policy
Fall 2023 & Spring 2024
Are you a freshman or sophomore in college? Trying to start off strong in D.C.?
The Heritage Foundation, D.C.'s premier conservative think tank, wants to prepare you to be part of the next generation of conservative leaders. The Local University Conservatives (LUC) Network brings together D.C.-area undergrads to provide a foundation of conservative thought and community.
Throughout the year, members of the LUC Network will hear from experienced policy professionals, learn essential career skills, and connect with fellow conservatives over complimentary dinner at The Heritage Foundation. Apply here!
*During the school year, LUC welcomes conservative Capitol Hill interns to join our LUC Network and make the most of their time in Washington. Interns of all years in school may apply.
---
As a member of the LUC Network, you will:
Sit down with leading policy experts
Connect with fellow conservative undergraduates and interns
Learn about and discuss hot policy topics
Gain practical insights from experienced D.C. professionals on how to thrive and lead in a public policy office
Cultivate essential career skills
Set yourself up for professional success
All sessions run from 6:00PM to 7:30PM, and dinner will be provided.
LUC Network Fall 2023 & Spring 2024 Schedule:
Fall 2023
Session 1: 
Conservatism Now and Then
Dr. Kevin Roberts
October 2
Session 2: 
Empowering Parents in Education
Madison Marino
October 16
Session 3:
Pro-Family Policy: Defending Life & Promoting Family Formation
Speaker Coming Soon
October 30
Session 4: 
The Threat of Communist China
Speaker Coming Soon
November 13
Session 5: 
Conservative Careers
Kyle Bonnell & Capitol Hill Panel
December 4
---
Spring 2024
Session 6: 
American First Principles
Brenda Hafera
February 5
Session 7:
Countering Big Tech & Promoting Free Speech
Jake Denton
February 13
Session 8:
Conservative Solutions for the American Economy
Dr. E.J. Antoni
March 25
Session 9:
Evaluating America's Role in the World
Dr. James Carafano
April 8
Session 10:
Speaking the Truth About Gender Ideology
Dr. Jay Richards
April 22
Perfect attendance is not required.