During his first trip to Africa as secretary of state earlier this year, Mike Pompeo highlighted the importance of economic freedom.
In his speech entitled "Liberating Africa's Entrepreneurs," Pompeo said: 
We want basic security for our families.  We want opportunity and reward for the hard work that we invest in.  And we want the freedom to do whatever we want to do with our own lives. It's how we get there that matters an awful lot. I'm here today about—to talk to you about a couple of things.  Most importantly, I want to talk about the next liberation, economic liberation, a true liberation for Africa's entrepreneurs.
Indeed, as the Heritage Foundation's Index of Economic Freedom has reminded us annually since 1995, preserving and advancing economic freedom is all about empowering people and ensuring real, lasting progress for them by unleashing greater opportunities.
Over the past 26 years, the Index has become an essential policy guide that analyzes the undeniable links between economic freedom, individual liberty, and prosperity in nations around the world. The facts are indisputable: Free markets and free people have worked hand in hand to increase prosperity and the quality of life for people. Freer economies also have led the world in innovation and economic growth, and their governments have been made increasingly accountable to those they govern. 
Perhaps not surprisingly, countries with freer markets tend to be more resilient in times of crisis and more capable of handling challenging external shocks. Thanks to their free-market incentives and the flexibility to respond to changing conditions that comes with less government central planning, they have the widest availability of food, medicine, and other crucial necessities. 
One of the tragic consequence of the dearth of economic freedom in Sub-Saharan Africa is its correlation with the lack of food security and poor nutrition, which directly relates to the region's political instability, high infant mortality rates, disease outbreaks, childhood learning disabilities, and frequent famines. In the longer term, foreign aid from the West cannot solve the food security problem in Sub-Saharan Africa.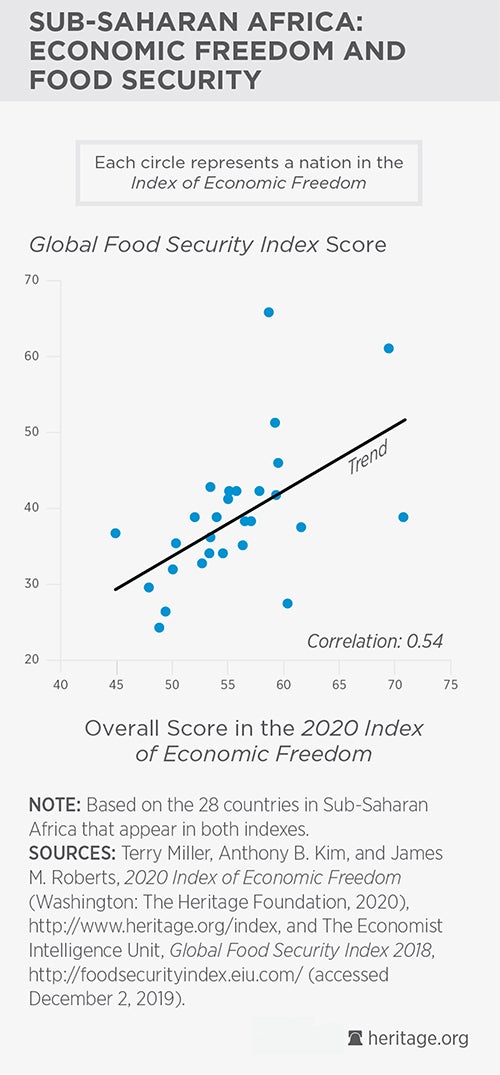 More urgently, African countries confront a challenging task of dealing with the pandemic. Coronavirus cases were slow to arrive in Africa, but the virus is spreading quickly and has infected an increasing number of people across countries in Africa, placing strain on already fragile health systems.
Time will tell, but ultimately, the solution to that problem—and to many other challenges in the region—is greater economic freedom.
As the 2020 Index emphasizes, Africa can do better in terms of advancing economic freedom and liberating countless entrepreneurs in the region. Over the longer term in a broader picture, the major trends taking hold are reasons for hope.  Ongoing economic expansion—that is higher than the world average—could permit those nations to make the additional institutional reforms needed to ensure long-term economic development and reinforce them.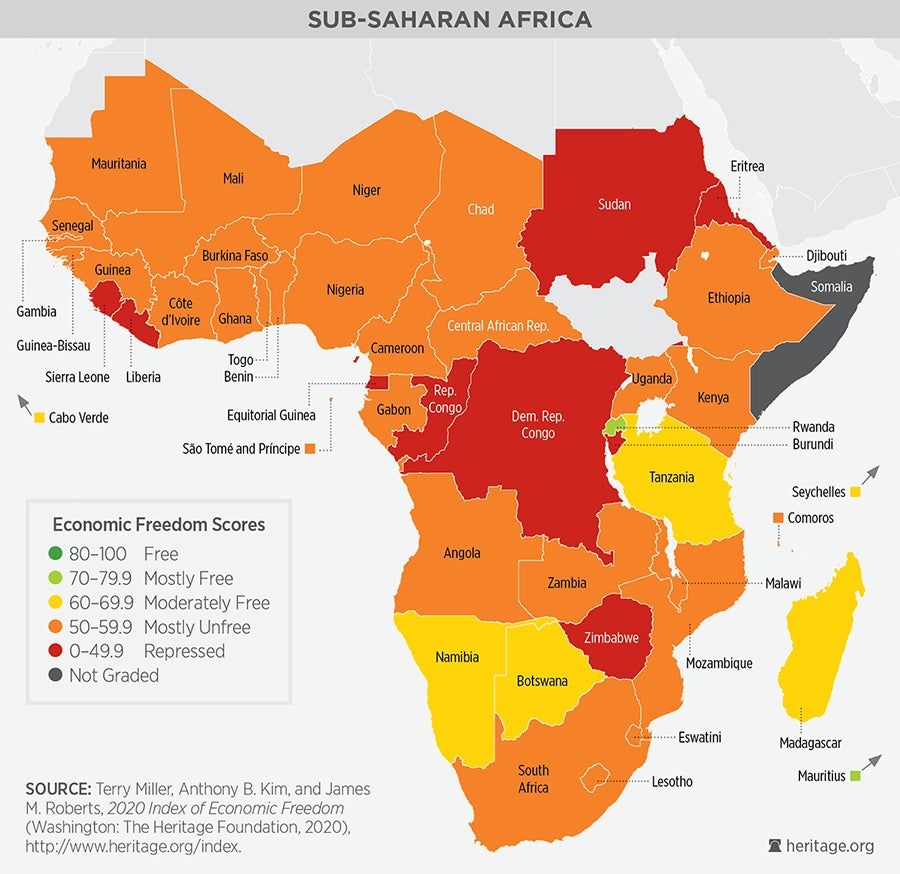 Yet, lingering corruption and poor governance, in particular, cost tremendous economic opportunities for the region's huge population of young people, a generation of potential entrepreneurs. Their success hinges on stable, corruption-free business environments that can generate dynamic private investment and growth.
Encouragingly, a number of African countries have taken steps to enhance economic freedom for entrepreneurs. In the 2020 Index, Rwanda moved from the "moderately free" category, where it had been for eight years, into the "mostly free" category. The economic reforms that fueled that rise have led to an increase in the country's GDP per capita to more than $2,000 in 2019 from about $700 in 1995. 
Togo also registered a notable improvement in in the 2020 Index—enough to avoid a return to the "repressed" category. But if it is to achieve its ambitious goal of establishing the country as a financial and logistics hub, it will have to increase economic freedom, including reforms to the judicial system and a commitment to tackling corruption.  
The proven right way forward lies in advancing free market policies that enhance economic freedom. As Pompeo stated:  
[N]ot every nation doing business in Africa from outside the continent adopts the American model of partnership.  Countries should be wary of authoritarian regimes with empty promises.  They breed corruption [and] dependency. They don't hire the local people. They don't train. They don't lead them. They run the risk that the prosperity and sovereignty and progress that Africa so needs and desperately wants won't happen.
Indeed, cultivating thriving private sectors based on principles of transparency and accountability, the key ingredient of economic freedom, is the best source of lasting and broad-based economic development for Africa.
This piece originally appeared in The Daily Signal