Rob Bluey got his start as a reporter for a small-town weekly newspaper nearly 25 years ago. He's covered Congress, political conventions, and even a major oil spill. Yet there are few stories more memorable than a trip with Vice President Mike Pence on Air Force 2.
Bluey, the executive editor of The Daily Signal, traveled with Pence to Tampa, Florida, on Aug. 5. He doubled as the official print pool reporter on the trip, sending multiple dispatches throughout the day to White House correspondents.
It was a first for The Daily Signal, Heritage's multimedia news outlet, but not the last.
Just one a week later, another Daily Signal reporter boarded Air Force 2 to accompany Pence to Iowa.
This time, Daily Signal reporter Rachel del Guidice was among the journalists getting a firsthand account from a unique vantage point. In her case, del Guidice made stops at the Iowa state fairgrounds and attended the launch of The Heritage Foundation and Heritage Action's "Fight for America" campaign.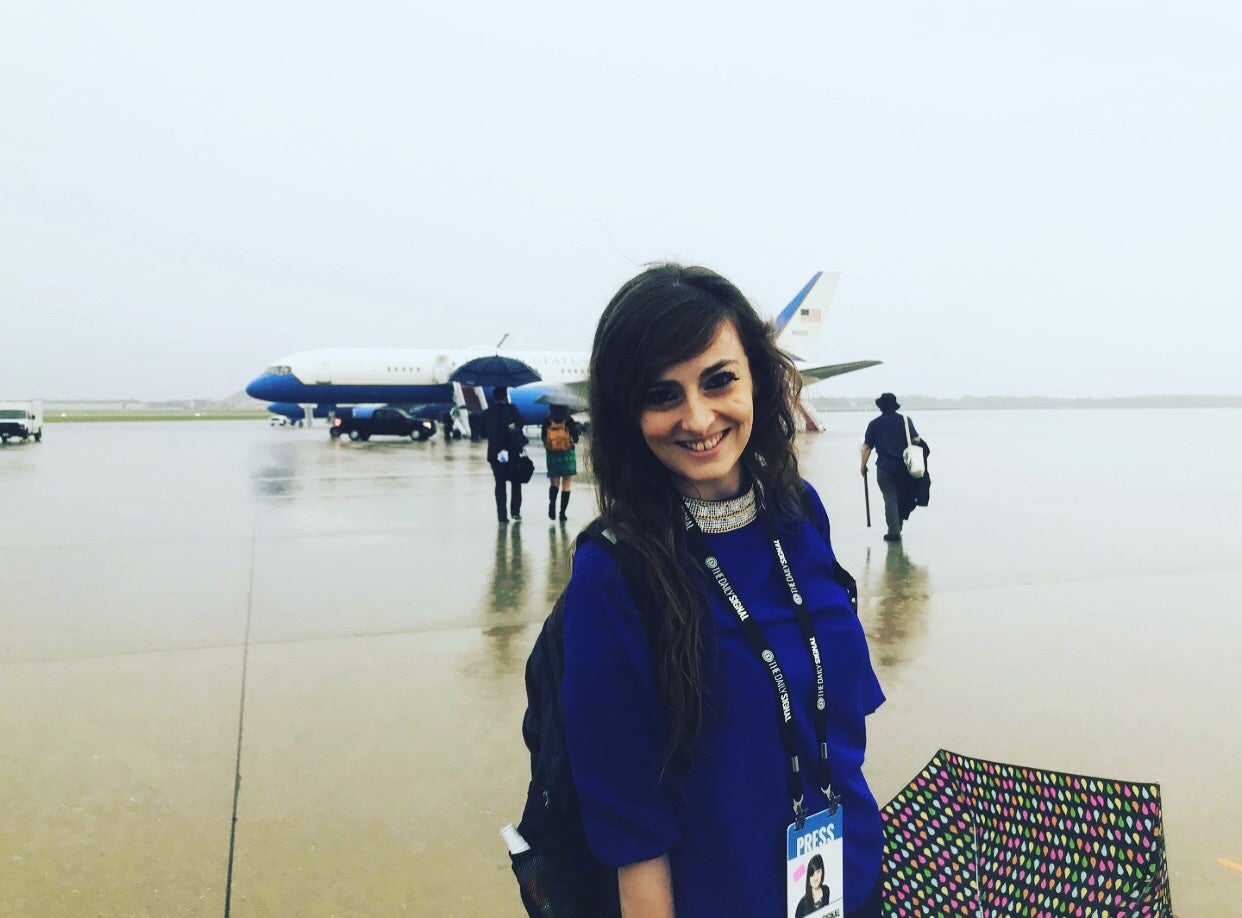 "When we created The Daily Signal six years ago, I never imagined that we'd have such a unique opportunity to travel on Air Force 2 with the vice president," Bluey said. "It is a testament to the quality journalism our team produces and the credibility of our hard-working reporters. People come to The Daily Signal for a straightforward and accurate account of the news—and that's what we deliver."
The fact that the trips happened in the span of two weeks made for a whirlwind experience.
The Daily Signal's inclusion didn't go unnoticed among establishment media. The New York Times published a story, "Member of Conservative Think Tank Takes On Reporter Duties on Air Force Two," taking offense that Bluey was invited. In addition to serving as The Daily Signal's executive editor, Bluey is also Heritage's vice president of communications.
The Daily Signal was created by Heritage in 2014 to bypass traditional media with news reporting and conservative commentary. More than 400,000 subscribers receive The Daily Signal in their inboxes each day and millions more visit the website each month.
Daily Signal editor-in-chief Katrina Trinko brushed off the critics and praised Bluey and del Guidice for their coverage.
"The Daily Signal is successful because we adhere to the highest standards of journalism," she said. "I also happen to believe that when you fairly and accurately report the news, you'll gain the trust of your audience. That's how we've developed such a loyal following and why it continues to grow year after year."
Although this month was the first time Daily Signal reporters traveled on Air Force 2, it's not the only high-profile trip they've taken. Last year, Daily Signal foreign correspondent Nolan Peterson spent a week traveling with Secretary of State Mike Pompeo to Asia.
Del Guidice, a graduate of Heritage's Young Leaders Program before becoming a Daily Signal reporter, said the experience was one she'll never forget.
"I am so grateful for the opportunity to spend the day traveling with Vice President Pence and seeing firsthand his interactions with Iowans," del Guidice said. "These are proud people who make this country what it is—the everyday Americans who ensure we're the land of the free and home of the brave."
While in Iowa, Pence participated in the "Fight for America" town hall, an event organized by The Heritage Foundation and its grassroots partner organization, Heritage Action. Pence spoke about American values, the extremism of the far left, and why he supports law enforcement.
Heritage Action Executive Director Jessica Anderson moderated the town hall meeting, which also featured Acting Homeland Security Secretary Chad Wolf and Iowa Sen. Joni Ernst.
"We were so grateful that Vice President Pence came to speak to the great men and women in blue and to launch 'Fight for America,'" Anderson said. "I'm excited to continue fighting to keep our nation safe, secure, and free for families in Iowa and across the nation."
You can read more about The Daily Signal's coverage of Pence's events in Florida and Iowa below: