Congress should maximize every opportunity to undo Obamacare's damage. The current Senate bill, the Better Care Reconciliation Act (BCRA),[REF] falls short of repealing Obamacare and replacing it with a new system that fully supports patients and doctors.[REF] Many actions are by definition outside the scope of this legislative effort, which is limited by the constraints of the congressional budget reconciliation process.[REF]
As drafted, the Senate bill is better than the status quo. When compared to the 2015 repeal bill[REF] vetoed by President Obama, the Senate bill rolls back more of Obamacare's damage. It provides states greater regulatory relief than the House-passed bill, which will help reduce insurance premiums and promote access to insurance in the short run. Like the House-passed bill, it provides major Medicaid reform to help refocus the program on those most in need.
Provisions in the Senate bill that will help Americans by undoing Obamacare's damage:
Regulatory relief.

The Senate bill helps those most hurt by Obamacare—the middle-class self-employed and small-business employees who have faced escalating premiums and declining coverage options under Obamacare. It also gives states the opportunity to help individuals in the 70 percent of U.S. counties that have little or no insurer choice in the Obamacare exchanges. The bill repeals or waives the Obamacare insurance mandates most responsible for driving up health care premiums. It leaves in place a number of insurance provisions and consumer protections that have small effects on premiums.

Financing reforms.

The Senate bill eliminates the individual and employer mandate tax penalties. It repeals three taxes that directly impact the cost of care and premiums: taxes on health insurance, drugs, and medical devices. It makes it easier for middle-income and upper-income families to save for routine health costs and pay premiums (via Health Savings Accounts). Finally, it provides Americans with significant tax relief.

Medicaid reform.

The Senate bill would both put federal financing of Medicaid on a sustainable path and restore its pre-Obamacare focus on the most vulnerable—the elderly, disabled, children, and pregnant women in poverty. This is major entitlement reform long recommended by health policy experts.

[REF]

Restoring states' leadership role. States regulated health insurance long before Obamacare; there was no need for the federal government to intervene. The damage caused by that intervention is well documented.

[REF]

The Senate bill enables

states to pursue more aggressive reforms of insurance markets and their Medicaid programs and do more to maximize

flexibility for state officials who wish to pursue new and innovative solutions for the care of the poorest and most vulnerable members of society.

[REF]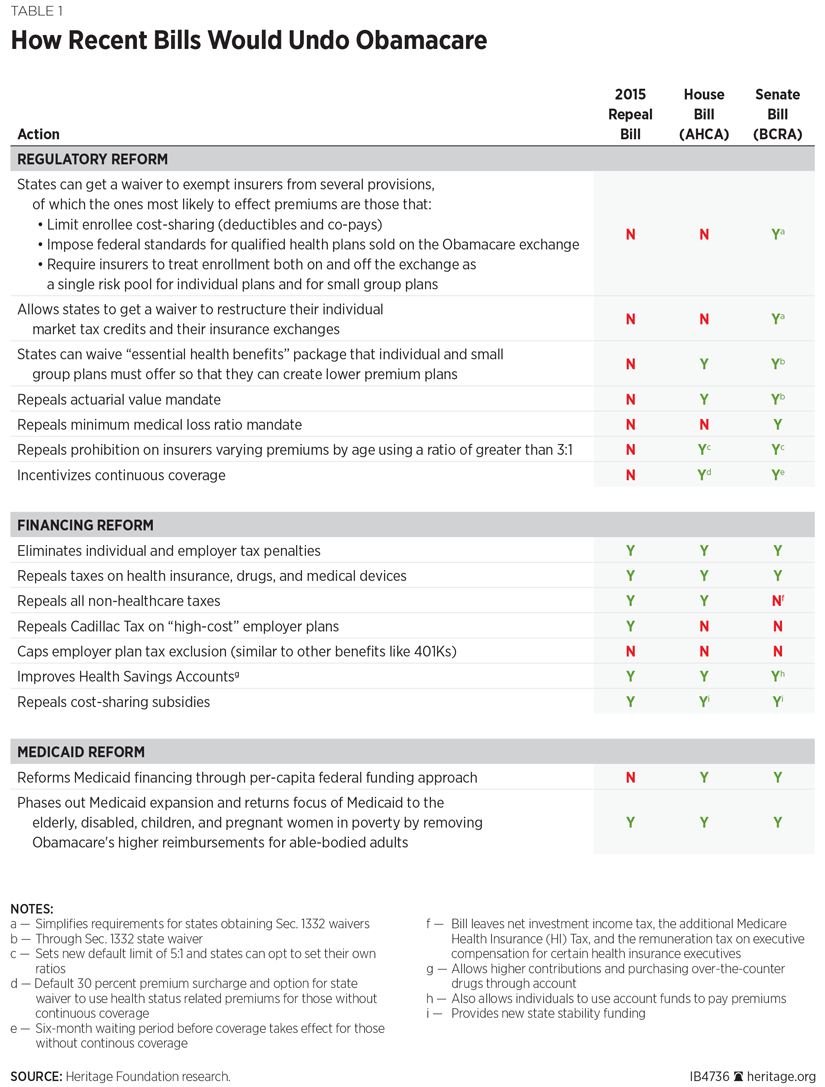 —Jean Morrow is a Research Assistant in Domestic Policy Studies, of the Institute for Family, Community, and Opportunity, at The Heritage Foundation. Edmund F. Haislmaier is Preston A. Wells Jr., Senior Research Fellow in Domestic Policy Studies. Marie Fishpaw is Director of Domestic Policy Studies.