The United States is a global power with global interests. These interests are being challenged directly by near-peer competitors such as China and Russia. Effectively meeting these challenges requires attention and care to America's network of alliances—its greatest asset in the era of great-power competition—as well as a strategic outlook regarding forward-deployed forces and key military installations.
One important military installation that deserves greater attention is Lajes Field, a Portuguese Air Force Base on the island of Terceira in the Azores, an autonomous region of Portugal. U.S. military aircraft and vessels operating from the indispensable shores of the Azores have played crucial roles in conflicts ranging from WWI to the Global War on Terror. A combination of cost-cutting decisions and changes to military requirements have left the U.S. presence in Lajes a shadow of its former scope, with implications for security that have not yet been fully realized.
A more assertive Russian naval presence in the Atlantic and Mediterranean highlights, in part, the continued importance of the U.S. presence at Lajes. Perhaps more alarmingly, Chinese inroads in Portugal's economy over the past decade, combined with a declared interest in opening a presence in the Azores, should give American policymakers pause.
Lajes Field remains an important component of the U.S.'s forward-deployed presence. Any space abdicated by the U.S. in the region will be viewed by China as an opportunity to be exploited. Chinese promises of an influx of cash and jobs under the guise of business development or scientific research may prove tempting to a local economy still reeling from the economic impact of a decade of American drawdowns.
Therefore, the U.S. partnership with Portugal and the Azoreans should not be taken for granted, nor should Lajes Field be perceived as a Cold War relic. Rather, American policymakers should assess the value of Lajes Field in strategic terms, recognizing its continued importance today, while simultaneously gazing at horizons 20 to 30 years from now. Today, Lajes Field serves a beneficial role as an outpost for monitoring Russian naval activity, while also providing resilience for the U.S. military in the case of hostilities with Russia in the European theater. The U.S. presence at Lajes also acts as a barrier to significant Chinese involvement in the Azores and will likely prove an asset that better situates U.S. national security interests in our long-term competition with China.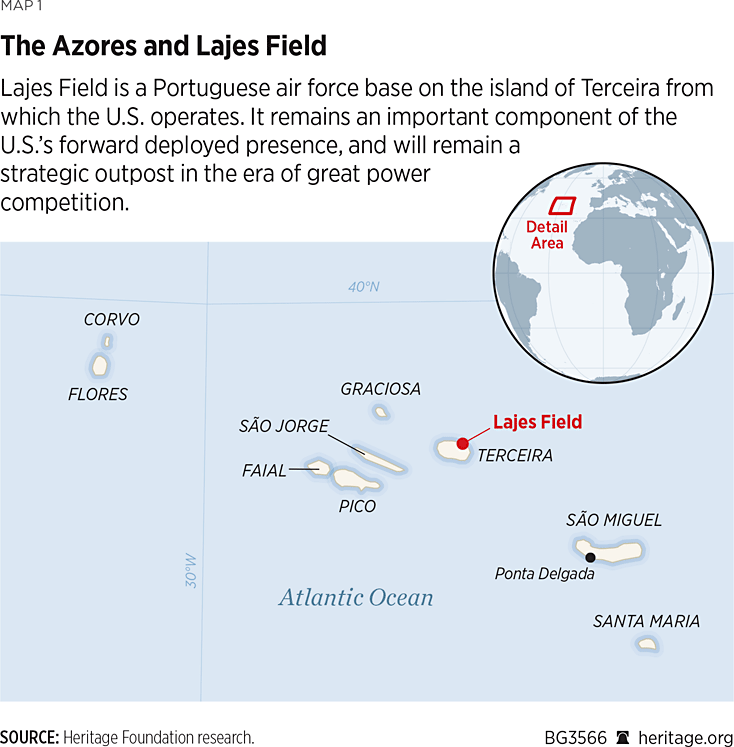 A Brief History of the Azores
The Azores are a group of nine volcanic islands, spanning 350 miles,REF in the mid–Atlantic Ocean approximately 867 miles to the West of Portugal and around 2,000 miles to the east of Boston. The islands have a collective land area of around 906 square miles, or about nine-tenths of the land area of the state of Rhode Island. The total collective population of the islands is small, less than 250,000,REF roughly the same size as the city of Winston-Salem, North Carolina. In 1976, the Azores were granted some autonomy by the new Portuguese constitution; however, Lisbon retains control over most foreign affairs and defense matters. In addition to Portuguese air force use, the United States' 65th Air Base Group is based at Lajes (aligned under the 86th Airlift Wing based at Ramstein Air Base in Germany). The civilian Lajes International Airport shares a runway and control tower with the air base.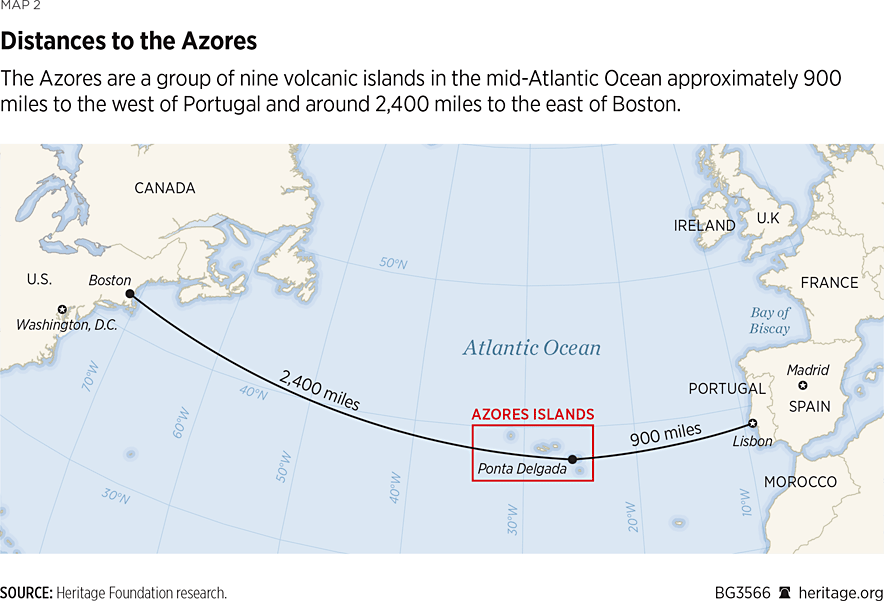 While the islands may have been known prior, Portuguese control over the Azores dates from 1427, when explorer Diogo Silves discovered the islands of Santa Maria and São Miguel.REF Early explorers mistakenly believed buzzards on the islands to be Hawks, the word Azores deriving from the Portuguese word for Hawk, "açores."REF The islands were uninhabited and settled across the coming decades by Portuguese incomers, along with a smaller number of people of different nationalities, including a sizeable Flemish population.
Throughout the following centuries, the Azores mid-Atlantic location made them an important stopover point for sailors. Beginning in the mid-18th century, for instance, New England whalers developed ties to the Azores that became an important location for the former to make ship repairs, take on supplies, or add new crew members.REF Later, the Azores became an important coal depot for ships traversing the Atlantic. In the 20th century, the Azores were a stopover point for aircraft. While the islands are no longer necessary as a stopover point for aircraft flying across the Atlantic, transatlantic airliners still occasionally touch down in the Azores in emergency situations.REF
U.S. Military Engagement on the Azores
U.S. ties to the Azores are long-standing: "The oldest continuously-operating U.S. Consulate is in Ponta Delgada on the island of Sao Miguel in the Azores,"REF which opened in 1795.REF Today, many Portuguese Americans are of Azorean ancestry.REF
WWI. During WWI, Portugal, a member of the Allied powers, allowed the United States to establish a naval base on São Miguel Island. U.S. destroyers and submarines utilized the base, and U.S. aircraft flew 978 sorties from the island in support of anti-U-boat activities.REF German Admiral Ludwig von Reuter is reported to have said, "If Germany had had possession of the Azores, she would have won the war."REF
Soon after the end of WWI, the strategic location of the Azores played a critical role in the May 1919 Atlantic crossing of the Navy-Curtiss-4, the first airplane to cross the Atlantic, which utilized the islands as a stopover point on the journey between Newfoundland and Lisbon.REF
WWII. During WWII, the Azores continued to play an outsized security role. While Portugal remained officially neutral, the location of the Azores, sitting astride convoy routes in the central Atlantic, made it strategically invaluable. Germany drew up plans for seizing the islands, none of which ever were put into practice. The Azores were to be U-boat bases, along with staging grounds for long-range bomber flights targeting the eastern United States.REF German intelligence also set up a clandestine network of naval resupply stations on the Azores.REF
The Allies, too, recognized the islands' strategic importance. President Franklin Roosevelt, who, in 1918, as Assistant Secretary of the Navy, had briefly visited the Azores, understood their incredible value. Roosevelt and British Prime Minister Winston Churchill had discussed plans for the Allies to temporarily occupy the Azores. In May 1941, while the U.S. was still officially neutral, President Roosevelt even briefly explored the possibility of extending the Monroe Doctrine to include the AzoresREF and Western Africa as a rationale for possible American intervention.
In June 1943, the United Kingdom found a diplomatic option for gaining access to the vital bases, requesting their use from Portugal via invocation of the Anglo-Portuguese treaty of 1373.REF The Treaty "called for either party to aid the other in case of war as long as such assistance could be provided without great injury to the signatory's country."REF Portugal acquiesced, and during the course of the war, the U.S. and U.K. built an airbase at Lagens Field (later named Lajes Field) on Terceira Island, along with port facilities and related infrastructure projects across the island. The U.S. also built a second air base on Santa Maria Island.
The Allied presence in the Azores helped turn the tide of the War in the Atlantic Theater decisively against German submarines, which in turn eased transport times. Access to the Azores also played an important role in the Allies' North African campaign, for example, by cutting flight times between the U.S. and North Africa from 70 hours to 40.REF "This considerable reduction in flying hours enabled aircraft to make almost twice as many crossings per month and demonstrated the geographic value of the Azores during World War II."REF
Following the end of WWII, both airfields reverted to Portuguese control. The airfield on Santa Maria Island became an important stopover point for civilian passenger aircraft flying between Europe and North America. The U.S. and U.K. transferred Lagens Air Base to Portuguese authority in June 1946, with the U.S. and Portugal quickly agreeing to allow U.S. military access to the base through December 1949.REF Lagens Airfield played a vital role during the Berlin Airlift from June 1948 through May 1949, with 3,000 total aircraft utilizing the base during the operation.REF
NATO. In April 1949, the North Atlantic Treaty Organization (NATO) was established with the United States and Portugal as two of 12 founding members. American military use of Lagens Airbase was extended a further two years, and on September 6, 1951, the U.S. and Portugal signed an agreement on Military Facilities in the Azores,REF and the U.S. presence greatly expanded. Indeed, the first overseas U.S. TV station opened in the Azores in 1954, which was also the first TV station in Portugal.REF
The Cold War. During the Cold War, Lajes played a crucial role. Reportedly, the "base was considered so important during the 1970s that the Pentagon, fearing a possible communist takeover of Portugal, developed plans to seize the Azores and give it independence."REF
During the 1973 Yom Kippur War, Lajes Field allowed the United States to carry out Operation Nickel Grass, a strategic airlift mission to resupply Israeli forces. The U.S. was denied access to the airspace and bases of most European nations; however, Portugal allowed use of Lajes for refueling, which helped make the airlift possible.REF "Departing from Lajes toward Israel, the airlifters flew precisely down the centerline of the Mediterranean, a zigzag course that avoided violating European airspace to the north or Arab airspace to the south."REF
Post–Cold War Operations. Throughout the Cold War the U.S. based around 3,000 soldiers at Lajes;REF by the early 1990s, U.S. service personnel accounted for around 6 percent of the Azores population.REF After the demise of the Soviet Union, Lajes quickly proved its continued usefulness, playing the role of an important logistics and transit hub during Operation Desert Shield (August 7, 1990, to January, 17, 1991) and Operation Desert Storm (January 17, 1991, to February 28, 1991). The base "handled over 15,000 tons of essential cargo and handl[ed] over 75,000 transient personnel while billeting more than 10,000 during both operations."REF
On June 1, 1995, the Defense Cooperation Agreement between the United States of America and Portugal was signed.REF The agreement covered continued American use of Lajes,REF as well as the establishment of a standing bilateral commission to meet semi-annually "to promote the execution of this Agreement and cooperation between the two countries."REF
With the dawn of the Global War on Terror, Lajes Field continued its keystone role in U.S. overseas operations, serving an important transport and logistics hub during both Operation Enduring Freedom and Operation Iraqi Freedom. In the lead-up to the 2nd Iraq War, Lajes hosted a summit among President George W. Bush, British Prime Minister Tony Blair, Portuguese Prime Minister Jose Manuel Durao Barroso, and Spanish Prime Minister Jose Maria AznarREF on March 16, 2003.
Force Reductions. By the Obama Administration, a combination of financial pressures resulting from sequestration in the Budget Control Act of 2011, a belief that Russia no longer featured as a serious threat, and an impetus to rebalance forces in the Pacific led to cuts at Lajes Field.REF In December 2012, the U.S. announced a significant reduction in forces at Lajes, reducing the 1,100 service members stationed there by half, while returning 300 of the 400 buildings on the base to the Portuguese government.REF The Department of Defense cited cost savings as the primary reason for the drawdown.REF The Commander of the then-65th Air Base Wing stated, "The U.S. force posture is being adjusted to meet fiscal challenges, while maintaining a strong, capable relationship with our Portuguese allies and partners."REF According to local officials, these reductions resulted in the loss of 30 percent of the Azorean economy on Terceira Island.REF
By 2015, the U.S. presence at Lajes, which had been further reduced to 650 service members, saw additional cuts. The number of U.S. forces on the base declined to 165,REF while the U.S. concurrently halved the number of local Portuguese employed at the base.REF Families left the base,REF and in in June 2015, the last students left Lajes American School,REF which was shuttered. The impact on the local economy was significant: "Terceira's GDP fell 10 [percent] in 2016 and unemployment registered a dramatic increase to 55 [percent]."REF
Today, only 178 U.S. Air Force (USAF) members are assigned to Lajes Field.REF Still, the base remains an important transit and logistics node. With the longest runway in Europe,REF Lajes continues to support U.S. Air Force deployments overseas. In March 2020, a B-2 bomber taskforce arrived in Lajes on its way to begin operations in Europe.REF In May 2020, six USAF F-35s arrived at Lajes en route from the United Arab Emirates after a six-month deployment in support of Operation Inherent Resolve.REF
Lajes is also the Air Force's second-largest overseas fuel depot, and the largest in Europe.REF In addition to facilitating U.S. deployments, Lajes Field currently serves as a site for weather and communications systems utilized by the U.S. military.REF Effective satellite coverage for communications and weather forecasting, however, are making these land-based systems less important over time.
Russian Activity in the Atlantic
Russia remains an acute and formidable threat both to the U.S. and to U.S. interests in Europe. From the Arctic to the Baltics, Ukraine, and the South Caucasus—and increasingly in the Mediterranean—Russia continues to foment instability in Europe. Despite economic problems, Russia continues to prioritize the rebuilding of its military and funding for its military operations abroad. In particular, Russia's naval modernization continues to prioritize submarines.REF
In February, Admiral Andrew Lewis, Commander of the newly reformed 2nd Fleet, stated that due to an increase in Russian naval activity, he no longer considered the U.S. east coast an "uncontested" theater.REF He stated, "We have seen an ever-increasing number of Russian submarines deployed in the Atlantic, and these submarines are more capable than ever, deploying for longer periods of time, with more lethal weapons systems."REF Further, "our ships can no longer expect to operate in a safe haven on the East Coast or merely cross the Atlantic unhindered to operate in another location."REF The Heritage Foundation has also detailed Russia's increased military presence in the eastern Mediterranean.REF
Russia's increased submarine activity in the Atlantic and presence in the Mediterranean, including a presence on the ground in Libya, underscore the continued helpfulness of basing in the Azores. One analyst suggests an opportunity to re-establish the mid-Atlantic monitoring mission at Lajes, noting, "Since the termination of the U.S. Navy's submarine monitoring mission at Lajes Field Air Base in 1994, the Mid-Atlantic region has essentially been without surveillance for over two decades."REF
In recent years, the U.S. Air Force has been investing in upgrades to air bases across Europe. Nearly half of fiscal year 2019 funding for infrastructure in the European Deterrence Initiative went toward the Air Force.REF In the case of a major war in the European theater, Lajes would undoubtedly serve an important role as a staging area for U.S. forces and equipment returning to the continent, as well as adding additional resilience for U.S. military planners in the European and African theaters.
Chinese Investments in Portugal and the Importance of U.S.–Portuguese Bilateral Relations
Over the past decade, China has invested heavily in Portugal. The Portuguese debt crisis and eventual bailout by the EU and the International Monetary Fund opened the door for Chinese firms to buy assets in Portugal or stakes in key companies.REF China took advantage of a wave of privatization within Portugal to secure positions at bargain prices. "The lion's share of this privatization frenzy was secured by Chinese interests. In a short period of time, large, Portuguese-flagged firms, operating in a number of strategic and/or sensitive sectors, started being partially or wholly owned by Chinese, mostly state-owned companies."REF
While Chinese investment in Portugal remained below that of larger economies in Europe, in relative terms it was significant. For instance, from 2010 to 2016 Chinese investment accounted for 3.6 percent of Portugal's gross domestic product. This investment was heavily focused on key sectors including transport, utilities, and infrastructure, where 56.2 percent of total direct investment from 2000 to 2016 was Chinese direct investment.REF
Portuguese Prime Minister António Costa described China's investments following the financial crisis as benign, stating, "When the troika forced Portugal to privatise a number of public companies, it was China which has invested, while others wanted to buy the companies as a bargain."REF
Electric Grid. Key Chinese investments in Portugal during that time included a 25 percent stake in Portugal's national electric grid operator, REN, acquired in 2012. In 2012, Huawei invested $40 million in a research center in Lisbon.REF In 2013, "Beijing Enterprises Water Group took over Veolia Portugal, a water supply company, for EUR 96 million."REF In 2014, China took over Espirito Santo Saude, the largest private health care provider in Portugal.REF
Insurance. That same year, Chinese investment company Fuson International Limited bought Fidelidade, Portugal's largest listed insurance company,REF as well as health care company Luz Saude, which runs the largest number of hospitals in Portugal.REF In 2016, Fuson International Limited acquired a 16.7 percent stake in Millenium bcp, Portugal's largest private bank,REF a share which it then increased to over 27 percent in 2018.REF
Media. China has recently acquired assets in media. In November 2017, "KNG, a Macau-based Chinese fund, acquired 30 percent of Global Media Group, the owner of the Portuguese newspapers Diário de Notícias and Jornal de Notícias, and Radio TSF."REF Between 2000 and 2018, China invested a cumulative $7.6 billion in Portugal.REF
Chinese investments in Portugal have not been without pushback. In April 2019, shareholders of Portugal's largest electrical utility, Energias de Portugal (EDP), blocked a takeover bid by its largest shareholder, a Chinese state-owned enterprise, Three Gorges Corporation.REF EDP has an important stake in renewable energy outside Portugal, including in the U.S.,REF a reality which has raised red flags in Washington on account of Three Gorges' 23 percent stake in EDP.REF
However, Chinese investment continues to be welcomed by Portugal. In 2016, Prime Minister Costa summarized, saying, "Portugal has opportunities and China has the investment capacity, [sic] together they can do more than they can do separately, both in Europe and in the Portuguese-speaking world."REF
In December 2018, China and Portugal signed a Memorandum of Understanding on the former's Belt and Road Initiative.REF In addition, "a separate memorandum was also signed between Portugal's export promotions agency AICEP and China Oil and Foodstuffs Corporation, a state-owned Chinese food processing holding company which also has interests in transportation and trade. Under the agreement, COFCO will establish a global shared service centre in the northern Portuguese port of Matosinhos."REF
Infrastructure. Today, China remains interested in acquiring further investments in Portugal, particularly in the infrastructure sector. A December 2019 contract for a Chinese firm to build 18 light-rail trains for the light-rail system in Portugal was the first train-building contract a Chinese firm won in the EU.REF
Ports. In October 2019, Portugal launched a tender for a 50-year contract to build a new container terminalREF at the Port of Sines south of Lisbon, which currently handles 56 percent of Portugal's containerized cargo and represents Europe's closest port to the Panama Canal.REF The tender will draw strong interest from U.S. and Chinese firms, including Cosco Shipping or Shanghai International Port Group;REF a winner will be announced at the end of this year.REF In February, U.S. Secretary of Energy Dan Brouillette underscored the importance of the port, notably for future liquified natural gas imports, stating, "It is a very unique and strategic point for us and a very good part of the economics of natural gas."REF
Telecommunications. As for next-generation telecommunications networks, Portugal has yet to restrict Chinese firms from building out the nation's 5G networks; however, three companies which control nearly 100 percent of Portugal's mobile networks have announced that they will not utilize Huawei equipment in their "core" 5G networks, "which covers servers, gateways and routers that forward traffic to the antennas."REF
Huawei, in conjunction with Portuguese firms, built the Flores-Corvo underwater fiber-optic cable system, as well as the Azores Fiber Optic System, which have both recently been upgraded. Combined, these two cables provide interconnection between the nine islands of the Azores.REF In March 2019, William Evanina, director of the National Counterintelligence and Security Center, underscored the security risks associated with Huawei fiber optic cables: "Given that undersea cables carry the bulk of the world's telecommunications data, safeguarding these cables remains a key priority for the U.S. government and its allies."REF
Cautionary Moves: Chinese Interest in the Azores
By investing in key sectors of the Portuguese economy, China is gaining a deeper economic and political reservoir from which to draw. While Chinese investments in mainland Portugal bear watching, a more immediate concern relates to China's interest in gaining a foothold in the Azores.
In 2016, Portugal's Prime Minister opened the door to increased Chinese involvement in the Azores under the rubric of scientific research, stating, "The military use of the American base at this moment is not on the table, what is on the table is for EU institutes, American institutes and Chinese institutes to reuse infrastructure for scientific research purposes."REF
Chinese VIP Stopovers. Chinese officials have made several visits to the Azores over the past decade. In June 2012, then-Chinese Premier Wen Jiabao made a stopover on Terceira Island on his return to China from Chile.REF This visit included a delegation of over 100 Chinese officials.REF In July 2014, General Secretary of the Communist Party of China Xi Jinping also made a stopover on Terceira Island on his way from Chile.REF In September 2016, Chinese Premier Li Keqiang made a two-day "technical stop" on the island of Terceira after a trip to Cuba.REF Keqiang's visit was proceeded by a weeks-long stay in the Azores by 20 Chinese officials to lay groundwork for the visit.REF
Real Estate Acquisitions. In addition to VIP stopovers, China has sought to identify specific avenues for gaining traction in the Azores. In 2017, a Chinese investor group purchased the Monte Palace Hotel on São Miguel Island, with plans to renovate the property turning it into a five-star hotel by 2021.REF In September 2019, Portuguese media reported that China has expressed interest in establishing a "business center" on Terceira island, utilizing former U.S. warehouses at Lajes Field for storing Chinese goods in transit.REF Establishing an infrastructure footprint on the islands has long been on China's mind. In 2015, China "made moves to scout berthing in the Azores."REF
Space Ventures. Manuel Heitor, Portugal's Minister for Science, Technology and Higher Education announced in November 2018 a joint project with China to develop microsatellites.REF The Azores are central to Portuguese plans to build out a space program. Created on March 13, 2019, the Portuguese Space Agency, Portugal Space, is based in Santa Maria Island.REF Minister Heitor stated that "The Azores has a particularly suitable geo-strategic position to consider the installation and operation of a space infrastructure for launching satellites."REF
Portugal plans to build a launch pad for micro- and mini-satellites on the island of Santa Maria, beginning service in 2021. Tenders to build the launch pad in conjunction with Portuguese companies and research institutes opened on September 24, 2018, with fourteen companies expressing initial interest including eleven European, two American, and one Russian.REF
In addition to the planned launch pad, Portugal in November 2018 announced a joint venture with China to build a laboratory dubbed "Starlab" to build microsatellites with the stated aim of agricultural monitoring and oceanographic research.REF Starlab will have laboratories in the Portuguese mainland cities of Matosinhos and Caldas da Rainha,REF as well as in Shanghai, China.REF During the state visit of Portuguese President Marcelo Rebelo da Sousa to China in April 2019, an announcement was made that China would launch the "Infante" satellite (China also worked on sensor development) into space in 2021 as part of its participation in Starlab.REF
In July 2020, the U.S. signed a space situational awareness data-sharing agreement with Portugal. U.S. Ambassador to Portugal Edward Glass described the agreement as underscoring "just how deeply committed the U.S. is to enhancing bilateral space cooperation, as well as investing in the science, technology, and economic sectors of the Azores through advocacy and exchange."REF
Thinking Strategically About the Future Role of Lajes
The U.S.–Portugal bilateral relationship remains an important piece of America's robust position in Europe and has, increasingly, taken on a renewed importance in the era of great-power competition. While China has taken advantage of a hobbled Portuguese economy during the past decade to stack investments in key sectors, the U.S. remains Portugal's largest trading partner outside the European Union.REF In 2019, the U.S. invested $2.4 billion in Portugal, and Portugal invested $1.1 billion in the U.S. economy.REF A key component of U.S. investments in Portugal should be the Azores, where access to Lajes Field remains an important national security priority for the United States.
As recent as 2015, the U.S. downsized its presence at Lajes field, searching for cost-cutting efficiencies rather than thinking strategically about the long-term value of the base and its centrality to the U.S.–Portuguese bilateral relationship. Today, it is clear that Lajes remains a valuable site for U.S. forward-positioned forces, but Chinese interest in acquiring access to portions of the base formerly utilized by the U.S. or carving out a presence on the Azores (ostensibly for business or scientific purposes) should give American policymakers pause.
As Michael Rubin noted in 2015, "Chinese planes could patrol the northern and central portions of the Atlantic and thereby cut air and sea traffic between the U.S. and Europe. Beijing would also be able to deny access to the nearby Mediterranean Sea. And China could target the American homeland. Lajes is less than 2,300 miles from New York, shorter than the distance between Pearl Harbor and Los Angeles."REF
On July 15, 2020, the 43rd Session of the United States–Portugal Standing Bilateral Commission (SBC) met. The SBC's joint statement reaffirmed the importance of bilateral ties between the U.S. and Portugal, as well as the strategic importance of Lajes airbase.REF In addition, the SBC addressed threats from China and Russia, as well as "the strategic role of the Azores and sub-Saharan Africa."REF
In February 2019, U.S. Ambassador Glass described Lajes as "fundamental to what we do and to maintaining security in the Atlantic." Access to Lajes Field has given the U.S. a decisive advantage in a number of key conflicts and operations. Today, it remains an important logistics and transport hub, the location of sensitive weather and communications infrastructure, and a piece of the geopolitical puzzle jealously coveted by great-power rivals.
As a result, the U.S. should take a long-term view of the importance of the Azores and seek creative ways to continue utilizing Lajes Field and increasing the nation's partnership with Portugal and the people of the Azores.
Lajes Field: Not to Be Undervalued
Rather than viewing Lajes Field as a Cold War relic ripe for cost savings, U.S. policymakers must recognize the enduring strategic value of the Azores location and move to counter the interest of China in establishing a foothold in this important outpost.
To do so, the U.S. should:
Plan a high-level visit to Lajes Field. The last President to visit the Azores was President George W. Bush in 2003,

REF

the last Secretary of Defense to visit the Azores was William J. Perry in 1996,

REF

and the last Secretary of State to travel to the Azores was William Pierce Rogers in 1971. A high-level American delegation visiting Lajes would send an important signal that the U.S. remains invested in a presence on Terceira Island.
Take a long-term strategic view of the U.S. presence in the Azores. The U.S. presence at Lajes acts as a barrier to significant Chinese involvement in the Azores and will likely prove an asset that better situates U.S. national security interests in our long-term competition with China.
Consider supporting the Atlantic Centre for Defence Capacity Building. In a September 2017 visit to Washington, then-Portuguese Defense Minister José Alberto Azeredo Lopes discussed a proposal to create an Atlantic Security Center of Excellence located at Lajes,

REF

with the hopes that it would eventually become a NATO-accredited Centre of Excellence.

REF

The planned Atlantic Centre for Defence Capacity Building has potential to benefit maritime security in the Atlantic; as such, the United States should evaluate potentially participating once it is formally established.

REF

Pressure Portugal to secure 5G. China is an adversarial power that should not be allowed to use its government-controlled companies to gain a significant foothold in the burgeoning 5G wireless networks of the U.S. or allied countries. Such a presence would be a clear national security threat that could decisively compromise telecommunications and data infrastructure—including the communications integrity of the military and intelligence community.
While more European countries are moving away from allowing Chinese companies to build out their 5G networks on account of the security risks, Portugal has thus far not done so. Last December, Portuguese officials reiterated they will not ban Chinese providers from the nation's 5G networks.

REF

However, the recent announcement by Portugal's telecommunications companies that Huawei would not be allowed to build the supposed "core" of 5G networks may provide an opening for U.S. officials to re-engage with their Portuguese counterparts.
Highlight the need for resilience in the Azores' underwater cables. The nine islands of the Azores are connected by a loop of undersea fiber optic cables built in part by Huawei. While a business case for constructing an additional cable may be tenuous due to the small population size of the island, the security value in building redundancy is valuable. U.S. policymakers should raise this security vulnerability with the Portuguese and local authorities.
Fully utilize Lajes Field. Operating out of Lajes Field comes with challenges (weather, distance from the mainland) as well as advantages (secure and strategic location, plentiful facilities that include housing). The base is a valuable communications hub and fuel depot and adds resilience for U.S. military planners in the European as well as African theaters.
In the case of a major war in the European theater, Lajes would undoubtedly serve an important role as a staging area for U.S. forces and equipment returning to the continent. The Department of Defense should consider new ways to utilize the base at Lajes Field working in consultation with our Portuguese hosts. One potential is re-establishing a regular rotational maritime patrol presence to monitor Russian submarine activity in the mid-Atlantic. Another would be the usage of excess space on the base as storage and logistics centers for operations in the Atlantic.
Conclusion
The challenge posed by great-power rivals necessitates a continued commitment to America's allies—importantly, NATO allies—as well as a robust forward presence, which allows U.S. policymakers options in a dangerous world and blocks rival nations from filling security and economic vacuums. Portugal's Lajes Field has proven an invaluable location that has assisted the U.S. in military engagements since WWI. It remains one of American's vital outposts today, and the fulcrum of U.S.–Portuguese bilateral relations. U.S. policymakers should view the importance of Lajes Field in strategic terms, recognizing its continued importance, while also gazing at horizons 20 to 30 years from now and recognizing a robust presence there as a sage investment.
Daniel Kochis is Senior Policy Analyst in European Affairs in the Margaret Thatcher Center for Freedom, of the Kathryn and Shelby Cullom Davis Institute for National Security and Foreign Policy, at The Heritage Foundation.