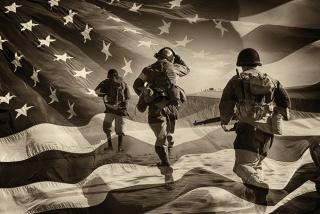 George C. Marshall Fellowship
Providing opportunities to develop grand strategy and practice strategic leadership
The Heritage Foundation's George C. Marshall Fellows program provides exceptional young professionals with the opportunity to appreciate the development of grand strategy and the practice of strategic leadership. The program strives to provide a comprehensive overview of national security principles and to explain the application of those principles in real-life situations.
Today, many top-level staffers and other professionals around Washington, D.C., are educated in one specific aspect of national defense or foreign policy but have very little sense of where their expertise fits into the larger framework of national security. A comprehensive overview of national defense and foreign policy is vitally important because those who are charged with making important decisions must be able to do so in the context of the satisfying the overall national security priorities of the country, versus one particular area.
In previous years, special speakers for fellowship events have included notable figures from the national security and foreign policy fields like General Michael Hayden, Paul Lettow, and Fran Townsend.
The program is designed to fit your busy schedule. It will run from March through October, beginning with a half-day introductory session. Thereafter, the fellows will meet at least one evening per month. Your health and safety are our priority. Depending upon COVID-19 meeting restrictions, sessions may be delivered virtually or in-person at The Heritage Foundation's buildings in Washington, D.C.
March - Orientation and Marshall Fellowship Alumni + Current Fellows Happy Hour
April - Dinner & Discussion w/ Guest Speaker
May - Staff Ride to Gettysburg, PA
May - Dinner & Discussion w/ Guest Speaker
June - Dinner & Discussion w/ Guest Speaker
July - Dinner & Discussion w/ Alumni Panel
August - Staff Ride to Marshall International Center and Yalta Conference Team Preparation
September - Dinner & discussion w/ Guest Speaker
October - Staff Ride/Yalta Conference Simulation and Graduation Dinner 
Don't fight the problem, decide it."
2020 Marshall Fellowship Roster
This year's fellows come from a wide variety of backgrounds in Congress, the defense arena, and the private sector:
T.S. Allen, Captain, U.S. Army
AJ Bishop, Senior Associate/Wargaming and Concepts Analyst, Targeted Approach
Brigid Calhoun, Captain, U.S. Army
Colby Carrier, Navy Plans and Operations, U.S. Navy
Maiya Clark, Research Assistant, The Heritage Foundation
Troy Dougall, Legislative Assistant, U.S. House of Representatives
Patty-Jane Geller, Policy Analyst, The Heritage Foundation
Will Green, Policy Analyst, U.S.-China Economic and Security Review Commission
Steven Haines, Associate, Ernst & Young, LLP
Wesam Hassanein, Foreign Affairs Officer, U.S. Department of State
Alexis Hasty, Executive Assistant, U.S. House of Representatives
Omar Hossino, Professional Staff Member, U.S. House of Representatives
Clay Huddleston, Policy Analyst, U.S. Senate
James Freeman, Founder & Managing Partner, TriPacer Strategic Consulting, LLC
Audra Kinney, Military Legislative Correspondent, U.S. Senate
Mark McKinnon, Special Assistant, U.S. Department of Defense
Mac Moore, Systems Engineer, M.C. Dean - Security and Electronic Systems Division
Ricardo Pita, Legislative Correspondent, U.S. Senate
Dominic Restuccia, Military Legislative Assistant, U.S. Senate
Natalie Robinson, Research Assistant, Navanti Group
Nicole Robinson, Research Assistant, The Heritage Foundation
Alexandra Seymour, Special Assistant, National Security Council
Keeghan Sweeney, Special Assistant, The Ronald Reagan Institute
Charles Truxal, Military Legislative Assistant, U.S. Senate
James Welsh, Legislative Assistant, U.S. House of Representatives
Chad Yelinski, Legislative Director, U.S. Senate
Channa Yu, Country Director for Korea, U.S. Department of Defense