One of the primary reasons the United States is now the world's leader in both natural gas and oil production is that centuries' worth of oil, natural gas, and coal resources lie beneath private property as well as under lands owned by individual states. While federally owned lands are also full of energy potential, a bureaucratic regulatory regime has mismanaged land use for decades.
The tremendous economic benefits of open energy markets and the proven track record of the individual states' regulatory structures dictate a re-examination of the way the federal government manages resources on federal lands. The Federal Lands Freedom Act, introduced by Representative Diane Black (R–TN) and Senator James Inhofe (R–OK), gives states the authority to administer leasing, permitting, and regulatory programs for development of all energy resources on federal lands. States are already well positioned to help make a transition to better management of these resources. While Congress should pursue opportunities to reduce the size of the federal estate, the Federal Lands Freedom Act is a significant step toward better management of America's lands and natural resources.
Inefficient Federal Management. The federal estate is massive, consisting of some 635 million acres. The effective footprint is perhaps even larger as limitations on federal lands often impact the use of adjacent state and private lands, and as government agencies lock up lands through informal designations and study areas.
The sheer size and diversity of the federal estate and the resources both above and below ground are too much for distant federal bureaucracies and an overextended federal budget to manage effectively. For instance, the Department of the Interior's Bureau of Land Management (BLM) announced in 2011 that it was nearing completion of a two-year backlog of oil and gas leases in Wyoming, tying up more than $50 million in lease sales.[1] In 1988, the BLM, which oversees 248 million acres of federal land and 700 million acres of underground mineral resources, leased 12.2 million acres; only one-tenth of that was made available in 2014.[2]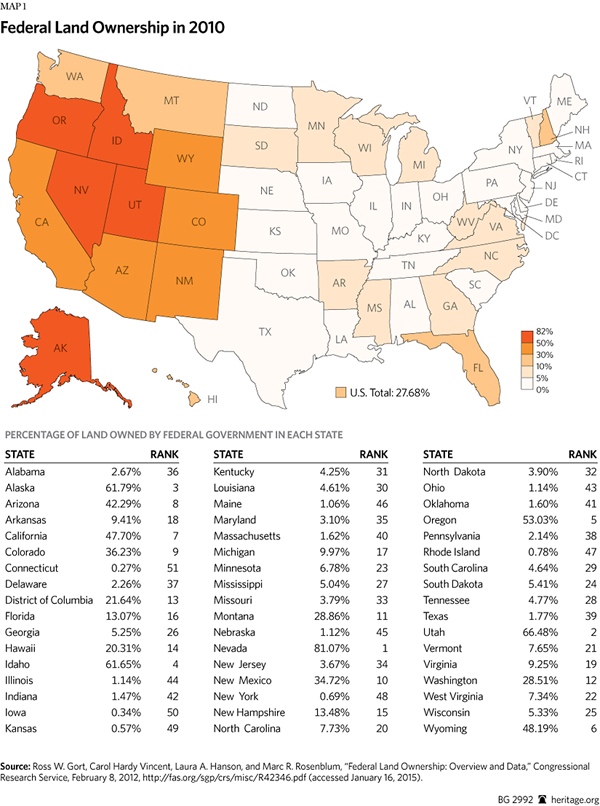 Conversely, paperwork and regulatory hoops seem to have increased. The BLM estimates that it took an average of 227 days simply to complete a drill application—just one step in the approval process to harvest oil and gas resources on federal lands. This is compared to 154 days in 2005 and the average 30 days it takes state governments to do the same.[3] It should hardly be assumed that the time spent on arduous paperwork improves environmental protection.
It comes as no surprise, then, that since 2009 oil production on federal lands has fallen by 9 percent even as production on state and private lands has increased by 61 percent over the same period. According to the Congressional Research Service, roughly 43 percent of all proved crude oil reserves are on federal lands. In 2010, 36 percent of all domestic oil production came from federal lands; now only 23 percent does. A similar story can be told of coal and natural gas.[4]
Further, federal ownership is a disincentive to production on state and private lands adjacent to or interspersed with federal lands. Production on federal lands is much more time-consuming and expensive, so drilling may make economic sense only if a company has access to both the federal land and the non-federal land.
Benefits of New Management. Under the Federal Lands Freedom Act, states will be able to develop a regulatory program for energy development on federal lands and submit the program to the Departments of the Interior, Energy, and Agriculture. This would be sufficient in lieu of redundant federal requirements, such as the National Environmental Policy Act. The bill also does not include Indian lands, national parks, or congressionally designated wilderness areas. While very few benefit from stagnant production on federal lands, many would benefit from the new management that the Federal Lands Freedom Act recommends:
A Path to Economic Growth and Environmental Protection
States share the cost of the maintenance of federal lands, whether by the liability of no management, the lost opportunity of poor management, or the infrastructure needed to support development of resources. States have a proven record of managing resources, and already have the regulatory structures in place to do so on federal lands within their boundaries as well. Not only would new management multiply benefits for all Americans, it would also encourage better care of the environment and natural resources by putting them in the hands of people who have an immediate stake in wise management.
—Katie Tubb is a Research Assistant, and Nicolas D. Loris is Herbert and Joyce Morgan Fellow, in the Thomas A. Roe Institute for Economic Policy Studies, of the Institute for Economic Freedom and Opportunity, at The Heritage Foundation.