Introduction
As the Senate considers the Veteran's Affairs, Housing, and Urban Development, and Independent Agencies appropriations bill, it must consider funding for AmeriCorps, President Clinton's national service program. The House already has voted to end funding for this program. While it is hailed by the Administration and its supporters as an innovative effort to expand educational opportunity through volunteerism, it actually has evolved into a big-government, pork-barrel project. In an era of budget deficits, the Administration is asking the American taxpayer to support a program that funds bureaucracies and paperwork while forcing the Congress to look elsewhere for cuts in order to fund the President's pet program.
Although supporters maintain that AmeriCorps is a successful "program that encourages Americans to do volunteer work,l helps people go to college, and disperses decision-making power from Washington to the states,"[REF] the rhetoric contrasts sharply with reality. The Senate should follow the bold lead of the House of Representatives and terminate AmeriCorps because it: 
Does little to help American families pay for college
   Destroys the spirit of volunteerism
Removes participants from local communities where they are needed and uses them to enlarge the federal bureaucracy;
Improperly funds partisan political activities; and 
Costs the taxpayers too much
FAILING TO HELP FAMILIES PAY FOR COLLEGE
AmeriCorps does little to help American families pay for college and fails to accomplish its stated goal of "expanding educational opportunity."[REF] The program's eligibility criteria allow for any individual, regardless of income, to qualify for its benefits. For example, President Clinton's daughter Chelsea could receive the same educational award voucher as more as more needy participants and could be selected over youth from families who need help to meet the rising cost of post-secondary education. The only requirements are the following:[REF]
Participants must be legal citizens.
Participants may serve before, during, or after post-secondary education.
Participants must have a high school degree to receive education vouchers.

[REF]
Thus, children of wealthy and influential people can elbow out poor students. As Senator Robert Byrd (D-WV) has noted, for every one AmeriCorps participant (who may or may not need financial assistance) who receives college benefits, many more needy students could qualify for Pell Grants.[REF]
Chart 1 Indicates that if the federal government took one AmeriCorps award of $26,700, and converted it into a means-tested program, it could provide approximately 18 students with college Pell Grants for each AmeriCorps participant. If the President's goal is to help those who need funding for higher education, means-tested programs would provide more opportunity to more people.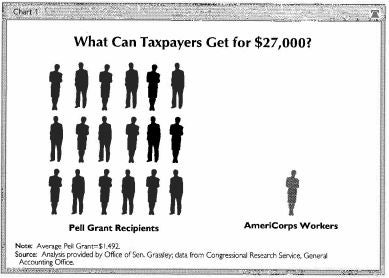 UNDERMINING THE SPIRIT OF VOLUNTEERISM
The generosity of AmeriCorps' benefits also sends a mixed message about volunteering. Taxpayers do not need another program to do what millions of Americans already are doing. Private sector community service is thriving. There are numerous state and local volunteer programs that idealistic young people may join. Surveys by Independent Sector show that in 1994, 89.2 million Americans 18 and over volunteered in some capacity, for an average of 4.2 hours a week. They were not moved by the lure of a lucrative government job, but by a spirit of true volunteerism and genuine service.
In particular, volunteer activity is flourishing among college students across the country. Campus-based volunteer student groups are expanding, and more schools are encouraging students to volunteer by broadening their regular curricula to include service jobs.[REF] The federal commission on National and Community Service is calling on schools and colleges to encourage more students to perform volunteer work,[REF] but almost every college and university in the United States already gives students opportunities to earn school credit for participating in community service activities. For example, Rutgers University, the site chosen by President Clinton to announce the AmeriCorps program, integrates community service into the undergraduate curriculum, through its Civil Education and Community Service Program. The coursework includes a combination of traditional academic disciplines related to volunteer services performed in the communities that are home to Rutgers campuses.[REF] 
Similarly, Loyola University in Chicago features programs designed to inspire students to help alleviate Chicago's urban blight. It sponsors partnerships with area schools and a community policing project for criminal justice and sociology students. Other academic programs attract students to service-oriented careers, such as social work and nursing.[REF]
Even Sidwell Friends school in Washington, D.C., the private school attended by Chelsea Clinton, requires community service. There are student work programs and voluntary service projects on and off campus for all grades, mandatory service projects for ninth-graders, and 30 hours of off-campus community service required for graduation, according to a Sidwell brochure.
By providing payment for "volunteering," however, AmeriCorps weakens the spirit of volunteerism and undermines efforts to promote true community service. Moreover, AmeriCorps creates a huge bureaucracy to do what 51.1 percent of Americans over the age of 18 already do.[REF] As Charles Grassley (R-IA) has noted, "[With] federal bureaucracies involved, you need a federal bureaucracy to write the grant announcement, a federal bureaucrat to oversee and review the grant applications, another federal bureaucrat to issue the grant, then you need a state bureaucrat to write the grant, a state bureaucrat to establish a 'dialogue' with the local communities, and you will need several staff at the local level to make sure that they are complying with all the guidelines and red tape required by the federal government."[REF] AmeriCorps embodies all of the principles of enlarging rather than reinventing government.
AmeriCorps further corrupts and undermines true volunteerism by encouraging successful, independent, local volunteer organizations to become dependent upon federal funding. AmeriCorps makes participating programs look to the federal bureaucracy for money and solutions to the problems in their backyards rather than take the initiative to solve community problems themselves.
ENLARGING THE FEDERAL BUREAUCRACY
In 1993-1994, AmeriCorps employed about 20,000 "volunteers" described as "working all over America, helping people--person to person." In reality, a significant number of these paid "volunteers are working in federal or state bureaucracies, government-funded programs, or political action organizations. Of the 20,000 "volunteers" currently participating in the program, 2,053 are working inside the federal bureaucracies on programs funded by the federal government.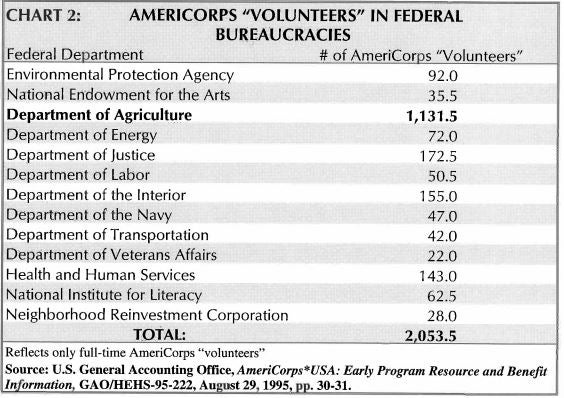 ENGAGING IN PARTISAN POLITICS
Several AmeriCorps programs have ignored the Corporation's mission statement of addressing the nation's problems through direct community service. Instead, they have engaged in advocacy and direct partisan politics at the expense of the taxpayers.
Section 132(a)(3) of the National and Community Service Trust Act of 1993 clearly states that: "any approved national service position provided to an applicant will not be used to perform service that provides a direct benefit to any...partisan political organization..."
But in San Francisco, the AmeriCorps "Summer of Safety" program last year organized 40 groups to rally against the federal crime bill's "three strikes and you're out" provision.[REF] Elsewhere, one of the biggest abusers of AmeriCorps' mission statement was a non-profit group located in Cole, Colorado, which was supposed to use its "volunteers" to help people in northeast Denver neighborhoods. Instead, according to state records, leaders of Cole Coalition sent program participants to hand out political fliers directly attacking a local City Councilman, Hiawatha Davis. "The 'volunteers' had to draft campaign fliers and distribute them door-to-door in April and May (1995) when Davis and [Mayor Wellington] Webb were fighting for re-election."[REF] According to 21-year-old volunteer Joseph Taylor, "We realized there was something politically partisan. The more we began to pose a threat to blowing the whistle, the more they tried to pacify us. They kept saying...this was a great position we were in, making public officials accountable for their jobs."[REF] The Cole Coalition was stripped of its funding, but the example shows the potential for abuse.
HEAVY COST TO TAXPAYERS
During the debate on AmeriCorps in the 103rd Congress, several Senators made floor statements offering to eliminate the program if it proved too costly and was found to be unsuccessful. One was Senator Edward Kennedy (D-MA), who declared that "Congress will not, and should not, fund a program if it is unsuccessful. I do not believe it will happen but if it does I would favor cutting the program."[REF]
The Ceneral Accounting Office (GAO) has just released a report requested by Senator Grassley on the costs of the AmeriCorps program.[REF] Senator Grassley asked for the investigation of the costs after the 103rd Congress approved a 96 percent increase in funding that raised program spending from $217.3 million in Fiscal Year 1994 to $427.3 million in Fiscal Year 1995 (including the National Service Trust and AmeriCorps grant). The Administration is asking the American taxpayers to pay for an expensive program that cannot provide evidence of its benefits to the taxpayer or to the local communities its supposed to serve. Further, the Corporation for National and Community Service, which oversees AmeriCorps, is not required to rigorously evaluate the program over the long term. 
The GAO report highlights important discrepancies between the Clinton Administration's estimates of how much AmeriCorps and the true costs. According to the GAO, the approximately $26,700 per volunteer for ten months work. This estimate, as noted by the GAO, is substantially higher that the Clinton Administration's. Eli Segal, chief executive officer of AmeriCorps, stated in congressional testimony this March that the total cost, which includes all benefits and education vouchers, per "volunteer" would be no more than $18,800. The GAO's research, however, reveals that cost are more than 40 percent higher than the Administration's most recent estimates. The Administration now claims that the $17,600 figure was intended to represent only the federal contribution.
Chart 3 summarizes GAO estimates of the cost per "volunteer."

As the GAO report clearly points out, the federal government is the primary source of funds for the program. Only 7 percent of the AmeriCorps budget comes from private sources, with the federal government responsible for 79 percent of the costs and state and local tax dollars covering 14 percent. This is the opposite of the Administration's intention when the program was created. In a February 28, 1993, New York Times op-ed, President Clinton stated that the program would receive its funding primarily from the private sector: