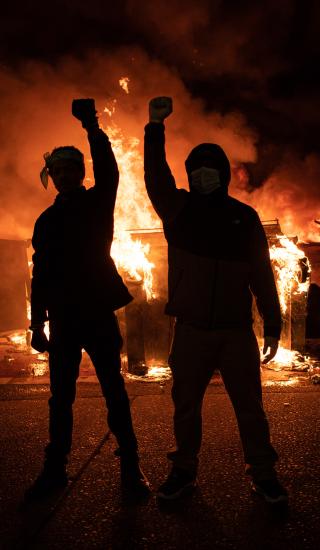 BLM: A New Marxist Revolution
Book by Mike Gonzalez
Buy the book
About the Book
The George Floyd protests that have precipitated great changes throughout American society were not spontaneous events. Americans did not suddenly rise up in righteous anger, take to the streets, and demand not just that police departments be defunded, but that all the structures, institutions, and systems of the United States—all supposedly racist—be overhauled. 
The 12,000 or so demonstrations and 633 related riots that followed Floyd's death took organizational muscle. The movement's grip on institutions from the classroom to the ballpark required ideological commitment. Both were provided by the various Black Lives Matter organizations. 
This book examines who the BLM leaders are, delving into their backgrounds and exposing their agendas. They are shown to be avowed Marxists who say they want to dismantle our way of life. Along with their fellow activists, they make savvy use of social media to spread their message and organize marches, sit-ins, statue-tumblings, and riots. In 2020 they seized upon the video showing George Floyd's suffering as a pretext to unleash a nationwide insurgency. 
Certainly, no person of good will could object to the proposition that "black lives matter" as much as any other human life. But Americans need to understand how their laudable moral concern is being exploited for purposes that many of them would not approve.
Black Lives Matter is a movement predicated on prevarication, and Gonzalez breaks down its dangerous falsehoods in hard-hitting fashion."
Ben Shapiro
Conservative political commentator and media host
Mike Gonzalez shows why Americans must take seriously the architects of Antifa, Black Lives Matter, and Critical Race Theory. He systematically reveals how these Marxists seek to transform America into something unimagined by the Founders and unrecognizable to most Americans today. His diagnosis of the threat is superbly argued and his wake-up call sorely needed."
Victor Davis Hanson
Conservative commentator, classicist, and military historian
A must read for patriots who wish to … fight back against BLM's effort to tear down America's most fundamental principles and institutions."
Ying Ma
Writer, policy expert, and communications professional
About the Author
Mike Gonzalez is a senior fellow at The Heritage Foundation's Allison Center for Foreign Policy in Washington, D.C. He spent close to twenty years as a journalist, fifteen of them writing from Europe, Asia, and Latin America. He left journalism to join the Bush administration. Since 2009 he has been at The Heritage Foundation, where he now writes on critical race theory, national identity, diversity, multiculturalism, assimilation, and nationalism, as well as foreign policy in general. He is also the author of the highly acclaimed book, "The Plot to Change America," which was published in 2020.
Follow Mike on Twitter @Gundisalvus
To book Mike for an interview, contact John Cooper at [email protected]