Introduction
International trade and investment support more than one-half million private-sector jobs in Ohio. Because nearly all of the jobs supported by goods exports are in the manufacturing sector, the continued availability of competitively priced intermediate goods, sourced both domestically and internationally, is crucial for maintaining competitiveness in the market.
Ohio's elected officials recognize that trade plays a central role in the state's economy. Two-thirds of Ohio's Representatives voted in favor of free trade agreements with Colombia, Korea, and Panama, while the votes in the Senate fell along party lines. The Ohio congressional delegation should continue to increase its support for free trade.
Free trade agreements are a valuable instrument for removing tariff and non-tariff barriers between countries, but they are not the only way for the U.S. to increase the competitiveness of its businesses. Ohio's elected officials should work with the Trump Administration to unilaterally reduce tariff and non-tariff barriers, starting with the elimination of self-destructive import tariffs on intermediate goods.
Exports Support Ohio Jobs
In 2016, Ohio's goods exports were valued at roughly $49.1 billion. Nearly nine of every 10 of the more than 16,000 exporting businesses in Ohio were small and medium-sized businesses. Ohio's goods exporters supported approximately 260,000 jobs in 2015, an increase of 14.9 percent since 2009. More than 90 percent of the jobs attributed to exports are in sectors that produce manufactured goods.[REF] Ohio service exports grew by 62 percent between 2006 and 2015—to $14 billion—supporting more than 110,000 jobs.[REF]
Ohio's top export industry is transportation equipment, with exports valued at $14.9 billion in 2016, or roughly 30 percent of the state's total goods exports. The remaining categories for Ohio's top five export industries are chemicals ($6.1 billion), machinery ($5.9 billion), computer and electronic products ($2.6 billion), and fabricated metal products ($2.6 billion).[REF]
Two of the top five export markets for Ohio goods are Canada and Mexico, America's North American Free Trade Agreement (NAFTA) partners. In 2016, Ohio businesses exported $19.1 billion in goods to Canada and $6.5 billion in goods to Mexico, representing almost half of all goods exports from Ohio. China ($3.7 billion), the U.K. ($1.9 billion), and Japan ($1.6 billion) round out Ohio's top five export markets. In 2016, Ohio exported $28.7 billion in goods to America's 20 free trade agreement partners, about 58 percent of the state's total goods exports.[REF]
Ohio Ranks Tenth in Manufacturing Output
Manufacturing is a vital industry for Ohio, contributing significantly to the state's annual goods exports. In 2016, the state was ranked 10th nationally in terms of manufacturing output as a percentage of gross state product, amounting to 16.9 percent.[REF]
Ohio's top five manufacturing sectors by output in 2014 were petroleum and coal products ($14.5 billion), chemical products ($13.3 billion), motor vehicles and parts ($12.1 billion), food, beverage, and tobacco products ($11.6 billion), and fabricated metal products ($11.2 billion).[REF]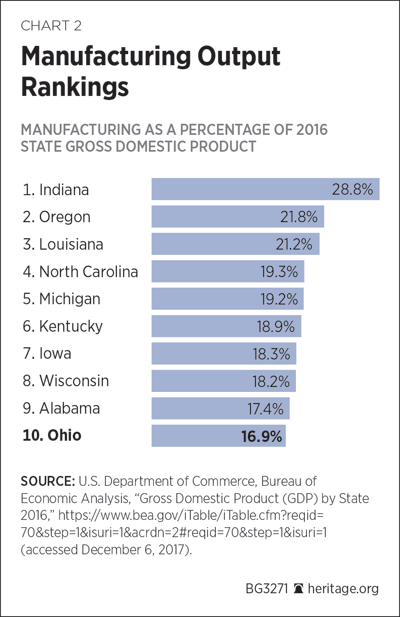 Approximately 687,000 Ohioans were employed in manufacturing sectors in 2016, representing about 14.5 percent of all private-sector employment in the state.[REF] The same year, 92.2 percent of Ohio's total goods exports were manufactured goods, an increase of 14.4 percent between 2010 and 2016.[REF]
Ohio Manufacturers Need Imports
Ohio is home to a diverse advanced manufacturing sector that includes industries such as brake rotor, plastics and rubber, and composite manufacturing.[REF] The common thread for each of these industries is their need for quality and cost-efficient inputs, also called intermediate goods. This story remains true for the rest of the country, where more than 60 percent of all U.S. imports are intermediate inputs into U.S. production processes.[REF]
In 2016, the state of Ohio imported roughly $64.3 billion in goods, down 6.7 percent from the previous year. Intermediate goods, such as turbo jet parts ($1.5 billion), vehicle and motor parts ($2.2 billion), nucleic acids and salts ($645 million), and pig iron ($383 million), made up a large portion of Ohio's top 25 imports.[REF]
Restricting Imports Is Costly. In 2017, steel producers in the U.S., including Ohio's AK Steel, lobbied the Trump Administration to pursue an investigation on steel imports under Section 232 of the Trade Expansion Act of 1962.[REF] Imposing tariffs on steel would increase the cost of one of the most crucial intermediate goods for steel-consuming manufacturers in Ohio, making it more difficult for them to do business. Further, when tariffs were imposed under a different trade law in 2002, more than 10,000 Ohioans working in steel-consuming industries lost their jobs because of higher steel prices.[REF]
Foreign Direct Investment Creates Jobs
The benefits of foreign direct investment (FDI) are an often overlooked aspect of the trade story. Just as with the exchange of goods and services, the exchange of capital creates millions of American jobs. Roughly 259,000 Ohioans were employed by foreign-owned companies in 2015, representing 5.5 percent of all private-sector employment and roughly 20 percent of manufacturing employment.[REF] Ohio's top five sources of foreign direct investment employment represent nearly 70 percent of all FDI jobs in the state: Japan (62,100 jobs), the U.K. (42,600 jobs), Germany (30,900 jobs), Canada (23,800 jobs), and Switzerland (19,400 jobs).[REF]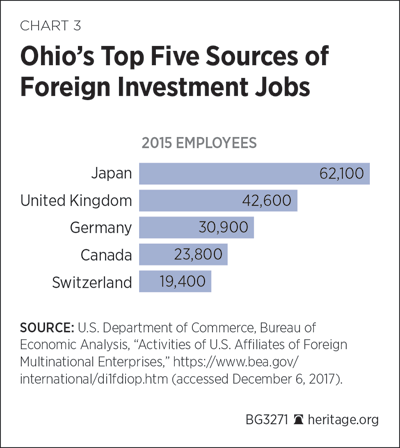 Examples Abound. According to its website, "Rassini is the world's largest producer of suspension components for light commercial vehicles as well as the largest fully integrated brake rotor producer in the Americas."[REF] Rassini, a Mexican-based company, has operated in Ohio since 2003, employing 110 people. The company also has two facilities in Michigan that employ an additional 140 people.[REF] "Rassini's U.S. operations are an example of the production sharing model made possible by an integrated, efficient and sophisticated supply chain in North America resulting in a stronger automotive industry that benefits the end consumer," states Rassini President Eugenio Madero.[REF]
Fuyao Glass America, a Chinese company and top automotive glass manufacturer, opened a plant in Moraine, Ohio, in 2016. The company started with 2,000 employees but "expects this number to grow to 2,300–2,500 by the end of 2017." Fuyao invested $450 million to open this facility and, according to John Gauthier, president of Fuyao Glass America, the company's "goal is to provide the highest quality product and outstanding customer service to our customers." The company has additional plants in Illinois and Michigan.[REF]
In 2015, Valfilm, a Brazil-based plastics company, purchased a former Dow Chemical plant in Findlay, Ohio, saving roughly 50 high-skilled jobs. The facility was Valfilm's first U.S. manufacturing facility, and it plans to grow the facility, adding even more American jobs. According to Carlo Bergamaschi, Chief Executive Officer of Valfilm, "We figured out this plant is very well located for the main customer market of the United States and that we could get all the raw materials by railroad. We found Findlay had this potential, and we decided to invest here."[REF]
Trade Is Not Responsible for Job Losses
Some critics claim that expanding trade with Mexico, Canada, China, and other countries has reduced the number of jobs in Ohio. The data simply does not support this claim. Similar to the effects of technology, trade creates new jobs in some sectors while resulting in losses in other sectors. However, there has been no net job loss due to trade. Since NAFTA was implemented in 1994, Ohio has added nearly 555,000 new private-sector jobs. This is despite the effects of two major economic downturns during the period, the burst of the dot-com bubble in 2001, and the Great Recession of 2008.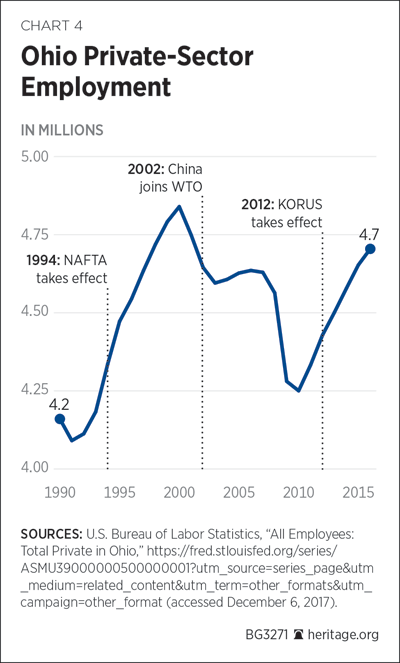 Support for Free Trade Among Ohio Legislators
As demonstrated in Chart 5, Ohio's elected officials increasingly support free trade. In 2011, two-thirds of the state's Representatives voted in favor of trade agreements with Colombia, South Korea, and Panama. Votes in the Senate fell along party lines for these agreements. In contrast, 10 of 19 representatives from Ohio voted against NAFTA in 1993; both Ohio Senators also opposed the agreement.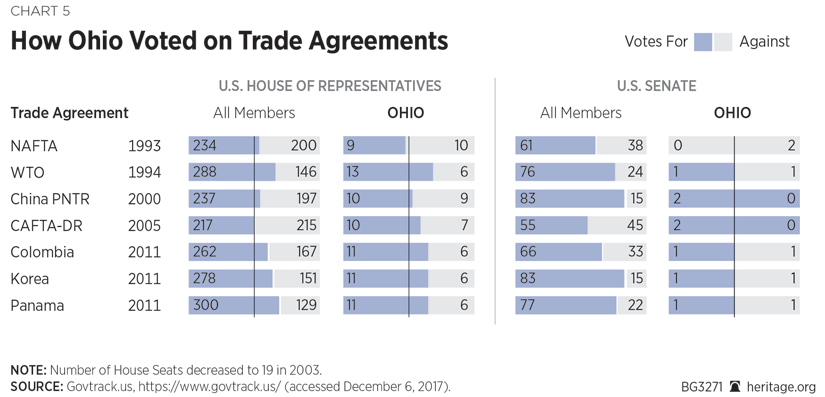 While Congress has not faced a vote on a free trade agreement in more than five years, the importance of free and open trade is arguably greater than ever before.
Members of Congress will be put to the test over the next few years as the Trump Administration seeks to renegotiate existing trade agreements and pursue new ones. Ohio's congressional delegation should encourage the Trump Administration to make eliminating tariff and non-tariff barriers the priority of their negotiations.
Conclusion: Ohio Needs Free Trade
Trade is crucial for Ohio businesses and families, as exports and investment each account for more than one-quarter million private-sector jobs. Ohio has a highly skilled manufacturing sector that relies on intermediate goods from around the world to remain competitive in the ever-changing global market. As the Trump Administration attempts to renegotiate NAFTA and seek agreements with other countries, Ohio's congressional delegation should continue to express their support for policies that lower barriers both at home and abroad.
—Tori K. Whiting is Research Associate in the Center for International Trade and Economics, of the Kathryn and Shelby Cullom Davis Institute for National Security and Foreign Policy, at The Heritage Foundation.