International trade and investment support more than a quarter of a million jobs in Minnesota. The majority of trade jobs are in the manufacturing and agricultural sectors, industries that can be harmed by unilateral trade actions which threaten key trading partners. Manufacturers especially rely on access to intermediate goods from around the world to keep the prices of their exported finished goods competitive.
While support from Minnesota's congressional delegation for free trade agreements has varied over the years, the important role of trade has recently received bipartisan recognition. In 1993, only three representatives and one senator from Minnesota voted in favor of the North American Free Trade Agreement (NAFTA). In 2011, elected officials from Minnesota were nearly unanimous on the vote for the U.S.–Korea Free Trade Agreement.
Free trade agreements (FTAs) like NAFTA help to lower tariffs and non-tariff barriers. However, Congress has not voted on a new FTA since 2011. Minnesota's elected officials should work with the Trump Administration to lower barriers to trade through negotiating new FTAs, as well as hold the President accountable during attempts to increase existing barriers.
Exports Support Minnesota Jobs
In 2016, Minnesota's goods exports were valued at roughly $20.6 billion. Nearly nine of every 10 of the more than 8,000 exporting businesses in Minnesota were small and medium-sized businesses. Minnesota's goods exporters supported over 118,000 jobs in 2016. Seventy-five percent of the jobs attributed to exports are in sectors that produce manufactured goods.REF Minnesota service exports grew by 78 percent—to $10 billion—between 2006 and 2016, supporting more than 63,000 jobs.REF
As shown in Chart 1, Minnesota's top export industry is computer and electronic products, with exports valued at $3.7 billion in 2017—roughly 18 percent of the state's total goods exports. The remaining categories for Minnesota's top five export industries are machinery ($3.3 billion), miscellaneous manufactures ($2.1 billion), transportation equipment ($2.1 billion), and processed foods ($1.7 billion).REF

Two of the top five export markets for Minnesota goods are Canada and Mexico, the U.S.'s NAFTA partners. In 2017, Minnesota businesses exported $4.3 billion in goods to Canada and $2.4 billion in goods to Mexico, representing almost one-third of all goods exports from Minnesota. China ($2 billion), Japan ($1.3 billion), and Germany ($887 million) round out Minnesota's top five export markets. In 2017, Minnesota exported $9.3 billion in goods to the U.S.'s 20 FTA partners—roughly 45 percent of the state's total goods exports.REF
Agricultural Trade Is Vital for Minnesota
Minnesota is the fourth-largest exporter of agricultural products in the U.S., with exports valued at roughly $7.1 billion in 2016. Its top agricultural exports are soybeans ($2.1 billion), corn ($959 million), feed ($738 million), and pork ($717 million).REF Since 2000, Minnesota's agricultural exports have grown by more than 200 percent and new FTAs, as well as international organizations like the World Trade Organization, have helped contribute to this success.REF
Some of Minnesota's top export markets for agricultural products are Canada, China, Japan, Mexico, and South Korea. Many countries, including the United States, have high barriers for trade in agricultural goods and FTAs help to tear down those barriers. The Trans-Pacific Partnership (TPP), for example, would have opened up new markets for agricultural exports from Minnesota. The U.S. International Trade Commission estimated that the TPP would have increased exports of agricultural goods by $7.2 billion by 2032.REF The agreement eliminated the majority of pork tariffs in Japan, Malaysia, and Vietnam, not only opening markets for pork exports, but also increasing the potential for an increased demand for feed.REF Regrettably, the U.S. is no longer a party to the TPP.
Minnesota Manufacturers Need Imports
Competitively priced intermediate goods, sourced domestically or internationally, are vital for Minnesota's more than 8,000 exporting companies.REF In 2016, Minnesota imported $27 billion in goods, including intermediate goods such as crude oil, potassium chloride, and various parts for machinery and vehicles.REF Besides being key export markets for Minnesotan businesses, Canada and Mexico are also the source of many imported goods for Minnesota. In fact, 84 percent of Minnesota's imports from Canada and Mexico in 2016 were intermediate goods.REF
Impact on Minnesota from the Trump Administration's Tariff Plan
In March 2018, President Trump imposed tariffs on steel and aluminum imports of 25 percent and 10 percent, respectively. America's closest trading partners were exempt from these tariffs, imposed under Section 232 of the Trade Expansion Act of 1962, until May 31, 2018, when the President then imposed them on Canada, Mexico, and the European Union.REF The tariffs were imposed under the guise of protecting U.S. national security, but are now being used as an attempt to negotiate away alleged "unfair trade practices" of trade partners. A recent study estimates that the state of Minnesota could lose more than 8,000 jobs as a result of this action.REF
American manufacturers are feeling the immediate effects of these tariffs, with domestic steel prices increasing by more than 40 percent in a matter of weeks.REF At present, the U.S. is also facing potential retaliation from its trading partners on products ranging from pork and dairy to electronics and vehicles. Angela Hofmann, deputy director of Farmers for Free Trade, stated, "These tariffs will exact immediate and painful consequences on many American farmers.… Farmers need certainty and open markets to make ends meet. Right now they are getting chaos and protectionism."REF
The Administration is also preparing to impose tariffs on imports from China following an investigation on Chinese trade practices under Section 301 of the Trade Act of 1974. China, in response to the Trump Administration's plan,REF has threatened to retaliate with tariffs on U.S. agricultural exports. Minnesota farmers and ranchers could face direct negative impacts if tensions between the U.S. and China continue to rise. A recent report estimates that American "farmers would see a 'hit' of 6.7 percent to their net incomes, and jobs in the sector would drop by over 67,000" if the proposed tariffs are imposed and China retaliates.REF With agricultural products as the likely target from China, Minnesota is estimated to lose 2,300 jobs.REF
Foreign Direct Investment Creates Jobs
The benefits of foreign direct investment (FDI) to trade are often overlooked. Just as with the exchange of goods and services, the exchange of capital creates millions of American jobs. Roughly 111,700 Minnesotans were employed by foreign-owned companies in 2015, representing 4.5 percent of all private-sector employment and roughly 40 percent of manufacturing employment.REF As shown in Chart 2 Minnesota's top five sources of FDI employment represent nearly 61 percent of all FDI jobs in the state: Canada (22,800 jobs), the U.K. (18,300 jobs), Germany (10,800 jobs), Japan (8,300 jobs), and France (7,400 jobs).REF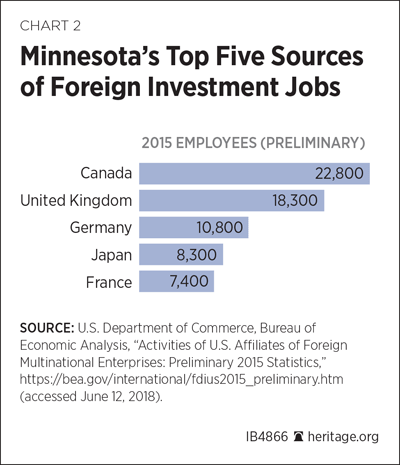 Examples of how FDI benefits local communities are abundant. Daikin Applied, a Japan-based HVAC manufacturer, has two plants in Minnesota that currently employ about 900 Minnesotans. In May 2018, the company announced plans to expand its manufacturing plant in Faribault, Minnesota. "We know that our company only grows when our people grow," said Matt Alexejun, Senior Director of Human Resources for Manufacturing for Daikin Applied. "So we invest not just in the best training for our employees; we extend that commitment into the community by offering programs and training opportunities at local high schools and colleges."REF
Smith's Medical, a division of U.K.-based Smith's Group, produces and sells medical devices. The company has a headquarters in Plymouth, Minnesota, that in 2014 employed approximately 400 employees. Since 2014, Smith's Medical has expanded, adding 100 additional jobs in the state.REF "The decision to consolidate in the Twin Cities allows us to capitalize on the great talent and business environment region," stated CEO Jeff MacCaulley.REF
Cirrus Aircraft, owned by the Chinese Aviation Industry Corporation, announced in 2016 that it planned to build a $12.7 million painting and finishing facility in Duluth, Minnesota. The aircraft manufacturer already employs 675 people. The new plant will create an additional 150 jobs. Katie Clark Sieben, Commissioner of the State Economic Development Department, stated, "We are fortunate to have a company of this caliber in Minnesota and thankful for their commitment to Duluth and the state."REF
Trade Is Not Responsible for Job Losses
Critics claim that trade has destroyed millions of American jobs, including jobs in Minnesota. As shown in Chart 3, the data simply does not support this claim. Trade allows new jobs to be created in more efficient sectors while some jobs in less efficient sectors are eliminated. Despite these job changes, no net job loss has occurred as a result of trade. Since NAFTA was implemented in 1994, Minnesota has added nearly 568,400 new private-sector jobs.REF

Support for Free Trade by Minnesota Legislators
As demonstrated in Chart 4, support for free trade from Minnesota's congressional delegation has varied over the years. In 1993, only three Representatives and one Senator from Minnesota voted in favor of NAFTA. However, the 2011 votes for the U.S.–Korea Free Trade Agreement and the U.S.–Panama Free Trade Agreement exhibited vast, bipartisan support from Minnesotan officials. Both Senators supported the agreement with Korea and all but two Representatives voted in favor. Three Representatives and one Senator voted against the agreement with Panama, but overall support from the delegation was still strong.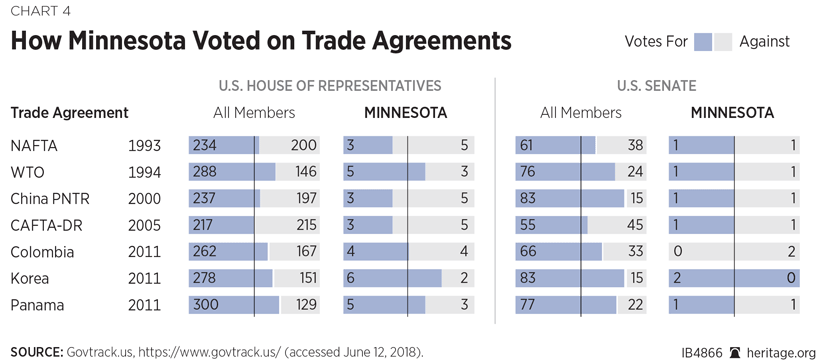 At present, Members of Congress are being put to the test as President Trump has imposed tariffs on steel and aluminum through unilateral measures. Congresswoman Betty McCollum (D–MN) released a statement after the President chose to enforce these tariffs on U.S. allies.REF Elected officials from Minnesota have also written letters to the President expressing their concern for his moves to impose tariffs on solar panels and modules and on Chinese imports.REF
The Constitution gives the legislative branch the power to regulate commerce and Congress has made efforts to exercise that power. Minnesota's elected officials should work with the Trump Administration to lower barriers to trade. They should also amend U.S. trade law to ensure that any attempts by a President to increase existing barriers to trade are coupled with full analysis of the impacts of such barriers on the U.S. economy as a whole.
Minnesota Needs Free Trade
Trade undeniably benefits Minnesota. International trade and investment support more than a quarter million jobs in the state, and Minnesotan farmers and ranchers need free trade agreements to lower barriers for agricultural exports in new markets. Manufacturers in Minnesota rely on competitively priced intermediate goods, like steel and aluminum, to export finished products around the world. As the Trump Administration attempts to renegotiate NAFTA and seeks agreements with other countries, Minnesota's congressional delegation should ensure that the goal of these negotiations is to lower tariffs and non-tariff barriers in the U.S. and abroad.
—Tori K. Whiting is Jay Van Andel Trade Economist in the Thomas A. Roe Institute for Economic Policy Studies, of the Institute for Economic Freedom, at The Heritage Foundation. Lauren Bowman is Research Assistant in the Roe Institute. Corianna Baier, member of The Heritage Foundation's Young Leaders Program, made valuable contributions to this report.