Majority of Americans Have Never Heard of the Export-Import Bank
Recent research from the American Perceptions Initiative found that awareness of the Export-Import Bank is very low. In fact, fifty-five percent (55%) of Americans had never heard of the Export-Import Bank, while those who had heard of it have little familiarity with what it is. Only two percent (2%) said they were very familiar with it.
Relatively Little Importance Placed on Reauthorizing
After considering a description of the Export-Import Bank, voters placed low necessity on reauthorization (17% very/extremely important), especially compared to other issues potentially facing Congress in months to come. Additionally, more voters would recommend their member of Congress not reauthorize the Export-Import Bank than would recommend authorizing, though a large proportion remained neutral on the issue.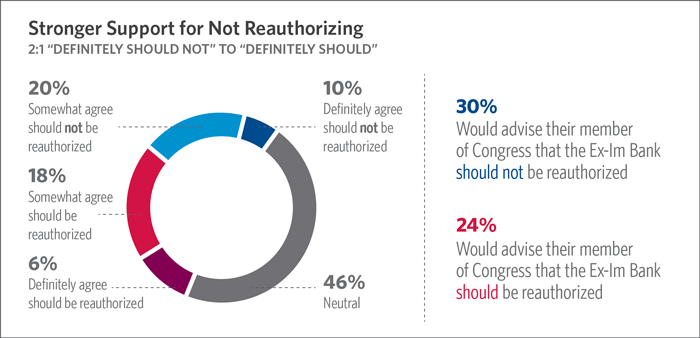 High Impact Message
When given a choice between messages for and against the reauthorization of the Export-Import Bank, opinion was largely divided. However, one message stood out as having a stronger impact on perceptions of the Export-Import Bank, converting positive and ambivalent impressions to negative.
"The Ex-Im Bank benefits just one-half of 1% of small businesses. The vast majority of Ex-Im subsidies benefit multinational corporations such as Boeing, General Electric, and Bechtel that have virtually unlimited access to private financing."
Source: Online survey using a national representative sample of 602 U.S. voters conducted April 13–19, 2015 with a margin of error of ±4.0%.