Trade Adjustment Assistance (TAA) provides substantial government benefits to American workers who lose their jobs because of foreign trade. The 2009 stimulus bill expanded TAA coverage and increased TAA benefits. However, very few workers lose their jobs because of foreign trade, and the Department of Labor's Dislocated Workers Program already provides basic services to laid-off workers.
Congress should allow TAA to expire. If Congress does reauthorize TAA, it should return the program to its pre-stimulus scope and couple reauthorization with the pending free trade agreements.
Original TAA Program
Free trade increases overall living standards. Economists estimate that the North American Free Trade Agreement saves the average American family of four between $1,300 and $2,000 a year.[1] However, trade can also cause severe losses for those who lose their jobs to foreign competitors.
Congress compromised by creating the TAA program for workers who lost their jobs because of trade. TAA would provide these workers with generous financial assistance and job training to prepare them for jobs in new industries. The pre-stimulus TAA gave covered workers:
Up to two years of job training in an approved training program,
Up to 52 weeks of Trade Readjustment Allowances (TRA) for workers in job training,[2]
Job search and relocation allowances,
A refundable "health care tax credit" that covers 65 percent of a worker's health insurance premiums in qualifying health plans, and
A two-year wage insurance program that partly replaces workers' earnings if they take a lower-paying job.
This gave covered workers substantially more generous benefits than most laid-off workers receive. The 2009 stimulus bill[3]:
Expanded TAA to cover workers whose employers shift production to any foreign country, not just those (as under prior law) whose jobs were outsourced to countries with which the U.S. has free trade agreements;
Expanded TAA coverage to the service sector and government employees who lose their jobs because of trade;
Increased the tax credit available to cover private health insurance premiums from 65 percent to 80 percent;
Increased the appropriations cap for training from $220 million to $575 million;
Gave $17.5 million to states for employment and case management; and
Lengthened the amount of time workers may receive TRA assistance by 26 weeks.
Unfortunately, TAA job training largely fails to help workers. Studies show that workers who complete TAA job training earn no more afterward than workers who do not.[4]
Small Portion of Jobs Losses Due to Trade
Competition and innovation constantly create and destroy jobs in America. Shrinking and bankrupt firms eliminate about 2 million existing jobs a month, while new and expanding companies create a similar number of new jobs.[5] International trade accounts for just a small portion of these job losses.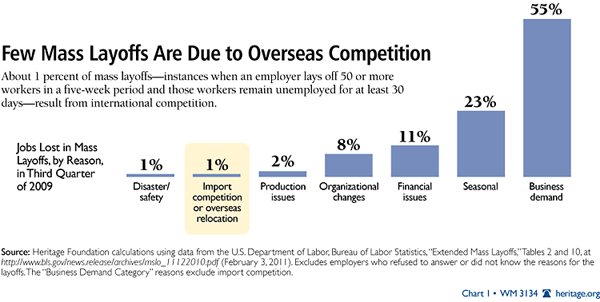 Just 1 percent of jobs lost in mass layoffs is caused by overseas relocations or import competition. Similarly, less than 1 percent of workers who filed for unemployment benefits in 2010 received TAA.[6]
No Discrimination
The government should not discriminate between workers who lose their jobs because of trade and workers who lose their jobs for other reasons. The worker who loses his job to a foreign competitor should receive the same treatment as the Blockbuster employee who lost his job to Netflix.
The government currently provides up to 99 weeks of unemployment insurance benefits. The Department of Labor's Dislocated Workers Program also provides job placement, career counseling, and (in some cases) training vouchers for laid-off workers. Congress should not single out trade-displaced workers for especially generous benefits.
Union VEBA Handout
The stimulus also expanded TAA in one way that has nothing to do with trade: If an employer providing retiree health benefits goes out of business, a bankruptcy court can set up a Voluntary Employee Beneficiary Association (VEBA). A portion of the employer's remaining assets goes into the VEBA, which takes over responsibility for the retiree's health coverage.
The stimulus extended the health care tax credit to such VEBAs. This refundable tax credit is indistinguishable from government spending. In effect, the federal government now covers 80 percent of the cost of retiree health benefits at bankrupt companies—no matter why they went out of business. This primarily helps unions, since unionized companies are disproportionately likely to offer these benefits.[7]
This is poor public policy. Taxpayers should not fund union benefits when unionized companies go bankrupt. This reduces the incentives for unions to be reasonable during contract negotiations. If Congress wants to insure retiree health benefits, it can do so by requiring employers that offer them to purchase insurance for their plans.
Additionally, few Americans receive retiree health benefits beyond Medicare. Congress should not spend scarce public dollars guaranteeing top-of-the-line benefits to a small minority of workers when Medicare itself faces considerable financial strain.[8]
America Cannot Afford Excess Spending
The Congressional Budget Office estimates that the federal government will run a record $1.5 trillion deficit in 2011 and that the national debt will double over the next decade.[9] Higher government spending is driving these historic deficits.[10] To avoid national bankruptcy, Congress must sharply reduce federal spending and eliminate nonessential programs.
The Department of Labor estimates that TAA will cost taxpayers $2.4 billion in 2011.[11] TAA recipients appreciate their enhanced benefits. However, TAA is one of many programs the country can no longer afford.
Allow TAA to Expire
The expanded stimulus TAA benefits expired on December 31, 2010. Congress passed legislation intended to extend the new benefits to February 12, 2011.[12] Due to a drafting error, however, that legislation causes most of the TAA program to sunset on February 12.[13]
The best protection for displaced workers is a dynamic, growing economy that creates new jobs. Government overspending and debt are holding back the economy. TAA benefits only a small percentage of laid-off workers, and TAA retraining fails to raise employees' pay.
Congress should allow TAA to expire; at a minimum, it should return the program to its pre-stimulus levels. Congress should consider reauthorizing the pre-stimulus TAA only in conjunction with the passage of pending free trade agreements.
James Sherk is Senior Policy Analyst in Labor Economics in the Center for Data Analysis at The Heritage Foundation.