Messaging Priorities
The law of the land: Characterize unconstitutional actions as illegal and lawless.
By the people: Emphasize the power granted to elected leaders by the people.
Build a vision: The benefits of representative government are manifold—liberty, opportunity for economic prosperity, flourishing civil society, and the health, safety, and welfare of its citizens.
77% of Voters Think Government Is Broken
Recent research conducted under the American Perceptions Initiative found that 77% think government in the U.S. is broken. The finding is unsurprising considering the gap Americans see between the exceptionally high level of importance they place on government following the principles in the U.S. Constitution and government's ability to follow through.
When considered by branch, Congress does especially poorly, with half as many, only 21%, saying they do an excellent or good job at following the principles of the Constitution as rate the judicial (45%) and executive (41%) branches highly.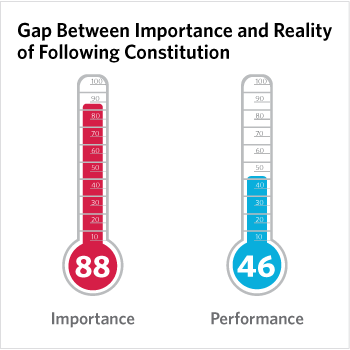 Leadership in Word and Deed
In the face of increasing dissatisfaction and uncertainty with the role of government, it is important for government leaders to lead by reaffirming the naturally understood importance of following the principles of the Constitution—both in word and deed.

Source: Recommendations based off an online survey using a national representative sample of 1,020 U.S. voters conducted January 6-13, 2016 with a margin of error of ±3.1%.
American Perceptions Initiative is a project of The Heritage Foundation's communications team.