Kara Frederick, a research fellow for technology policy at The Heritage Foundation and a former Facebook employee, recently testified before the House Energy and Commerce's Subcommittee on Communications and Technology on how to hold Big Tech accountable.
Another former Facebook employee, Frances Haugen, also testified before the subcommittee.
During her testimony, Frederick called Big Tech an "enemy of the people" for its censorship and subsequent gaslighting of the American public.
"I too worked for Facebook. I joined the company after three tours in Afghanistan, because I believed in Facebook's mission, the democratization of information, but I was wrong," said Frederick. "Big Tech companies tell us not to believe our lying eyes, that viewpoint censorship is all in our heads."
Frederick continued: "Tell that to the Gold Star mom who criticized Biden's Afghanistan withdrawal and was deleted by Facebook after the death of her son, a U.S. Marine. Tell that to Allie Beth Stuckey, who had the temerity to say that biological men should not compete in men's sports before being suspended by Twitter. Tell that to Clarence Thomas, whose documentary on Amazon was deleted without explanation."
Frederick's testimony garnered attention from multiple media outlets, including The Daily Wire, Politico, Fox Business and Bloomberg.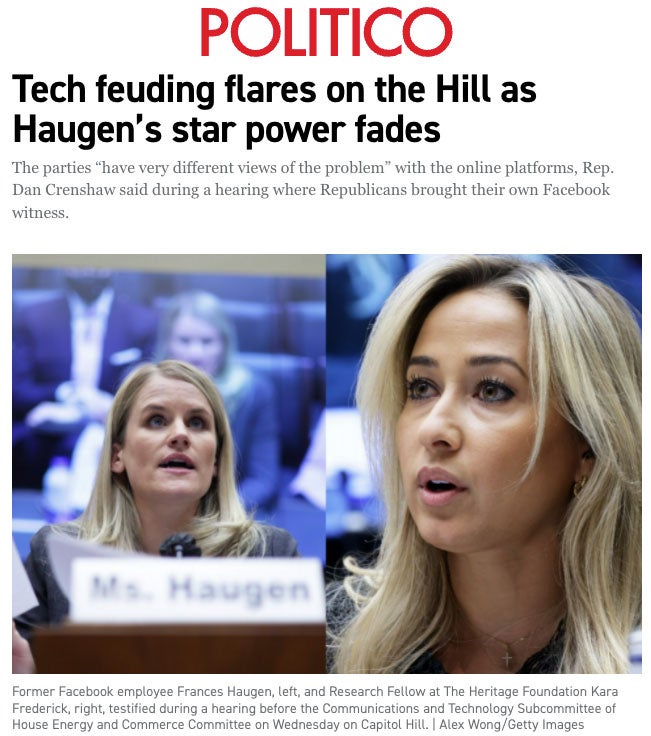 "Frederick, the Republicans' key witness on Wednesday, offered a stark contrast at times with Haugen, especially on the accusations that Facebook censors conservative viewpoints on topics such as the origins of the Covid pandemic," reported Politico.
Florida Gov. Ron DeSantis, an outspoken critic of Big Tech, retweeted a video of Frederick's testimony.
Big Tech has become the censorship arm of the Democratic Party and political left, silencing and de-platforming anyone who rejects the chosen left-wing narrative.

Silicon Valley oligarchs shouldn't be the arbiters of free speech in our country. We must fight back! https://t.co/7x3UZGDlrT

— Ron DeSantis (@RonDeSantisFL) December 2, 2021
Frederick raised the alarm on the left's proposed reforms, welcomed by Big Tech, that aim to further suppress viewpoints they don't like.
"Big Tech companies are not afraid of the American people or meaningful checks on their abuse of power. And it shows. We should be wary of proposals and calls to further suppress content based on politically expedient definitions of 'misinformation.' The Wuhan lab leak theory and the Hunter Biden laptop come to mind. Let the whistleblower documents speak for themselves," said Frederick.
Here are some of Frederick's recommendations to confront Big Tech's flagrant abuse of power:
"Holding Big Tech accountable should result in less censorship, not more. The First Amendment should also be the standard from which all Section 230 reforms flow.

"Section 230 reform is not a silver bullet. We have to look outside DC for answers. States, civil society, and tech founders all have a role to play.  Despite what the new Twitter CEO may think, American lawmakers have a duty to protect and defend the rights given to us by God and enshrined in our Constitution by the Founders – rights that specific tech companies, in conjunction with the government, are actively and deliberately eroding."

"We cannot let tech totalitarians shape a digital world where one set of thinkers are second-class citizens."
You can watch Frederick's full testimony here.