Strong Support for Prohibiting Government Discrimination Against Those Who Believe in Traditional Marriage
Recent research conducted under the American Perceptions Initiative found strong support for policies that would prohibit the government from discriminating against any individual or group based on their beliefs that marriage is the union of a man and woman or that sexual relations are reserved for marriage, specifically prohibiting the government from discriminating against such groups and individuals in tax policy, employment, licensing, accreditation, or contracting. Over half (56%) would support that policy, while a full third would strongly support it.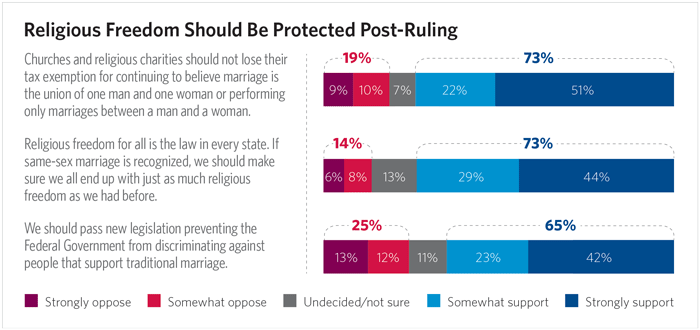 Voters More Likely to Respond Through Voting than Direct Contact or Social Media
When asked how they would be most likely to stand up for religious freedom, 65 percent of those surveyed said they would vote against a candidate who refuses to respect the freedom of those who believe in traditional marriage. Yet only 45 percent would call their elected representatives or post on social media about their support for respecting religious freedom of those who believe in marriage as the union of one man and one woman. This reticence to publicly comment should not be taken as evidence of voter apathy toward protecting religious liberty. Fear of consequences, such as harassment or being called a bigot, was the most commonly mentioned barrier to defending the right to religious freedom.
Top Messages In The Overall Debate
We all have differences, and every day we disagree with one another on some subject or another. But being able to still live peacefully with each other, despite those differences, is what true tolerance is about.—93% somewhat/strongly agree
While Americans are free to live as they choose, no one should demand that government coerce others into celebrating their relationship. All Americans should remain free to believe and act in the public square based on their beliefs about marriage without fear of government penalty.—85% somewhat/strongly agree
Source: Online survey using a national representative sample of 1,023 voters conducted June 2-8, 2015 with a margin of error of ±3.1%.