FYI: Heritage WebMemos are now called Issue Briefs.
Congressional leaders have agreed to maintain extended unemployment insurance (UI) benefits while reducing maximum benefit duration to one-and-a-half years. The legislation moves in the right direction, but in an improving labor market, Congress should go further.
Extending UI has helped some workers in difficult circumstances at the cost of increasing unemployment and the deficit. While there are valid humanitarian reasons to extend benefits in a recession, two years of benefits was excessive. Unemployment has now fallen to a three-year low, and new UI claims have fallen to a four-year low. Sixty weeks of benefits would be more appropriate at this stage of the recovery.
Unemployment Insurance
The UI system provides supplemental income to workers who lose their jobs through no fault of their own. State UI programs normally provide workers with up to six months (26 weeks) of benefits. During the recession, Congress added additional federal benefits. In many states, workers can now collect UI for up to 99 weeks—almost two years.
Providing longer UI benefits during a recession makes humanitarian sense; job loss becomes more costly when finding new work takes longer. Providing the same degree of insurance against hardship in a recession requires longer benefits. Additional benefits also provide workers with more resources and flexibility.
Longer Unemployment
However, extending benefits causes workers to stay unemployed longer. Labor economists have conclusively established this fact.[1] Even Alan Krueger, chairman of President Barack Obama's Council of Economic Advisers, agrees: "The empirical work on unemployment insurance (UI) and workers' compensation (WC) insurance finds that the programs tend to increase the length of time employees spend out of work."[2]
Some people prefer collecting UI to working. However, the main reason UI increases unemployment is because it changes how the unemployed search for jobs.[3] Workers with many months of benefits focus their search on jobs they prefer to find, which often means jobs that pay similarly to what they made before and/or are near where they live. When their UI benefits draw down, they widen their search.[4] Krueger finds that the amount of time that workers collecting UI spend job hunting triples when their benefits start to run out.
Regrettably, many of the jobs workers want will not return.[5] Excessive benefits encourage the unemployed to search for jobs that they are unlikely to find—keeping them unemployed longer.
Researchers from many institutions, including Federal Reserve banks, have examined how extending benefits to 99 weeks affected unemployment. They conclude that it has increased the unemployment rate by approximately 0.5 percentage points.[6] Mark Zandi, a prominent supporter of the stimulus, agrees.[7]
Improving Labor Market
Congress extended the maximum UI duration to 99 weeks in November 2009, a month after the unemployment rate peaked at 10.0 percent. Even given the state of the economy at the time, this was excessive. The labor market has subsequently improved, especially in recent months. Between August 2011 and January 2012, the unemployment rate fell from 9.1 percent to 8.3 percent. It now stands at its lowest level since February 2009.[8] New unemployment insurance claims have also fallen to an average of 366,000 a week, their lowest level since mid-2008.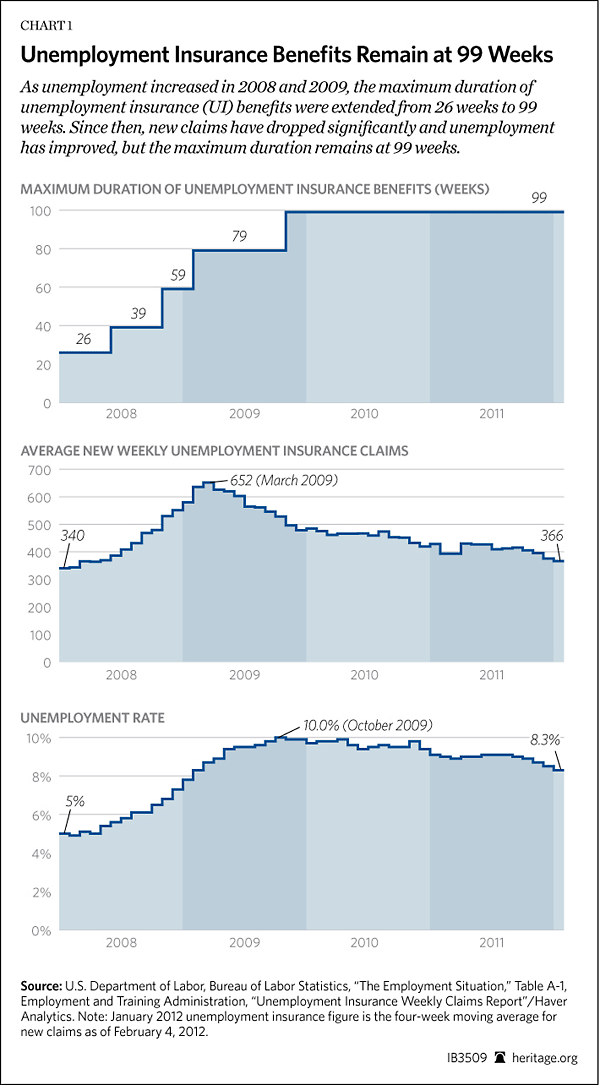 The recovery has proceeded far too slowly. Nonetheless, the labor market is noticeably stronger now than it was six months ago—and considerably stronger than when Congress put 99 weeks of benefits in place.
More Appropriate Duration
Congress should reduce UI duration to levels that are more appropriate for the improving labor market. This means more than six months but less than the current two years.
In a normal economy, the average unemployed worker is jobless for four months, and the government provides six months of UI coverage.[9] As of January 2012, the average unemployed worker had been jobless for 40 weeks.[10] Sixty weeks of UI coverage would be more appropriate to the slow recovery of the labor market. That amounts to a year and two months of benefits—more than double the normal level.
Congressional Compromise
Congressional negotiators have agreed to maintain extended UI benefits at a lower level. The compromise would gradually reduce the maximum duration of benefits to 73 weeks by September. That amounts to a year-and-a-half of benefits. Workers in states with unemployment rates below 9.0 percent would be eligible for up to 63 weeks of benefits.
This agreement is a step in the right direction. However, two years of benefits was excessive when passed, and a year-and-a-half of benefits in an improving labor market is still excessive.
Additional Reforms
The congressional compromise makes minor changes in the UI system beyond benefit duration. Congress would allow states to experiment with wage subsidy programs and to drug test certain UI recipients.
These are improvements, but Congress has missed an opportunity to make larger reforms. The UI system currently places little emphasis on returning the unemployed to work and has few safeguards to prevent abuse. The federal government does not require workers receiving federally extended benefits to search for work.[11] The compromise reforms do little to change these facts.
Substantial evidence suggests that tightening requirements can reduce the time that workers spend on UI. In the mid-1990s, Maryland conducted a series of experiments requiring some workers to search more extensively for jobs. These workers spent 5–8 percent less time on unemployment insurance.[12] Most UI recipients try hard to find new jobs. Stronger measures to screen out the minority who do not would save taxpayers billions of dollars.
The federal government should require workers claiming extended benefits to actively search for jobs and allow states to experiment with larger UI reforms aimed at getting the unemployed back to work sooner. Wage subsidies may not prove to be the best way to do this, and states should have the flexibility to try alternative approaches.
Excessive at This Stage
Extending unemployment insurance benefits has helped unemployed workers in a difficult economy. It has also increased unemployment and the deficit. Extending UI during a recession makes humanitarian sense, but two years of benefits was excessive when Congress passed it. A year-and-a-half of benefits in a recovering labor market is still excessive. A more appropriate level at this point in the ongoing slow recovery would be 60 weeks.
James Sherk is Senior Policy Analyst in Labor Economics in the Center for Data Analysis at The Heritage Foundation.