Abstract: In his third State of the Union address, President Obama, pointing to two years of job growth and the fastest job creation since 2005, argued that America's economy is roaring back. These positive numbers lack context: In normal economic times they would represent healthy growth, but in the aftermath of the worst recession in two generations they represent a historically slow recovery. New jobs have been created—but not nearly enough. Businesses remain hamstrung by government over-regulation—which directly affects the amount of employees they hire. Congress must remove artificial barriers to entrepreneurship and job creation, so that Americans will not have to suffer through high unemployment for years to come.
Presidential Optimism
In his State of the Union address on January 24, President Barack Obama argued that the U.S. economy is roaring back. He pointed to 22 consecutive months of private-sector job growth and the fastest net private-sector job creation since 2005. The January employment report showed further employment growth and a drop in the unemployment rate. New unemployment insurance claims have dropped nearly to a four-year low. The labor market is clearly stronger than it was a year ago. However, these positive numbers lack context.
The collapse of the housing bubble and the resulting financial crisis plunged the U.S. economy into a deep recession in 2008. Unemployment rose to 10 percent, and employers shed 8.8 million net jobs. The recession officially ended in June 2009, and the labor market has slowly begun to recover. Unemployment has gradually fallen to 8.5 percent. In March 2010, net job creation finally turned positive. Subsequently, employers created 3.2 million net new jobs.[1]
In the context of an already good economy, the recent job creation figures would be good news: In 2005, when the unemployment rate was only 5.1 percent, there were far fewer unemployed workers. Net job quarterly job growth in the last three quarters of 2005 averaged 5.8 percent of all workers who could be hired.[2] However, similar levels of job growth are less cause for celebration today.
The U.S. economy has great underlying resilience and will eventually recover from a recession. The important questions are how long that recovery takes and how fast the economy grows.
Generally job creation surges after a deep recession; entrepreneurs and investors find new productive work for the unemployed. For example, unemployment rose to 10.8 percent in the 1981–1982 recession. After that recession ended, hiring boomed. In the last three quarters of 1983, net hiring during each quarter averaged 6.8 percent of the available labor supply.[3] Millions of formerly unemployed workers found new jobs and unemployment rapidly returned to pre-recession levels. That has not happened in this current recovery. Instead, America has gone through the weakest recovery in more than half a century.
Slowest Recovery Since World War II
In every prior post-war recession, employment has fully recovered within four years. As of December 2011—four years after the recession's onset—payroll employment remains 4.0 percent below the number of workers employed when the recession started in December 2007. Private-sector employment is 4.5 percent below pre-recession levels.[4] That represents 5.6 million net fewer jobs; 5.2 million of those net job losses occurred in the private sector.
In the last quarter of 2011, net hiring amounted to only t4.0 percent of the available labor supply—more than 40 percent less than during the recovery in 1983. Employers have not been creating jobs at the same pace they normally do after a steep recession. They are not even hiring available workers at the same pace they did in 2005.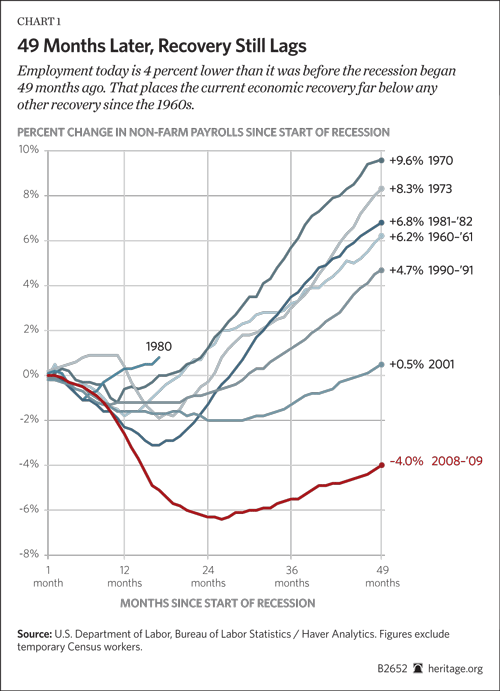 As a result, unemployment remains at 8.3 percent—lower than it was two years ago but still historically high. Unemployment did not rise to 8 percent after either the 2001 or 1991 recessions. Not since the sharp 1981–1982 recession has unemployment been so high.
Current Pace of Job Growth Implies Prolonged Unemployment
It is true that the economy has made progress, and the most recent jobs report (showing 243,000 net jobs added in January) was good news. Nonetheless, the current pace of job creation is not one to tout. At this rate it will take years for unemployment to recover.
Economists estimate that the "natural rate of unemployment" in the U.S. economy is 5.2 percent.[5] The Heritage Foundation used data from the Bureau of Labor Statistics[6] to calculate how long, with a given level of job creation, it would take unemployment to return to this natural rate.[7] These estimates are not a prediction of how quickly unemployment will fall; instead, they illustrate what different rates of monthly job creation mean for the speed of the labor market recovery.
If employers continue to create 243,000 net jobs per month—the same pace as in January 2012—the unemployment rate will be 7.3 percent in December 2012. At that pace, the unemployment rate will not return to normal levels (5.2 percent) for another three years—not until April 2015.
The payroll survey showed particularly strong growth in January 2012. If employers create jobs at the same average pace they have from September (when unemployment began to fall) to January —183,400 jobs per month—the unemployment rate will be at 7.8 percent in December 2013. At that pace, unemployment would not return to natural levels until January 2018. If employers create jobs at the same pace they did in 2005, unemployment will not return to normal levels until August 2016. The labor market has a long way to go.
Falling Labor Force Participation
Another sign of the sluggishness of the labor market is the decrease in labor force participation: Only 63.7 percent of adult Americans are active in the labor force (either employed or looking for a job)—the lowest amount since 1983, a time when far fewer women were working. Millions of Americans have simply stopped trying to work.
This is a worrying trend. Demographic factors caused labor force participation to peak in 2000 and gradually decline—as the baby boomers aged and started to retire, their labor force participation fell. Since the recession began, however, participation rates plunged by two percentage points—a drop that demographic factors do not explain.[8]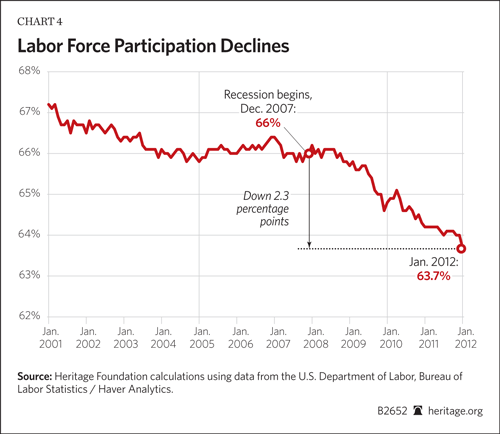 This phenomenon reduces the measured unemployment rate, because individuals who are not looking for work do not count as unemployed. The Congressional Budget Office (CBO) estimates that the unemployment rate would be 1.25 points higher if labor force participation had not unexpectedly declined.[9]
Unlike employment, labor force participation has not recovered in recent months. Millions of Americans remain out of the labor market. The unemployment rate does not reflect this labor market weakness.
Historic Low for Job Creation
The labor market remains weak because private-sector job creation remains near record lows. The Bureau of Labor Statistics (BLS) tracks total monthly hiring and separations (both layoffs and voluntary quits) in the economy. This figure is distinct from the net job creation figures that are reported each month.[10] Layoffs rose during the start of the recession but have since returned to pre-recession levels.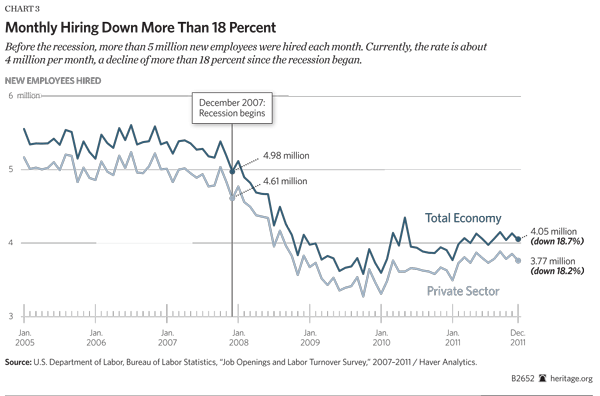 Unemployment remains high because hiring has fallen sharply and has only partially recovered. In December 2007, employers hired 5 million workers. By June 2009, hiring had fallen to 3.6 million workers. Since then, monthly hiring has risen to 4.0 million workers—still 900,000 (19 percent) fewer new monthly hires than before the recession began.[11] Fewer existing businesses are hiring, and fewer entrepreneurs are starting new businesses. As a result there are fewer jobs for the unemployed.
Improving the Business Climate
Congress and the Administration should take immediate action to encourage job creation. Successfully doing so requires understanding why employers create jobs. Businesses and entrepreneurs hire workers to take advantage of opportunities in order to create goods and services that consumers value—at a profit. Many government interventions in the economy reduce those opportunities. Small businesses currently identify taxes and government regulations as their most important problems.[12] Businesses are forward-looking and fear that Congress will raise taxes to cover the cost of the recent federal spending spree. The economy is struggling forward—against the government-applied parking breaks.
Congress and the Administration can encourage lasting job creation by allowing a better business climate to exist: Removing barriers to business success and reducing unnecessary costs encourages businesses to hire employees. The Heritage Foundation has already laid out a five-step plan that the government can follow to encourage business expansion:[13]
Adopt the pro-growth, job-creating New Flat Tax. The New Flat Tax abolishes the individual income, payroll, capital gains, dividends, estate, and corporate income taxes, replacing them with a simplified, single-rate tax on income after deducting savings (an expenditure tax) of individuals, and a single tax on the domestic net cash flow of businesses. These measures minimize the distortions of the tax code and encourage investment.
Allow expanded exploration, recovery, transport, and use of American fossil fuels. Such developments will enable additional investment in the domestic oil, gas, and coal industries. The additional energy production will also lower energy costs, further benefiting individual Americans and the economy as a whole.
Grant free-trade agreement negotiation authority to the President. Free trade benefits the economies of both trading partners as they realize gains from exchange. Expanding trade negotiating authority will facilitate more trade deals that will promote additional investment and job creation.
Cut over-regulation of the economy. Government regulations impose a significant burden on businesses, which often have to divert resources from productive investments in order to comply with government mandates. Federal agencies should receive congressional approval before implementing major new regulations.
Repeal the Davis–Bacon Act and prohibit government-mandated project labor agreements. Federal regulations artificially inflate the cost of government construction projects. By repealing these regulations, the taxpayers could, at the same cost, build more infrastructure, employing hundreds of thousands more workers in the process.
Conclusion
The current recession is the only recession in the post-war era in which employment has not returned to pre-recession levels four years after the recession's start. Private-sector hiring remains historically low. At current rates of job creation unemployment will not return to normal levels for another four and a half years.
Policymakers should not ignore this economic weakness. The government can significantly intervene in the economy and erect barriers to business success—or Congress can remove artificial barriers to entrepreneurship and encourage risk-taking and innovation. Americans do not have to settle for a slow economic recovery.
—James Sherk is Senior Policy Analyst in Labor Economics in the Center for Data Analysis at The Heritage Foundation.