Workers face many challenges in the aftermath of the Great Recession. Wages and job opportunities have grown slowly since the recovery began five years ago, while technology continues to change the nature of work. While many workers enjoy opportunities unimaginable a generation ago, many others feel the economy has left them behind.
Policies that make employees more skilled and productive could help these workers get ahead. Average compensation has closely tracked workers' productivity in the postwar era.
Regrettably, government policies have added to employment woes by creating labor cartels. Excessive occupational licensing makes it difficult for dislocated workers to apply for many jobs. Reduced competition from the unemployed raises the earnings of license holders at the expense of job opportunities and higher prices for everyone else. Such labor cartels hurt the economy and most workers.
To help workers get ahead, policymakers should remove these licensing barriers and focus on increasing worker productivity. Eliminating these distortions driven by special interests would help more workers to realize the American dream.
The 21st-Century U.S. Labor Market
The U.S. labor market deteriorated significantly during the Great Recession. Between April 2008 and October 2009, the unemployment rate doubled from 5.0 percent to 10.0 percent—the highest rate in more than three decades. During that time employers shed 8 million net jobs.[1]
Sluggish Recovery from the Great Recession. Unlike after previous severe recessions, the labor market did not quickly bounce back after the Great Recession. It took five years after the recovery's onset for the unemployment rate to fall to 6.3 percent—the highest rate after the 2001 recession. It also took five years for total employment to return its pre-recession level.[2] This is the slowest job recovery on record in the postwar era. It still takes unemployed workers an average of more than seven months to find new work.[3]
Yet even these lackluster figures overstate the economy's health. Labor force participation plunged during the recession and continued dropping in the recovery. Fewer Americans have a job or are looking for work now than at any point since the 1970s—a time when far fewer women worked outside the home. Demographic changes explain less than a quarter of this decrease. The labor force would swell by 5.4 million workers if those who dropped out of the labor force for non-demographic reasons began looking for work.[4] Overall, the economy remains weaker than the unemployment rate suggests.
Behind this labor market sluggishness lies a significant slowdown in job creation. Unemployment surged in 2008 and 2009 as many companies laid off employees en masse and curtailed hiring. Job losses quickly subsided after the recession ended, actually falling below pre-recession levels. However, hiring rates only partially recovered. Quarterly job creation remains 5 percent below pre-recession levels.[5] Entrepreneurs are starting fewer new businesses, while existing business owners continue to expand at slower rates.
Many factors contributed to the hiring slowdown. The collapse of the housing bubble and the ongoing economic weakness in the European Union would put a damper on the U.S. economy regardless of what American policymakers did, but Congress has added to the problem. The Affordable Care Act (Obamacare) has significantly raised the cost of health insurance, especially for small businesses whose health care exchanges face many of the same problems as the individual market. The Federal Reserve's Beige Book reports have frequently reported business owners citing the rising cost of health care as a reason for curtailed their hiring.[6] Federal Reserve surveys also find between one-sixth and one-fourth of manufacturers reporting that the law caused them to reduce hiring.[7] The Dodd–Frank Act has also significantly increased the cost to businesses of accessing capital markets.[8] Small-business owners now cite taxes and government regulations and red tape as their two greatest problems.[9]
Fewer companies hiring puts less pressure on businesses to raise wages. Since the recovery began, average hourly compensation has risen only 2 percent faster than inflation.[10] The weak economy has made it much harder for Americans to get ahead.
Technology and the Labor Market. These struggles come on top of underlying changes in the nature of work. Technology has enabled businesses to automate routine tasks that once required human labor. Programmers can break down many jobs into well-defined tasks that machines repeat quickly and accurately. Today, spreadsheets instantly complete calculations that once took accountants hours. Robots on the assembly line do much of the work that humans formerly performed. These technological changes have significantly changed the labor market.
Since 1980, relative employment in routine occupations has dropped sharply while relative employment in non-routine occupations has surged.[11] In other words, a smaller proportion of workers perform jobs involving doing the same thing over and over, while a larger proportion do jobs that can change significantly from moment to moment.
In part, economists attribute this shift to "skill-biased technological change." In English, this means that technology makes skilled workers even more productive so employers want to hire more of them. An engineer working with drafting software can design better systems than one using a pencil and paper. Manufacturers today need more technicians to keep the robots running. As technology has made skilled workers more productive, their wages and employment levels have risen. Between 1980 and 2005, the proportion of workers in occupations above the 60th percentile of skills (in 1980) grew considerably. Over this period, wages in these jobs also rose rapidly.[12]
Contrary to the skill-biased technological change hypothesis, employment and wages also grew rapidly in the least skilled occupations. The proportion of workers in occupations below the 15th percentile of skills (in 1980) expanded sharply between 1980 and 2005. For example, relative employment in truck driving, food service, and child care rose significantly. Wages in these occupations also rose faster than average.[13] At the same time the proportion of workers in moderately skilled occupations (between roughly the 15th and 60th percentiles) fell.[14] Inflation-adjusted wages in these jobs grew slower than average. Economists term this growth of high-skill and low-skill occupations "job polarization."
Technology has not significantly increased the productivity of truck drivers or child care workers. So why did demand for their services grow?
Computers can automate many routine tasks, both manual (e.g., the assembly line) and cognitive (e.g., accountants). These jobs tend to lie in the middle of the skill distribution. But computers cannot yet automate many non-routine tasks, both abstract (e.g., conducting a public relations campaign) or manual (e.g., cleaning a hotel room). Automation reduces the relative demand for routine skills and thus increases the relative demand for non-routine skills—of both types. Americans might want the latest iPhone app, but they also still want to eat out and stay in hotels. Computers still cannot perform these jobs. This shift in relative demand raised the relative pay and employment in less skilled, but non-routine, manual occupations as well as in highly skilled non-routine cognitive jobs.[15]
While many liberals would like to blame job polarization on the free market and the decline of labor unions, leading liberal academics reject these claims. Writing about job polarization for the left-wing Center for American Progress, MIT economist David Autor finds that these labor market changes have occurred not just in America, but around the developed world. Indeed, many European countries experienced greater job polarization over the past generation than America did. For example, Germany and Sweden have more state interference in their economies than America, yet their job markets have polarized more sharply.[16]
For the same reason, Autor does not attribute polarization to falling union density. Union membership did not decline as quickly in many EU nations as in America, but these countries' labor markets polarized just as strongly. Furthermore, job polarization occurred across the U.S. economy, not just in formerly heavily unionized occupations.[17] Liberals who argue increasing union strength or government regulations would reverse these trends do not have the facts on their side. The effects of technology on the labor market transcend national boundaries and government policy.
New Opportunities and Challenges for Workers. On balance, these changes in the labor market have benefited workers. Over the past generation, growth in high-skill, high-wage jobs considerably exceeded growth in less-skilled, low-wage jobs. The economy creates more "good jobs" now than a generation ago.[18] Consequently, compensation has risen for most workers. The earnings of nonelderly households in the middle quintile have risen by more than a fifth since 1979.[19] Moreover, the increased relative demand for less-skilled workers has considerably raised their pay. Congressional Budget Office data show that between 1979 and 2010 average real compensation rose by more than 40 percent among the bottom quintile of nonelderly households.[20] The economy creates better opportunities for low-skilled workers than it used to create.
Furthermore, substituting robots for workers on the assembly line automated many of the most dangerous jobs that people once performed. Workplace injury and death rates have fallen sharply in recent decades.[21] Automating routine tasks has removed some danger and drudgery of work.
Nonetheless, these changes have hurt many workers, particularly moderately skilled employees in routine jobs. Many middle-class workers who would have worked on an assembly line or in a clerical position can no longer find those jobs. The total number of high school graduates working in manufacturing dropped by more than a third between 1992 and 2009. The number of high school dropouts working for manufacturers dropped by almost half during the same period. Simultaneously, manufacturing employment of workers with advanced degrees increased by more than two-fifths.[22] While technology has increased living standards overall, it has made it harder for some Americans to find jobs comparable to those they used to hold.
These changes will probably continue for the foreseeable future. Computer programmers and engineers continue to push the envelope of what machines can do and what constitutes "routine" work. Jobs once viewed as impossible to automate now appear almost certain to be automated. Google has already developed self-driving cars—an innovation that will probably eliminate taxi driving within a few decades. California engineers have invented a machine that can cook almost 400 gourmet hamburgers per hour.[23] RFID tags could eliminate checkout aisles in stores, taking the jobs of many cashiers with them.
Particular Challenges for Low-Skilled Men. Men with fewer job skills face particular challenges in today's labor market. Technology has affected them especially strongly—far more men than women work in manufacturing, an industry especially conducive to automation. Many men formerly employed in routine manufacturing occupations moved into the construction sector, only to see those jobs vanish along with the housing bubble.
Moreover, social changes since the 1970s have brought women into the labor market en masse. Over the successive decades women have shattered glass ceiling after glass ceiling, competing for jobs that were once the exclusive domain of men.
A supply and demand model would predict that increased employer demand for female employees would raise women's wages. It also predicts that large numbers of new workers competing for jobs would put downward pressure on men's pay. The Congressional Budget Office finds exactly that happened. Between 1979 and 2009 the real wages of the median male worker rose just 8 percent, while the real wages of the median female workers increased 37 percent.[24] While the overall labor market has improved over the past generation, many men understandably feel this growth has left them behind.
The Need to Boost Productivity in the U.S.
The challenge facing struggling middle-class workers remains how to become more skilled or find more new ways to use their existing skills productively in a changing economy. If they do, their pay will rise commensurately. Policymakers need to pursue policies that will help workers do this.
Average Pay Closely Follows Productivity. Many on the left contend that workers' pay has grown disconnected from their productivity. They argue that workers have grown more and more productive over the past generation, yet have seen barely any increase in their pay. A superficial analysis of the data appears to support their argument. Between 1973 and 2014, productivity more than doubled while a prominent government survey finds wages stagnated. Many on the left look at these figures and conclude employers have expropriated the wealth their employees have created.[25]
However, these wage and productivity figures come from different surveys that are not directly comparable. Making an apples-to-apples comparison requires looking at total compensation, not just cash wages, and adjusting pay and productivity with the same measure of inflation.[26] Noncash benefits have become an increasingly large share of workers' earnings over the past generation. Furthermore, a large part of the apparent gap between productivity and pay stems from differences in the methodologies used to adjust for inflation. This says more about differences in mathematical formulas than anything else.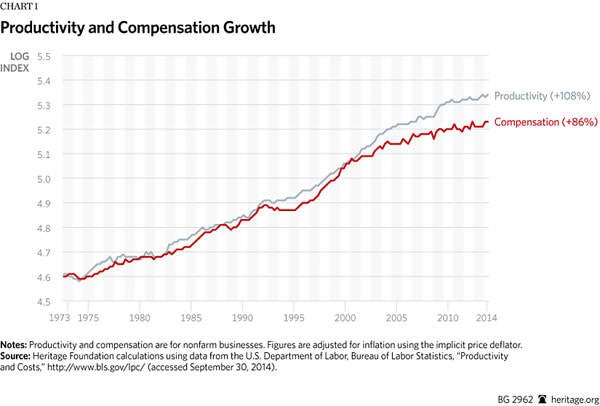 Chart 1 shows the real relationship between worker compensation and productivity. While productivity has more than doubled over the past 41 years, average hourly compensation has risen almost as fast—86 percent.
The remaining difference still overstates the gap between pay and productivity. Chart 1 does not account for depreciation. Computers and robots break down—or become obsolete—faster than buildings. Depreciation rates have increased as businesses have increased their use of technology. This reduces net income available to pay workers without affecting gross productivity. As the liberal economist Dean Baker put it, "[N]o one can eat depreciation."[27] Faster depreciation accounts for one-fourth to one-half of the remaining gap.[28]
Federal Reserve Board economists also believe that the official statistics overestimate productivity growth. They find that problems with how the government measures prices causes savings from using inexpensive imports to show up as productivity gains.[29] Some or all of the remaining gap between measured pay and productivity is a statistical illusion: Productivity has not grown quite as fast as the official figures suggest.
Average pay has closely followed average productivity over the past generation. On the whole, employees have been paid according to the value they have created. Workers have generally received the fruits of their labor.
Average Earnings vs. Typical Earnings. The primary problem is that the productivity growth of many workers has lagged well behind the average. The earnings of many households have not risen nearly as quickly as the pay of the "average household." Table 1 shows Congressional Budget Office (CBO) data on (inflation-adjusted) compensation growth among nonelderly households without children between 1979 and 2010.[30] These figures report only market income. They do not include either changes in taxes or government benefits.[31]
Americans at all income levels have grown wealthier over the past generation. The poor and middle class grew along with those at the top. However, earnings grew fastest at the top and bottom of the income distribution, with slower growth in the middle. The pay of workers with routine skills has grown more slowly as technology has reduced their relative productivity. The CBO's data illustrate the polarization of earnings as well as employment.
The Disappointing 2000s. Moreover, labor market conditions slowed for most workers in the 2000s. Employment in less-skilled jobs has continued to grow, but the supply of workers willing to fill those jobs has risen commensurately. Thus, while job polarization produced rapidly rising wages in lower-skill jobs in the 1980s and 1990s, wage growth in these occupations has slowed significantly since the tech bubble burst.[32]
The labor market's woes have also affected more highly skilled workers. The proportion of workers in "high-skill" jobs declined slightly in the 2000s. While employers want to hire many more highly skilled workers than they hired in the 1980s, the proportion of workers in these occupations has fallen slightly since the peak of the tech bubble. Employers appear to have "overinvested" in highly skilled workers and have found that they do not need quite as many as previously believed.[33]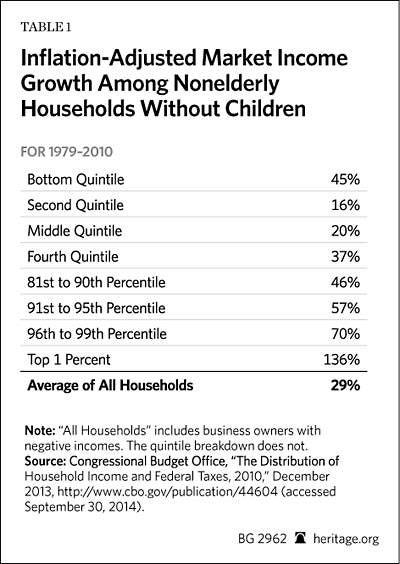 However, the supply of highly educated workers has not decreased. As a result, wage growth among new college graduates also stalled in the 2000s. Many college graduates have had to accept moderately skilled jobs that do not require a college degree, pushing the workers who would have filled those jobs into less skilled positions.[34] Even many well-educated workers now worry about their prospects in today's labor market.
Labor Policy and Occupational Licensing
Regrettably, many government policies have made the labor market even less hospitable to displaced workers. For example, nearly every state engages in widespread occupational licensing.
For some occupations this makes perfect sense. Mandatory government-imposed qualifications can protect consumers from quacks who could endanger health or safety. No one wants a poorly trained surgeon operating on them or an uneducated pharmacist filling their prescription. However, occupational licensing now extends far beyond jobs with serious health and safety concerns. One-third of all jobs in the economy now require a government license to work in them.[35]
For example, all 50 states license cosmetologists, and every state except Alabama licenses barbers. On average, workers must complete more than a year of training before applying for either job.[36] Yet these licenses do nothing to protect public safety. Unlicensed hair braiders pose no health risk. Nor do states need licensing to protect quality. Consumers can easily shop around, and for most men the difference between a good haircut and a bad haircut is three weeks.
Further, many occupations are licensed in only some states, suggesting the remaining states found licensing unnecessary. In 39 states, working as a massage therapist requires a license, 24 states license school sports coaches, 13 states require government permission to bartend, three states and the District of Columbia license interior designers, and Louisiana licenses florists.[37] Apparently, the 49 other states see no compelling need to protect consumers from ugly flower arrangements.
Licensing requirements also vary considerably from state to state. For example, 10 states require landscaping contractors to be licensed. Some of these states have moderate requirements, such as Arkansas, which requires an application and $150 fee. Others, such as North Carolina, make it quite onerous by requiring three years of study or experience in the field before becoming a contractor. Nearby Tennessee does not license landscape contractors at all.[38] If residents face genuine safety risks, why would three nearby states have such radically different legal requirements for the same job?
Licensing Creates a Labor Cartel. In fact, researchers find that most pressure to license an occupation comes from its practitioners, not the public. Professional associations frequently lobby state legislatures to impose licensing requirements on their occupation. These laws often "grandfather" existing practitioners, exempting them from the new standards.[39]
Why would anyone want the government to make it harder to work in their field?
Licensing reduces the competition by making entry into the licensed occupation more difficult. This locks out many prospective job seekers. Laid-off workers in Alabama could start cutting hair for a living the next day. If they lived in Tennessee, they would first need to study for 1,500 hours in a registered barber school.[40] Very few unemployed workers can afford either the time or the tuition to do that. Licensing reduces the supply of potential workers in an occupation. This in turn drives up the wages of those who remain.
Economists have a term for an institution that restricts the supply of a good or service in order to raise its price: a cartel. Just as OPEC reduces the oil supply to drive up its price, licensing restricts access to jobs in order to raise wages.
Occupational licensing benefits those inside the cartel. Economists estimate that it inflates wages in regulated occupations by an average of 18 percent.[41] However, as with all cartels, these gains come at the cost of even greater losses to the rest of society.
Excessive licensing hurts those without licenses in two ways. First, the inflated wages are passed onto consumers in the form of higher prices. Second, unnecessary licensing freezes out many unemployed workers from job opportunities. The government has effectively walled off one-third of the economy to them. They cannot apply to work as a barber, florist (in Louisiana), or landscape contractor without jumping through expensive hoops. As a result, they look for work in jobs with fewer openings and that are a poorer fit. The increased supply of workers pushed into unlicensed occupations also drives down wages in those jobs. Excess licensing forces the unemployed to look longer for work and accept lower wages when they find it.
Labor economists have found that the economic losses to the workers outside a labor cartel exceed the gains to the members inside it.[42] In the aggregate, excessive licensing harms consumers and job seekers more than it benefits licensed employees. Licensing redistributes income from less-well-paid unlicensed workers to more highly paid licensed workers, with additional economic losses coming from inefficiently high prices, longer job searches, and poorer job matches.
Those with occupational licenses like this arrangement. Professional associations fiercely resist any attempt to remove licensing requirements, but the evidence shows most occupational licenses do little to protect safety or improve quality.[43] Instead, licenses primarily redistribute income to politically favored insiders at the expense of those with less political clout. In public choice terminology, licensing is a form of "rent seeking."
The government could improve job opportunities and welfare throughout the economy by scaling back licensing requirements. This would expand opportunity for those harmed by the slow recovery or increasing automation. Reducing artificial barriers to work would give them more ways to get ahead.
Even liberal economists recognize this. Alan Kreuger and Morris Kleiner have done some of the best academic research on the problem of excessive licensing.[44] Krueger served as the chairman of President Obama's Council of Economic Advisers. Kleiner sits as the AFL-CIO Chair of Labor Policy in the Humphrey School of Public Policy at the University of Minnesota. Prominent liberal activists Dean Baker and Matthew Yglesias have also called for scaling back licensing.[45]
Labor Unions: Labor Cartels. Perhaps surprisingly, most liberal activists—including many who recognize the damage of excessive licensing—prescribe reinvigorating another type of labor cartel to boost job opportunities: unions. Private-sector union density has fallen below 7 percent—a two-thirds drop in the past generation.[46] Liberal economists argue that expanding union membership would improve opportunities for workers. They support questionable measures, such as eliminating secret ballots in union elections to increase union membership.[47] Indeed, rejuvenating union membership has become a central labor policy prescription from the left.
However, labor unions raise wages the same way that occupational licenses do—by creating a labor cartel that restricts access to jobs. Like occupational licenses, unions reduce the labor supply. While licenses directly reduce employment, which then raises wages, unions directly increase wages, which reduces the number of workers that companies hire. Both approaches have the same economic consequences: higher wages in unionized industries at the cost of fewer jobs, higher prices, and lower wages in non-union firms. As with occupational licenses, the union labor cartel benefits its members at the cost of greater losses to everyone else.[48]
For example, the Detroit automakers General Motors, Ford, and Chrysler once comprised nearly the entire U.S. auto market. The United Auto Workers (UAW) in turn organized almost their entire workforces. This gave the union a monopoly on hourly labor in the auto industry. Unless the automakers paid what the union demanded, the workers would strike. The Big Three repeatedly caved to union demands. Until the financial crisis, the automakers paid more than $70 an hour in wages and benefits.[49]
UAW members benefitted tremendously from their union's monopoly. Many high school graduates in Detroit earned more than scientists with PhDs.[50] However, the union also made American drivers poorer. The union premium added roughly $800 to the cost of every Detroit vehicle.[51] The automakers passed those costs onto consumers, and drivers paid higher monthly car payments. These higher costs also priced a new vehicle out of reach for many Americans. Consequently, the automakers sold fewer cars and needed fewer workers, as did their (potentially non-union) suppliers in the steel, plastic, and other industries. The workers who would have been employed in the auto industry and its suppliers worked elsewhere, slightly reducing wages in those sectors.[52]
The UAW's monopoly on auto labor meant higher wages for its members, but higher prices, fewer cars, and fewer jobs in the auto industry and lower wages outside it. Unions are labor cartels that benefit their members at the expense of society.
Competition Undermines Cartels. Fortunately, competition has undermined the union cartel. When non-union competitors enter a market, their lower costs enable them to sell at lower prices. Unionized companies must match these prices—and costs—or they lose customers. Thus, non-union competition limits the power of unions to benefit their members at the expense of others.
Detroit again illustrates this. Starting in the late 1970s foreign automakers gave Americans the choice to buy less expensive cars made by non-union workers, and car buyers voted with their wallets. "Foreign" nameplates—many built in the U.S. with American workers—now sell a majority of vehicles in the U.S.[53] Competition meant more affordable cars, lower costs for consumers, more jobs, and the collapse of unionized Detroit.[54] UAW members now enjoy much less generous benefit packages. New hires in Detroit actually make less than their non-union counterparts in the foreign automakers.[55]
Over the past generation, deregulation and free trade have made the American economy much more competitive. As a result, the union movement no longer has much power to impose costs on others to benefit its members. Studies find wages do not rise at most newly unionized companies.[56]
Despite liberal laments, the decline of unions has benefitted most workers. Unions do not—and cannot—simply redistribute from "the rich." While unions harm businesses' profitability, they also hurt low-income and middle-income workers. The higher prices imposed by unions hurt rich, poor, and middle-class consumers alike, but lower-income workers feel the sting of price increases more acutely. Restricting jobs in unionized companies reduces demand in related industries and pushes more workers into the non-union sector. Both effects depress the pay of non-union employees.[57] Most of the income that unions redistribute comes from other workers, not stockowners.
Policy Reforms
Creating labor cartels—whether through occupational licensing or unions—will not produce general prosperity. Government should get out of the business of mandating such restraints on trade. Instead, policymakers should make it easier and less expensive for workers to increase their skills and productivity. Policymakers should make reform of basic education a high priority, and the government should make it less difficult for workers to acquire the more advanced skills needed by today's employers.
At the same time, the government should make it easier for workers to use their existing skills more productively. Not every worker needs a college degree. The government should expand access to new job opportunities to help current workers get ahead. The government should relax or eliminate policies that unnecessarily restrain innovation and investment in key sectors, such as energy production.
Boosting U.S. Productivity. Education and skills have become much more important in today's economy. Helping current and prospective workers become more skilled would do much more for them than almost any other policy. Workers' pay has tracked their productivity over the past generation. As employees have become more productive, market forces have compelled businesses to pay them more.
The government can take many steps to help, most importantly by improving public education and making college less expensive:
Reforming K–12 education. Too many American schools fail to prepare their students for the modern workforce. One-fourth of U.S. 12th graders read below a basic level.[58] One in seven American adults are functionally illiterate.[59] Anyone lacking basic reading skills will have great difficulty getting ahead. States should immediately end education policies, such as extremely onerous firing procedures, that serve the adults who run public schools at the expense of the children who need to learn. Union job protections make it prohibitively difficult for schools to remove ineffective teachers. Economists have found that replacing the 5 percent to 8 percent of least effective teachers with average quality teachers would dramatically increase the lifetime earnings of their students.[60]
Expanding access to charter and private schools. Opportunity scholarships and charter schools expand educational options, enabling parents to send their children to schools better suited to them. This makes them more productive workers as adults. Researchers find that students who have scholarships to attend private schools or who attend public charter schools are much more likely to graduate high school.[61] A new Mathematica study also found that going to charter schools increases children's earnings as adults. The researchers found that Florida youth who enrolled in charter high schools earned an average of 12.7 percent more—more than $2,300 per year—when they reached their mid-20s.[62] Improving education makes workers more productive, which raises their earnings.
Reducing the cost of higher education. Technology has made non-routine cognitive, social, and analytical skills more important than ever before. A college degree has become a prerequisite for most high-paying jobs in the economy. This has dramatically increased the demand to attend college over the past generation. Regrettably, the supply of college openings has increased only modestly. Federal accreditation requirements make starting a new school very expensive. This combination of rising demand and limited supply has combined to send college tuition costs surging. As Stuart Butler and Lindsey Burke have written, the government should reform accreditation to increase access to college education, while ensuring state regulators do not stop low-cost innovations such as Massively Open Online Courses, which could make education dramatically less expensive.[63] Lower costs would facilitate gaining the skills and productivity that enable workers to earn more.
New Uses for Existing Skills. Reforming the U.S. education system to help students learn more effectively would make them more productive workers as adults, but such reforms would address only part of the problems in the labor market. Employers do not need every worker to have a college degree, as the recent stagnation in pay for college graduates attests. Moreover, going back to school makes little sense for many workers. Policymakers can further improve the labor market by creating new opportunities for workers to use their existing skills more productively. Such policies include:
Breaking down licensing barriers. States should replace most occupational licenses with certification systems. Under a certification system, practitioners can complete criteria to advertise themselves as government certified. However, certification does not prevent uncertified practitioners from working. They simply cannot advertise themselves as certified. Certification eliminates the labor cartel that occupational licenses create, while providing a signal of quality to consumers. States should establish legal frameworks to determine whether a sufficiently pressing health or safety risk outweighs the negative effects of licensing. Almost any job could involve some safety risk, but that does not justify walling off those occupations to job seekers. The government should only license occupations with pressing health or safety risks. This would expand the non-routine job opportunities available to workers with routine skills displaced by modern technology. It would enable them to move into jobs in which they can use their existing skills more productively.
An open environment for innovation. New innovations are creating jobs for tens of thousands of Americans. Food trucks have enabled Americans without the capital to open a brick-and-mortar restaurant to start their own restaurants. UberX has enabled many ordinary car owners to make tens of thousands of dollars outside their regular jobs.[64] Such innovations enable workers who might otherwise face bleak job prospects to get ahead. Regrettably, existing businesses do not like the competition. Restaurant associations have heavily lobbied local governments to zone food trucks out of existence. Taxi associations have successfully persuaded some cities, including Seattle and Miami, to ban UberX. Americans should not need their competitors' permission to work, and the government should stop suppressing disruptive innovations that have enabled tens of thousands of workers to get ahead.
Expanding domestic energy production. Oil and natural gas drilling requires extensive non-routine manual labor. Many workers displaced from factories or the construction sector could earn a good living in the energy-extraction sector. America has trillions of dollars of oil and natural gas. Regrettably, federal policy has locked vast quantities of these resources away from production. Congress should open more federal lands to oil and natural gas production, while requiring regulatory agencies to quickly approve permits for new oil and gas pipelines and liquid natural gas export terminals. This would create hundreds of thousands of new, relatively high-paying blue-collar jobs for workers with manual skills.
Conclusion
The labor market has changed dramatically over the past generation. Computers have automated many of tasks that humans once performed, while women have entered the labor market in large numbers. On the whole, these changes have benefited workers, especially women. Yet these changes have hurt many workers, particularly men with routine skills. Moreover, the Great Recession and the slow recovery following it have harmed the job prospects of workers across the country.
Government policies have also added to the challenges facing displaced workers. Excessive occupational licensing creates labor cartels that benefit some workers at the expense of society overall. The unemployed need government licenses to apply for one-third of jobs in the economy, including jobs such as barbers that present few health risks. These cartels raise wages in occupations by making it harder for the unemployed to enter them.
The government should not try to raise wages by restricting access to jobs through either licensing or union cartels. Instead, policymakers should help workers to increase their skills or use their existing skills more effectively. Workers' pay has closely tracked their productivity over the past generation. Reforms to increase the quality and reduce the cost of education would expand opportunity for millions of workers. Further reforms—such as eliminating unneeded licensing, expanding domestic energy production, and breaking down barriers to innovation—would help many more workers to get ahead.
The government should stop hindering workers who are trying to achieve the American Dream.
—James Sherk is Senior Policy Analyst in Labor Economics in the Center for Data Analysis, of the Institute for Economic Freedom and Opportunity, at The Heritage Foundation.