The countries of Latin America so far have escaped the worst public health consequences of the worldwide COVID-19 pandemic. Economic damage, however, is already substantial, and has been greatest for Latin America's most market-oriented countries. 
Most prominently hurt has been Chile's export-oriented economy, which is ranked No. 15 out of 180 countries scored in The Heritage Foundation's 2020 Index of Economic Freedom.
Reuters reported: "Chile's heavy reliance on the export of commodities, especially copper, make it particularly vulnerable to weaker demand from China, its main trading partner and the world's largest buyer of commodities."  
A report from Bloomberg News added that in addition to copper, exports of Chilean food products such as vegetables, fruits, and farmed Atlantic salmon also have suffered.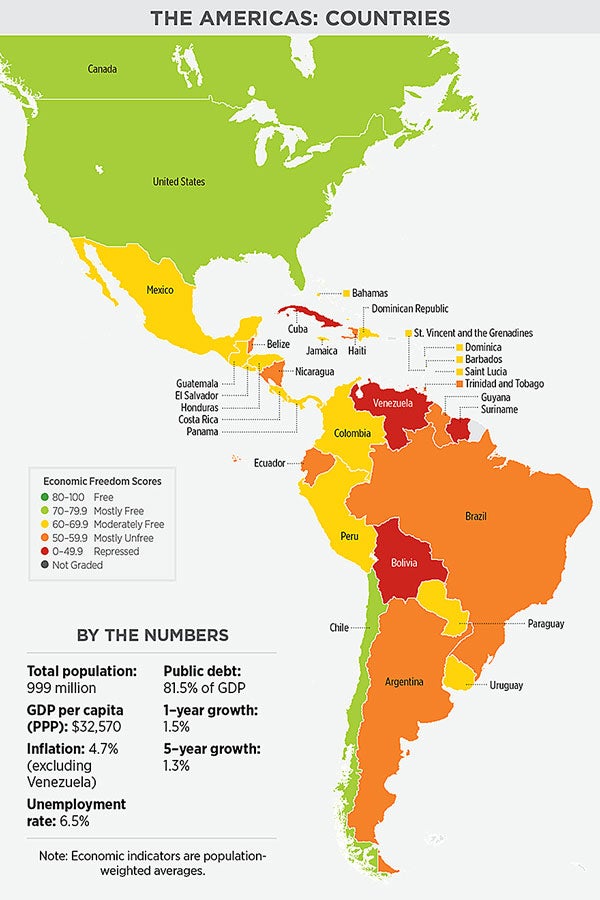 (Graphic: 2020 Index of Economic Freedom)
Peru's economy (No. 51 in the index and eighth out of 32 countries in the Americas) also has been hard hit. According to Americas Quarterly, Peru derives 5% of its gross domestic product from exports to China of minerals and other products, second only to Chile.
Likewise for oil-exporting Colombia, No. 45, with more than 1% of GDP from trade with China. That's certainly an unwelcome development for a country already besieged for several years by millions of asylum-seekers due to a refugee and migrant exodus from Venezuela, No. 179, where a tyrannical socialist regime has produced the least economic freedom in the world.
Brazil (No. 144 in the index) has been on the upswing since the market-oriented government of President Jair Bolsonaro took office last year after more than a decade of heavy-handed statism. 
But Brazil also has been adversely affected by a drop in mineral exports and lower global oil prices, which will dent the revenue of state-owned giant Petrobras. COVID-19 is poised to hit the country hard.
The economy of Ecuador (No. 158), which President Lenin Moreno has put back on the path to economic freedom after years of disastrous, Venezuelan-style socialist policies, also has been sidetracked by slack demand and lower oil prices. 
According to Yahoo Finance, Ecuador's major exports, such as oil, fruits, and cut flowers, have been affected. 
Mexico (No. 67), which took a hard turn to the left in December 2018 when President Andres Manuel Lopez Obrador took office, has been less dependent on China than other countries. But, Forbes reports, the Mexican economy is experiencing collateral damage from the partial shutdown of the U.S. economy.
Amid all the gloom, however, there is room for optimism and hope.  
It's no surprise that the Latin American market democracies that are most heavily dependent on trade and investment with China have suffered notable economic damage from the virus-driven slowdown of that Asian giant.  
Those countries, however, also have greater resources to respond to the COVID-19 pandemic due to their generally higher levels of economic freedom. In the longer term, the relative openness of these nations to trade and investment will stand them in good stead. 
Meanwhile, Latin American countries should include in their policy response to this external economic shock needed reforms to improve the rule of law, business freedom, and labor freedom.
Let's hope their recoveries begin soon.
This piece originally appeared in The Daily Signal