Maurice Kuykendoll grew up on the west side of Chicago, one of the most dangerous areas in the city. He easily could have gone down the path of crime, drugs, and gangs, as many children in this neighborhood did, but Kuykendoll's parents had a different plan for their children.
"My parents worked very, very hard to leverage education as the key to upward mobility," he says. "So my brother and I went to very good magnet schools in the city."
That decision was a good one. Unlike most of his childhood friends, Kuykendoll and his brother succeeded academically and went to college. But while everything looked good on paper, there was a disconnect in their lives.
"We were living two lives," Kuykendoll says. "We went to a black church and I had black friends and we were in a black family, and then five days a week we'd go off to this school somewhere in another neighborhood."
As difficult as the arrangement sometimes was, Kuykendoll went on to obtain a full scholarship to Hampton University in southeastern Virginia, where he became one of the top-
performing students in his class.
"We're kind of on the climb in our generation, even within our family unit, to something better," he says. "But what that meant and looked like and how it operated was still relatively undefined."
That's because growing up in inner-city Chicago, Kuykendoll rarely brushed shoulders with African-American leaders in business, politics, or culture.
Kuykendoll lacked the networks that wealthier students often had, such as the resources to fund internships that lead to jobs. But during his junior year at Hampton University, Kuykendoll received a break: the opportunity to connect with some of the most successful African-American leaders in the Virginia region and the country.
Building Skills
The opportunity came in the form of a letter from The Gloucester Institute, asking him to join its inaugural class of Emerging Leaders.
"I had no idea who these people were," Kuykendoll says. But, not wanting to pass up a good opportunity, Kuykendoll and a few friends packed their bags and made the hour-long drive from Hampton University to Cappahosic, Virginia, to spend the weekend hearing from people like Ken Blackwell, a former Republican secretary of state for Ohio and now a senior fellow at the Family Research Council.
The program seeks to connect with accomplished students from liberal and conservative perspectives, and engage them in civil, respectful discussions surrounding the important policy questions of our day.
"We actually sat in the car for a while to decide if we wanted to go in," Kuykendoll says of his arrival at the Robert Russa Moton House, which was still undergoing renovations for its first group of students. "The outside was not the kind of place where we thought we should be spending our weekend."
The Gloucester Institute nurtures and trains promising African-American young leaders through a variety of fellowships, seminars, and meet-ups.
Separating itself from other organizations that strive to help minority students, The Gloucester Institute selects from the highest-performing African-American students—those who are already destined to be leaders in their chosen fields.
One goal of The Gloucester Institute is to equip students with the community connections and competitive edge they need to go on to become community, business, and national leaders.
"These are students who are the achievers and leaders on their campuses and who will more than likely be the leaders and achievers in the future," says Martin Brown, executive director at The Gloucester Institute. Part of his job is to work with colleges to find their best and brightest.
These students, Brown says, "are capable in their hard skills but not in their soft skills."
Their hard skills get them hired but their soft skills get them fired. One of the things we started implementing at Gloucester was a character program where they have to write about and speak about and understand different character principles like virtue, and responsibility, and the meaning of loyalty—things that made our country great.
Another goal is to expose students to people and ideas The Gloucester Institute believes will create a better future for minorities and the country as a whole. Among those ideas are educational freedom, immigration reform, tax cuts, and preservation of the family.
"We're not associated with any party or any movement," says Kay Coles James, founder of The Gloucester Institute. She adds:
But it should surprise no one that if you want to solve the problem of educational disparities, then you have to look at issues like school choice. It should surprise no one that if you want to know how to resolve the problems of entitlements in our country, then we have to look at ways of making people self-sufficient and independent. I can go right down the list of issues.
Carrying the Torch
While Kuykendoll would not see the Moton House fully renovated until after his fellowship ended, his semester in Cappahosic allowed him to experience it as generations of African-American leaders before him had—as a place of fellowship, inspiration, and strength for the battles ahead.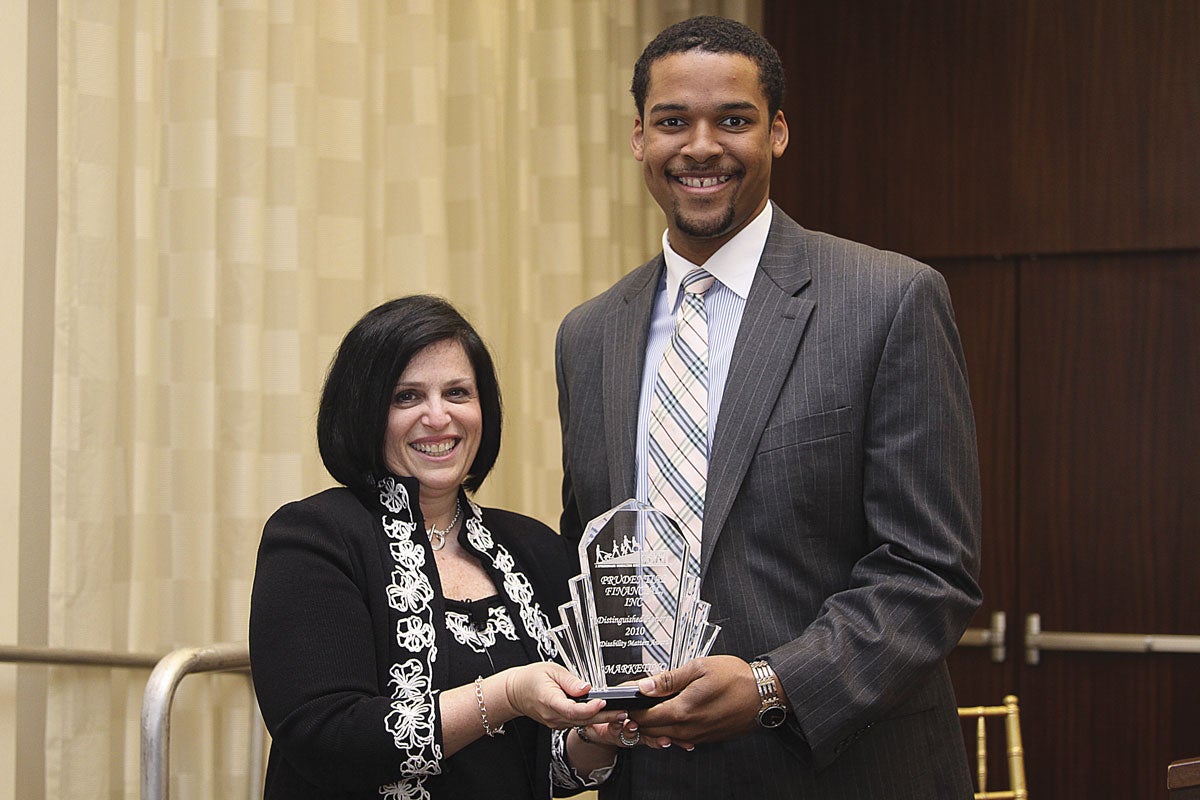 GLOUCESTER INSTITUTE alumnus Maurice Kuykendall accepts a Marketplace Award on behalf of Prudential Financial, Inc., from Springboard Consulting's Nadine Vogel at the 2010 Disability Matters North America Conference.
credit: SPRINGBOARD CONSULTING, LLC AND THE 2010 DISABILITY MATTERS NORTH AMERICA CONFERENCE & AWARDS
In 1935, Robert Russa Moton, a black educator and civil rights leader, built a large retirement manor on the banks of the York River in Gloucester County. This is the house that would eventually be known as the Moton House, but it was known then as Holly Knoll—a moniker still used today as well.
"His purpose in building such a large retirement home was to have a safe place not only for people to come and debate the issues of the day but to also have a retreat center for the presidents of historically black colleges and universities," says Brown. "Because during that time, they weren't allowed to go anywhere else. They were limited to homes of others."
Moton was the second president of the Tuskegee Institute, taking over for its famed founder, Booker T. Washington, in 1915. Washington was deeply impressed by Moton, and said of his eventual successor, "It has been through contact with men like Major Moton—clean, wholesome, high-souled gentlemen [ … ]—that I have received a kind of education no books could impart."
Moton lived at Holly Knoll only five years until his death in 1940, but his work helped lay the foundation for the civil rights movement. Indeed, Holly Knoll would continue to serve the leaders who would turn the civil rights movement into a national force.
For example, Moton's son-in-law, Frederick Douglass Patterson, took over the property and used it to promote the education of young, black Americans. With the help of other activists, Patterson spearheaded the creation of the United Negro College Fund, which grants scholarships to students so they may attend historically black colleges and universities.
The home continued to be a safe harbor for African- Americans throughout the civil rights era. In 1960, four North Carolina A&T students met at Holly Knoll to plan a protest of the segregated lunch counters at Woolworth's department store in Greensboro, North Carolina. By asking for lunch and refusing to leave when denied service, the "Greensboro Four" inspired a sit-in movement that spread to 55 cities in 13 states over the next few months.
Martin Luther King, Jr., visited Holly Knoll many times. On one visit, a brief rest stop, he was preparing to deliver his "I Have a Dream" speech at the 1963 March on Washington.
Holly Knoll was listed in the National Register of Historic Places in 1981. By that time however, the property was largely abandoned and stood vacant until 1995, when a couple purchased the home and attempted a restoration. However, Holly Knoll didn't receive a full-fledged renovation until it was purchased by Charles and Kay Coles James in 2005.
Engaging with Ideas
Through The Gloucester Institute, Holly Knoll continues today as a safe place for learning and debating the issues of the day. But while African-Americans of generations past faced very real threats to their physical safety on a daily basis, many of today's students clamor for a different kind of safe space. For them, the term "safe space" means not a refuge against those who would assault them or worse; rather it means a refuge against those who would challenge their ideas.
That, says James, is most emphatically not what The Gloucester Institute offers. "I just had this conversation with students who were debating with me, claiming that we need safe spaces on college campuses," James says. "They actually want physical safe spaces where they can go. And I said: 'Sweetie, I'm trying to raise you to be in a place where your safe space is within you. You just need to go internally because it's a tough, difficult, cruel world out there.' We're trying to raise war fighters, not snowflakes."
The task is not easy. "You can't expect one interaction to turn it around," James says. "That's why it's a year-long program with lots of conversations."
The most well-known program at The Gloucester Institute, the Emerging Leaders Program, runs for an entire school year, taking a group of 20 to 25 students and fostering their personal development in the public, political, and nonprofit realms. Students spend one weekend a month at the Moton campus, typically coming from nearby colleges such as Hampton University, Virginia Union University, or Virginia State.
Other programs at The Gloucester Institute include the Moton Fellowship, which pays undergrads a $1,500 stipend to spend the summer in the Washington, D.C., area experiencing one-on-one coaching and mentoring from experts in their field.
In each of these programs, The Gloucester Institute brings in minority leaders from diverse backgrounds and perspectives, such as former Congressman J. C. Watts, R-Okla., Rep. Bobby Scott, D-Va., conservative leader Ken Blackwell, former Secretary of Education Rod Paige, and former CEO of Popeyes Louisiana Kitchen Cheryl Bachelder.
"When I got summer internships—for instance at PricewaterhouseCoopers—there weren't a lot of black leaders at public accounting firms," Kuykendoll says.
Meeting minority leaders face-to-face and seeing them invest in his career was a big step.
"That was a really important piece of me getting to where I am, but it was hard for me to know I didn't have that until it appeared," he says, adding:
I had a person who was on the board of a major public company who I could call and say: "I got invited to the board meeting. What should I say? What shouldn't I say? What are they going to care about? What are they not interested in? What's the right level of detail?" That's what really makes a difference, that those people were there and they were accessible to me. I had a model, and I had an adviser.
"Leadership development is a really important part of making the transition from high potential into highly effective," Kuykendoll says, adding:
Working with students who are smart, who are driven, who have what it takes on the standard metrics, who need just a little bit of coaching, a little bit of polish, some different exposure, the institute can build a cadre of leaders and get a critical mass across industry, business, and politics.
Finding Solutions
Kuykendoll is a conservative. Many students who go through The Gloucester Institute are not, including his best friend who started the program alongside him. "I'm still conservative and he's still not, but we're still best friends in a lot of ways because we went through the program together," Kuykendoll says.
James is an accomplished and dedicated conservative. She held positions in the Reagan administration and both Bush administrations, served under Virginia Governor George Allen, and was dean of Regent University's government school. Shortly before Christmas, she was named president of The Heritage Foundation. In her own life, she welcomes discussion and debate with people who identify as liberal, which is precisely what she hopes to foster inside the Moton House.
"You don't have to be a conservative in The Gloucester Institute," says James. "You have to be respectful and logical and well-reasoned and go with the conclusion that you think is right for you but not demagogue the other side."
The program seeks to connect with accomplished students regardless of political perspective and to engage them in civil, respectful discussions surrounding the important policy questions of our day. In doing so, James believes students are able to get past the labels that are so often thrown around in politics and avoid demonizing those with whom they disagree.
Martin Luther King, Jr., visited Holly Knoll many times. On one visit, a brief rest stop, he was preparing to deliver his "I Have a Dream" speech at the 1963 March on Washington.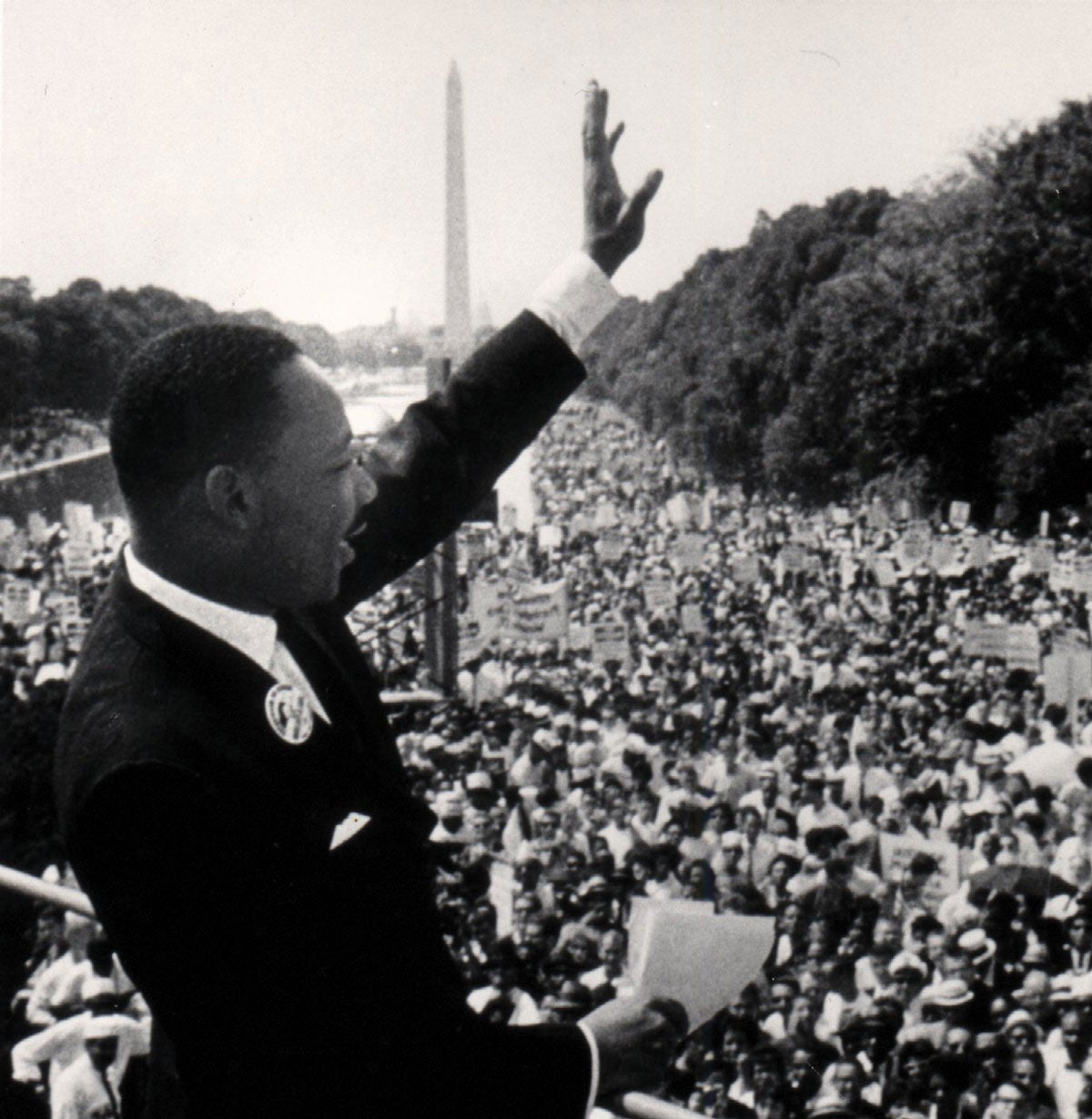 credit: UPI PHOTO SERVICE/NEWSCOM
An example of how the institute fulfills that mission is "The Great Debate," an annual event where students take turns debating one side of an issue and then switch.
"In today's college environment, you don't hear that. You don't receive that. I mean, everything is unfortunately so politically correct that students are discouraged to think outside of the orthodoxy of the day. And so what we do is require them to not only think it, but to study it and be able to debate it," says Brown.
Jordyn Hawkins-Rippie, a Baltimore native and a graduate of the 2016-2017 Emerging Leaders program, says his class debated whether the current immigration policy is favorable to current U.S. citizens. Each student is required to take both the affirmative and the negative position, so they learn, understand, and become conversant in both sides.
"I think a lot of people tend to have a very one-sided understanding of certain issues because they don't understand them entirely," he says. "But a skill that Gloucester has taught us is to really look at both sides of an issue or both sides of a topic. Then go from there and draw whatever conclusions or whatever belief you have from that point."
After graduating from the program, Hawkins-Rippie went on to intern in House Speaker Paul Ryan's office and then served as James's executive assistant. Now he is a Fulbright scholar teaching students in Malaysia how to read and write English. One day, he hopes to enter politics, or a career where he can use the communication skills he learned at The Gloucester Institute to work across different cultures and political ideologies.
"Not everybody comes out of the program as a conservative," James says. "But many have come out of the program saying: 'Oh my gosh, I have to be able to listen to other ideas and make this about ideas and not about debating a political party—ideas that help our community.' That's all I want."
"We're trying to produce 'solutionists'," added Brown. "We're trying to produce people who are able to understand and solve the problems of their day.
Ms. Harkness is the 2017-2018 Tony Blankley Fellow atThe Steamboat Institute and a Senior News Producer at The Daily Signal, the multimedia news outlet of The Heritage Foundation. Mr. Stepman is a contributor to The Daily Signal.