U.S. military power is dwindling. Dakota Wood presents some findings of the 2018 Index of U.S. Military Strength:
Since 2012, the Army has shrunk from 45 combat brigades to only 31. In February, Gen. Daniel B. Allyn informed the House Armed Services Committee that only a third of those brigades are considered combat ready and only three, count 'em, three, would be able to deploy immediately to a combat zone. […]
Things aren't much better for our air and sea forces. The Heritage Foundation's Index of Military Strength assesses the Air Force as being 24 percent short of the 1,200 fighter jets it needs. As for keeping the aging aircraft it does have flying, it lacks 1,000 pilots and over 3,000 flight maintenance crew members. Only four of its 36 combat-coded squadrons are ready to execute all wartime missions.
The Navy has shriveled to 276 combat ships—the smallest U.S. battle fleet since before World War I. And the readiness of the force continues to decline. In February, Adm. William Moran, Vice Chief of Naval Operations, testified before the House Armed Services Committee that "the Navy's overall readiness has reached its lowest level in many years."
His testimony was subsequently affirmed by a series of accidents that revealed a deplorable decline in basic seamanship. First, the USS Lake Champlain collided with a fishing vessel. Then the USS John S. McCain and the USS Fitzgerald hit cargo ships, costing 17 American sailors their lives.
All of these ships were part of the Navy's Forward Deployed Naval Forces, considered our most proficient, well-trained, and experienced force because they're operating all the time. But a report issued last month by the Government Accountability Office found that little to no dedicated training periods were built into the operational schedules. As a result, 37 percent of the warfare certifications for cruiser and destroyer crews based in Japan—including certifications for seamanship—had expired.
[Dakota L. Wood, "US Remains the World's Most Dominant Military Power. But that Power Is Dwindling Rapidly." Fox News, October 5, 2017]
Tough fight ahead on opioids. The problem of opioid abuse, which in just 2016 claimed more American lives than the Vietnam War, has deep roots. Sally Satel writes:
[F]actors beyond physical pain are most responsible for making individuals vulnerable to problems with opioids. Princeton economists Anne Case and Angus Deaton paint a dreary portrait of the social determinants of addiction in their work on premature demise across the nation. Beginning in the late 1990s, deaths due to alcoholism-related liver disease, suicide, and opioid overdoses began to climb nationwide. These "deaths of despair," as Case and Deaton call them, strike less-educated whites, both men and women, between the ages of 45 and 54. While the life expectancy of men and women with a college degree continues to grow, it is actually decreasing for their less-educated counterparts. The problems start with poor job opportunities for those without college degrees. Absent employment, people come unmoored. Families unravel, domestic violence escalates, marriages dissolve, parents are alienated from their children, and their children from them.
Opioids are a salve for these communal wounds. Work by Alex Hollingsworth and colleagues found that residents of locales most severely pummeled by the economic downturn were more susceptible to opioids. As county unemployment rates increased by one percentage point, the opioid death rate (per 100,000) rose by almost 4%, and the emergency-room visit rate for opioid overdoses (per 100,000) increased by 7%. It's no coincidence that many of the states won by Donald Trump—West Virginia, Kentucky, and Ohio, for example—had the highest rates of fatal drug overdoses in 2015.
We need to allow medical professionals, law-enforcement officials, community organizations, and the loved ones of those affected to attempt different, even radical, solutions and evaluate their effectiveness.
What's needed, she writes, is to let states try new strategies and learn from those that work:
The federal government can provide much-needed additional funding for treatment. This will be imperative if the Medicaid expansion is rolled back, as it has brought coverage to about 1.3 million substance abusers who were too poor for private insurance but not poor enough for Medicaid. But it is at the state and county levels that the real progress will be made. Locales are developing inventive modes of engagement; treatment programs are beginning to test novel kinds of incentives; and justice programs are starting to combine enforced structure with medication. As we have seen, the worst of the crisis is in small communities where everyone knows someone who has been affected by an opioid addiction. It makes sense that the effort to find inspired solutions would be most concentrated there; we should invest in those solutions and learn from them. There won't be a master blueprint that works everywhere — this is not a problem that will ever lend itself to such a scalable solution, especially in small towns.
At least at this point, if not for the duration of this crisis, we need to allow medical professionals, law-enforcement officials, community organizations, and the loved ones of those affected to attempt different, even radical, solutions and evaluate their effectiveness. Policymakers should support such experimentation, and fund it, but must resist the urge to pretend that better funding alone will end the scourge of opioids.
[Sally Satel, "Taking on the Scourge of Opioids," National Affairs, Summer 2017]
The good news on abortion continues. Michael J. New:
According to the CDC, both the number of abortions and the abortion rate declined by about 2 percent between 2013 and 2014. The decline was fairly consistent, as 30 of the 46 states reporting abortion data in both years saw their abortion numbers decline. […]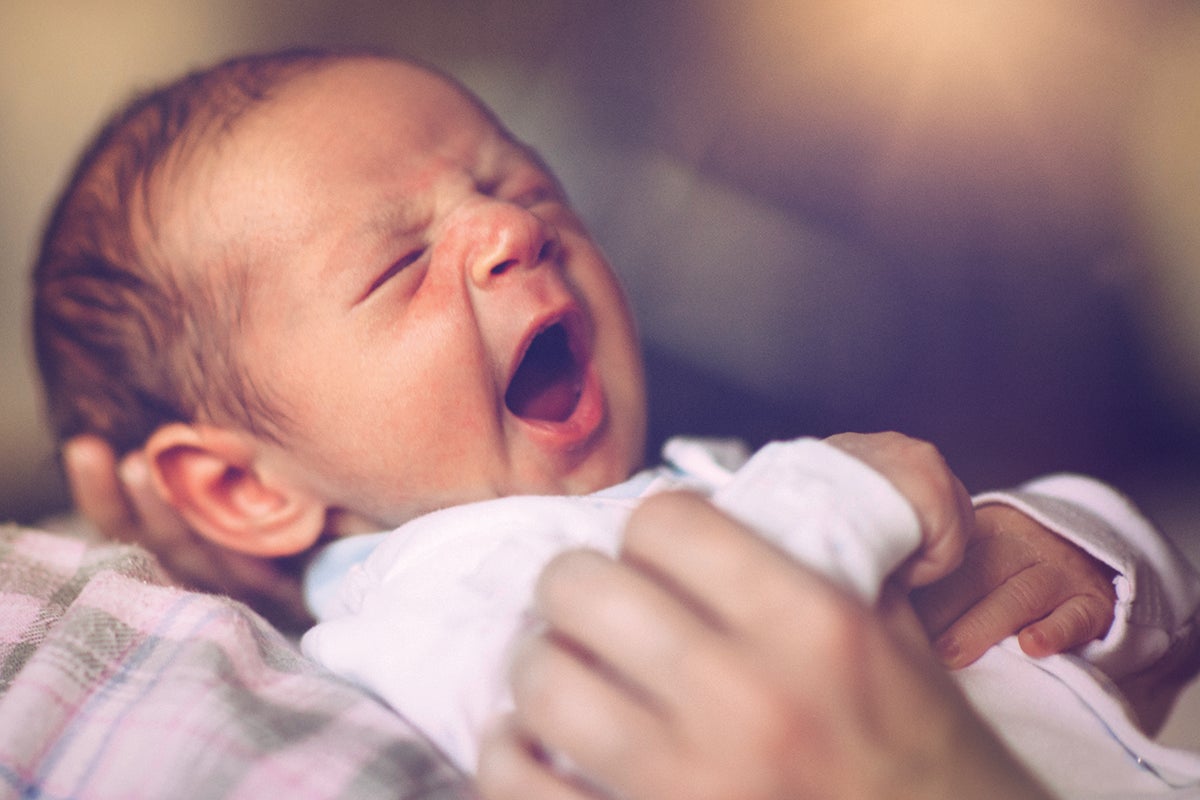 credit: ARTMARIE/GETTY IMAGES
Unsurprisingly, most of the media coverage gives much of the credit for the abortion-rate decrease to increased contraception use. There is some evidence that there has been a short-term decline in the incidence of unintended pregnancies, but another key factor behind the 50 percent abortion-rate decline since 1980 is the fact that a smaller percentage of unintended pregnancies result in an abortion.
According to the CDC, both the number of abortions and the abortion rate declined by about 2 percent between 2013 and 2014.
Statistics from the Guttmacher Institute are instructive on this point. In 1981, the research group found that 54 percent of unintended pregnancies resulted in an abortion. That number declined during the 1990s and fell to 42 percent by 2011.
[Michael J. New, "U.S. Abortion Data from 2014 Show Pro-Life Progress," National Review, November 27, 2017]
Iran has misbehaved since the nuclear deal. And President Trump now has an opportunity to correct the Obama administration's blunder, writes Arthur Herman:
Instead of becoming a stabilizing force, Obama's Iranian partners have triggered instability and mayhem across the region, including sparking a proxy war with the Saudis over Yemen, stoking a vicious civil war in Syria, while also taking U.S. sailors hostage and giving the Taliban the weapons to kill Americans in Afghanistan—not to mention threatening Israel with annihilation.
With the revival of demonstrations in Iran, however, President Trump has an unprecedented opportunity to reset the U.S. policy toward the Islamic Republic. He's already signaled his displeasure with the Iran nuclear deal; his tweets warning the mullahs that "the world is watching" are a further signal that he understands that the fate not only of Iran, but peace in the Middle East, depends on whether those demonstrators succeed or fail—and that the U.S. can act to help them succeed.
What steps can Trump take? First, reimpose all the sanctions against Iran that were lifted as part of the nuclear deal, especially against anyone that does business with the Iranian Revolutionary Guard Corps, the brutal elite mainstay of the Tehran regime.
Second, make it clear to the European Union and others who sit silent for fear their lucrative post-sanction deals with Tehran will fall through if the regime topples, that they will be held accountable to Washington and to history, if they stand by while one of the most despotic regimes in history once again crushes out the hopes of its citizens.
Third, show unflinching support for the demonstrators and show that America, and the world, are indeed watching and hails their effort to create a new life for themselves based on democracy and freedom.
[Arthur Herman, "Trump's Iran Opportunity—Give the Mullahs a Push," Hudson Institute, January 2, 2018]
Are unpopular views still protected by the First Amendment? Do public accommodation laws require commercial bakers to provide wedding cakes for same-sex weddings? Or does the First Amendment's protection against compelled speech extend to the making of wedding cakes? Robbie P. George and Sherif Girgis explain why cake shop owner Jack Phillips should prevail in the case Masterpiece Cakeshop v. Colorado Civil Rights Commission.
If wedding cakes are expressive, whether by words or mere festive design, what's their message? We can tell by their context since, as the court notes, a symbolic item's context "may give meaning to the symbol." Thus, the court found that an upside-down flag with a peace sign carried an antiwar message—protected as speech—because of the context of its display. Likewise, a wedding cake's context specifies its message: This couple has formed a marriage. When the specific context is a same-sex wedding, that message is one Mr. Phillips doesn't believe and cannot in conscience affirm. So coercing him to create a cake for the occasion is compelled artistic speech.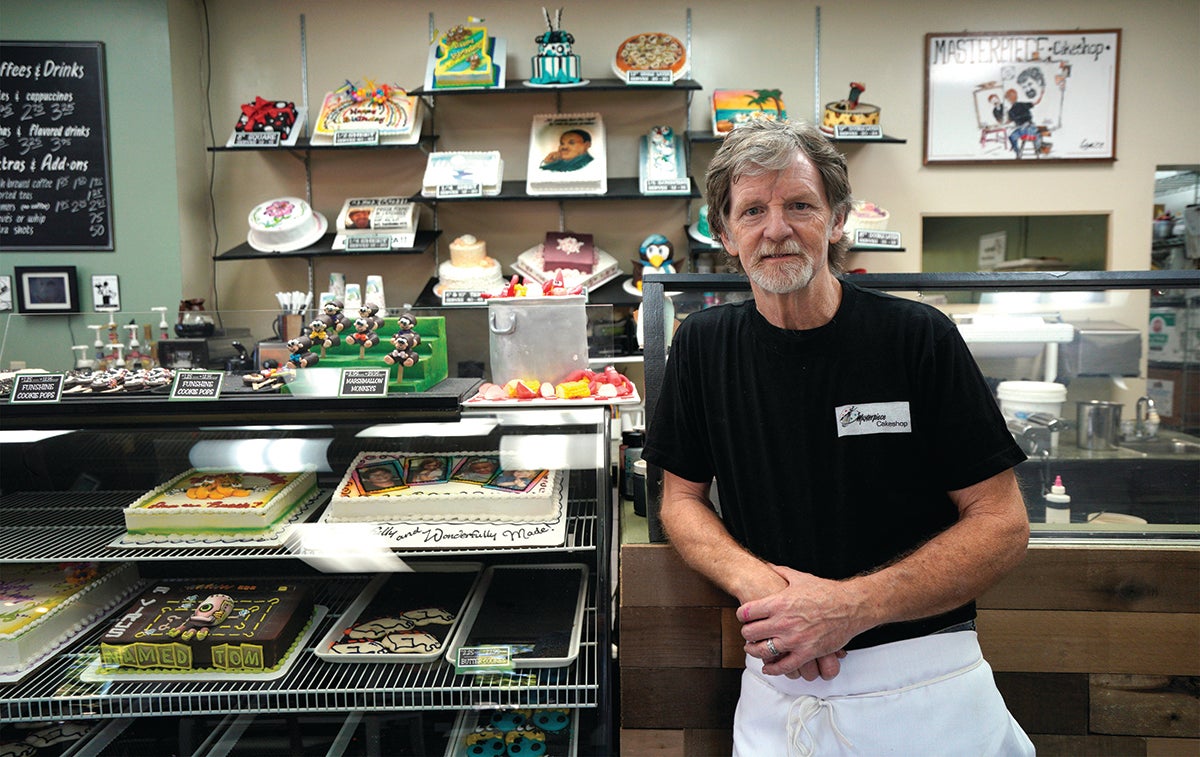 JACK PHILLIPS, owner of Masterpiece Cakeshop, is ghting for the First Amendment rights of expressive businesses to decline to use their craft to support messages with which they disagree. The Colorado Civil Rights Commission has ned him for refusing to bake a cake for a same-sex wedding. (credit: RICK WILKING/REUTERS/NEWSCOM)
Note that this argument wouldn't cover all requirements to make artistic items. The law may force photographers to do photo portraits for Latinos as well as whites since that doesn't yet force them to create art bearing an idea they reject, which is all the compelled-speech doctrine forbids. But custom wedding cakes carry a message specific to each wedding: This is a marriage.
Can Colorado justify its compulsion anyway? Some say yes: Fighting discrimination—disfavored conduct, not speech—is the general goal of Colorado's public-accommodations law. And if that goal is legitimate, they continue, so is every application of this law.
Remarkably, given how commonly one encounters this answer, the court has explicitly considered and rejected it twice. In Hurley v. Irish-American Gay, Lesbian, and Bisexual Group of Boston (1995), the court held that while anti-discrimination laws do not "as a general matter" violate the First Amendment, they do when "applied in a peculiar way" that burdens speech. In that case and in Boy Scouts of America v. Dale (2000), First the government said there was sexual-orientation discrimination, both times under its public-accommodations laws. The goal in both was to fight discrimination rooted in opposition to "homosexual conduct." Still, the court said both times, this generic goal could not justify coercion that interfered with the content of anyone's expression.
In these cases, after all, the precise act being targeted just is the speaker's choosing ("discriminating") among which ideas to express—exactly what the First Amendment exists to protect. As the court put it in Hurley, the "point of all speech protection" is "to shield just those choices of content that in someone's eyes are misguided, or even hurtful."
[Robert P. George and Sherif Girgis, "A Baker's First Amendment Rights," New York Times, December 4, 2017]
You want a free and open Internet? Eliminate government barriers to more competition. Too many local governments, writes Ryan Radia, want to use permitting as a cash cow:
When a firm wishes to deploy wireline broadband to residents of an existing community, it typically must navigate a complex web of municipal and state regulations that govern the use of public rights of way. Although some governmental oversight over projects that entail digging up public roads or other public lands is appropriate, the processes by which companies must obtain permits and pay fees to obtain permission for such projects is often extremely complex and costly. The result is that only firms with deep pockets and extensive experience dealing with local and state officials are typically willing to pursue large-scale broadband deployment initiatives.
On a few recent occasions when a company has sought to deploy wireline broadband on a limited scale, the towns in which such networks have been built are those that have committed to offering a simple permitting process, reasonable fees, and streamlined access to public rights of way. For instance, when Google announced plans to deploy a fiber-optic residential broadband service known as "Google Fiber" in 2010, the company solicited applications from U.S. communities and ultimately selected Kansas City as its first deployment site.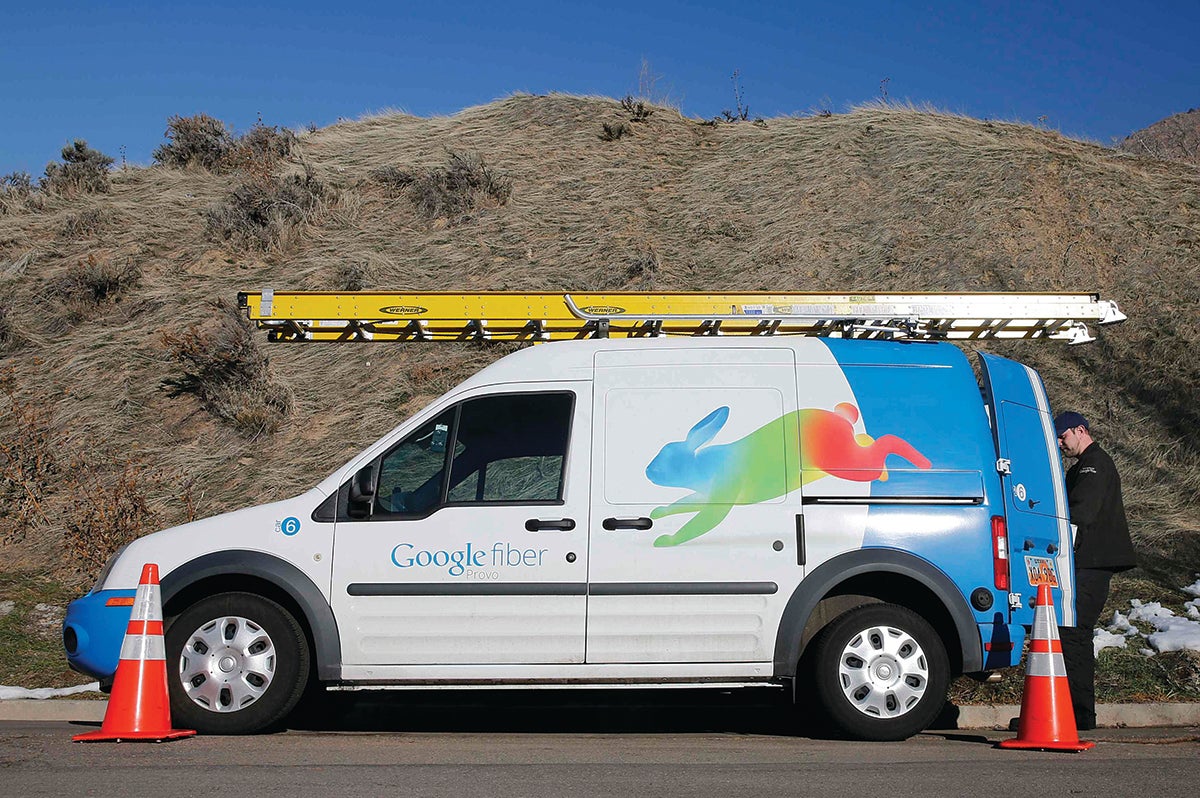 credit: GEORGE FREY/REUTERS/NEWSCOM
Google's passive approach to broadband buildout stands in contrast to the traditional method employed by telecom providers, who typically go from town to town soliciting permission to deploy new broadband infrastructure. If a city insists on onerous terms as a prerequisite for allowing a company to deploy broadband there, the provider might simply skip over that city—as happened in Alexandria, Virginia, in 2010 when Verizon announced it could not reach an agreement with the city regarding the proposed deployment of Verizon's FiOS broadband network.
[Ryan Radia, "Improving America's Broadband through Competition, Not Regulation," Competitive Enterprise Institute, December 7, 2017]
North Korea is a state-sponsor of terrorism. And that explains why the Trump administration put North Korea back on the United States' list of state sponsors of terrorism. Bruce Klingner writes:
Since being dropped from the terrorism list, Pyongyang has conducted repeated cyberattacks against government agencies, businesses, banks, and media organizations. It has also engaged in: threats of "9/11-type attacks" against U.S. theaters and theatergoers; assassination attempts against North Korea defectors, human rights advocates, and South Korea intelligence agents; and numerous shipments of conventional arms bound for terrorist groups Hamas and Hezbollah. Earlier this year, North Korean agents used VX, the most deadly nerve agent, to kill Kim's half-brother in a crowded civilian airport.
Returning North Korea to the terrorist list enables Washington to invoke stronger financial transaction licensing requirements under 31 CFR Part 596 and remove North Korea's sovereign immunity from civil liability for terrorist acts. Re-designation also requires the U.S. government to oppose loans to North Korea by international financial institutions, such as the World Bank, International Monetary Fund, and Asian Development Bank.
Moreover, the designation adds to the moral suasion of international efforts to further isolate North Korea—diplomatically as well as economically. In recent years, a growing list of countries, banks, and companies have curtailed their business relationships due to North Korea's violations of U.N. resolutions, the abysmal working conditions imposed on its overseas laborers, and its human rights violations, which the U.N. says constitute "crimes against humanity."
[Bruce Klingner, "What Trump's Designation of North Korea as a State Sponsor of Terrorism Will Mean for Country's Future," The Daily Signal, November 21, 2017]
ROUND UP highlights key work produced by conservative and classical liberal think tanks. Submit ideas at insider@heritage.org