An all-star cast of conservative leaders and experts came together at The Heritage Foundation's 2019 President's Club Meeting on Oct. 21-23 for three days of policy discussions and inspiration at the Marriott Marquis in Washington, D.C.
The event—Heritage's largest annual member event—gave conservatives renewed hope and a path to American unity with the formal introduction of Heritage's True North principles of conservatism.
This year's event was truly special as it featured the inaugural Heritage Honors gala with a keynote address from Vice President Mike Pence. Other notable speakers of the three days included Secretary of State Mike Pompeo, U.S. Citizenship and Immigration Services Acting Director Ken Cuccinelli, Customs and Border Protection Acting Commissioner Mark Morgan, and former Immigration and Customs Enforcement Acting Director Tom Homan.
Speakers rallied attendees to fight against the rising tide of socialism, celebrate America's founding principles, and spread American exceptionalism to new audiences. Heritage also honored founder Edwin J. Feulner with the Clare Boothe Luce Lifetime Achievement Award and unveiled the new Feulner Institute.
The President's Club Meeting brought together more than 700 of Heritage's most dedicated members from across the nation. And the first-ever gala—a star-studded black-tie event that filled the main ballroom of the Marriott Marquis—drew more than 1,500 attendees, including 36 members of Congress.
The event was as much a celebration of America as it was a celebration of The Heritage Foundation.
Here are some highlights:
Heritage President Kay Coles James delivered a rousing address at Monday's opening luncheon, thanking attendees for their support of Heritage, exhorting them to continue the fight, and extolling the power of the True North principles to unite Americans of every background.
The Washington Examiner later praised Heritage's True North Principles: "At a time when parts of the conservative movement are at odds with each other about Donald Trump and Trumpism, this reminder of 'first principles' is particularly timely and welcome."
PJ Media added: "For that reason, the True North principles are extremely important. They set forth a guiding star for conservatism, a rock in the storm of ideological battles raging on the right today."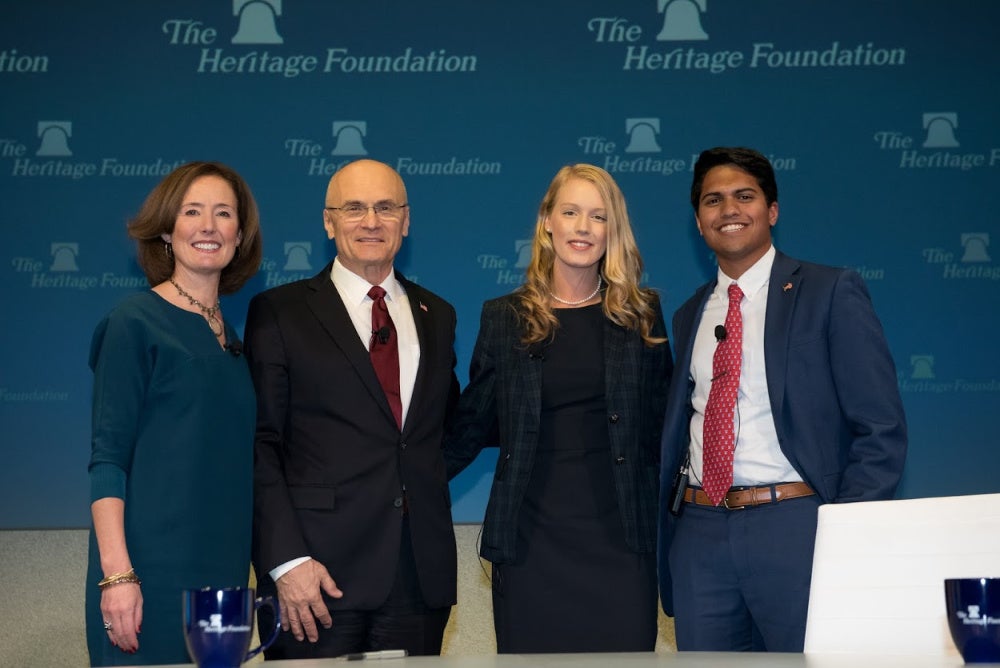 Kiran Menon and Ellen Whitman, two alumni of Heritage's Young Leaders Program, shared their stories of fighting for conservative principles on their college campuses. Whitman, president of Students for Life at Miami University of Ohio, fought against her university's demand that the pro-life student group place a trigger warning on their display of crosses memorializing unborn children killed by abortion. Whitman sought help from Alliance Defending Freedom, who sued the university. The university responded by changing its policies to respect students' right to free speech.
President Donald Trump later honored Whitman at a press conference in which he announced the signing of an executive order that effectively denies federal grants to universities that do not protect free speech on campus.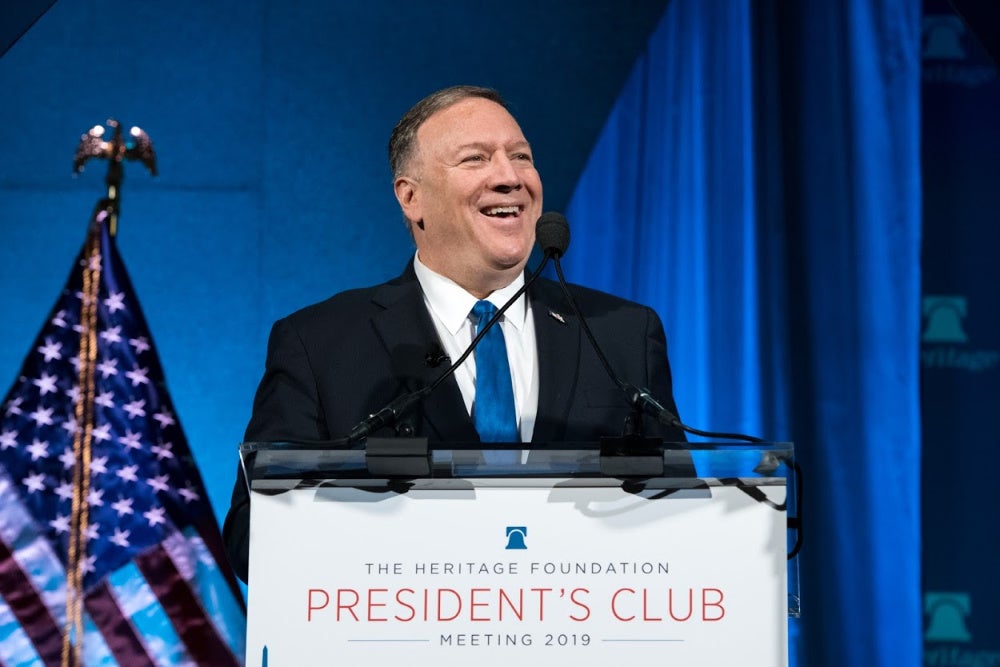 Secretary of State Mike Pompeo graced attendees with a Tuesday breakfast address, recalling his first speech as secretary of state at The Heritage Foundation in May 2018. Pompeo praised Heritage for its work on foreign policy, and for being one of the only media outlets to report accurately on his speech.
Attendees celebrated Heritage's first-ever Honors Gala in spectacular style.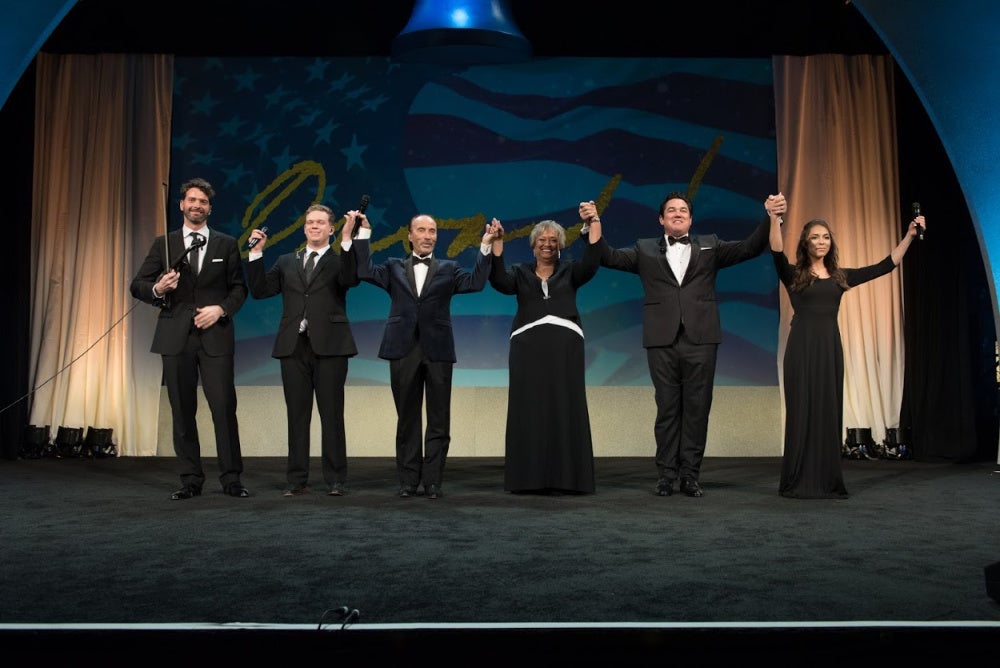 The Liberty University Praise Choir wowed the audience with a phenomenal rendition of the national anthem and singer and songwriter Lee Greenwood moved attendees to tears with a performance of his "God Bless the USA." Composer and musician Zuriel Merek and Robert Dodelin and Sidney's Orchestra also entertained guests throughout the evening.
Jolly Swag, an 11-year-old poet and entrepreneur, inspired attendees with a perfect recitation of his poem about embracing the promise of America and the principles of our founding—and learning from the past.
Indiana University student Daniel Di Martino amazed the audience with stories about his experience growing up in socialist Venezuela and earning a scholarship to come to an American university after being inspired by Milton Friedman's "Free to Choose."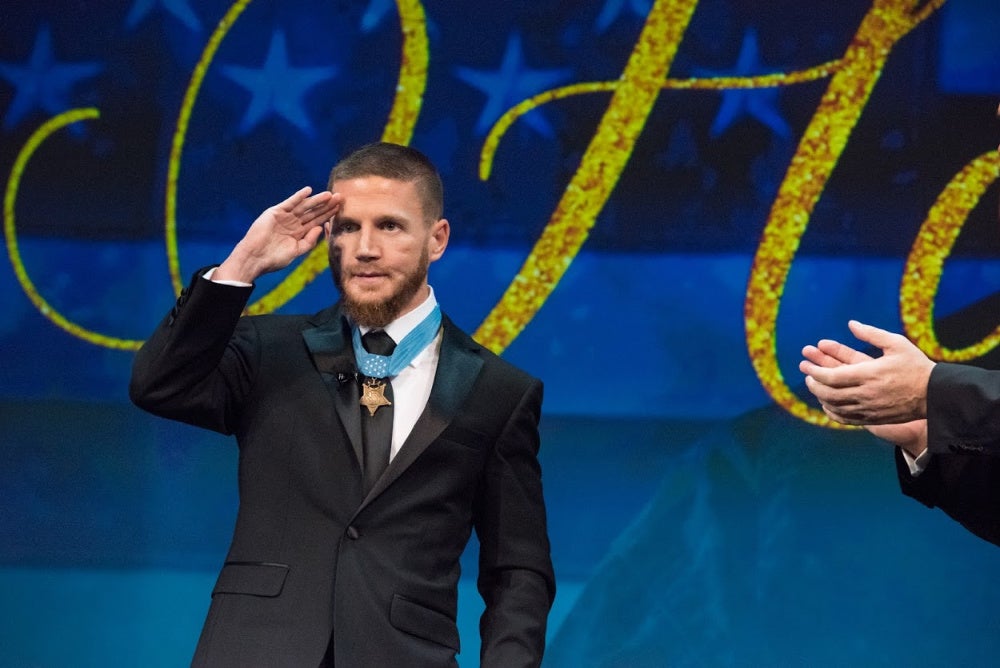 Retired Marine Lance Cpl. Kyle Carpenter, the youngest recipient of the Medal of Honor, shared his story of survival and reminded Heritage members of why America is worth fighting and dying for. In 2010, Carpenter was severely injured after diving onto a live grenade to save his friend while fighting in Afghanistan.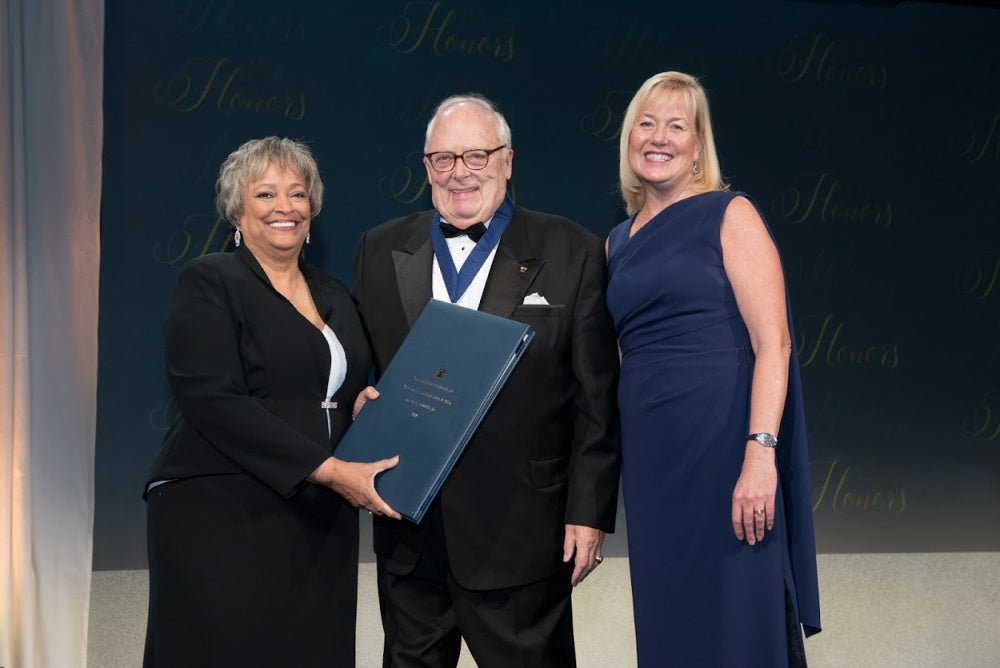 The Heritage Foundation honored its founder, Edwin J. Feulner, with the Clare Boothe Luce Lifetime Achievement Award. The award, established in 1991, is Heritage's highest honor.
"Ed Feulner's outstanding vision and leadership are what earned The Heritage Foundation the title of the most impactful think tank in the world," Heritage President Kay Coles James said.
James also announced creation of the Feulner Institute at Heritage, a first-of-its-kind endeavor to restore confidence in America's founding values and principles. It will be the inspiration and hub of a new effort by Heritage to reinvigorate civic culture and our national purpose. The Feulner Institute will be a source of policy research, scholarship, and policy promotion.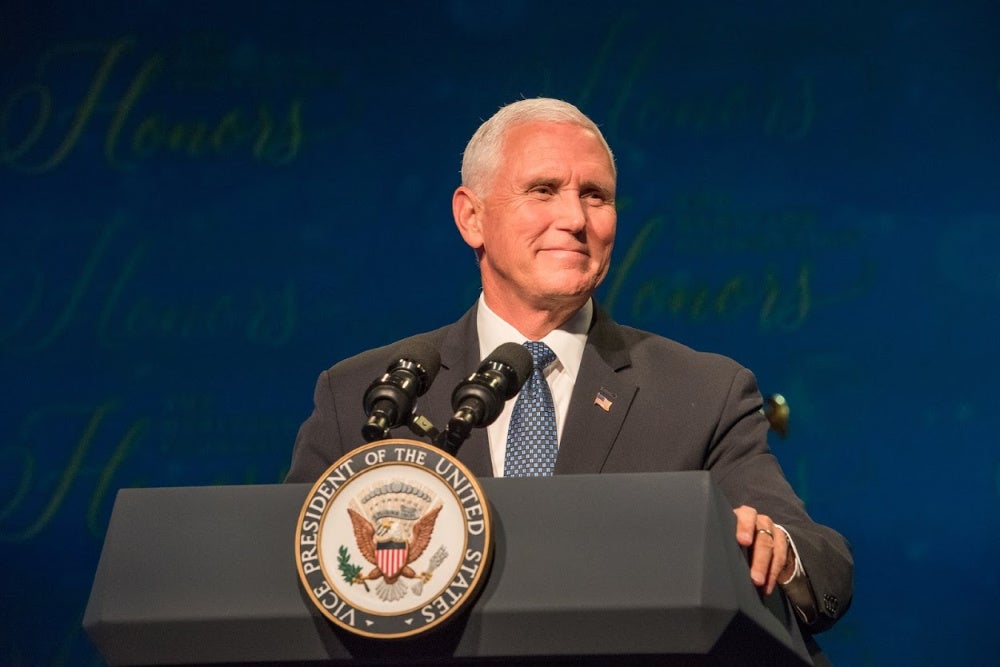 The gala featured a keynote speech from Vice President Mike Pence. He thanked Heritage for the research and conservative policy recommendations, from which the Trump administration has drawn heavily.
"Heritage has been fighting alongside this administration and this president since day one," Pence said.
This was the second time in two months that the vice president spoke at a Heritage event.
The event caught the attention of Politico, one of Washington's most influential publications. This list appeared in its popular Playbook newsletter the following day:
"SPOTTED at the Heritage Honors Gala on Tuesday at the Marriott Marquis, where VP Mike Pence delivered the keynote: acting chief of staff Mick Mulvaney, HUD Secretary Ben Carson and Candy Carson, Education Secretary Betsy DeVos, Commerce Secretary Wilbur Ross, Sens. James Lankford (R-Okla.), Marsha Blackburn (R-Tenn.) and Pat Toomey (R-Pa.), acting OMB Director Russ Vought and Mary Vought, Kellyanne Conway, CFPB Director Kathy Kraniger, acting USCIS Director Ken Cuccinelli, acting CBP Commissioner Mark Morgan …
"… acting DEA Administrator Uttam Dhillon and Janet Dhillon, Dean Cain, Kay Coles James, Shannon Royce, Tunisian Ambassador Fayçal Gouia, Rwandan Ambassador Mathilde Mukantabana, Jim Buckley, Mollie and Mark Hemingway, Carrie and Roger Severino, Julio Rosas, Evie Fordham, Tyler O'Neil, J.C. Watts, Tim Ryan, Bill Wichterman, Shoshana Weissmann, Kerri Kupec, Sebastian Gorka, Lee Greenwood, Bob Heckman, Tim Pataki, Brian Jack, Cordell Hull, Ryan Hambleton, Mike Howell, Ronny Jackson, Evelyn Lim and Kirstjen Nielsen."
The Heritage President's Club was created in 1979 to recognize Heritage contributors who want to be more involved in the foundation's work and become leaders in the conservative movement, and to establish an exclusive, core group who are the driving force behind Heritage initiatives.