In 2010, President Obama promised then-President Bronislaw Komoroski Poland's admission into the Visa Waiver Program (VWP).[REF] Before that, President George W. Bush promised to work with Congress on this matter in 2007.[REF] Poland has yet to be admitted to the program, though it has for some time been a meaningful candidate to do so. President Trump should take the opportunity to succeed where former Presidents have failed and admit Poland to the VWP. His trip to Poland ahead of the G20 summit in Germany in early July will be a great time to reaffirm the U.S.–Poland relationship.
The VWP mutually benefits U.S. national security and the security of countries that are members. The program signals strong diplomatic ties, and also allows significant economic gains for the U.S. and VWP members. The Trump Administration should support and expand the VWP. Congress should allow the Department of Homeland Security (DHS) to admit Poland into the program and to focus more on visa-overstay rates than visa-refusal rates. DHS and Congress should also consider renaming the program to avoid a continued confusion between "visa waiver" and "security waiver."[REF]
Expanding the Visa Waiver Program
Poland has long been a viable candidate to join the VWP. It has been an important ally within the North Atlantic Treaty Organization (NATO) since joining in 1999. And, in 2016, Poland was one of only five NATO members to meet the 2 percent of gross domestic product defense expenditure NATO requires.[REF] U.S.–Polish diplomatic and strategic relations are important in managing Russian aggressions against NATO and the West.[REF]
At a press briefing in September 2016, Presidential-candidate Trump made positive comments regarding admitting Poland into the VWP before speaking at the Polish American Congress in Chicago.[REF] And just recently, Representative Mike Quigley (D–IL) and co-sponsors Representatives Marcy Kaptur (D–OH) and Dan Lipinski (D–IL) introduced H.R. 2388, which would allow Poland to enter the VWP.[REF]
For a country to be a member of the VWP, it must demonstrate a non-immigrant visa-refusal rate of no more than 3 percent; issue all its citizens e-passports; and present no discernible threat to U.S. law enforcement or U.S. national security. Once a part of the program, VWP members are required to increase their airport security and share intelligence about known or suspected terrorists, criminal data, and information on lost and stolen passports.[REF] Poland is able to join the VWP based on a number of these requirements. However, U.S. emphasis on visa-refusal rates has created an unnecessary hurdle for Poland's ability to join the program and U.S. officials' acceptance of Poland into the program.
Visa Refusal and Visa Overstay
Joining the Visa Waiver Program currently requires a visa-refusal rate of less than 3 percent, but the Secretary of Homeland Security formerly had the authority to modify this requirement to accept countries with refusal rates of up to 10 percent. Indeed, the last major expansion of the program occurred in November 2008 when seven countries were admitted to the program, all with visa-refusal rates higher than 3 percent. Poland's current refusal rate is on par with these other countries' refusal rates when they were admitted in 2008, as evidenced by Table 1.
Of course, a far better metric of determining the immigration risk from a country is simply to look at visa-overstay rates. While refusal rates are based on the judgment of consular officers, overstay rates are simply facts regarding how many visitors from a given country did not leave the U.S. when they should have. Looking at overstay rates in Table 2, Poland is once again comparable to nations that have been previously admitted.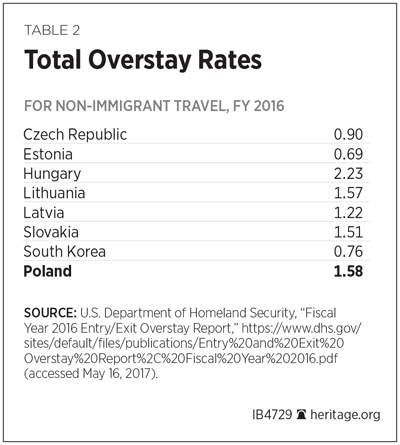 Shifting focus from visa-refusal rates to visa-overstay rates will allow Poland to meet one of the many criteria that are needed to be accepted into the VWP. Alternatively, an exception could be made for Poland to allow it into the program.
A Partnership for Secure Travel
One of the hurdles Poland has faced in being accepted into the VWP is less an issue with Polish travelers and more an issue of Members of Congress misinterpreting what the VWP literally means. Any reforms to the program should include a renaming of the program to avoid misinterpretations affiliated with a waiver of visa issuance.
A visa waiver does not mean that travelers are not screened before entering the U.S. Indeed, the screening is very similar to traditional visas and is supported by information sharing with the member country.[REF] One suggestion is to rename the program to the Partnership for Secure Travel (PST). This title highlights the important partnership between the U.S. and its member countries. It also recognizes that the program has, as the U.S. Government Accountability Office unequivocally stated, "enhanced U.S. traveler-screening capabilities and improved U.S. agencies' ability to prevent known and suspected terrorists from traveling to the United States."[REF]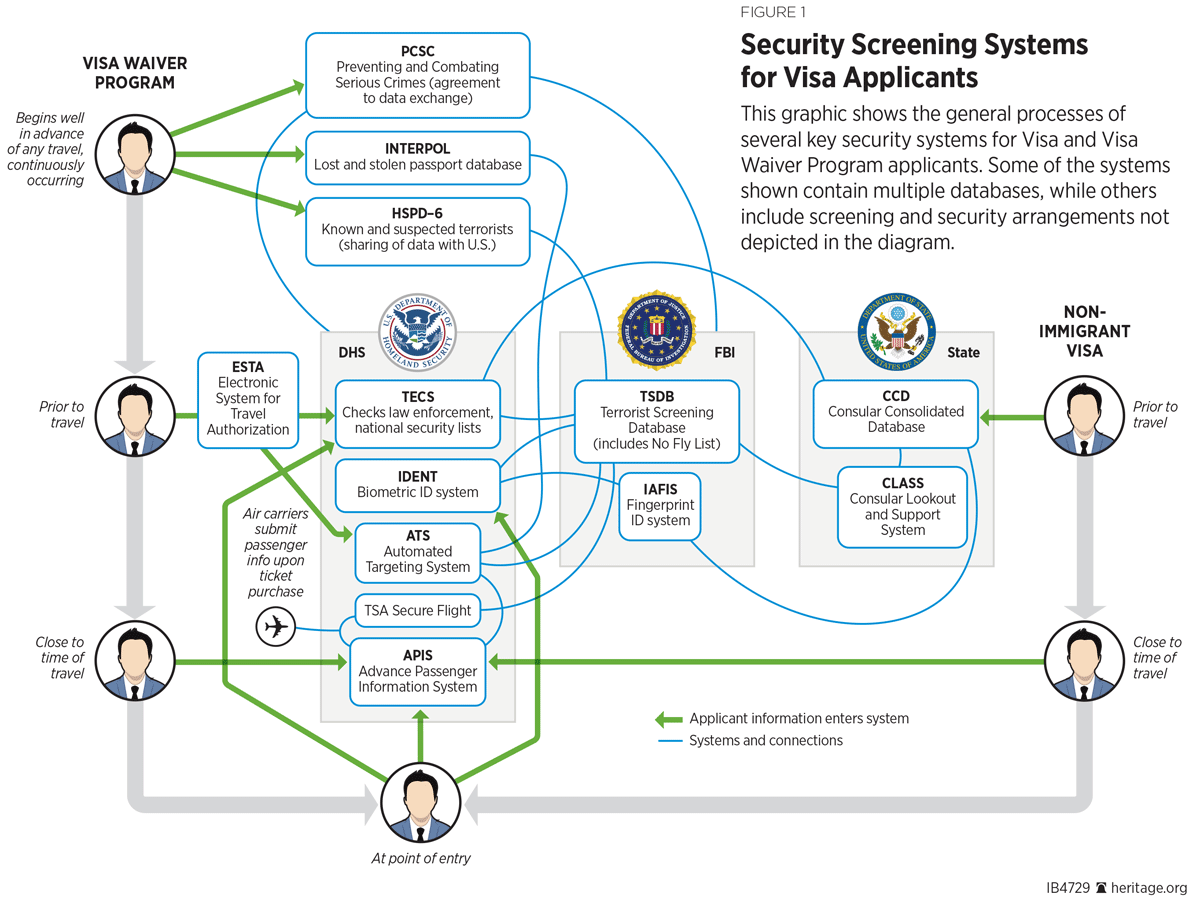 Security at Home and Abroad
The Trump Administration and Congress should therefore:
Add an alternative eligibility requirement for low visa-overstay rates. Congress should allow the Secretary of Homeland Security to waive the 3 percent refusal rate if a country has a low visa-overstay rate.
Admit Poland into the Visa Waiver Program. President Trump should reaffirm the U.S. relationship with this NATO ally when he visits Poland this week. President Trump and Homeland Security Secretary Kelly should also work with Congress to admit Poland into the Visa Waiver Program.
Rename the Visa Waiver Program. In Washington, semantics matters. "Visa waiver" is often incorrectly associated with lax vetting of foreign travelers. To avoid this confusion, Congress or the Department of Homeland Security should rename the VWP. One recommendation is to rename the program Partnership for Secure Travel (PST). This title recognizes the reciprocal, mutually beneficial nature of the program—as well as the security boon the program is to the U.S.
Accepting Poland into the VWP will be a huge win for U.S. national interests, including business and tourism industries, and increasing international security. It is about time Poland is accepted into the VWP.
—David Inserra is a Policy Analyst for Homeland Security and Cybersecurity, and Riley Walters is a Research Associate, in the Douglas and Sarah Allison Center for Foreign Policy, of the Kathryn and Shelby Cullom Davis Institute for National Security and Foreign Policy, at The Heritage Foundation.