Heritage Foundation foreign policy expert Peter Brookes addressed both the Defense and Security Committee and the Science and Technology Committee of the NATO Parliamentary Assembly this month in Halifax, Nova Scotia, Canada.
Brookes spoke about the status and future of the Intermediate-Range Nuclear Forces (INF) Treaty on Nov. 18.
"There is a reason Heritage was rated the world's most influential think tank, and it's because of people like Peter Brookes," said James Jay Carafano, vice president of Heritage's Kathryn and Shelby Cullom Davis Institute for National Security and Foreign Policy and E.W. Richardson fellow.
Earlier this year, the University of Pennsylvania's annual "Global Go-To Think Tank Index" that in February ranked The Heritage Foundation No. 1 when it comes to impact on public policy among a list of 60 think tanks across the globe.
"Being asked to talk to maybe the most important parliamentary assembly in the world on one of the most important strategic issues says a lot about the quality of our team," Carafano added.
The invitation to speak to the two committees of the Brussels, Belgium-based NATO Parliamentary Assembly was based on Brookes' recent article for Heritage's multimedia news organization, The Daily Signal, published in late October.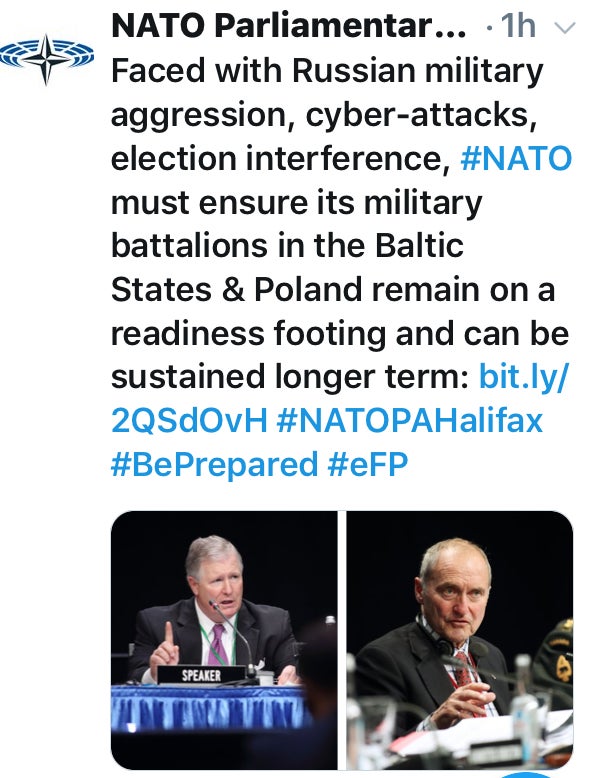 The issue received heightened attention following signals from the Trump administration that it intends to pull out of the treaty.
"Russia has violated the agreement," President Donald Trump said Oct. 20. "They've been violating it for many years. I don't know why President Obama didn't negotiate or pull out. And we're not going to let them violate a nuclear agreement and go out and do weapons, and we're not allowed to."
The INF Treaty was signed in December 1987 by President Ronald Reagan and Soviet leader Mikhail Gorbachev. The landmark treaty's purpose was to end the Soviet and American possession, production and/or testing of ground-launched cruise and ballistic missiles and associated launchers with a range of 500 to 5,500 kilometers (roughly 300 to 3,500 miles).
Brookes explained to the parliamentarians and staff that today the INF Treaty is being called into question because of violations of the arms-control agreement in the form of the testing and deployment of the new Russian SSC-8 cruise missile.
Brookes told the assembled parliamentarians that while the United States and NATO abide by the INF Treaty, Russian "cheating" was "unacceptable from a security, legal and moral standpoint."
He also noted another concern: China is not a signatory to the treaty and, therefore, isn't constrained by it.
"While Washington is unable to deploy INF-range missiles in Asia due to the treaty," Brookes said, "Beijing has deployed one of the world's most significant ballistic- and cruise-missile arsenals in the world, many of which threaten American interests in the Pacific."