Community colleges offer a range of academic opportunities for high school students, high school graduates, adults seeking job skills, and more. Community colleges (also called junior colleges) allow students who struggled in high school or who cannot afford to attend a four-year institution to continue their education and enhance their career prospects. High school students can earn college credit by taking classes at community colleges, a process called "dual enrollment." Community colleges allow high school graduates to pursue associate's degrees and professional certificates that can propel them to selective four-year schools or help them to enter the workforce with stronger academic credentials than a high school diploma offers.
For many years, though, junior colleges have reported "dismal" completion rates: Approximately half of students who enroll do not complete a degree, and just 43 percent of students finish a degree at a community college within six years of enrolling.REF While these schools should be focused on improving their academic offerings and completion rates, radical racial and "gender" activists have captured departments and administrative offices at community colleges across the country. Woke radicals are propagating the same racially focused, ideologically driven diversity, equity, and inclusion (DEI) offices and training on community college campuses that have distracted four-year institutions from educating students.
To measure the presence of DEI offices on community college campuses, this Backgrounder presents an analysis using data from the Integrated Postsecondary Education Data System (IPEDS) and finds that 81 percent of the largest community colleges in medium or large cities or suburban areas have DEI staff or list at least one DEI program on the college's website. This analysis identified degree-granting public or private community colleges that enroll at least 1,000 students, a dataset that contains 328 schools, approximately 22 percent of all community colleges in the United States.REF Most of the schools in this dataset are located in large cities (31 percent) or in large suburbs (39 percent).
This Backgrounder documents the findings from each institution's public website and recording the presence of a DEI office, DEI staff, task force, mission statement, or other evidence that school administrators are dedicating resources to so-called diversity programs.
The findings that DEI initiatives are common on community college campuses are consistent with other Heritage Foundation research on postsecondary institutions. In 2021, a Heritage Foundation study found that DEI offices or staff are also frequently found at four-year colleges and universities. Universities belonging to one of the Power 5 athletic conferences employ an average of 45 staff members to promote DEI goals.REF Other Heritage Foundation research has found that DEI activities are part of the accrediting processes conducted by all of the regional higher education accreditors (the accrediting offices used by nearly all postsecondary institutions).REF
University officials must receive accreditation for their schools by a federally approved accreditor in order to enroll students who use federal loans to pay tuition, making accreditation obligatory for college officials because so many schools rely on students' ability to procure loans to afford tuition. This means that if DEI is embedded in the accreditation process, and nearly every college is accredited, one should expect that DEI and its programs that are dedicated to advancing racial preferences at the expense of civil rights would be found across the higher education landscape.
The prevalence of DEI is troubling for students at two-year and four-year institutions alike. The recent U.S. Supreme Court decision calls into question whether DEI's focus on racial preferences violates the U.S. Constitution.REF Not only should these colleges adhere to the Constitution and the Civil Rights Act of 1964, but community colleges also have a distinct responsibility to help struggling students to succeed. These schools should not dedicate resources to impose race and gender orthodoxies.
DEI programs, such as diversity training initiatives, interfere with attempts to guide students to pursue truth. They also have been found to be ineffective at changing individual behavior, do not make individuals more tolerant of group differences, and can even make participants resentful of these differences.REF There is no evidence that DEI programs improve student learning or help community college students to earn a degree. Junior colleges that divert resources to DEI projects are adding ineffective, partisan training and other radical programming instead of helping students to improve their resume and succeed in the workforce.
Community College Basics
The following provides some basic information about community colleges.
Credits and Degrees. Community colleges offer associate degrees and professional certificates. Students can earn these awards in as few as two years, while students pursuing bachelor's degrees at four-year colleges and universities may work for four to six years to complete their course of study. High school students can earn college credit by participating in dual enrollment, which allows high school students to also enroll in community college classes.REF
Enrollment. Eight percent of Americans between the ages of 18 and 24 are enrolled in community colleges, down from 13 percent in 2010.REF Junior colleges enrolled a total of 8.9 million students (of all ages) in the 2020–2021 academic year.REF Across the higher education landscape, community colleges enroll 41 percent of all undergraduates.REF
Demographics. A higher percentage of community college students begin their studies with financial uncertainty than students in four-year schools.REF Twenty-seven percent of students at community colleges live in poverty, compared to just 13 percent of students at selective four-year schools and 15 percent of students at moderately selective four-year schools.REF Fifty-nine percent of community college students are female, while 41 percent are male.REF
Community colleges enroll more students from racial and ethnic minority backgrounds than do four-year schools. According to research from Columbia University, 51 percent of all Hispanic undergraduates attend community colleges, along with 40 percent of black undergraduates, 42 percent of Asian undergraduates, and 39 percent of white undergraduates.REF While 53 percent of Asian students who start at a public two-year school complete a degree between two and six years, just one-third of black community college students and 38 percent of Hispanic students earn a degree in this time frame.REF
Student Preparation. Many students also enter junior colleges with significant academic challenges. Sixty percent of students who started at public two-year colleges take remedial coursework within three years of enrolling (compared to 32 percent of students at public four-year institutions), prolonging the process of completing a degree.REF Just under half of students who started remedial coursework finished these classes.REF
Funding. Community colleges receive more than half of their funding from taxpayers. Federal taxpayers provide 18 percent of community college revenue, while state taxpayers supply 33 percent.REF The remainder of community college budgets are divided between tuition and fees and other sources. Community colleges in 31 states offer scholarships that cover the full cost of tuition.REF Some of the scholarship options are available to all students, while other offerings prioritize students who meet certain income guidelines, such as children from low-income families.REF
Findings
DEI offices and programs at community colleges frequently involve departments operated by dedicated staff, but in lieu of staff, school officials often appoint "task forces" consisting of existing administrators and faculty from other departments. Mission statements posted on a school's website without the existence of a department or task force were less common in this dataset. Some schools were found to offer courses of study or majors in DEI.
Of the 328 schools in this dataset, 266 schools (81 percent) had at least one DEI initiative of some kind. (See Chart 1.) Of the 266 schools that had any DEI programs or materials, 168 schools (63 percent) specifically listed DEI staff on their websites, had assembled a task force, or had dedicated individuals to carry out the school's DEI measures.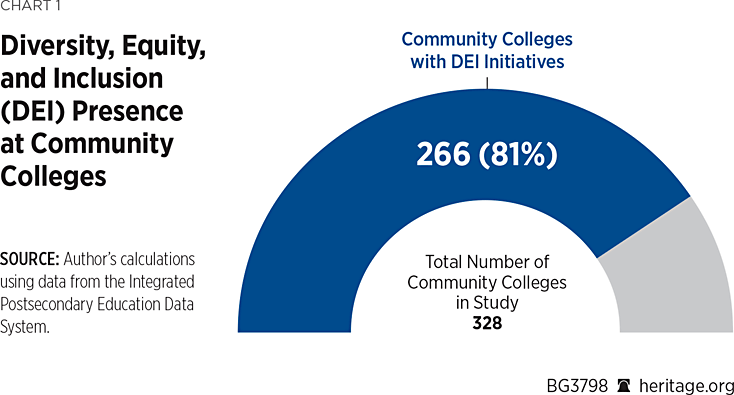 As Table 1 demonstrates, DEI initiatives of any kind were common across all institutions, but, as a percentage of the total schools in each category according to enrollment size, larger schools were more likely to have a DEI department, staff, task force, mission statement, or other program.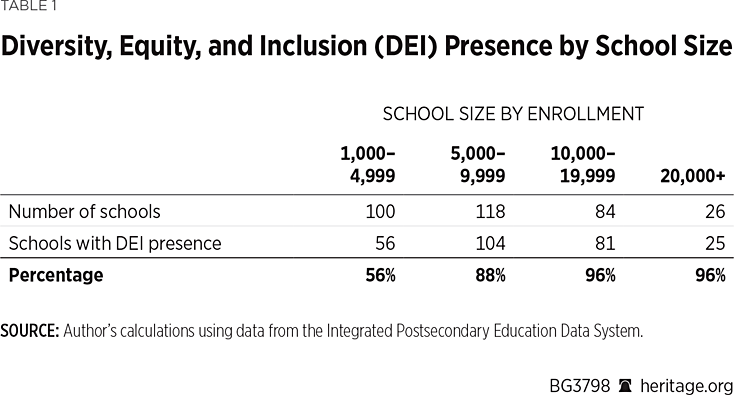 DEI Examples
Examples from the dataset demonstrate school officials' commitment to racial preferences and DEI's discriminatory, Marxist roots:
The California Community College Association has a plan to hire "diverse" faculty based on critical race theory's concept of "antiracism," which argues that using racial discrimination today is a necessary response to past discrimination.

REF

The association is "embedding" DEI into employee evaluations and tenure review processes; advocating that students look for and report "acts of racism, microaggressions, and discomfort"; and "provid[ing] professional learning resources focused on institutional bias, structural racism, and their impact on campus culture and student success."

REF

Ventura County Community College District in Camarillo, California, observed a DEI Awareness Month in April 2023.

REF

Pronoun statements are not uncommon. For example, at the Community College of Aurora, school officials posted a statement saying that "[p]ronouns (i.e., zir, they, per, she, he) are a vital part of one's gender identity."

REF

At Bluegrass Community and Technical College, the DEI office hosted multiple drag queens as part of the school's 2022 "pride" parade and posted pictures on the DEI office's website.

REF

Notably, community college DEI offices are not the only departments that host drag queen shows on campus. In North Carolina, Forsyth Technical Community College, which offers academic programs for high school students, hosted a show in March 2023 where a drag queen "straddled" a visiting female high school student.

REF

Solano Community College in California hosted a performance of "Priscilla, Queen of the Desert" in April 2023, a musical that "tells the story of two drag queens and a transgender woman" who perform in the Australian desert.

REF

Miramar College, part of the San Diego Community College District, hosted a drag show in May 2023.

REF

Everett Community College in Washington hosted a drag queen show in June 2023 for students to "break away from your clockwork routine" during final exams.

REF

The DEI office at Palo Alto College in San Antonio, Texas, hosted "restorative justice healing circles" online during the COVID-19 pandemic.

REF

In Massachusetts, DEI officials at North Shore Community College say that, as part of its DEI program, the school is committed to the Black Lives Matter organization.

REF

The school regularly hosts a "Forum on Tolerance," and "Black Lives Matter" was the theme of two recent forums.
Policy Recommendations for State Lawmakers
DEI is a racist cultural movement that puts the radical ideas from critical race theory, gender theory, and queer theory into practice. State lawmakers should:
Prohibit public two-year institutions from using taxpayer resources to pay for DEI offices. State legislators should defund DEI offices and call on school leaders to report any racist incidents on campus, investigating the events and referring to the appropriate authorities as necessary. Racism has no place in America today, including taking the form of accusations that certain people (usually white people) are inherently biased or "privileged" due to their skin color. No one—of any skin color—is guilty of oppression because people with the same skin color committed racist acts.
Prohibit public two-year institutions from requiring job applicants for positions on campus to sign loyalty oaths in favor of DEI. No one should have to write a statement in favor of DEI as a condition of applying for a job. Nor should employees receive performance reviews according to whether they accept or promote DEI principles as a part of their job.
Conclusion
America is a diverse country. Instead of letting differences divide the population or casting aspersions on certain groups due to the choices made by prior generations, Americans—very much including educators—should unite around the beliefs they share: Support for the right to freedom and equality before the law. Community college students represent a significant segment of current and future generations of employees, neighbors, and public officials. They should learn to succeed, not be fed radical and divisive ideas about racial power struggles that only serve to breed resentment and despair among the country's students.
Jonathan Butcher is the Will Skillman Senior Research Fellow in Education Policy in the Center for Education Policy at The Heritage Foundation.