Puerto Rican families are living with significant government instability. The rash of resignations and arrests at the highest levels of Puerto Rico's government, including at the commonwealth's Department of Education, demonstrates—again—that Puerto Rican students need better education options. However, changes to the commonwealth's school system offer a ray of hope for parents and students. Similar to New Orleans' recovery after Hurricane Katrina, Puerto Rican officials have enacted a proposal that allows the formation of independent public charter schools and created a small private school scholarship program, a significant departure from the previous system that struggled to help students succeed.
National and international indicators demonstrate dismal achievement levels for children in Puerto Rico. Ninety-one percent of Puerto Rico's eighth-grade students scored below the basic level in math on a national comparison, nearly triple the figure of the U.S. states (31 percent of eighth graders in U.S. states scored below the basic level in math).REF In international comparisons, Puerto Rican students rank near the bottom, with scores equivalent to those of students in Mexico and Thailand.REF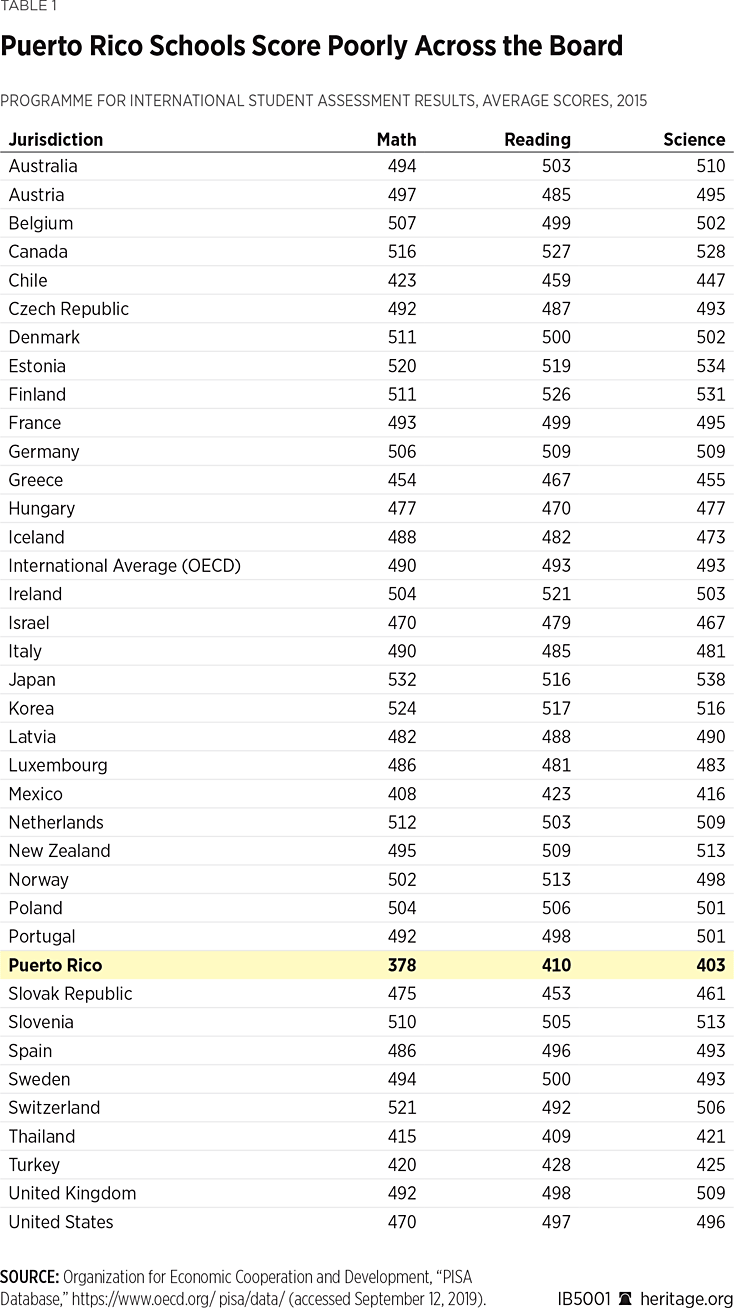 As if dismal student achievement were not enough, Puerto Rico has a history of government corruption and the territory's Department of Education is no exception.
In April, Puerto Rico's Secretary of Education, Julia Keleher, resigned, and three months later, federal officials accused her of fraud on a massive scale.REF Federal officials indicted Keleher along with the former executive director of Puerto Rico's Health Insurance Administration and four other businessmen. (Two weeks after the arrests, Governor Ricardo Rosselló resigned when his sordid text messages were leaked to the media; then the Puerto Rico Supreme Court invalidated Rosselló's successor.)REF
As the scandals have unfolded, National Public Radio reported that Puerto Ricans are outraged by the corruption, but not surprised.REF Corruption and government mismanagement are common; The Wall Street Journal describes it as, "Think Illinois, 10 times worse."REF Such problems should frustrate all U.S. taxpayers, as former governor Rosselló's office reports that Washington committed to sending Puerto Rico more than $73 billion in taxpayer funds for hurricane recovery, and the Federal Emergency Management Agency reports some $600 million will go to schools.REF In Puerto Rico's 2020 operating budget, federal taxpayer funds make up approximately 40 percent of the commonwealth's Department of Education's revenues.REF
According to the U.S. Department of Education, only New York City and Los Angeles had higher student enrollment in the 2014–2015 academic year than Puerto Rico.REF Enrollment has declined since, but with more than 300,000 children, a school system this size cannot prevent all forms of fraud—though the number of incidents and amount of misspent funds is still troubling.REF A new report from the U.S. Department of Education's Office of Inspector General (OIG) finds that problems with fiscal oversight persist, citing the Puerto Rico Department of Education for not properly administering federal relief funds under a spending program called "Restart."REF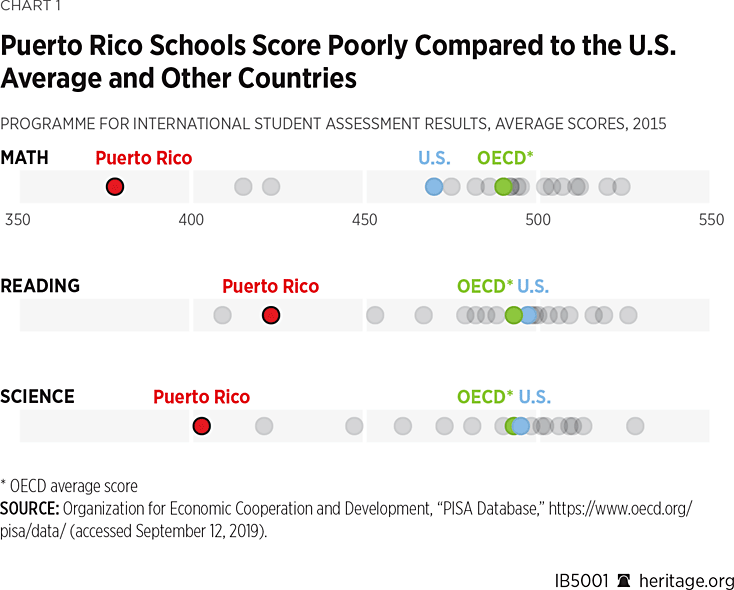 To provide the needed stability to these U.S. citizens, federal and Puerto Rican officials should continue to identify fraud in the territory's government schools; encourage the growth of charter schools (public schools that operate with more transparency and flexibility than traditional schools), similar to Louisiana lawmakers' response to Hurricane Katrina in 2005; and expand student eligibility for private school scholarships.
Fraud
The OIG audits and reviews Puerto Rico's K–12 and postsecondary schools in the same way the investigator audits state education agencies and school districts. Financial fraud is a recurring problem, and the latest OIG report is just one recent example.REF Within days of this report, the head of the teachers' union in Puerto Rico resigned after media reports questioned her husband's contractual agreements with the commonwealth's Department of Education.REF Last year, Puerto Rico's former Department of Sports and Recreation Secretary was among those cited in 2018 for $9.8 million in a "kickback, fraud, and money laundering conspiracy" involving vendors that worked with the territory's Department of Education.REF The OIG has documented incidents such as these for more than a decade in reports to Congress.
Until this year, Puerto Rican parents and taxpayers had no recourse when schools failed to teach students basic skills, or when education officials stole money meant for students. Yet in March 2018, Puerto Rican lawmakers enacted a law similar to the school choice provisions available in many U.S. states, including charter schools and K–12 private school scholarships, that give taxpayers and families more education options, offering hope to students who were trapped in an ineffective system mired by mismanagement.REF
The teachers' union in Puerto Rico tried to block students and families from having options other than the troubled government school system, but the Puerto Rico Supreme Court upheld the new law in August 2018.REF With the lawsuit settled, lawmakers should follow through with these reforms and encourage the creation of new learning options to give every Puerto Rican child the chance to succeed in school and in life.
Policy Recommendations for Puerto Rico
Lift the Cap on Charter Schools. Similar to Louisiana lawmakers' response after Hurricane Katrina ravaged New Orleans, Puerto Rican officials are allowing the creation of a small number of independent public schools, similar to charter schools. In U.S. states, charter schools are the fastest-growing sector of public schools, and for good reason.REF The policy change radically improved the learning options in New Orleans—by 2018, just 8 percent of students in the parish were attending failing schools, down from 62 percent in 2005, the year Katrina landed.REF
Since that time, researchers have found that Louisiana charter school students—who are concentrated in New Orleans and Baton Rouge—show greater achievement gains than their peers in traditional schools.REF More recently, research shows that between 2012 and 2018, the number of New Orleans' high school students scoring a "3" or higher on Advanced Placement testing—college-level material—increased by 167 percent.REF
In August 2018, the Boys and Girls Club of Puerto Rico opened the first charter school in the commonwealth, and lawmakers should now lift the cap on the creation of such schools. Puerto Rican officials should expand student access to these schools so that every child has a quality learning opportunity.
Lift the Cap on the Private School Voucher Program. Also included in Puerto Rico's 2018 reforms was a small K–12 private school scholarship option. Under the law, approximately 10,000 children can attend private schools of their parents' choice. (Lawmakers capped the program at 3 percent of Puerto Rico's K–12 enrollment.)REF In U.S. states, such private school scholarship opportunities have helped children from all walks of life, and especially children in low-income areas.
Researchers have tracked student achievement in voucher programs for more than 20 years, and only two of 16 random assignment evaluations, the most reliable form of social science research, found negative effects on student learning.REF And, the positive outcomes for children reach beyond test scores. Three random assignment studies find that when a student uses a voucher to attend private school, parents are more likely to report that their child is safe in school, and other research finds positive social outcomes, such as lower crime and higher reported levels of "tolerance of others."REF
Such findings, paired with the desperate needs of these U.S. citizens, should give Puerto Rico policymakers confidence to lift the cap on the new voucher program.
Conclusion
Students in Puerto Rico need better education options, and the recurring problems in the government school system have made traditional public schools unreliable places for parents to send their children. Federal officials and policymakers in the commonwealth should continue to clean up waste, fraud, and abuse.
These lawmakers can start with identifying illegal activity, but there are other, more basic, tasks before lawmakers, such as repurposing vacant school buildings. Nearly 300 of Puerto Rico's 1,200 schools were slated for closure in 2018.REF State laws in Arizona and South Carolina, for example, allow charter schools to bid for vacant buildings, and Puerto Rico policymakers should consider similar proposals.REF Research from U.S. states finds that school districts in the U.S. could save millions of taxpayer dollars by selling or leasing empty or underused district school buildings.REF
Puerto Rican lawmakers should also review the research and academic outcomes of the U.S. mainland children whose parents were allowed to choose their schools. Every child is different, but every child deserves the chance to succeed. Puerto Rico has taken a productive step by giving parents and students more education choices, a move that will provide more transparency over government school spending for taxpayers and give more children quality learning options. All Puerto Ricans should welcome these changes as the calm after the storm.
Jonathan Butcher is Senior Policy Analyst in the Center for Education Policy, of the Institute for Family, Community, and Opportunity, at The Heritage Foundation. Jude Schwalbach is Research Assistant in the Center for Education Policy.