March 11, 2020
A Conversation with the United States National Security Advisor
~ The Annual Colonel James D. McGinley Lecture ~
Wednesday, Mar 11, 2020
10:00 am - 11:00 am
Featuring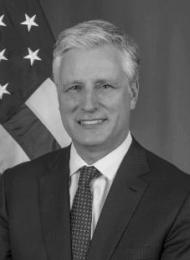 Assistant to the President for National Security Affairs
Description
The world is awash in security challenges. China's rapid militarization; Russia's attempts to intimidate NATO, at large, and the Baltic States, in particular, and its propping-up the regime of Bashar al-Assad in Syria; Iran's consistent support to terrorist groups across the Middle East, sustained development of missile technologies now able to reach Europe, and use of nuclear blackmail to force Europe's hand in supporting its nuclear ambitions; Nicolas Maduro's death grip on Venezuela that threatens the complete collapse of the country and the spillover of instability into neighboring states in South and Central America; large swathes of Africa beset by violent Islamist radical groups…the list is long. The role of the President's National Security Advisor, in part, is to coordinate the activities of the vast array of agencies that support understanding and responding to such a world. Leading the work of the National Security Council, and serving as the 'honest broker' for intelligence estimates and policy recommendations to the President, Robert O'Brien, Assistant to the President for National Security Affairs, must determine how best to ensure all relevant offices across the Executive Branch support the President's efforts to ensure America's security interests are addressed.
Please join us for a discussion with Robert O'Brien, a rare public opportunity to hear directly from him about his current work to streamline the National Security Council, make information coming to the President more focused and relevant, and the implementation of security decisions more timely and effective.
Sign up to receive invitations to all public events.