Heritage Foundation Distinguished Visiting Fellow Steve Moore recently testified in front of the House Budget Committee at a hearing on the American Rescue Plan Act, offering advice on how to rein in rising inflation.  
Moore acknowledged the unfortunate timing of holding the June 14th hearing titled "How the American Rescue Plan Saved Lives and the U.S. Economy" at a time when Americans are suffering from Bidenflation and historically devastating economic policies. Moore urged the committee members to cut taxes and not increase government spending going forward.  
In his opening statement, he noted:  
"To have a hearing today that's saying that this economic strategy has been a success is delusional and dangerous. And when I talk to people outside the Beltway, they think it's just further evidence that Washington is completely out of touch with the real problems that Americans are facing.  

"To call this a success is really problematic, because the first stage of any kind of recovery if you have an addiction is to acknowledge that you have a problem. And to not acknowledge that we have a massive budget that's out of control, that we have an economy that is teetering on recession, that Americans are suffering greatly in terms of their purchasing power and their incomes, is problematic."  
You can watch his full testimony here.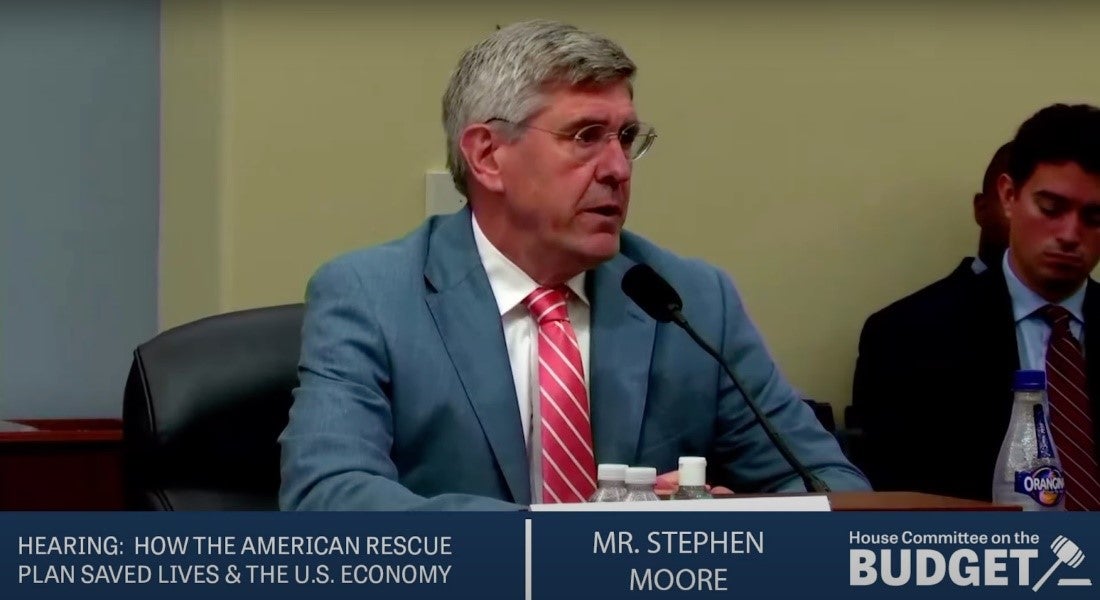 Moore, who formerly wrote on the economy and public policy for The Wall Street Journal and also was a member of The Journal's editorial board, returned to Heritage in January 2014—about 25 years after his first tenure as the leading conservative think tank's Grover M. Hermann Fellow in Budgetary Affairs from 1984 to 1987. 
As distinguished visiting fellow at Heritage, Moore focuses on advancing public policies that increase the nation's rate of economic growth to help the United States retain its position as the global economic superpower. He also works on budget, fiscal, and monetary policy and showcases states that get their fiscal houses in order. 
For more on the work of Stephen Moore, click here. And if you wish to receive more Heritage news and content, you can subscribe on the bottom of this page.