When the Libyan regime of Colonel Muammar Qadhafi fell last year, its weapon stockpiles were looted and dispersed throughout Libya and beyond. Of the thousands of arms the regime stored, approximately 10,000 man-portable air defense systems (MANPADS) are still unaccounted for.
MANPADS have the capacity to down commercial jetliners, are easily concealed, and, if obtained by actors hostile to U.S. interests, pose an international security threat that U.S. leadership could not ignore.
Political Conditions and Proliferation in Libya
Libya's Transitional National Council (TNC) has moved slowly toward government transition since the fall of the Qadhafi regime. Even after the election of the General National Congress last July, Libya's political landscape remains highly disorganized and fractured. Security conditions, exemplified by the September 11 terrorist attack on the U.S. consulate in Benghazi, remain volatile, particularly in eastern Libya, where extremist entities have long been active. Such instability has created a power vacuum throughout the region that has expanded to Africa's Sahel, where terrorists and their affiliates occupy northern Mali.
These unstable conditions are further exacerbated by the proliferation of weapons that flooded the region following Qadhafi's death. Tanks, machine guns, mortars, and rocket-propelled grenades are just a few of the weapons that authorities have captured since Libya's civil war. While the United States, NATO allies, and Libyan authorities have had some success in reclaiming some munitions, thousands are still missing. This includes approximately 10,000 MANPADS.[1]
The Danger of MANPADS
MANPADS (also known as shoulder-fired anti-aircraft missiles) were first fielded in the 1960s and were intended for use by infantry soldiers on the front lines. Used against low-flying aircraft, they are popular with non-state actors, as they "reduce power asymmetries between themselves and conventional state forces."[2] Furthermore, with a simple targeting interface, most MANPADS are easy to operate and do not require significant training.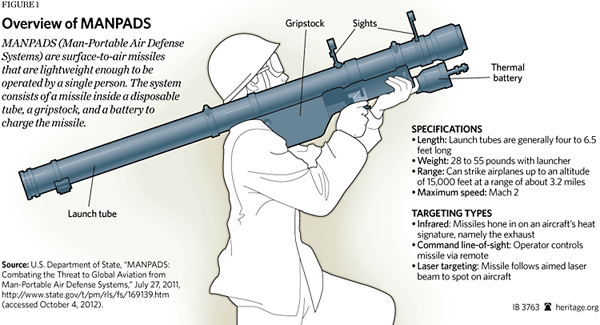 MANPADS do, however, have their limits. The battery life of an average MANPADS is 22 years, making many in Qadhafi's stockpiles inoperable. Furthermore, the operating capability of a MANPADS depends on storage conditions. If a unit is not well-maintained, its shelf life can be significantly reduced. Other limitations include a short firing range. The average range of a MANPADS is 4.8 kilometers, making the targeting of large commercial aircraft in flight unlikely. In cases where high-flying aircraft are attacked, they are usually targeted on takeoff or landing.
Since 1978, there have been 12 MANPADS attacks committed by non-state actors on the African continent. While only one has occurred in North Africa, the recent mobilization of terrorist entities creates conditions whereby attacks could be launched against U.S. and allied aircraft.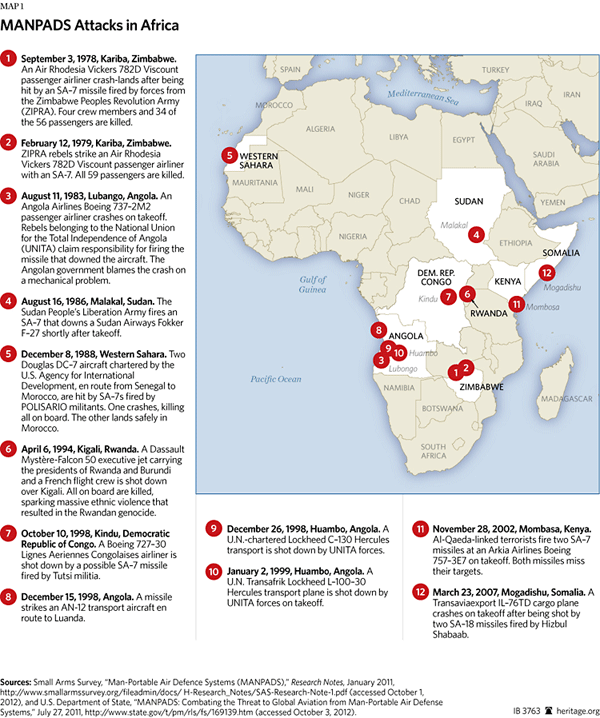 Northern Mali in particular is an emerging concern. When Tuareg rebels returned to Mali after the Libyan regime's collapse, they brought an unknown quantity of MANPADS with them. Al-Qaeda in the Islamic Maghreb, based in southern Algeria, is already equipped with MANPADS and has partnered with a number of Islamist entities occupying northern Mali. Considering that the international community is drafting plans for a military intervention, most likely by Economic Community of West African States forces, the presence of MANPADS in the hands of terrorist entities could reduce the imbalance between professional military forces and non-state actors.
Broader Implications: Potential Threat to the Homeland
The proliferation of MANPADS throughout the region also has broader implications at home. Domestically, the United States is no stranger to the threat to the aviation sector that is posed by terrorists. Since 9/11, at least 53 publicly known Islamist-inspired terrorist plots against the homeland have been foiled.[3] Of these, at least six have involved either military or commercial aviation targets.
Specifically, the U.S. has faced the threat of terrorist attacks using MANPADS twice since the attacks of September 11. In 2004, two leaders of a mosque in Albany, New York, were arrested and charged with plotting to purchase a shoulder-fired grenade launcher to assassinate a Pakistani diplomat. Nearly five years later, in 2009, the New York Police Department arrested four men in an attempt to blow up New York–area Jewish centers and use stinger missiles to shoot down planes at a nearby Air National Guard Base.[4]
Though the threat from MANPADS is most pronounced abroad, the portability of these weapons allows terrorists to smuggle them into the United States. In recent years, there have been at least two high-profile cases of attempts to smuggle MANPADS into the U.S. from both Russia and Hong Kong.[5] The novelty of such an attack and the continued appeal of aviation targets to terrorist actors could add to the allure of a MANPADS attack for terrorist groups such as al-Qaeda. So too could the psychological damage that would inevitably be caused by a successful strike on commercial aircraft and the introduction of terrorist tactics yet unknown in the U.S.
While risk-based cargo screening programs and enhanced border security can help to guard against the smuggling of MANPADS into the U.S., the most effective means to protect the aviation sector against this threat is to thwart plots before they come to fruition. In nearly all of the terrorist plots against the U.S. since 9/11, the concerted efforts of U.S. law enforcement and intelligence have held the key to thwarting the attacks. This remains true regardless of the means of attack.
Action and Home and Abroad
Weapons proliferation in North Africa and the Sahel, combined with an increase in terrorist activity, is an emerging challenge that few governments in the region are capable of countering alone. Assisting regional governments in limiting the proliferation of Qadhafi's arms in North Africa and the Sahel would reduce the chances of their being used by nefarious actors to attack the U.S. or its allies. To achieve this, the Obama Administration should take the following actions:
Continue partnership operations with Libyan government and European allies such as Great Britain and France to secure loose MANPADS and other munitions within Libya.
Work with regional governments to track and confiscate looted weaponry. The U.S. should use its surveillance drones that are already in the region to track the movement of arms.
Monitor black and gray markets to gain transaction information on MANPADS and other arms sales. This would identify buyers and sellers and provide useful intelligence on the networking of non-state actors.
In protecting the homeland, Congress and the Administration should also ensure that the U.S. law enforcement and intelligence communities possess the essential counterterrorism tools they need to thwart potential terrorist attacks before they occur.
Diminishing the Threat
The proliferation of conventional weapons—and MANPADS in particular—in North Africa is a symptom of the region's suffering governance. As fledgling governments struggle to implement the rule of law and meet the needs of their people, the U.S. and its allies can assist the region's governments in securing loose weaponry and diminishing the threat to the U.S. and its allies.
In protecting the homeland, as always, America's leaders should ensure that the counterterrorism enterprise possesses the vital tools it needs to protect the nation.
—Morgan Lorraine Roach and Jessica Zuckerman are Research Associates in the Douglas and Sarah Allison Center for Foreign Policy Studies, a division of the Kathryn and Shelby Cullom Davis Institute for International Studies, at The Heritage Foundation.