The past year has been one of transition in the country, little of it good.
We saw the left take over the White House and Congress and bungle everything they touched. We have an economy in the grip of rising inflation and chronic shortages, a nation weakened internationally by the disastrous retreat from Afghanistan, a border in chaos, and draconian COVID mandates that inflict more harm than good. The left tried to make election fraud easier (in the guise of voting rights), to vastly expand the soul-destroying welfare state (under the cheery label of Build Back Better), and to push Marxist critical race theory on our kids (in the name of fighting racism).
It was also a year of transition at The Heritage Foundation, as President Kay C. James and Executive Vice President Kim R. Holmes announced they were stepping down and passing the torch to new leaders. In her nearly four years as president, Kay guided Heritage to greater levels of prestige and influence. She expanded our reach and improved the efficiency and effectiveness of our operations. Shortly after leaving Heritage, Virginia Gov. Glenn Youngkin appointed Kay to his Cabinet as secretary of the commonwealth. We wish her and Kim well in their new endeavors.
The members of Heritage's board and I knew we had a tall order to fill in finding the right person to build on the momentum and take Heritage to new heights. We found that, and more, in Dr. Kevin D. Roberts.
Kevin brings the right mix of experience, passion, entrepreneurial spirit, proven leadership, plus a "D.C. outsider" perspective. His absolute commitment to Heritage's vision and mission, the fact that he's from a working-class family, and the fact that he'd lived and worked almost his entire life far from the swamp, gives Kevin exactly the right perspective to take on the challenges the country faces.
Under his leadership, the Texas Public Policy Foundation doubled in size and became the most influential think tank in the state and the largest state-based think tank in the nation. Kevin embraces the belief that Heritage must lead not only conservatives but America with an optimistic vision for the future. As an educator—he founded a private K-12 school in Louisiana and ran a private college in Wyoming—he has a passion for educating the next generation of Americans.
The entire board shared Kay's and my enthusiasm for Kevin and voted unanimously in favor of naming him Heritage's seventh president.
Kevin likes to call Heritage the mothership of the conservative movement and says that he plans to put rocket boosters on it. You can expect that under his leadership Heritage will aggressively pursue the things that are important to you. We will fight to restore power and responsibility to the states, local governments, community organizations, and families. To that end, you can expect Heritage to have a bigger presence at the state level. You've already seen what we can do with the success of our state election integrity efforts and our fight against critical race theory in schools.
The challenges this country faces have never been greater, and the radical left has never been more emboldened. But I've never been more optimistic about the future of our country than I've been since Kevin accepted the challenge of leading this wonderful institution.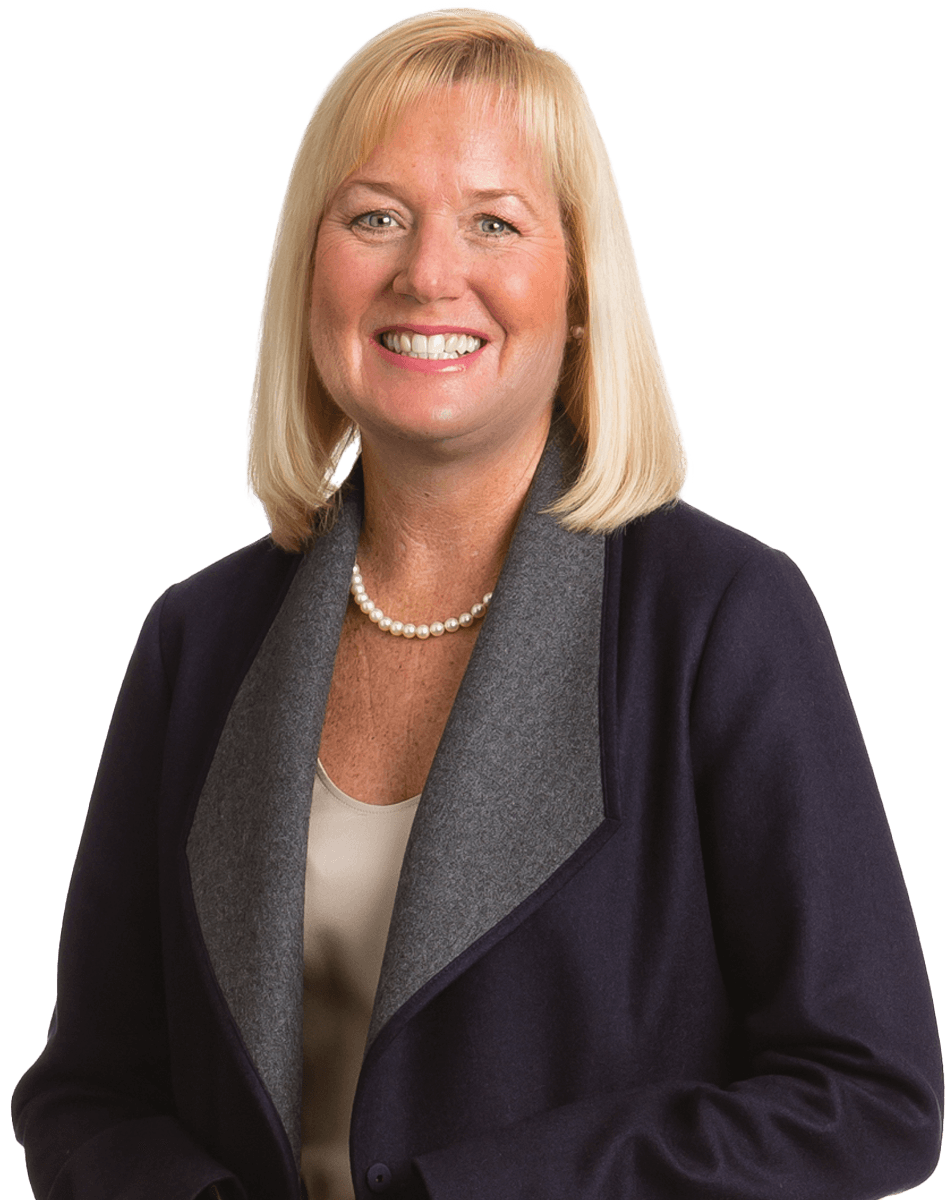 Barb Van Andel-Gaby
Chairman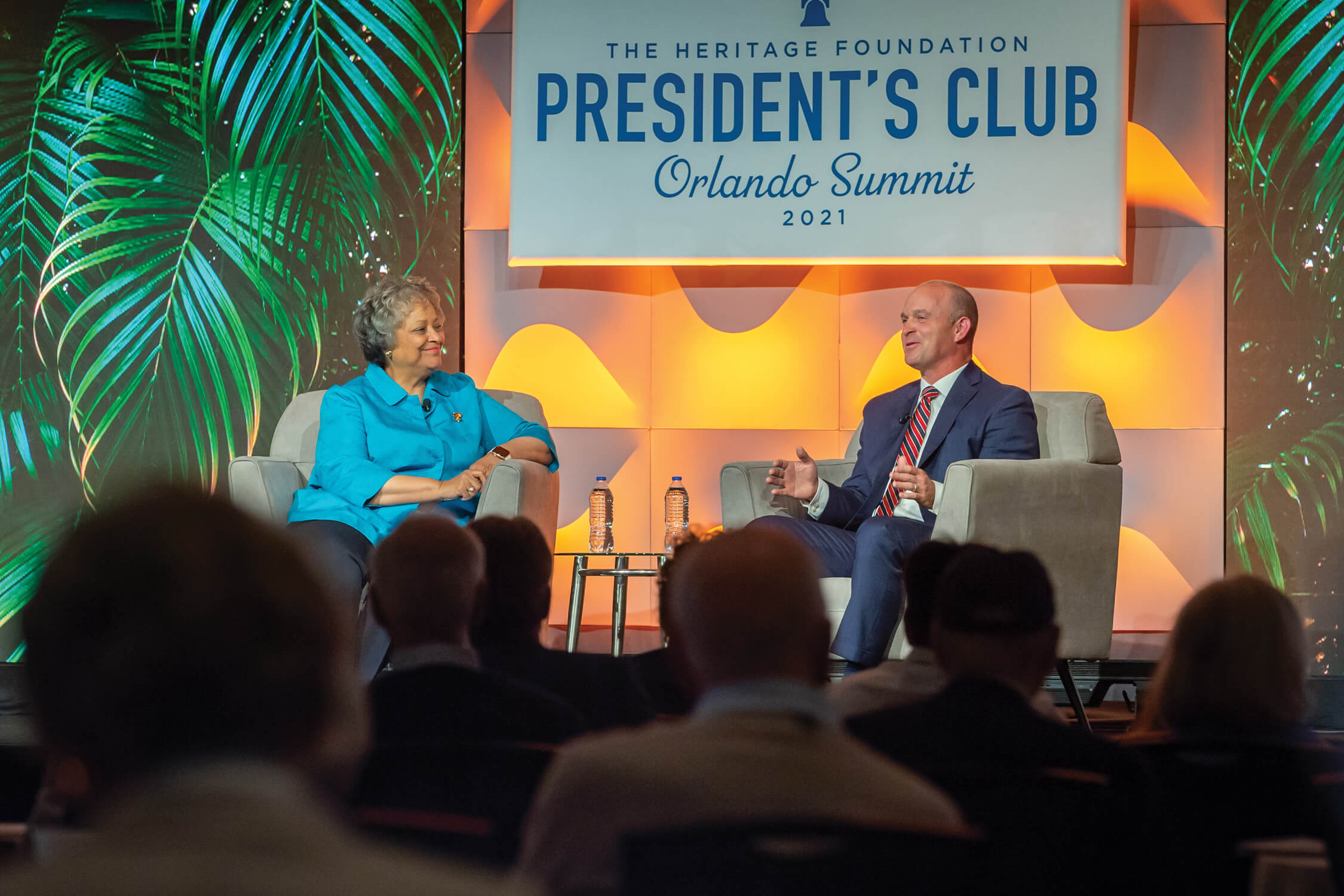 Outgoing President Kay C. James talks with incoming President Kevin Roberts about his vision for Heritage at Heritage's President's Club Summit in Orlando, Fla.
When I was in eighth grade, my family relocated from Louisiana to the D.C. area in the wake of the 1980s oil bust. That was the first time I encountered The Heritage Foundation.
As a brash teenager from a working-class family, I'd gotten into a debate with my left-of-center civics teacher. I've long forgotten what it was about, but I never forgot what he said to me, because it had such a profound effect on my life. "You might make something of yourself," he said, "if you attach evidence to your opinions." My mother recommended we go to The Heritage Foundation, which had established itself as the go-to resource for conservatives, to gather up materials they put together.
From that moment on, I'd never again offer an opinion on any topic without the facts to back it up. I grew up trusting the unimpeachable quality of Heritage's scholarship, which would serve me well throughout my life as a historian, founder of a private K-12 school in Louisiana, president of Wyoming Catholic College, and head of the Texas Public Policy Foundation.
Now, I'm blessed beyond measure with the opportunity to lead a great institution that was so instrumental in my intellectual formation.
Annual reports are, of course, about the past—the goals we set and what we achieved. And Heritage had many in 2021, so many that a complete listing would turn this into an encyclopedia. In this annual report, you will read about our biggest and most direct impacts in 2021—on education, election integrity, the Supreme Court, and more. These are evidence of how Heritage differs from so many other "think tanks." We've never been satisfied with just providing the intellectual heft for conservatism. We've always strived to put our policies and our ideas into action. I'm certain that when you read about these achievements, you will be as proud as I am.
But I also want to use this opportunity to talk about my vision for Heritage's future, because the need for Heritage has never been greater. When I look out in the country—at the turmoil in our city streets, critical race theory indoctrination in our schools, "woke" corporations and the cancel culture, the toxic political environment, a federal government with powers that stretch beyond anything our Founders would approve—I truly believe that we have a limited window of opportunity to save this nation. And I believe that Heritage must play a significant role in making that happen.
One way we'll do that is by working to unite our center-right movement and develop a unified plan to govern our country. Conservatives need to stop shooting at one another and remember that our focus must remain on the radical left. Spirited debate is welcome, but it should be aimed at making us all better soldiers for freedom, not tearing each other down in Twitter tirades. Crafting such a unified plan is a top Heritage priority now and will continue to be as 2024 approaches.
Just as important, Heritage is going to be far more active at the state level. We're going to look outside Washington, D.C., for answers. We're going to open up the conservative movement to the fresh American air outside the swamp, from sea to shining sea. Heritage will still be based inside the Beltway, but we're going to focus more of our resources and attention on empowering conservatives outside the Beltway, where the real power to make change resides. The goal of every conservative should be to reduce the size and influence of the federal government and return power to smaller units of society, whether it's state and local government, community centers, churches, neighborhoods, or your own family.
Because of the amazing work done by my predecessors and the incredible team of scholars, researchers, media experts, government relations team, and the rest of Heritage's excellent staff—plus the might of our lobbying organization, Heritage Action for America—I believe with all my heart that The Heritage Foundation is the one institution best equipped to bring about a golden age of conservatism.
With your support, we will not only enable Heritage to flourish, we will, as the title of the annual report says, always be on offense. Every single day.
By going on offense, by uniting the conservative movement, by energizing Americans everywhere, by serving one another, we are going to save this country!
God bless you and God bless America.

Kevin D. Roberts, Ph.D.
President
New Additions to Heritage's Leadership Team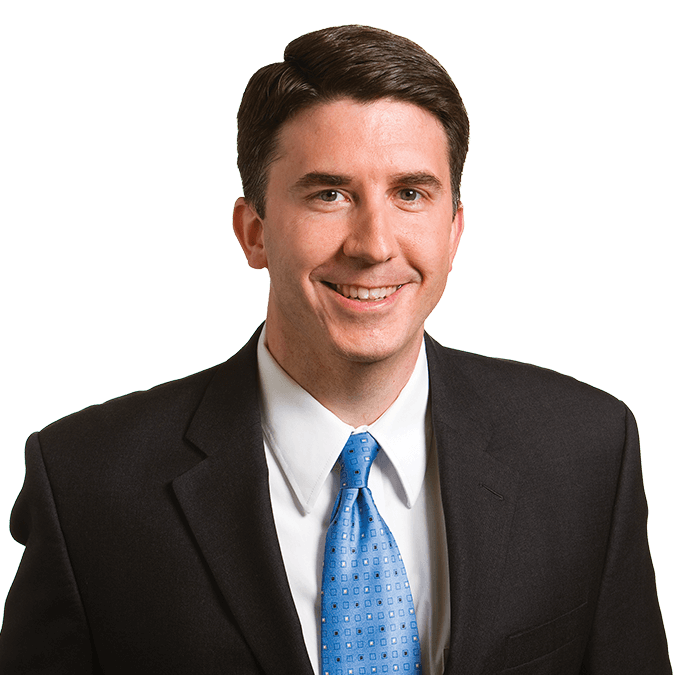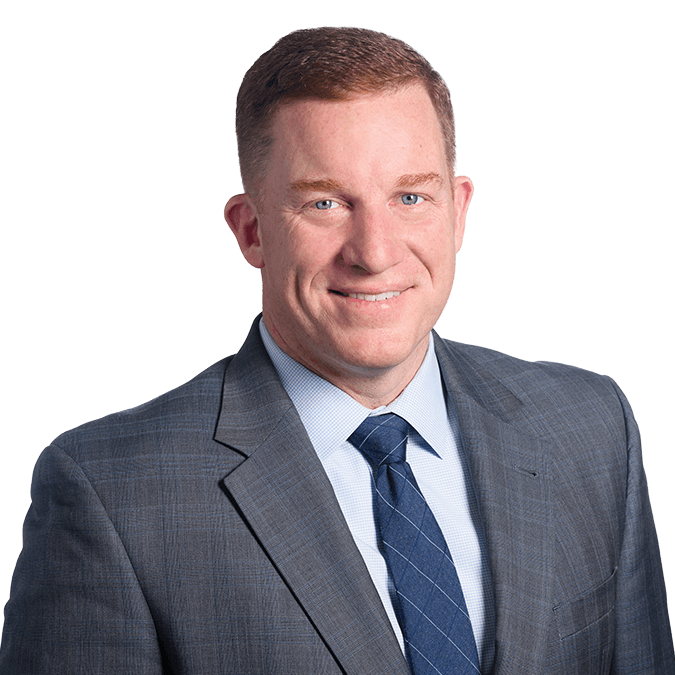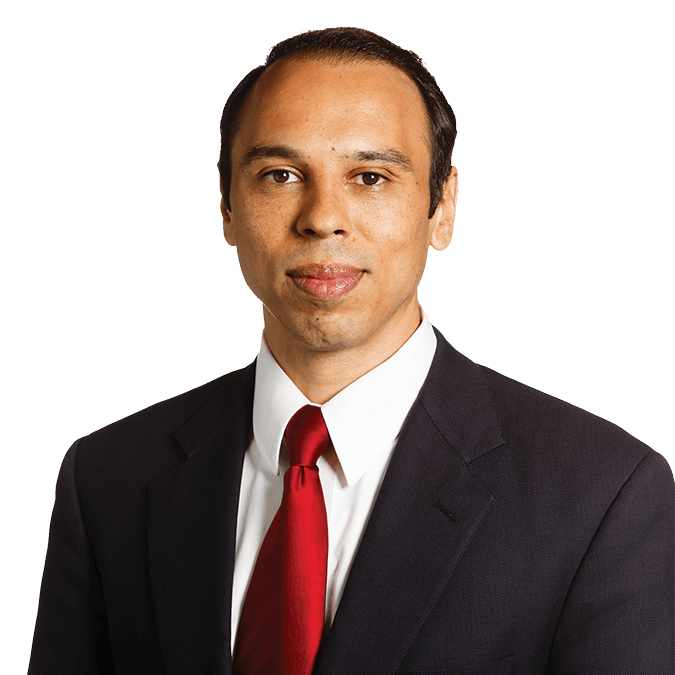 New Leadership:
(from left) Derrick Morgan, executive vice president; Eric Korsvall, chief operating officer; and Roger Severino, vice president of domestic policy.
New Leadership:
(from top) Derrick Morgan, executive vice president; Eric Korsvall, chief operating officer; and Roger Severino, vice president of domestic policy.
Kevin Roberts moved quickly to rebuild Heritage's leadership team, naming a new executive vice president, chief operating officer, and vice president of domestic policy.
Derrick Morgan returned to Heritage as the organization's executive vice president. Prior to this role, Morgan served as senior vice president for federal and regulatory affairs at American Fuel & Petrochemical Manufacturers (AFPM), where he oversaw government relations, regulatory affairs, and petrochemical departments. A Heritage alum, Morgan was vice president of Heritage's Institute for Economic Freedom and chief of staff to former Heritage President Ed Feulner. Before joining AFPM, Morgan served as Sen. Ben Sasse's chief of staff.
Eric Korsvall, who has been with Heritage for more than two decades, is Heritage's chief operating officer. In this newly established role, Korsvall manages day-to-day operations, as well as all aspects of Heritage's workforce. Korsvall's leadership has been critical in expanding Heritage's strategic presence and capabilities on Capitol Hill, and ensuring Heritage influence on public policy through timely and impactful events and public programs. As COO, Korsvall continues to manage these daily operations, while also working to grow and expand the conservative movement by increasing Heritage's investment in the next generation of conservative leaders.
Roger Severino rejoined Heritage as the vice president of domestic policy. Severino was previously the director of Heritage's DeVos Center for Religion and Civil Society from 2015-2017, where he led research and policy efforts on pro-life, family, and religious freedom issues. He joined the Trump administration in 2017 as director of the Office for Civil Rights at the U.S. Department of Health and Human Services, leading a team of 250 individuals charged with enforcing U.S. civil rights, religious freedom, and health information privacy laws. Most recently, Severino was a senior fellow at the Ethics and Public Policy Center (EPPC).
"As Heritage's esteemed founder and former president Ed Feulner so often said, people are policy," Roberts said. "The core of Heritage's strength is not just the ideas and values we espouse, but the men and women who live them out on a daily basis."