Congress continues to treat agriculture as if it were 1933 instead of 2013. Agriculture is a cutting-edge sector of the economy that continues to innovate and produce more food with fewer resources.
Yet, every five years when the farm bill is up for renewal, many legislators, including those who claim to be pro–free market and limited government, push a farm bill that is a model of central planning. Agriculture policy continues to emphasize price supports, supply restrictions, import quotas, government-subsidized international marketing programs for major corporations, and much more. Quite simply, almost any subsidy that can be dreamed of exists in one form or another in the current farm bill.
The farm bill should not be a "holiday" for legislators from free market and limited government principles. Through sound free market reforms, farmers will benefit by having government out of their way so they can have the freedom to make decisions based on market conditions. They will be able to use their land as they see fit and not be harmed by government incentives and controls. Consumers will have choices that best reflect demand and enjoy prices that reflect open competition, not artificial constraints on supply.
Further, food stamps should be reformed to promote self-sufficiency among able-bodied adults. Adults who are able should be required to work, prepare for work, or at least look for work in exchange for receiving food stamp assistance. This principle of reciprocal obligation does not currently exist in the program. Additionally, loopholes that have led to an increase in the food stamp rolls should be closed.
Achieving Reform
The House and Senate are expected to meet soon to work out differences in their farm bills—or more appropriately titled, their food stamp bills. The following table compares the bills, listing some of the important provisions along with recommended reforms for a sound farm bill. To achieve any substantive reform, agriculture policy and food stamps must be separated into different bills now and in the future. For political reasons alone, food stamps and agriculture policy have been combined into farm bills. By getting urban legislators who tend to support food stamps and rural legislators who tend to support farm programs into a coalition, Congress has enacted farm bills without proper consideration of these programs on their merits. Real reform will only be achieved when Congress takes the time to address these issues independently.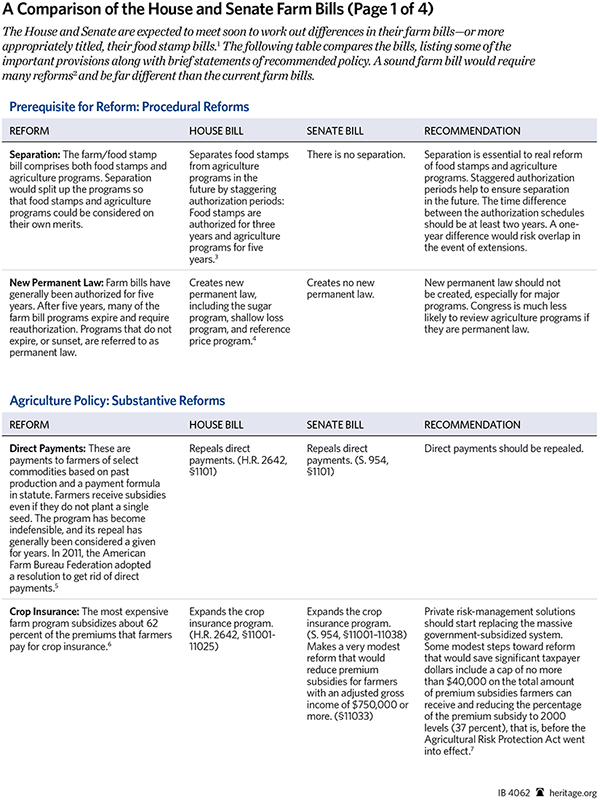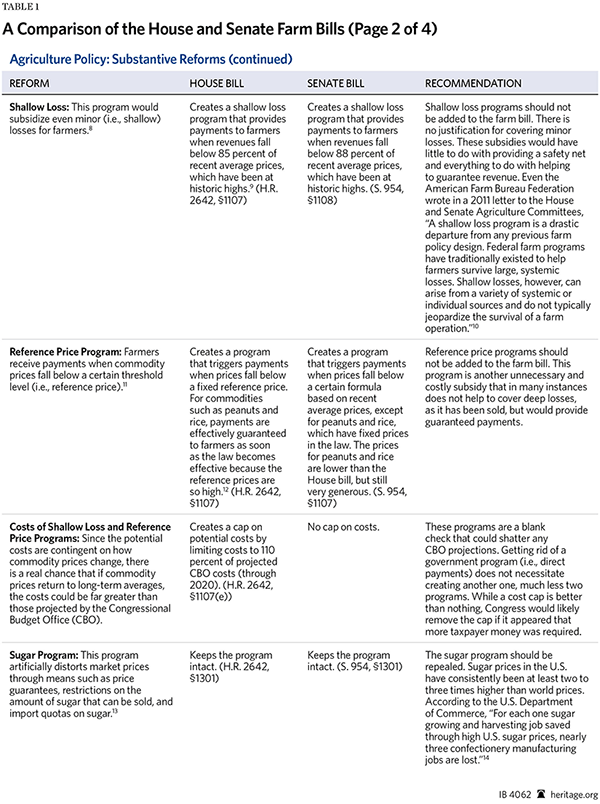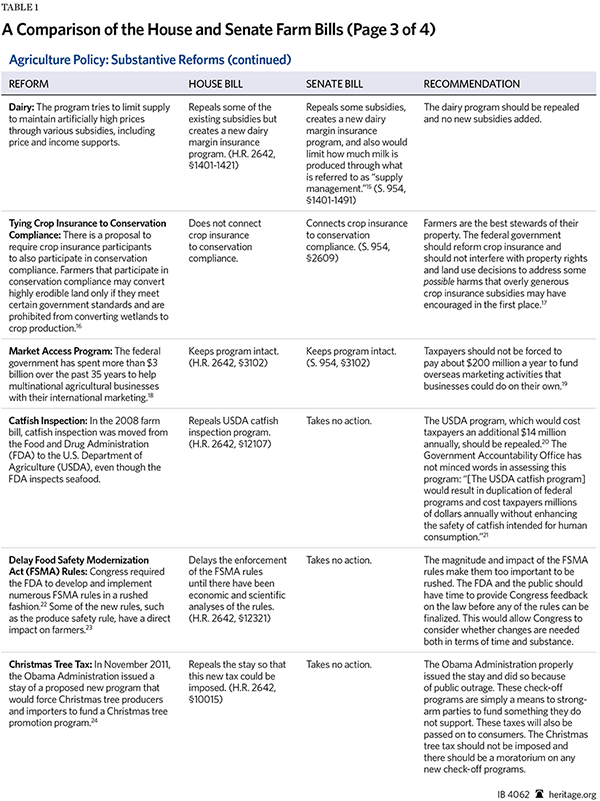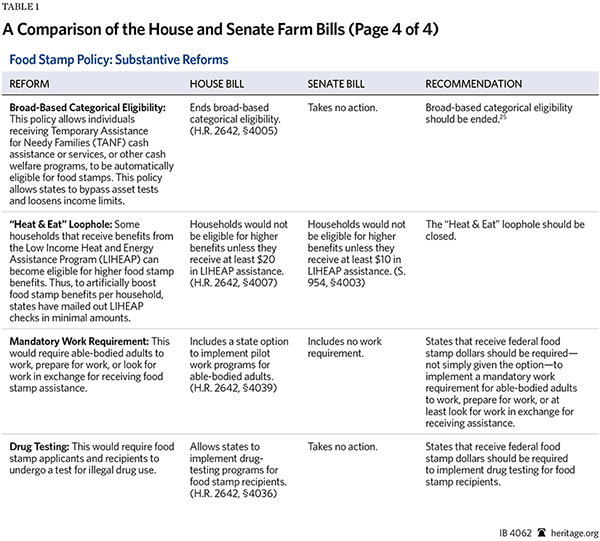 —Daren Bakst is a Research Fellow in Agricultural Policy in the Thomas A. Roe Institute for Economic Policy Studies and Rachel Sheffield is a Policy Analyst in the Richard and Helen DeVos Center for Religion and Civil Society at The Heritage Foundation.