Agricultural trade provides many benefits to American farmers, ranchers, and consumers. Exports enable farmers and ranchers to sell their goods to new markets, helping them to increase revenue and build stronger businesses. According to the U.S. Department of Agriculture, 95 percent of the world's consumers live outside the United States.REF Imports make it possible for Americans and their families to purchase more affordable, better-quality agricultural products—such as staple items like fruits and vegetables—more readily throughout the year.
China is one of the primary agricultural trade partners for the United States. This year, however, the United States has been imposing tariffs on China, and in response, China has imposed retaliatory tariffs on the United States.
This Backgrounder provides a picture of what is at stake from this tit-for-tat trade dispute with China by highlighting the importance of U.S. agricultural trade with China at both a national and state level. It also details some specific principles to inform how the U.S. should move forward with agricultural trade with China, so that—at a minimum—the many benefits that the U.S. currently enjoys from agricultural trade are not threatened.
The Importance of Agricultural Trade in General
As Chart 1 shows, both U.S. agricultural exports and imports have increased dramatically. In 1993, agricultural exports were about $43 billion ($66.1 billion in 2017 dollars)—and by 2017 had increased to $138.3 billion. During that same time, agricultural imports increased from $25.1 billion ($38.7 billion in 2017 dollars) in 1993 to about $118.1 billion in 2017.REF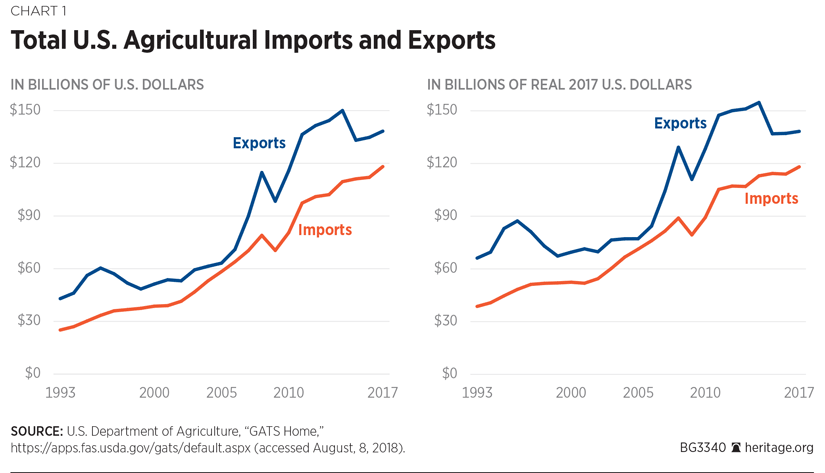 Exports. For many American farmers and ranchers, exports are a necessity because they produce more than they can sell domestically. The U.S. Department of Agriculture's (USDA's) Economic Research Service (ERS) explains, "With the productivity of U.S. agriculture growing faster than domestic food and fiber demand, U.S. farmers and agricultural firms rely heavily on export markets to sustain prices and revenues."REF
Based on volume, agricultural exports averaged about 22 percent of agricultural production from 2014 to 2016.REF For certain agricultural products, exports are even more important. For example, exports accounted for over 70 percent of the volume for both cotton and tree nuts (primarily almonds) and over 50 percent for wheat and rice.REF From an economy-wide perspective, according to the ERS, in 2016, agricultural exports created an additional $172 billion in economic activity and over 1 million full-time jobs.REF
Imports. Agricultural imports provide significant benefits to American consumers. Imports for some agricultural products are critical because consumer demand exceeds domestic production capabilities.REF As an example, the ERS explains that "[o]ver 95 percent of coffee/cocoa/spices and fish/shellfish products consumed in the United States are imported."REF
The Office of the United States Trade Representative has explained: "It's important to remember that United States agricultural imports benefit consumers with lower prices and expanded choices."REF The ERS notes that "U.S. consumers benefit from imports because imports expand food variety, stabilize year-round supplies of fresh fruits and vegetables, and temper increases in food prices."REF In a recent report, the CRS highlights perceived market benefits of fruit and vegetable imports, such as "lowering costs (given a wider supply network)" and "improving eating quality."REF
Further, high food prices have a disproportionate impact on low-income households. The lowest-income households spend 33.0 percent of their after-tax income on food whereas the highest-income households spend only 8.7 percent.REF By making food more affordable, including for staple items like fruits and vegetables, agricultural imports particularly help low-income households.
The Importance of Agricultural Exports to China
China is a major agricultural export market for the United States that has grown tremendously over the past 25 years. As shown in Chart 2, U.S. exports to China have gone from $376.2 million in 1993 ($579.3 million in 2017 dollars) to $19.5 billion in 2017. Over the past 10 years, U.S. exports to China have gone from $12.1 billion ($13.7 billion in 2017 dollars) in 2008 to $19.5 billion in 2017.REF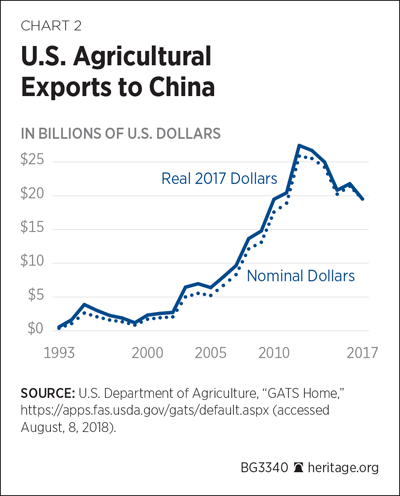 China's market share of U.S. agricultural exports now rivals Canada and Mexico. In fact, China was the second-largest export market for the United States in 2017, behind Canada, accounting for 14 percent of U.S. agricultural exports.REF Just one year earlier, in 2016, China was the largest agricultural export market for the United States. (In recent years, China has been swapping the top spot with Canada. See Chart 3.)REF
For agricultural exports, China will continue to be an important market with great potential. As explained by the USDA, "China offers our best opportunity for major export growth in the future."REF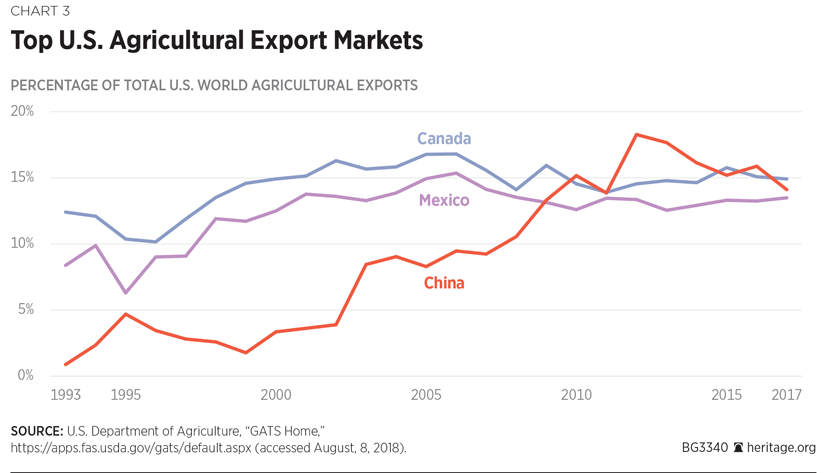 Export Data by Agricultural Products. Table 1 lists 10 major agricultural products that have significant exports to China.REF For each of the products listed, China is a top-five agricultural export market. For seven of the products, at least 10 percent of the exports went to China in 2017.REF "Coarse grains," as listed in the table—which almost exclusively includes grain sorghum and excludes corn—had the largest share of its exports go to China (75 percent) compared to the other products listed.
The largest U.S. agricultural export to China (in terms of value) was soybeansREF totaling over $12.3 billion in 2017.REF In fact, soybeans were by far the largest agricultural export.REF They accounted for 63 percent of all U.S. agricultural exports to China. The United States exported 57 percent of its soybeans to China. Chart 4 provides a breakdown of destinations for U.S. soybean exports.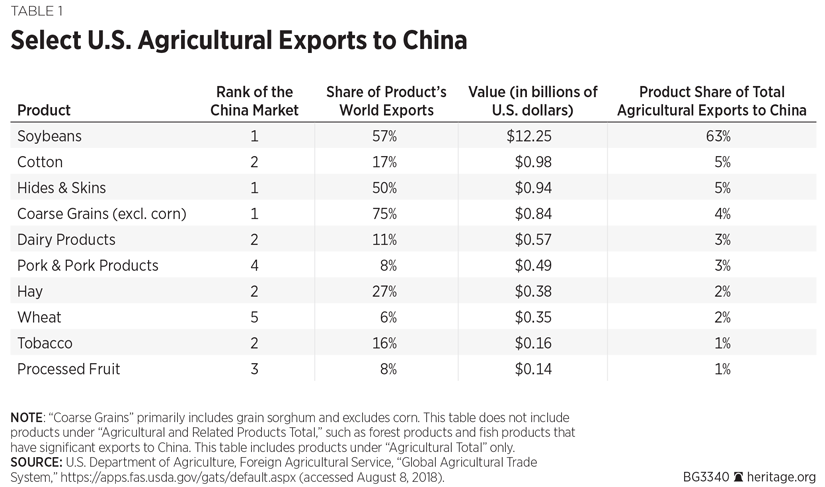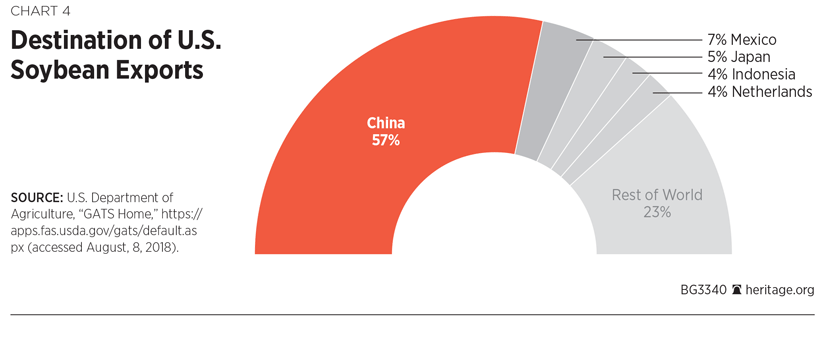 Export Data by States. Map 1 shows that China, in 2017, was the top agricultural export market for eight states and a top five market for 38 states.REF

The Importance of Agricultural Imports from China
As shown in Chart 5, agricultural imports from China were $458.6 million ($706.1 million in 2017 dollars) in 1993. Twenty-five years later, in 2017, this number had grown to $4.3 billion.REF China was the United States' fourth-largest supplier of agricultural imports in 2017.REF

Principles to Inform U.S. Agricultural Trade with China
The United States should be seeking to increase agricultural trade with China, not imposing self-inflicted harmful policies (i.e., tariffs) that will undermine agricultural trade. There are several principles that should inform how the U.S. engages in agricultural trade, including agricultural trade with China.
Promote More—Not Less—Trade. Agricultural producers have been stressing the importance of trade. They have also made it clear that trade, not farm aid, is what they want. Yet the Trump Administration has proposed to provide as much as $12 billion in aid to farmers to help offset the harm caused by tariffs. This aid does nothing to improve trade conditions. It is merely adopting bad policy to help offset the harm of bad policy.
Senate Agriculture Committee Chairman Pat Roberts (R–KS), stated in April, "We don't need another subsidy program. We need to sell our product. We need a major sale."REF Senator Ben Sasse (R–NE) has argued, "We want more trade, not less. Farmers want to feed the world and win with trade. Now, some in Washington instead want to pay them to lose. That's a bad idea and not a real strategy to fight Chinese cheating."REF
The American Soybean Association, which represents soybean producers who will likely feel the brunt of Chinese retaliation,REF has stated:
The announcement of additional tariffs on China is a move in the opposite direction. We're focused on increasing trade opportunities and keeping the robust and growing Chinese market we have worked for decades to secure. Our message to the administration and lawmakers remains the same: these tariffs needlessly hurt soy growers and rural communities.

REF
First, Do No Harm. There had been a constantREF mantra from many in the agricultural community regarding the North American Free Trade Agreement renegotiations, including USDA Secretary Sonny Perdue: "Do no harm."REF This important principle has certainly been ignored when it comes to China. The U.S. has been doing the exact opposite: first, do harm. China has targeted numerous agricultural products through retaliatory tariffs, including soybeans, grain sorghum, pork, fish, and shellfish.REF
Recognize that Temporary Tit-for-Tat Trade Disputes Can Cause Significant Harm. Even assuming the tariffs on China are a temporary measure to achieve a larger trade objective, there is significant harm being done in the interim. For consumers, this means higher prices.
For farmers, China's retaliatory tariffs will make it more difficult for them to rely on the Chinese export market. This may not just be a short-term problem. As the United States closes off opportunities, agricultural producers from other countries will be more than happy to meet demand in China. This could mean long-term harm that could undermine the trade gains that have already been achieved by the agricultural sector.
Even if there were no tariffs, but merely threats of tariffs, this would be a problem. American farmers and ranchers compete in a global agricultural marketplace, and factors that create uncertainty only make securing foreign customers more difficult. For trade negotiators, predictability should be a major objective.
Utilize the WTO Dispute-Settlement Process. The United States should focus more on using the World Trade Organization (WTO) dispute-settlement process instead of relying on tariffs. In fact, one of the most important benefits of the WTO is having a legal venue to challenge foreign trade barriers. As explained in Heritage's Farms and Free Enterprise book:
Prior to the WTO, these foreign trade barriers [barriers to U.S. farm exports, including non-tariff barriers, discriminatory health and safety rules, and subsidies] were virtually impossible to challenge without self-defeating U.S. protectionism…. The WTO broke this painful cycle by providing a formal legal venue for enforcing other WTO members' trade-liberalization commitments.

REF
The United States has had major success utilizing the WTO dispute-settlement process.REF It should become even more aggressive in using this important alternative to addressing foreign trade barriers.
Promote Freedom to Trade. Trade is often discussed in connection with how it affects countries, but, as a general matter, trade is truly about the freedom of individuals and businesses to voluntarily exchange goods and services with customers.REF American farmers and ranchers, just like other businesses, should be free to sell to customers all over the world. Further, consumers should be free to purchase goods and services that best meet their needs, regardless of national origin. Government-imposed barriers, such as tariffs, undermine these freedoms. As the U.S. works through trade challenges with China, this principle of freedom to trade should be front and center.
Conclusion
There is much at stake for agricultural producers and American families as a result of the current trade dispute with China. China is both a leading agricultural export market and leading source of agricultural imports for the United States. It is also a critical market, as farmers and ranchers look to increase their exports in the future.
Instead of imposing self-defeating tariffs, the United States should be looking to tear down barriers. By applying the outlined principles, agricultural trade between China and the United States will continue to flourish.
—Daren Bakst is Senior Research Fellow in Agricultural Policy in the Thomas A. Roe Institute for Economic Policy Studies, of the Institute for Economic Freedom, at The Heritage Foundation. Gabriella Beaumont-Smith is Policy Analyst for Macroeconomics in the Center for Data Analysis, of the Institute for Economic Freedom.